RedBud Track 'n Trail
Buchanan

,

MI
RedBud
Lucas Oil AMA Pro Motocross Championship
The glass slipper fits. Since moving to the United States in 2011—selling everything he had in the process—Fredrik Noren has dwelled in the privateer ranks. He scratched and clawed for everything he had, which wasn't much. He is (or should we say was) his own sponsor. As he told us: "I don't have a main sponsor. Since I'm paying myself, I put Noren Racing."
That has changed. Earlier this week Team Honda Muscle Milk announced they have inked the privateer to a deal that will have him riding Justin Barcia's [out for the season] bike for the remainder of the summer.
We became familiar with Noren's story in 2011 and dove more in-depth in the October 2013 issue of Racer X Illustrated. [You can order it here]. From his humble beginnings, growing up on the outskirts of Lidkoping, a small town in southern Sweden, riding hand-me-down bikes, to the prestige of factory Honda, Noren has stayed modest through it all.
We caught up with Honda Muscle Milk's newest fill-in rider yesterday to discuss the new deal.
Racer X: When did you begin talking to Honda about filling-in for the rest of the season?
Fredrik Noren: After High Point we started talking a little bit. They were looking for a replacement rider, and they wanted me to come try the bike out. The week before Tennessee, I flew out to California to try the bike out, and I met the whole crew. That was a cool experience. I've never done anything like it before. The people on the team are really cool. They are really friendly. It's just nice to be around them. They have a positive outlook. I had never met any of those guys on the team before, and it didn't take long before I felt part of the group.
What were you feeling when they called and told you they had selected you to fill-in for the summer?
I was really pumped. But I tried not to think too much about it because I had a race. I'm still a privateer until Saturday, I guess. I signed a contract and everything … it was really cool. I think it hasn't really hit me yet. I think it will hit me more when I see the bike with my number on it and the whole setup. I think that's when it's going to hit me because it's the real deal.
What were your initial thoughts on the bike?
I think the bike is awesome. I used to ride Hondas back in 2010, '11 and '12. It's a good bike and with support from them guys it will be really good.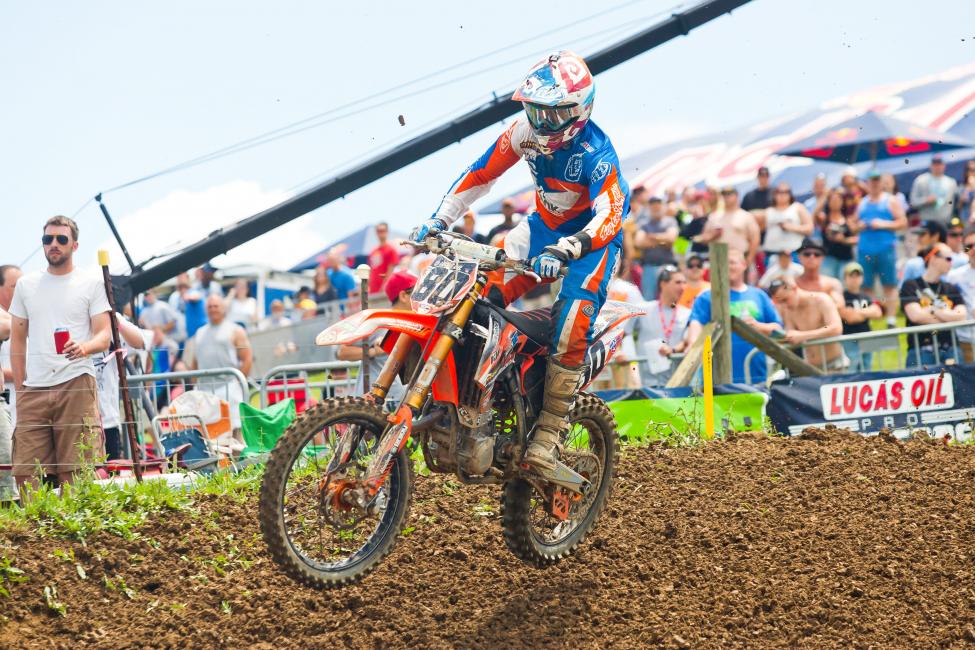 Were you able to adjust the setup to your style quickly?
Yeah. I got used to the bike really fast. It's a bike I like a lot. I think we got it pretty good for the time we had on it.
Did you think riding the Honda previously helped?Y
Yeah, it probably helped. I kind of know the basics of the Honda.
We spoke with Weston Peick recently, who was a privateer most of his career before signing with RCH, and now he has ten people around when he gets off the bike. Was that different for you at first, adjusting to not having to do your own mechanic work?
Yeah, yeah. Actually, that was a big change. Like you said, I'm used to doing everything myself, and now I just have to sit and watch other people do work. [Laughs] It's a little weird, but it's really nice. I enjoy it a lot.
When you came here to race in 2011, did you ever see this as a possibility?
I mean, I've always wanted to get here. Sure, this is just a fill in ride, and I would like to have a deal in the future, but, yeah, I was hoping to see myself on a factory bike at one point. These past years have been a little bit of a struggle, so I was kind of surprised it came, I wouldn't say this fast, but at this time.
Do you feel more pressure?
Of course I feel more pressure. They haven't put any pressure on me, but since I don't have anything to complain on—I have everything—I put some pressure on myself. I want to get better results now, and I'm on a factory team. So, yeah, there is more pressure.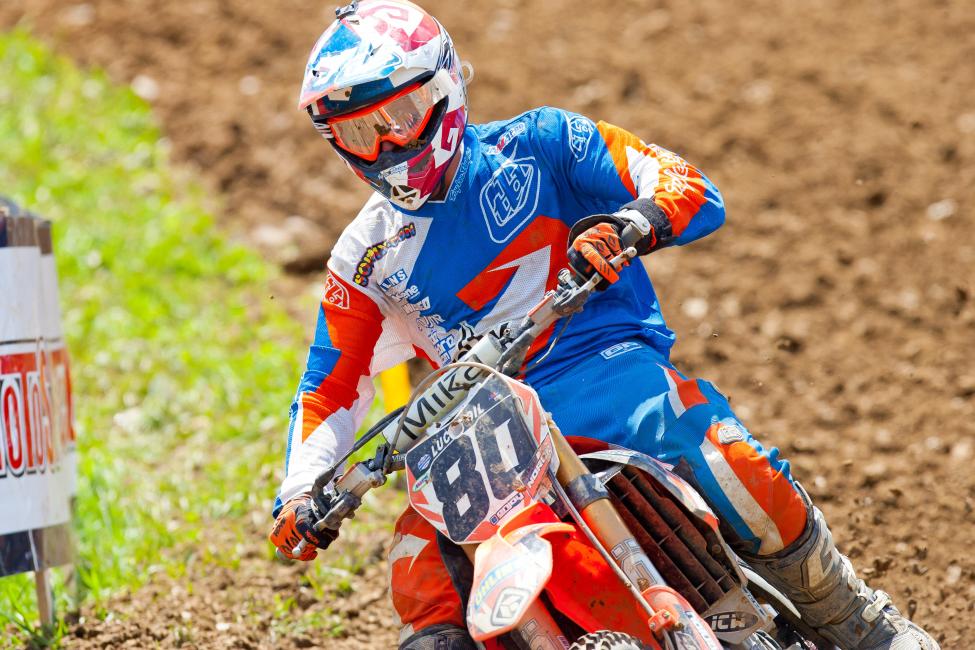 How does this change things? You no longer have to drive to the races. You will have mechanics. Is it something you'll just get used to?
I think it will be a big change. I'm kind of used to flying to races, because that's what I've done in the past. But it will be good in a positive way. It's cool to drive the van around, but it's pretty stressful sometimes. [Laughs] It will be nice to be able to just focus on riding and training instead of focusing on riding, training, and driving the car, wrenching my bike and all that. So, it will be nice.
And you will have a mechanic. In the past, you've had [girlfriend] Amy helping, but also had some help on a first come, first serve situation. Will there be an adjustment period in being able to test and tell them what is going on with the bike?
It will be a learning experience, I would say. But I think I'll get used to it kind of fast. It's all about being honest and telling them what I feel and what I think needs to be changed. I believe I'll get used to it, because I'm kind of stressed out doing the van life right now. So it will be nice to not have to worry about that much stuff.
What does it mean to join such a prestigious team as Honda?
I don't really know what to say. It's going to be awesome. They are really professional and coming from privateer life to a factory team like that, it's going to be awesome.
It's probably been a whirlwind couple of weeks for you. Have you had much time to ride the bike?
I've only rode it once so far. I actually won't ride it again before RedBud. I wanted to race RedBud, so they said, "You can race it if you want." It was kind of my decision to race. I could have waited, but I didn't want to wait. I wanted to hop on it and race it. We have seven races to do, and six after this, so I think as the miles go on we will get used to everything. And hopefully get some better results, too.
What are the plans going forward? Are you moving out to California?
I'm going to move out to California after RedBud so I can be closer to them so we can test the bike and everything easier.
Do you have a house set up out there, or is that something you need to take care of as well?
I have a place I can stay out for the remainder of the outdoors season, so that has all been taken care of. I figured out a place quite fast. There are a lot of people out in California.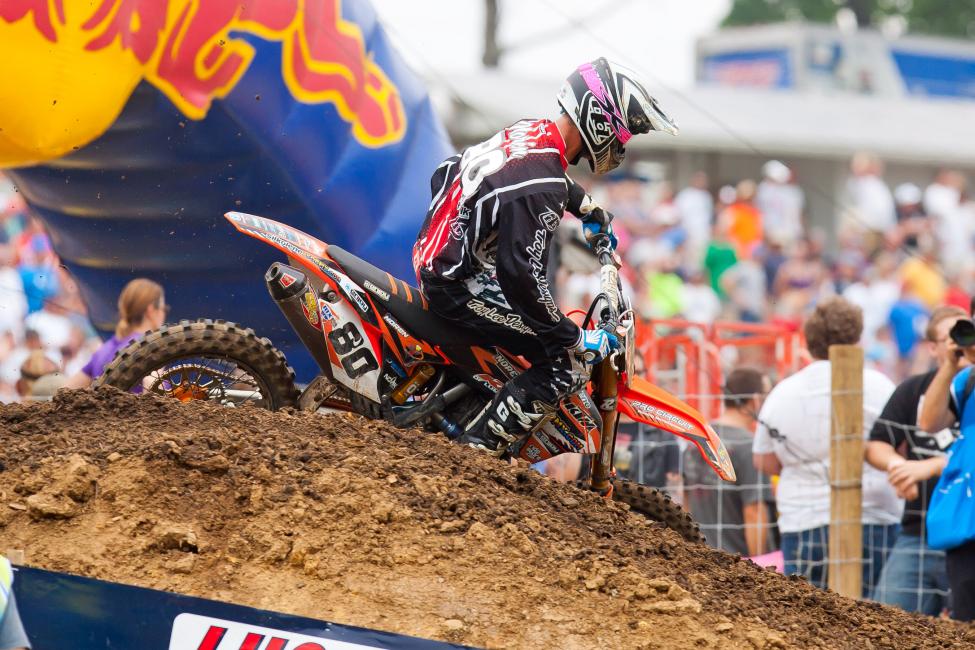 Before this deal, you pretty much trained and rode wherever you could. What will it mean to have a base in California and to be able to test there?
It will be a much better plan and a schedule. Like, I will be at this place at that time. Right now, it's like, "Ahhh, let's try and find a track" Amy is always on her phone talking and checking her phone for tracks.
Are they brining Amy on to be the mechanic?
[Laughs] No, Amy will not be my mechanic. I think maybe they talked a little bit about it to replace Schnikey [Mike Tomlin]. But I think we'll keep Schnikey. She's shooting [photography] for Alli now, so she will do the photography stuff and still be at the races.
When do you get to RedBud and finally become a factory rider?
We get in Friday. I'm at South of the Border right now, and I'm going to start driving tomorrow. I'm going to stop in Ohio and then get going again on Friday morning.
So not quite done with the van life?
[Laughs] No. I might have signed the contract, but privateer life is not yet done. We have a couple more days. Then that's it.
Thanks for the time, Freddie. Congrats on the new deal.
Thanks. I really appreciate it.