Muddy Creek Raceway
Blountville

,

TN
Race Center: Tennessee
Lucas Oil AMA Pro Motocross Championship
Kyle Chisholm thought he had packed everything—until he looked to his mechanic for the weekend, Ricky Renner. They'd forgotten to bring a collared shirt, which is required in the mechanic's area, and they also didn't have a pit board. So off went Team Chisholm to Wal-Mart. Renner picked up a fancy collared shirt—Hawaiian print—and some steel toed boots to pack a starting gate. For the pit board, they had to improvise, so they went to the arts and crafts section and bought a dry erase board. It would get the job done.
Chizz did the rest of the work, pounding out two hard motos in Muddy Creek's 450 Class to net 12-12 scores and twelfth overall. Like his previous appearance in this year's Lucas Oil Pro Motocross Championship, at the Glen Helen opener, he finished as top privateer.
Chisholm is contracted to race for a real team up in Canada's Rockstar Energy Nationals—Rockstar Yamaha pays his way up there. But the Floridian wants to stay current on the U.S. scene, so he's spending his own time and money to get in races on off-weekends.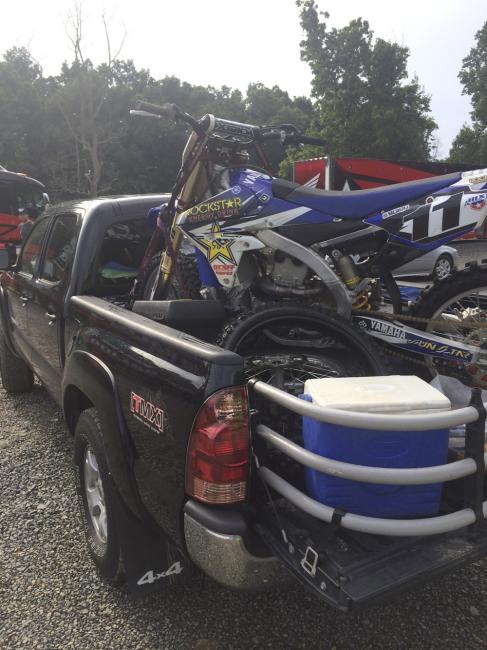 "Obviously, people from around the world want to race here and I'm even from here so this is where I want to race," he explains. "But getting rides is tough, especially for me with a leg injury from supercross last year. I had an offer for Canada in December. I could have taken a chance and tried to wait and hope something opens up here, but my best option was to race in Canada. I get a salary and bonuses if I do well, and we get help from Yamaha."
There are four U.S. National weekends that don't conflict with the Canadian series. Chizz took the 45-minute drive from his California home to Glen Helen. For Muddy Creek, he packed his 2007 Toyota Tacoma with a bike, parts, tools, gear, his wife Britney, their dog, and Renner the wrench, and drove 12 hours north from his Florida place. This was true privateer fashion—out of a pickup truck—and an old one at that. Eight years ago, Chisholm won the Tacoma through Toyota's old TMX amateur support program. The Muddy Creek trip pushed it over the 140,000-mile mark. His bike was also run hard. His Canadian team shipped him a brand new Yamaha YZ450F practice bike, but it got stuck in customs. So he loaded up his old practice bike. He'd ridden it for two-straight months and raced Glen Helen on it without a rebuild. He crossed his fingers to get through the Muddy Creek motos.
"It's a stock Yamaha with a pipe," he says. "The stock Yamaha is so fast, it's fine just with a pipe. But it has about 50 hours on it, so I was honestly just praying it would get me through the motos. Most of these teams rebuild their bikes every race."
The bike did run into a few issues but it made it to the finish both times, and Chisholm was happy with the results.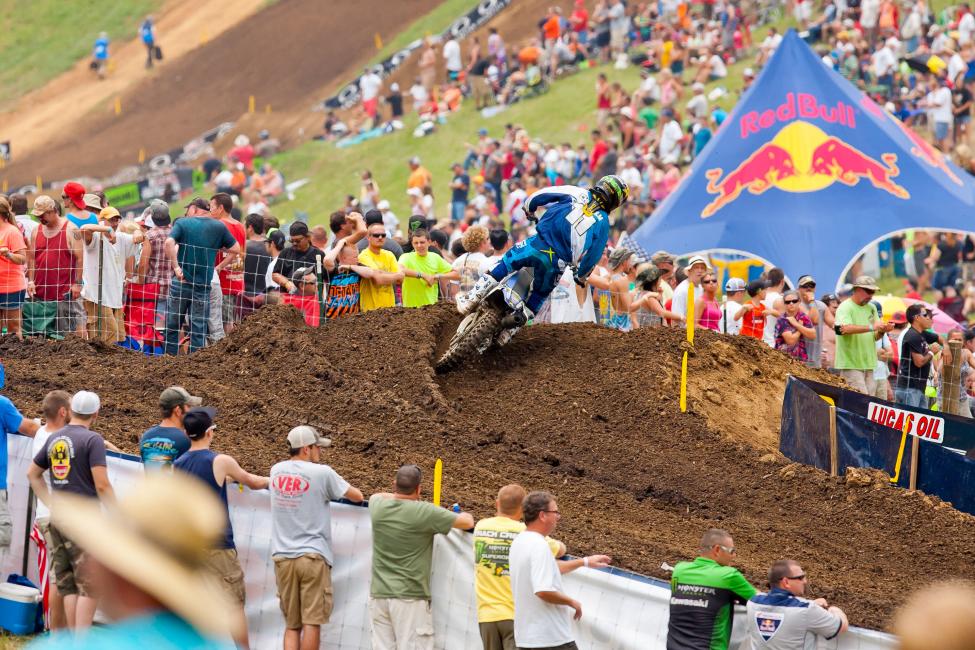 "I could take the weekend off but I figure if I race, it will only help me get faster and keep my skills sharp for Canada," he explains. "I want to keep my name out there, too, like Brett Metcalfe did last year. I haven't been able to race the Nationals here for a few years due to injuries so it's good to get back out there."
The downside is the time and effort required to make it happen. "It's totally on my dime, but that's the least of my worries, it's really the time, prepping and driving, getting five hours of sleep," he says. "Then you're trying to recover and still get in your riding and training during the week. I've been on plenty of race teams, doing it on your own makes you appreciate it a lot more."
Today, Chisholm has two items on his Tuesday to-do list. First, he'll break in his new bike at Chad Reed's track. Second, he'll try to figure out a way to get to RedBud this weekend. That's nearly 20 hours from Florida, and he's not sure he can make it. If he does, at least this time he'll have a pit board and collared shirt for his mechanic.