Muddy Creek Raceway
Blountville

,

TN
Tennessee (Muddy Creek)
Lucas Oil AMA Pro Motocross Championship
Eight motos into the 2014 Lucas Oil Prom Motocross Championship, Discount Tire/TwoTwo Motorsports racing chief Chad Reed is slotted in at number nine in the 450MX points chase. That may not be considered Earth shattering for a rider of Reed's stature, considering he started the series at series at Glen Helen a mere shadow of himself—don't forget those gnarly injuries suffered last February at the Sam Diego supercross. Reed has hung tough, where now, he has basically ridden himself back into racing shape. On Thursday evening, shortly after getting in some final testing and practice time for Saturday's Muddy Creek National, we found Chad at his Florida home as he began preparing for yet another trip to the airport and a flight north to Tennessee. Relaxed and talkative, Reed let Racer X in on the current reality of his surroundings and just what he sees playing out in the near future.
Racer X: Chad, what have you been up to today?
Chad Reed: I just did some riding this morning and now I'm just back at the house and getting ready to take off tomorrow morning for the race.
We're eight motos into the 2014 450MX National Championship. In general, how are you feeling about things?
I feel pretty decent. I think in a perfect world this race this weekend would be my first race back. You know, that's how it would have been if I were on a normal race team. However, when you're the sole rider on the team and all that—I obviously feel the pressure of sponsors and getting hurt in supercross—I'm just trying to be out there riding and trying to limit the damage that's been done to the season. I thought I was going to be a little closer in the outdoors, but yeah, I wasn't in good enough shape. I wasn't up to speed enough. I've been struggling through the first month. This weekend off came at a good time, though, and we just tried to do as much work as we could within one week and get ready for these next five weekends straight.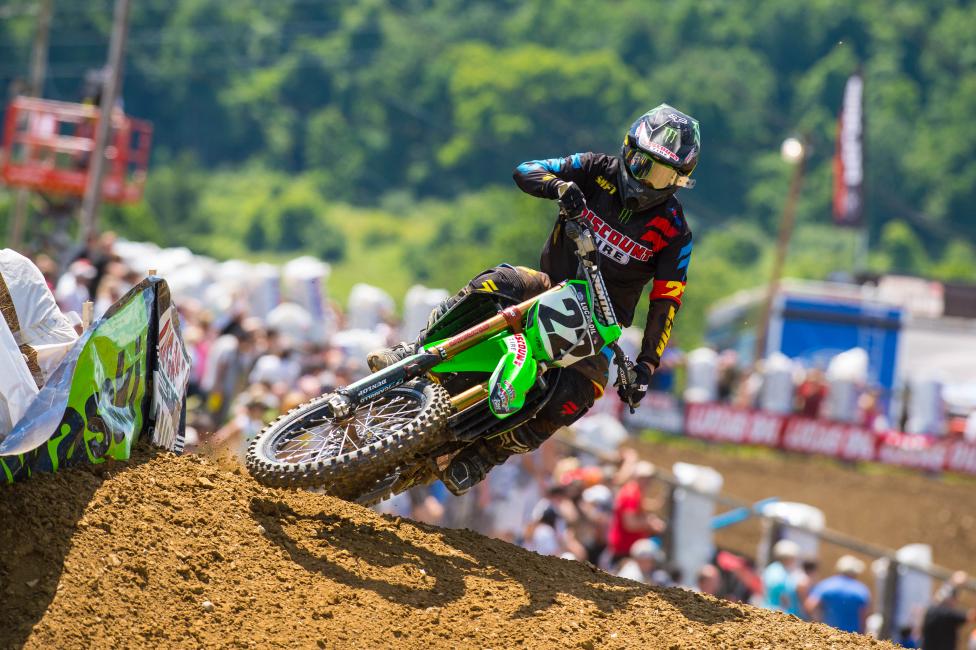 At Mount Morris there were moments when you looked very strong and had the speed to run up at the front with the leaders.
(Laughter) Yeah, I kind of disagree with you a little bit. I wouldn't use the word strong for any of my performances. I had strong starts, maybe, but other than that I wouldn't use the word strong. I mean, it was a struggle. We were off a little bit and just struggling with the pace. We were struggling to be able to basically hold the pace for 30 minutes. Like I said, it was a struggle for the first month. There's not a lot you can achieve in one weekend off, but we definetley tried to maximize the time as much as possible and I feel a little bit more prepared going into this fifth round. I'm looking forward to this weekend. It's a track I don't necessarily love, but I think all my favorite tracks are coming up after this weekend. So we'll try to do the best we can this weekend and then get after it at my favorite ones.
What are your favorite tracks, Chad?
I love RedBud, Budds Creek and Millville. Washougal can be kind of hit and miss. Some days I love it, some days I hate it, but it has potential.
How did you like racing back at Glen Helen again?
Yeah, Glen Helen would have fun to be in the mix and to have been a little stronger at. In general, I think it was a good progression to get back there. I'm glad it's back in the series. I think it's a unique racetrack and we don't really get those kinds of conditions anywhere else in the world. I believe that Glen Helen belongs on the circuit. Track-wise, I think it's awesome. Facility-wise, nothing has changed. It is what it is. It was nice to be back at Glen Helen, for sure.
So four rounds in, would you now consider yourself to be back at 100 percent?
Honestly, I feel I'm not 100 percent where I'd like to be, but that's racing. Even the top guys are probably not at where they would want to be. As an athlete you're always trying to strive to be better. You're always looking to improve here or to improve there, whether it be the bike or your fitness or your riding or anything like that. I'm the best that I have been all season, so I think going into this round I think we're going into it a little more prepared than what we were at the first four races. No excuses, I've got to get good starts and I have to learn that pace again. When the pace is there, the fitness will come. It's going to be a grind all season long, but that's kind of what we do. I'm just looking forward to it, you know? I've been enjoying being at the races. The results haven't been where I would picture myself or where I'd want to be, but being at the races sure beats being on the couch. You have to take the good with the bad sometimes.
That's the hardest thing about being an athlete—you always want things yesterday, not today and not tomorrow.
As far as the racing goes thus far, who has impressed you thus far?
It's hard to comment because when you're racing you're so wrapped up in your own world, but getting two holeshots at Mount Morris kind of confirmed to me what I've been thinking all along—I don't think that the pace is crazy; I don't think guys are going faster than we've ever seen guys go. It's just about putting the pieces together and being on your A game. Right now we have four guys that are on their A game—Roczen, Dungey, Stewart and Canard—so my goal is to get good starts and to try and mix it up with them and steal some points away and get on the podium. Once that comes, I'll try and pull myself into a win. But yeah, no surprise at all. To get two holeshots and to be around those guys and to get see them for a lap or two and to understand that the things that they're doing, or the things that you know need to be done, are just not there right now. We're just not hitting our marks like we need to. And that's the goal. The goal is to get to that feeling to that we're there and running with those guys.
Through owning and operating the race team, how is it being your own boss? I was speaking with Grant Langston recently and he mentioned that he thinks that directing your own team has been good for you.
For most anybody, who wouldn't want to be their own boss and, for the most part, do what you want to do and call the shots? Obviously that comes with a price and you have to give and take. I take a lot on now, you know? I have a family life at home and I have the race team and I obviously have my racing. I feel like I've found a good balance for what works and what doesn't. I've found the key guys I can trust and I allow them to do what they do within the race team. As always, you're only as good as the people around you. My crew and my wife allow me to be creative and they pick up the slack when I'm playing athlete. It works for me. I like it. We kind of compare this to what some people have done, but nobody has done this before. Not to this extent. We're just stating. We have big plans and big dreams to fulfill.
Will having a second rider on the team ultimately become a reality?
A second rider comes down to making sense, financially. When the budget is there and the finances are there to do it, then that's always been the goal—to have a second guy. Right now it looks promising to have a second guy, but with anything in moto, you never want to count your chickens before they hatch. We'll just keep plugging along and working hard and see if all this pans out.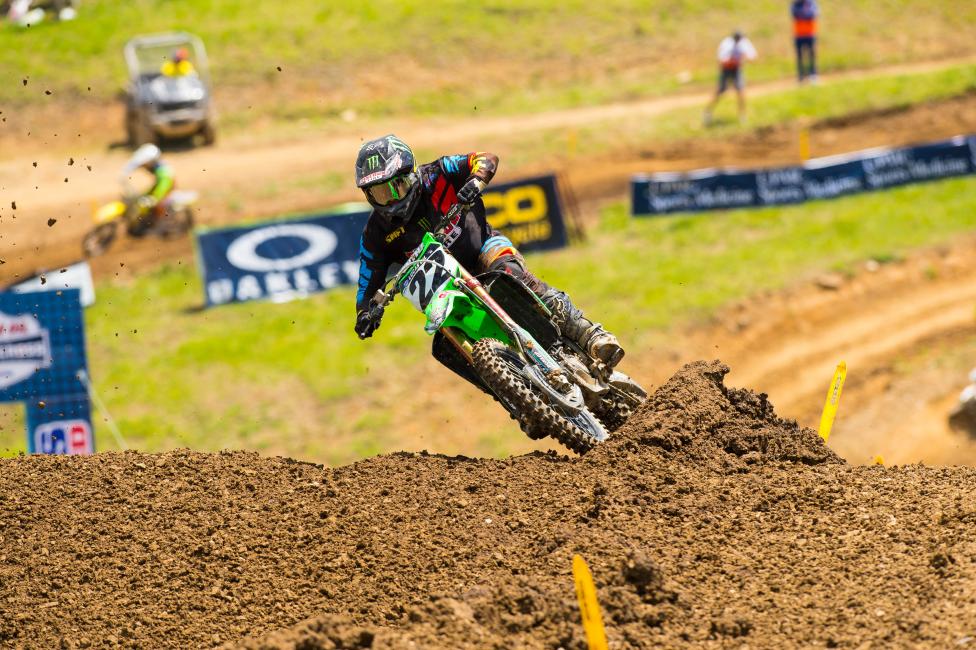 So things are moving along quite well for you.
Like I said, there's no denying that I'm a racer and a competitor first. I enjoy winning and that makes racing much more enjoyable and fun. After a tough season in supercross and being out and being injured, it sure is nice to be out at the races. The fans have been awesome. Getting two holeshots at Mount Morris and kind of seeing everybody on the fences cheering was a nice little throwback and I enjoyed that. It's about enjoying the small things right now, the big things will come with hard work and just being patient. That's the hardest thing about being an athlete—you always want things yesterday, not today and not tomorrow. I certainly get impatient and want results yesterday, but there's a reality of it. Things are good. I'm trying to be an athlete, a father and a team owner all at one time. We're already working hard on 2015. It has its challenges, but it's a lot of fun and it keeps me busy. We've also been working really hard behind the scenes on TwoTwomotorsports.com. Ellie probably more than me, actually. I think we've got some good and exciting things with that to launch here in the next two weeks or so. I think it'll be something, both as a business and as a family, that we can have a lot of fun with and allow us to have more interaction with the fans. We're going to come out with some cool, fun products for TwoTwo fans. A lot has been going on. Ellie is due for a baby here in the next month so things are real good. We're real pumped here and just doing our thing.
I have to ask the question: what do you make of all this James Stewart business?
I'm going to bite my tongue as I have more questions than answers and I don't know all the facts. It'll be interesting to see the way this all falls. Like I said, I'm trying to bite my tongue here.