Muddy practice sessions and a broken bike aren't exactly the conditions you'd expect to precede a rider scoring the first four points of his career. But that's how it went for Dakota Kessler two weeks ago at High Point Raceway. Kessler's been at this since 2011. After seeing his accomplishment, we knew he deserved some coverage in this week's Privateer Profile.
Racer X: You just earned National points for the first time in your career at High Point. Congrats!
Kessler: Thank you. I almost didn't even get to race. We went out in the mud for the first practice and my times were really good, but then when I went to go out for the second practice my bike wouldn't start. We figured out that one of the valves was coming apart and luckily my dad is a pretty good mechanic and he threw a new valve in and got us back out on the track. I qualified twentieth, which is probably the best I've qualified in a while, and the whole day just started clicking. I got a good start, which doesn't happen often for me, and it all just came together after that.
Wow, your best results and you almost didn't even make it to the line!
Yeah, that's what makes it the best out of everything. I came off the track and my dad was like, "See that? We almost didn't even get to race!" I charged the whole moto and just proved to myself that I could do it. Sometimes you just start putting yourself down, wondering if racing is something you should be doing, but once you achieve a goal, you realize you can do it and it revamps you to get back out there.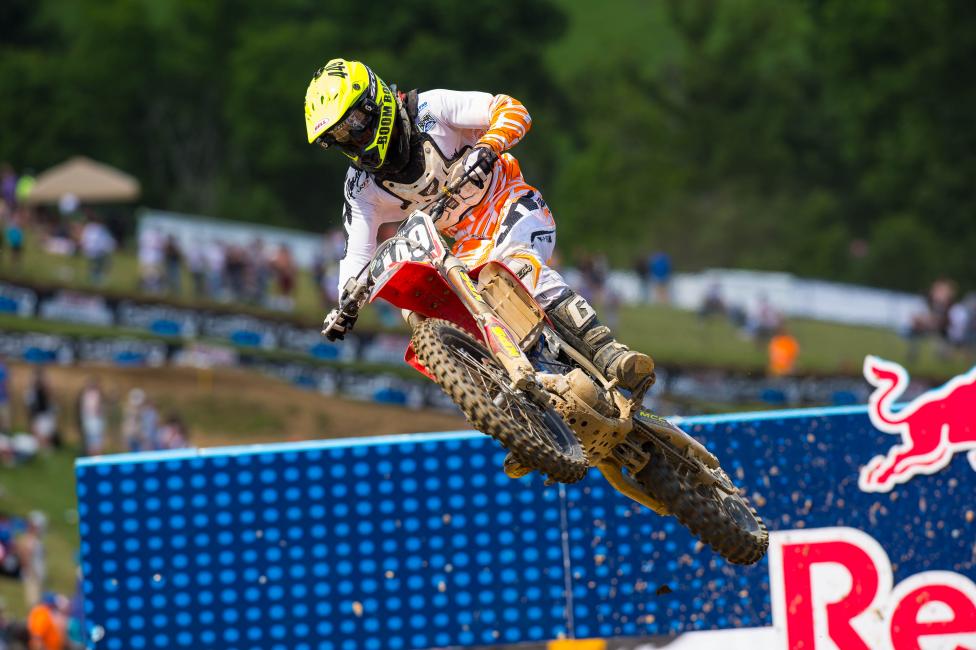 Why didn't you race at Thunder Valley?
We blew up our bike at Glen Helen and we pieced it together with parts off of my practice bike. We made it to Hangtown but after that we figured we'd better not push it. We headed home and got the bike ready and went out to High Point with a fresh bike and a good motor.
What's your plan for the rest of the summer?
We're going to hit as many Nationals as we can. I don't know if we'll hit Utah or Washougal, but you never know what could happen. Sometimes people help out more than you think. That's the struggle of a privateer I guess.
Absolutely. What's the toughest part about being a privateer?
The struggle of not knowing if you're even going to make it to the race. And if you don't break down on the way to the race, will your bike make it through? You've spent all that money and time. I'm on good bikes, I'm not complaining, but it's always in the back of your head. It would be nice if your job was just to go there and ride your bike, knowing everything was going to be ready when you got there.
What's the best part of living the privateer life?
Traveling with your family. Yeah, it stinks that you have to drive cross-country, but my dad travels a lot with me and I get to spend a lot of time with him. My mom backs me a lot, and if I have a couple friends who want to come with me and they come and help me out. That's definitely the best part.
Speaking of family, your father was a pretty successful racer in his day. Some might even say he was the best racer to ever come out of New Jersey.
Yeah! He definitely had some amazing results. He never won a National, but I believe he's won a GP and stuff like that. He came really close to winning Nationals, and I think the lowest National number he had was ten. It's a good background to come from, and he's helped me each and every step of the way. He's been there, done that, everything. Sometimes people don't understand that either and are quick to say he's just a guy trying to live his dream through his kid. He's not. He actually got to live his dream! And he explains that to me, too. He's always there to help me. I remember the first time we got out on the track and he told me we were going to start with corners. "We'll learn how to corner first and worry about jumps later," he said. He's got the background and it helps a lot with me. If you're giving up you're in the wrong sport, and I hear that if I ever pull off during a moto!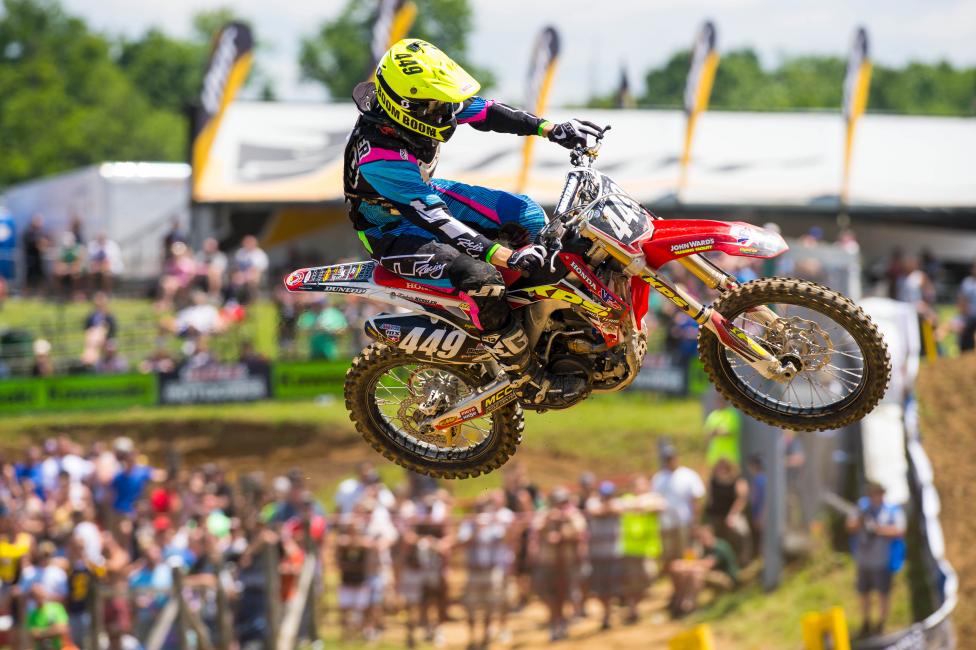 I'm not going to lie. Before High Point I was thinking maybe it was time for me to go get a job. Then after I scored points my dad said, "See? Just when you were about to start settling down and doing local races instead, this happens!" Right now those four points are a dream come true for me. If I get a number out of it at the end of the year that's cool, but to know that I have just that one ride under my belt is pretty cool.
Your dad sounds awesome. Is it true that he got a law changed in New Jersey so you could race dirt bikes when you were a kid?
Yeah. I think the legal age limit was fourteen or fifteen, or ten or eleven or something like that, and he got it changed to seven I think. Then in my first race I went out and won the first moto, which was pretty cool. I got beat pretty good in the second moto by one of my best friends though. It was cool that my dad went through all that trouble to get the law changed, and now that's one of the main classes at my local track, Raceway Park [Englishtown].
This sport is how my dad and I connect and that's a big part of the whole sport for me. If it wasn't for him I wouldn't even be out here. I love the sport and I'd probably still have tried it, but he's backed me in every way.
Who else is helping you make it happen?
Kessler Pro Suspension, Montgomeryville Cycle Center, Pitstop Shoppe, FMF, Scott, JT Racing, Bell Helmets, MotoLift, Rich Designs, Bel-Ray, Rekluse, VP, Engine Ice, Boyesen, Sun Cycle, Moto Hose, and Allaire Electric.