High Point Raceway
Mt. Morris

,

PA
High Point
Lucas Oil AMA Pro Motocross Championship
You can tell when Trey Canard is feeling good—he starts joking around. He was Jokey McJokester during High Point's post-race press conference, and, really, he's been keeping it light all season long. At the Glen Helen post-race presser, he asked Ryan Dungey a question:
Trey: Hi, I'm Trey Canard, with, um, with Sports Quarterly. Your bike is orange. I just wanted to know your thoughts on orange.
Dungey: Yes everything I do is orange. My diet is orange. Everything I drink is orange. The more orange I have in me the happier the bike seems to be with me.
The following week Canard was asked the same question.
Last week you asked Ryan Dungey what it was about the color orange that he likes so much. The same question to you. What is it about the color red that you love?
Canard: It's really just an organic color. If you look at strawberries and red apples, you know, it's really just an organic color.
Do you realize how much you made Tim Ferry [Canard's coach] stress out with that bad start in the second moto?
Canard: Yeah, you should see the guy eat M&Ms. He eats like eight packs in a day, it's pretty impressive.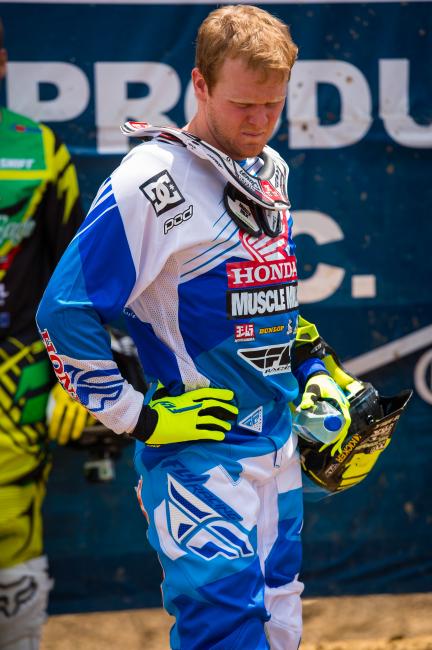 At High Point, he was asked what it would take to take the next step and win a race,
Canard: "I'd say my chi isn't quite balanced. I'm not quite grounded with the earth; I'm not one with the earth just yet. But a few more days of standing on that earth with my bare feet, I'll be there."
Then the also-gets-silly-when-he's-on Blake Baggett got in on the act and asked Trey a question.
Baggett: You're talking about suspension setup, might you just switch to a hard tail to help on the hills?
Canard: We just changed the pull rods for a little bit extra torque. We went to a different flux capacitor, 1.21 gigawatts we were ready to time travel.
Don't let the jokes throw you—if Canard is joking, he's actually much more serious. Right off the bat at Glen Helen, he got tangled up with James Stewart, and had to fight his way back to salvage a seventh. Combined with third in moto two, he had third overall for the day, and then spoke about points in the post-race press conference. He knew he has to climb back in that first moto, because every point might count come August.
But, c'mon, the Red Bull KTM boys were dominant and James Stewart is always considered a contender. Trey is talking title? Doesn't he need to just focus on getting through a season healthy?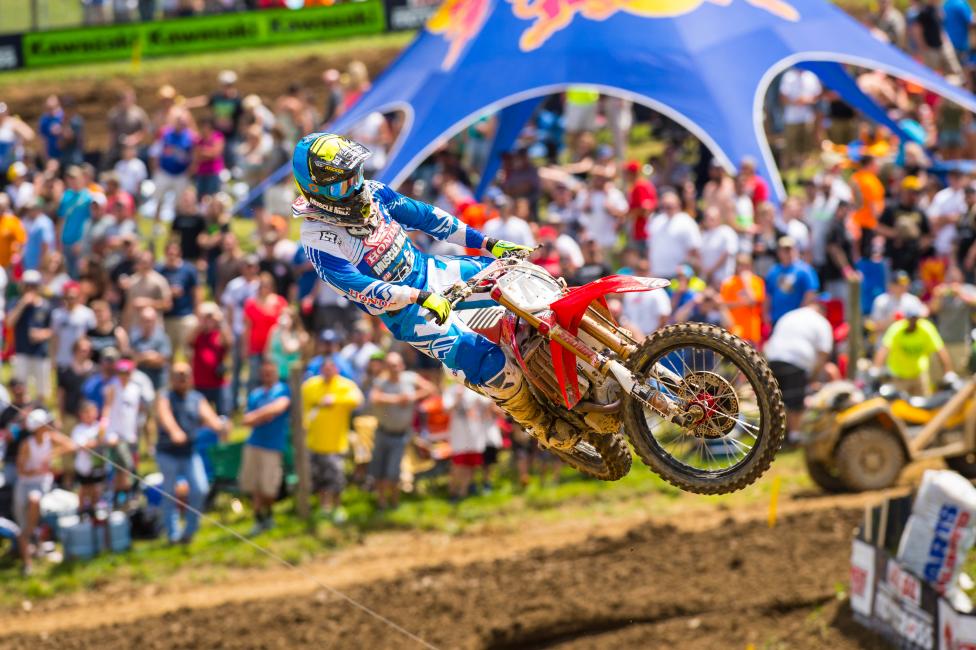 Well, we can run this stat: Trey Canard made every single moto of the 2013 Lucas Oil Pro Motocross Championship. He was healthy the whole time. He lined up for every practice all 12 weekends. So while most of the world is saying, "Let's hope Trey stays healthy," Trey himself feels like he's well beyond that. Okay, he missed a whole bunch of supercross with a broken arm—but now he's healthy, he's fast, and he's thinking title.
We should not count him out. While James Stewart's strides from Glen Helen to High Point have been most pronounced, Trey went from 30-some seconds off the pace of the KTM boys to right with them in moto one at High Point. Then he finished in front of them in High Point's second moto.
"The thing is we're all at a point… looking at it from the outside in I think the KTM guys are probably the most comfortable," says Trey, actually being serious for a moment. "I think James has made progress and has gotten a lot more comfortable. I'm looking for that comfort level that I feel like those guys have. They're minor changes because you don't want to reinvent the wheel and mess everything up. We made an air pressure change in the forks for the second moto and it made all the difference."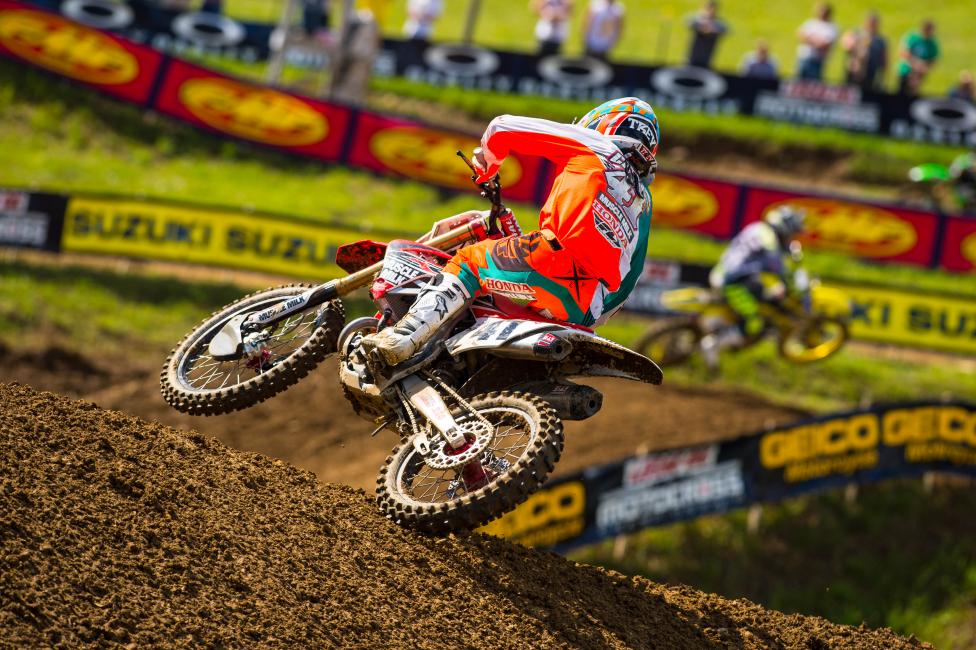 Trey is fourth in the standings and 33 points out of the lead. It's not the perfect scenario, but he's a much more realistic contender than he was in the 250 Cclass four years ago at this time—and he went on a furious rally and managed to win that one. Roczen, Dungey and Stewart have won the overalls and sit as top three in points, but Canard is going to play the dark horse role, and he's making it interesting.
"I can't predict the future but I can predict the fact that I'm going to give my best every time," he said after High Point. "The cards will fall where they will and I'll be happy with my effort knowing that I did my best. Be the cherry on top to get that win. I'd really like to get a win. That would be huge. And then like I said we're all shooting for that championship, that's what we get paid for."
Never mind the jokes. Never mind the injuries of the past. Trey's in this one for the long haul.