High Point Raceway
Mt. Morris

,

PA
High Point
Lucas Oil AMA Pro Motocross Championship
Welcome to Racerhead and a very busy weekend for everyone here at Racer X. The UPMC High Point National takes place tomorrow—our hometown race! We have been helping out the MX Sports and Racer Production crews as best as we can, and now it's just a matter of hoping for good weather and great racing tomorrow.
First, happy Friday the 13th and Happy Father's Day Weekend to my fellow dads out there. One of those dads is Mike McDade, a very fast and well-respected privateer from Pennsylvania. Mike won't be racing High Point this time around because he's at a hospital down the road with his young son Keegan, who has been diagnosed with acute lymphoblastic leukemia. Keegan is in the middle of chemotherapy treatments, which are a horrible thing for any person—let alone a 3-year-old boy, to go through. I know this from experience: My dad had to undergo chemo treatment during his own battle with leukemia.
So we decided to do something to help the family of a fellow rider and invited everyone here at High Point to join in. At 5 p.m. after today's amateur practice we're having a track walk/run to honor Keegan and raise a little bit of money for the family. The idea is to bring a buck or ten to the starting gate, put it in the bucket for Keegan, and take a lap around the track on foot. Walk, run, crawl—whatever it takes. All the money goes straight to the McDades, and we hope the support will help Keegan by letting him know the local motocross family he barely knows is already there for him. John Ayers from Moto-Tees printed up some cool "Keegan Strong" stickers with Mike's #200 on it and we will be passing those out as well, as well as offering them at the Gear Superstore.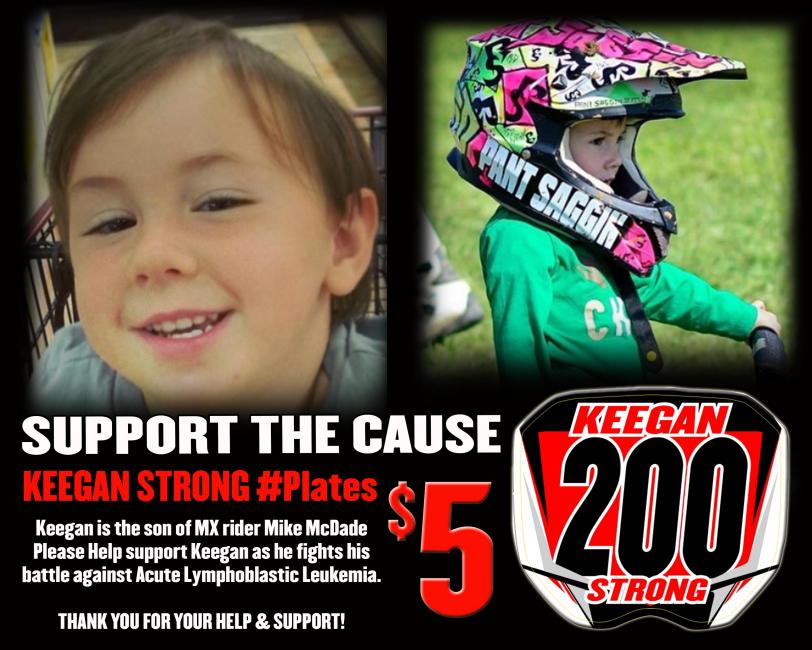 If you want to help support Keegan but aren't coming to High Point, visit www.gofundme.com/a1ekyc and make a small donation for a young rider, his privateer dad, and the whole McDade family.
Since I have been out here at the track for most of the past two weeks, I asked the guys to go over everything else in Racerhead below. Tune in tomorrow for what should be an epic race—and don't forget that the start time on this one is 12 noon Eastern! Okay, time to stretch out and get ready to go run around this race track.
HOW TO WATCH
Round 4 of Lucas Oil Pro Motocross begins an hour early on Saturday. Action kicks off from High Point Raceway at 12:00 p.m. EST. You can watch all the action live on Promotocross.com, NBC Sports Network and MAVTV. Click here for a detailed viewing guide.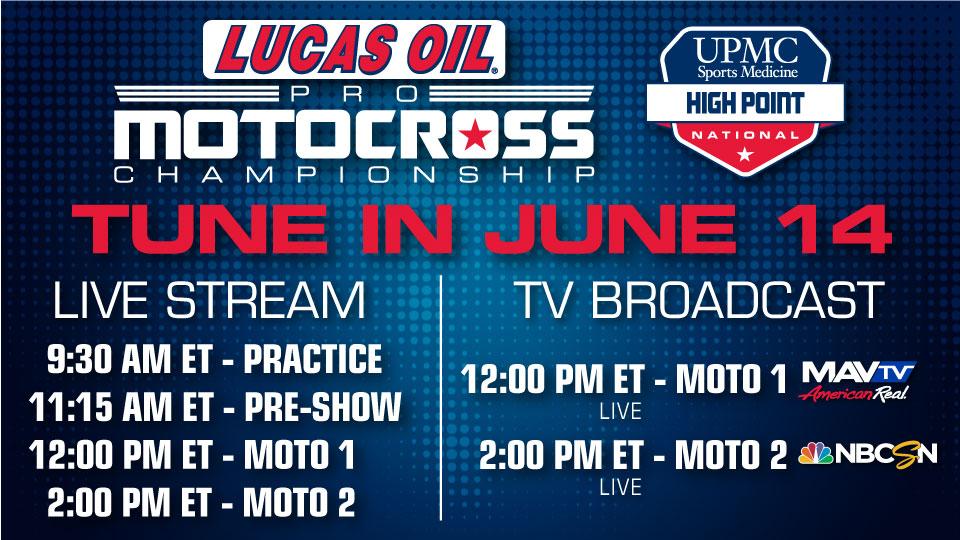 TRACKS (Jason Weigandt)
While the national schedule has changed quite a bit over the years, I feel like the general prestigiousness (new word!) of the races gravitates toward those that have been around the longest. Thunder Valley, for example, has become a sneaky good round, but it still carries the "sneaky" tag because it's relatively new compared to tracks like Unadilla, RedBud, Hangtown, Washougal, and High Point. Maybe there's a twenty-year moratorium before the sneaky goes away?
The old tracks actually go through streaks and slumps, though. There was a time when Unadilla was the most heralded track, arguably, in the world. High Point made a real run as best of the best, though, in the 1990s: The Memorial Day crowd was nuts, the track was always sweet, you had some Damon Bradshaw moments and crazy mudders to add to the lore.... Then RedBud started making a run in the 2000s. Now it boasts the crazy crowd and the track keeps getting better and better. The latest "Wait, this place is awesome too" track is Spring Creek at Millville. Just about the time it passed the twenty-year mark, of course, it started catching fire in the informal "What's your favorite track?" survey of the top riders.
But here's the thing: So much of that is just trendiness. Unadilla, High Point, and RedBud are all still around and they're all still awesome. I'd say most of the tracks are as good as ever, and they all have massively upgraded their facilities through the years. I think when the riders get asked the standard "What's your favorite track?" question they just follow the herd and give the same answers. So it used to be Unadilla, then High Point, then RedBud or Millville. Hey, all the tracks are pretty good. Can we just go back to realizing High Point is pretty awesome? It's the same place it always was back when it was everyone's favorite!
Because it has been around for so long, some riders have a deep connection with the place, too. Josh Grant won his first national here but also flipped his bike into a pickup truck one year. Ryan Villopoto won his first national here, too, but he's out and on vacation in Europe now—prepare for breathless "RV to GPs" threads soon. Trey Canard would have won here but he flipped over the bars late in a moto, ending his season. James Stewart has had high and low points at High Point, dating all the way back to his KX80 days as an amateur. Plus, combine the race with our annual Racer X parties, and I'd bet plenty of fans and industry people have their own rolls of crazy High Point stories. There's a lot of history soaked into this place—plus, the track is everything we say we love about the outdoors: hills, hills, hills, jumps, and crazy fans. What's not to love?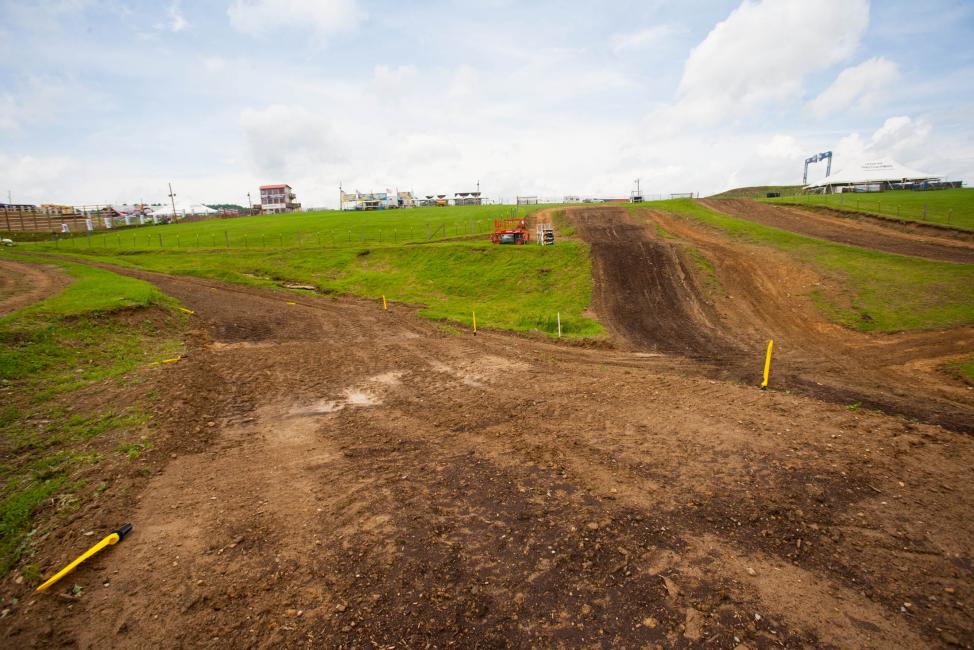 ALBERTSON AND MORE (Steve Matthes)
Jimmy Albertson's 2014 assault on the nationals hasn't gotten off to a great start through three rounds. Bad leg cramps in the second moto at Lakewood dropped him way back and the other five motos haven't been the best from the former top-ten competitor. And then the motor went out on the Sprinter van he and his brother (and mechanic and some would say soul mate) have been pitting in for the nationals, really putting a dent into Top Jimmy's program. (Albertson's Crosslands Racing team was just a supercross-ony deal.)
With funds running low, Albertson took to social media to try and help out his effort (you can donate here) and it's been successful. Albertson's getting the new motor put in, but he and his brother will not be at High Point this coming weekend. Partly because of the van and that deal and partly because Albertson's going to be needing the two weeks to get used to his new KTMs.
That's right, after a couple of years on Hondas, Jimmy's going to orange, as he found Surdyke Yamaha/KTM of Lake of Ozarks to support him for the rest of the summer. With the costs of going racing and now the van, Albertson was forced to find someone to help him, and seeing as how he would've had to buy some Hondas, this deal was too good to turn down. Of course it's not going to be easy to get used to a new bike after so long on red, but chalk it up to another obstacle in what is turning out to be a summer of obstacles for one of the sport's top privateers.
TLD Honda manager Tyler Keefe told me before the season started that Jessy Nelson was going great and had the best times out of any of their riders at some sessions. I just chalked it up to "Krazy Keefe" and naturally wanting to pump up his guys. Well, here we are, three rounds in, and Nelson is a real surprise this summer as he got his first career motocross podium at Lakewood. Nelson's 2013 outdoor MX was basically a write-off with injuries, so he was definitely off some radars until this year's nationals began.
Fantasy moto dork alert!!! Fantasy moto dork alert!!! Red Bull KTM's Marvin Musquin was very fast in the second moto at Lakewood and perhaps is all the way back from his knee surgery that kept him off the bike for a long time. So taking a look at Musquin's second moto and the fact that he went 2-1 at High Point last year, I'd say he's a fine choice for an overall podium or better this weekend. You heard it here first.
I texted back and forth with Honda Muscle Milk team manager Dan Betley about Honda getting a fill-in for the now-injured-and-out-for-the-summer Justin Barcia, and he wasn't sure. He confirmed that the bike won't be used this weekend, but beyond that, he wouldn't say one way or another. One thing is for sure: Betley's cell phone blew up this past week from agents and riders looking to get on the vacant Honda.
Have you checked out Moto XXX: A Complete Oral History we ran earlier this week? Part one was in last month's magazine, part two was here, and we'll have part three (of six) right here next week.
Some links:
With Justin Barcia being out for the year with an ankle problem, JT and I debated his impending move to JGR here.
Lissimore filed this photo report from round two of the Canadian Nationals in Kamloops, British Columbia here.
David Vuillemin answers the tough questions from Lakewood in this Scott Motosports column here.
Jason Thomas and Michael Byrne joined me to talk about High Point, USADA testing, JS7's riding and much more on the Fly Racing Moto:60 Show here.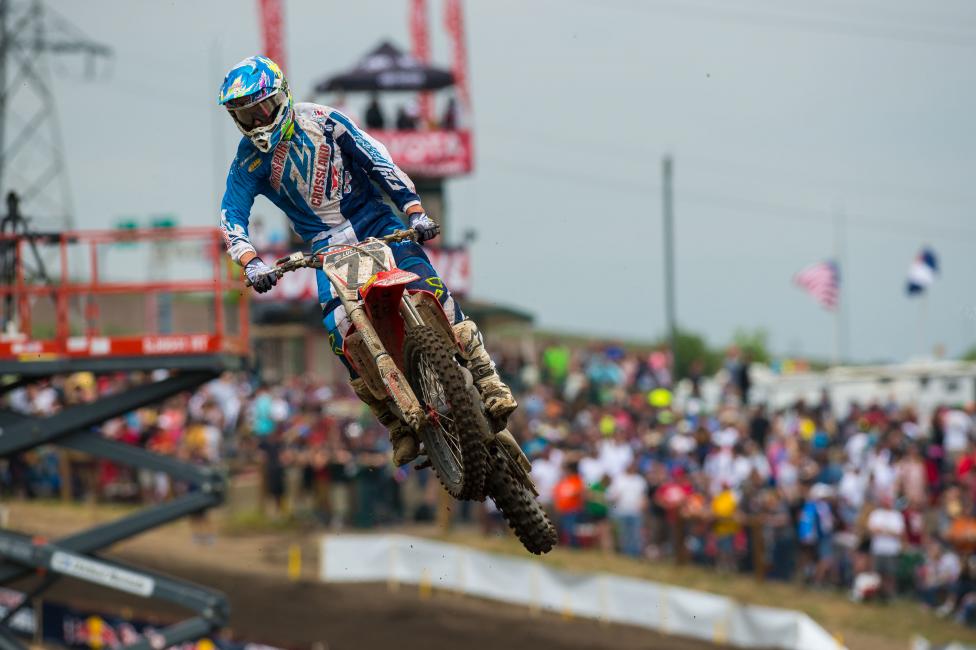 PERSEVERANCE PAYS OFF FOR ALEX MARTIN (Chase Stallo)
The foundation was damaged. Cracks were beginning to show. It's been nearly one year to the day since Eleven10 Mods folded, leaving Alex Martin without a home. He stood at High Point press day on Thursday, just feet from where he was a season ago, his career in flux. This week, though, things are different.
"I think a lot of people know what went down last year, with the team folding halfway through," said Martin, now with CyleTrader.com Rock River Yamaha. "Getting on Rock River and toughing it out with them [Martin signed with the team following High Point last year] really paid off. They have a solid foundation this year and the team has been great. It allows me to ride during the week, and I haven't missed a day of practice all year."
Martin thrives under structure. He wants organization. With Rock River bringing on title sponsor CycleTrader.com for 2014, he's got that foundation.
"Its pretty much 180 degrees different from last year," he said. "Last year was kind of like a Wonder Warthog program, and this year is pretty much a full-on deal."
The move has also allowed Martin more time on the bike. "I think there is something to be said for all the hours I get to put on the bike this year," Martin said. "I'll have lot more hours logged and I think it really makes a difference in racing. In years past I would miss one or two weeks of practice because I didn't have a bike. It's not like this year, so I'm very fortunate."
While nothing has been confirmed for next season, Martin is comfortable at his new home. "It's nice to be in an atmosphere where everything is taken care of and there is not many stresses," he said. "We have JGR doing the motos and suspension so I know the bike is good. So it's not only about being organized, but I know the bike is competitive as well."
The older Martin also said that although younger brother Jeremy has won five of the first six motos, the first three tracks "were not his style," and we could see more improvement from his little brother!
"Those first three races are not my kind of tracks at all… and actually is scary as it is, they are not my brother's kind of tracks either," he said. "We both grew up at Millville and are used to this rutty, more technical type of track."
So Jeremy will be faster? "And I will be too!" Martin said with a laugh.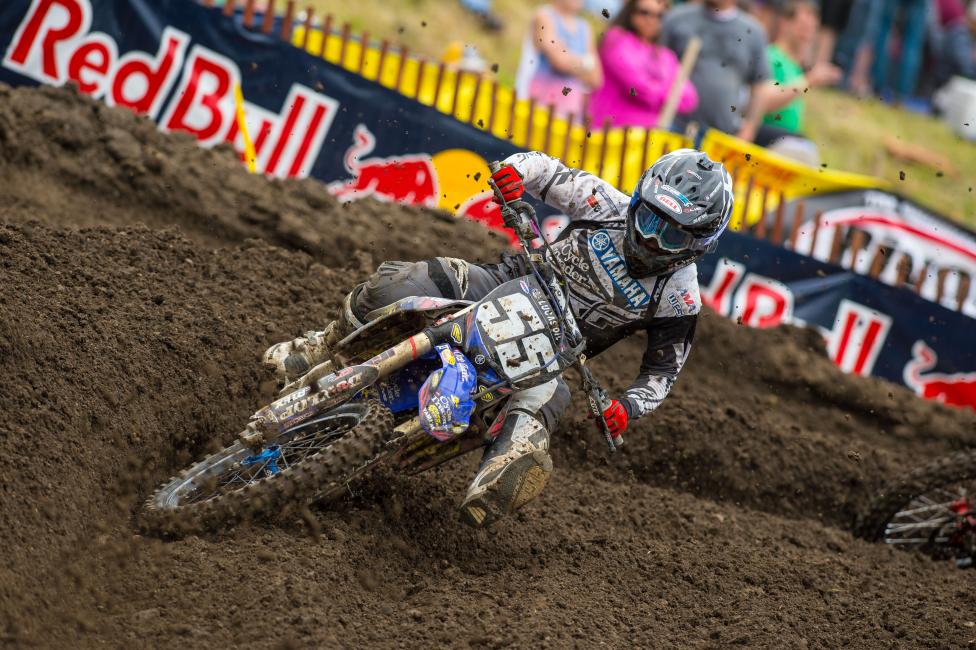 PRO PERSPECTIVE – MOVING EAST (David Pingree and Jason Thomas)
Ping: Florida has become the place to be for professional racers in the past decade. The available land, frequent rain, and hot, sticky summers make for the perfect training ground for the nationals. But there is another factor that makes it a great place to be in the summer: the time zone. Riders jetting in from California to, say, Pittsburgh are facing a four-hour flight (which will leave as the sun is rising) and cross over four time zones. Being on a plane is dehydrating, tiring, and a great way to get sick, so there's that. Then they have to rent a car and drive to the track, typically for at least an hour. All of that sucks. But the worst part is that when 9:00 pm (6:00 Pacific time) rolls around and they want to get some sleep, they can't. It's tough to change up your program and fall asleep at six. I remember tossing and turning and looking at the clock every thirty minutes counting down the hours until I had to get up to be at the riders' meeting. If I was lucky I would crash around 11 or 12 and be back up again before six. Some guys can operate on those numbers but I always felt like a zombie the next morning.
This weekend will be the first time the California boys will have to make the trek, struggle to fall asleep, and then shake the cobwebs off the next morning and go to work. It is a distinct disadvantage.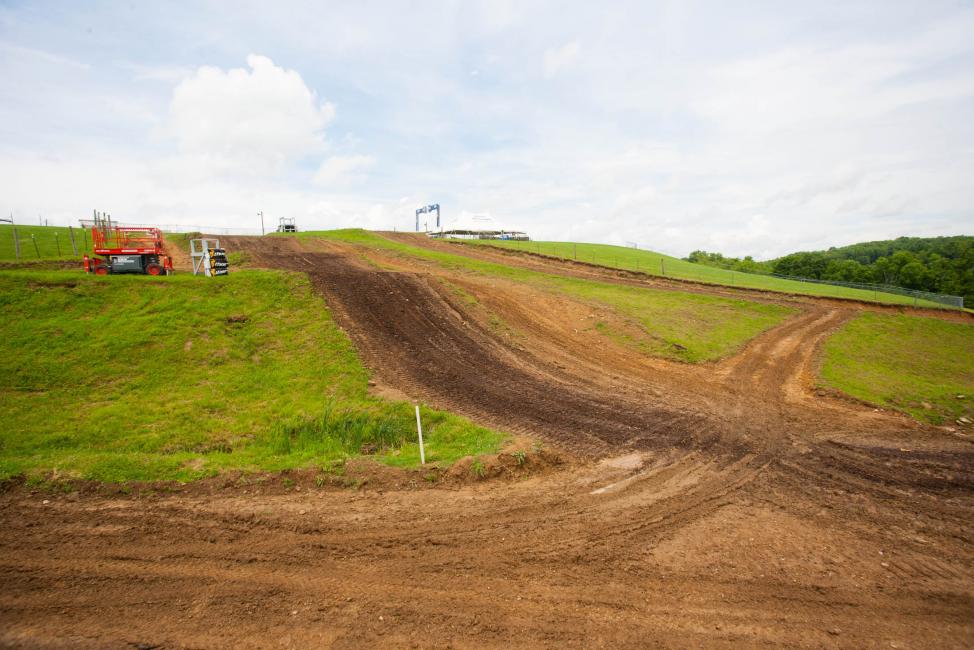 JT: Every year, in early summer, I can vividly remember being at riders' meetings and seeing the lack of sleep on many of their faces. The late-night lying in bed accompanied by the alarm clock going off far too early is brutal when you're trying to perform at your peak. While a three-hour time difference is far easier than, say, a trip to Europe, it still presents its own difficulties. Studies have estimated that it takes a full day for every time zone crossed for your body to fully adjust. For me, I always just felt sluggish and not as alert. The body is wondering when it's supposed to sleep and when it's supposed to be firing. This same awkward routine repeats itself week in and week out all summer for those who remain in California. In fact, this is a large reason many will decide to summer on the East Coast. Shorter flights and no adjustment can make life much more enjoyable.
As we head to the UPMC High Point National this weekend, I will once again be looking around to see who looks like they barely slept and remembering all the years I witnessed this same scenario. Did I ever mention I'm glad I grew up in Florida?
SIX MONTHS LATER (Chase Stallo)
Six months into Toyota JGR's pioneer "pilot program," the jury is still out. This off-season the team signed longtime veteran Phil Nicoletti to contest three rounds Monster Energy Supercross and three rounds of Lucas Oil Pro Motocross. Due to injury, Nicoletti would race more than his allotted time in SX, and has already been signed for three additional races outdoors.
How is it working?
"It's hard, don't get me wrong, but it has been an awesome opportunity, and honestly I really do like it," Nicoletti said at High Point press day on Thursday. "For supercross it is kind of hard jumping in and out, but it's been a really good learning curve for myself, and the team as well.
"Instead of having one guy line up for a main event in supercross, we've been able to have two," he continued. "For team and personal sponsorships it has to be a big deal and has to help. I had a lot of TV time this year—maybe not for the greatest reasons—and it's been a heck of a ride."
The question now is: Will other teams catch on and being to implement something similar?
"I guess it depends on the team," Nicoletti offered. "It would have to be for factory teams, because it does take a lot of money to run three guys on a factory team at that level. It's not like back in the day when they used to have three of four guys per factory team."
JGR has gone all-in with this new program. Time will tell if it leads into a different avenue to explore for teams.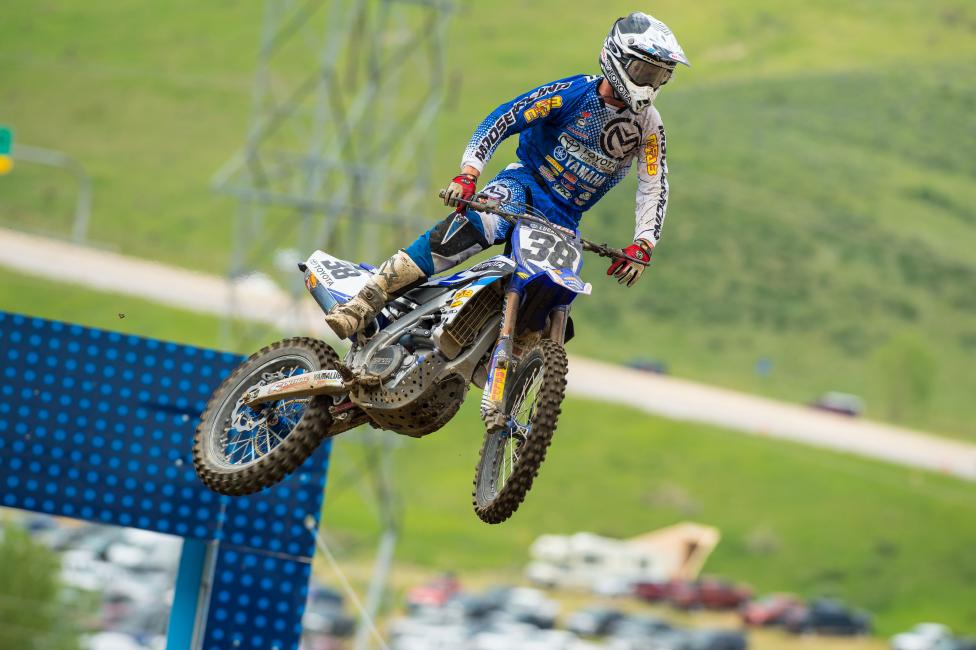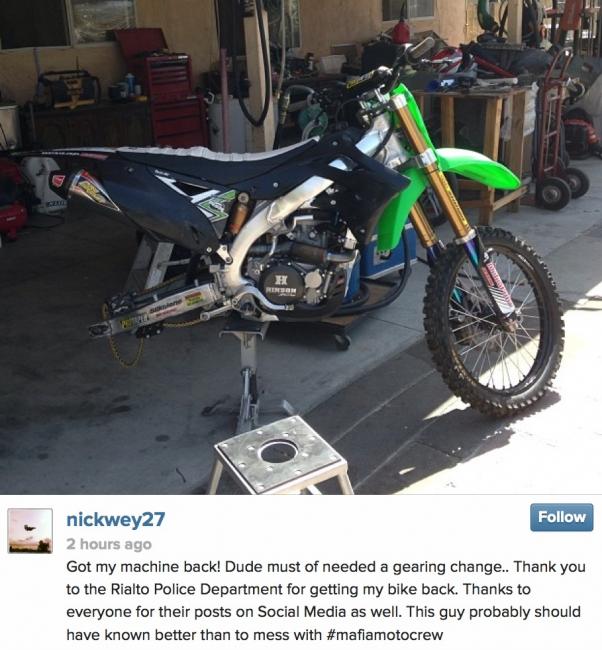 British Moto Artist Rob Kinsey has just completed this commission for the Road 2 Recovery Foundation and tonight's dinner with Johnny O'Mara in the Balmone Restaurant above the famous Maggiora track in Italy where Team USA won the 1986 MXDN with the "U.S. Dream Team" of Johnny O, Rick Johnson, and David Bailey. The original painting will be presented to O'Mara tonight and a very limited number of giclée art prints, signed by both Johnny and Rob, will be available to purchase afterward, with proceeds going to the foundation. During this weekend's Italian MXGP Johnny will ride a lap of honor on a specially prepared replica Honda 125cc in remembrance of that great day from nearly thirty years ago and looking forward to the MXoN return to Maggiora in 2016.
A get-well-soon to our very good friend Big Rick Carmichael, who was injured when a car he was working on rolled back on him. Big Rick is one of the nicest and funniest people you will ever meet, so our best wishes are with him and Jeannie and of course Ricky.
Thanks for reading Racerhead. Have a safe Friday the 13th and a Happy Father's Day Weekend. See you at the races.