I'm not privy to all of Ken Roczen's training secrets, but suffice to say laying down on the ground and having random dudes pull his shorts off isn't normally the plan. But Kenny's a competitor; he'll do whatever it takes to win.
This particular race is the annual dealer/rider team race that KTM holds as part of its North American dealer show. I literally could not believe what I was seeing. Over at the Cahuilla Creek motocross track in California, KTM created five-rider teams consisting of three dealers and two factory riders, and they each rode a lap of the track with a giant pair of shorts over their gear. At the end of the lap, they hopped off the bike and passed it—and the shorts—onto the next guy. Kenny quickly realized the shortest way to get the shorts off was to lay on the ground with his legs up while the others tugged away. And when his "teammates" were on the track, random dealers he hadn't even met before, he cheered and yelled just like it was a National.
Only KTM could pull this off because only KTM has such a massive gang of factory riders. Besides the motocross and supercross crew of Roczen, Dungey, Musquin and Short (yup, Short wore the shorts) the factory FMF/KTM off-road team was in on the mix, and that consists of, seriously, about a dozen riders. They have freestyle riders Ronnie Renner and "Cowboy" Kenny Bartram, too. This is a day and age of thinned factory rosters and budgets compared to a decade ago, but with KTM, it seems like there are no limits.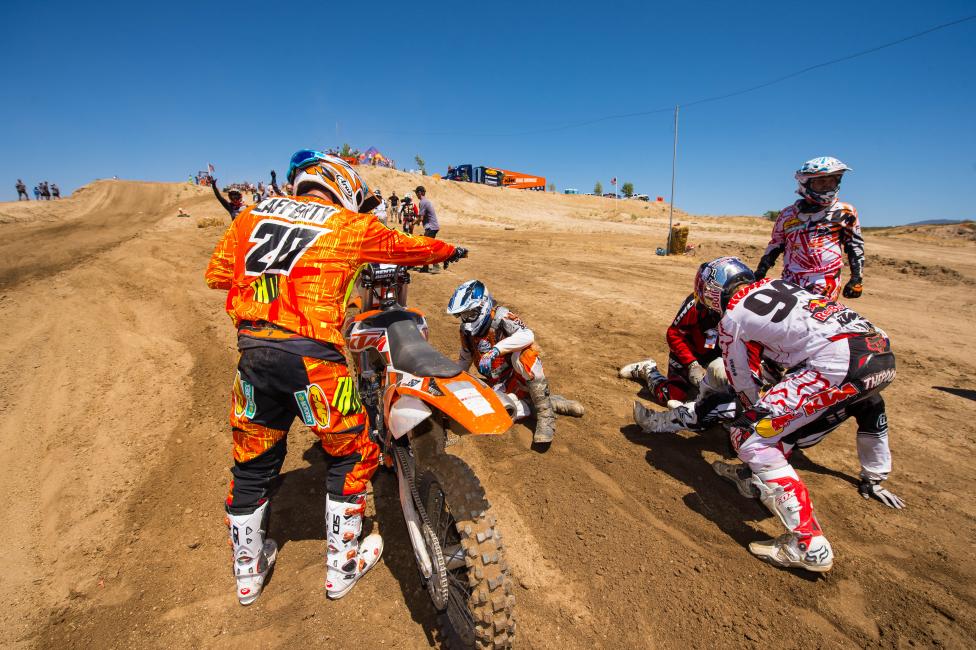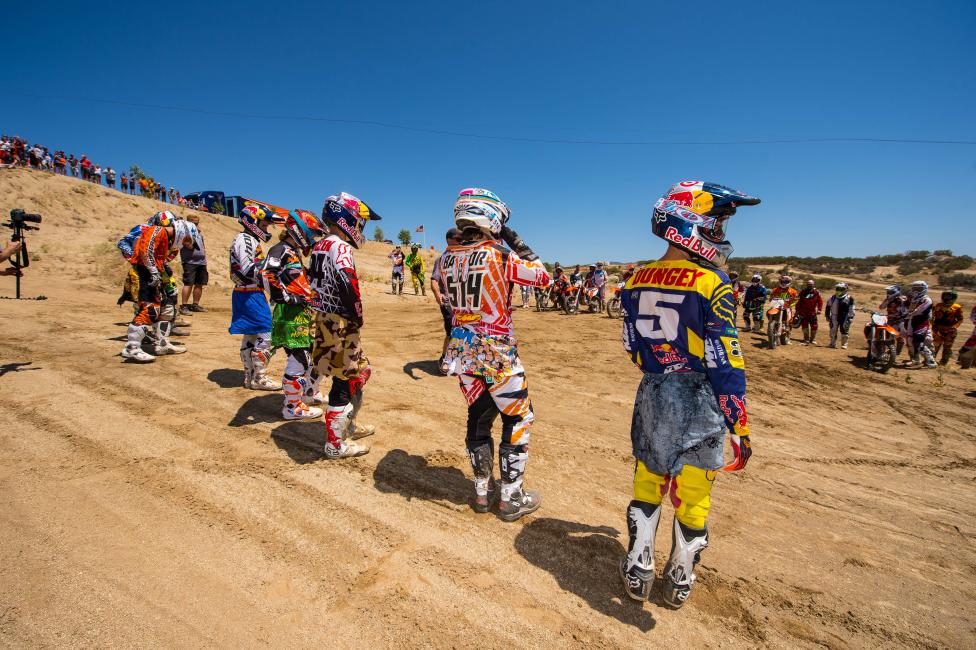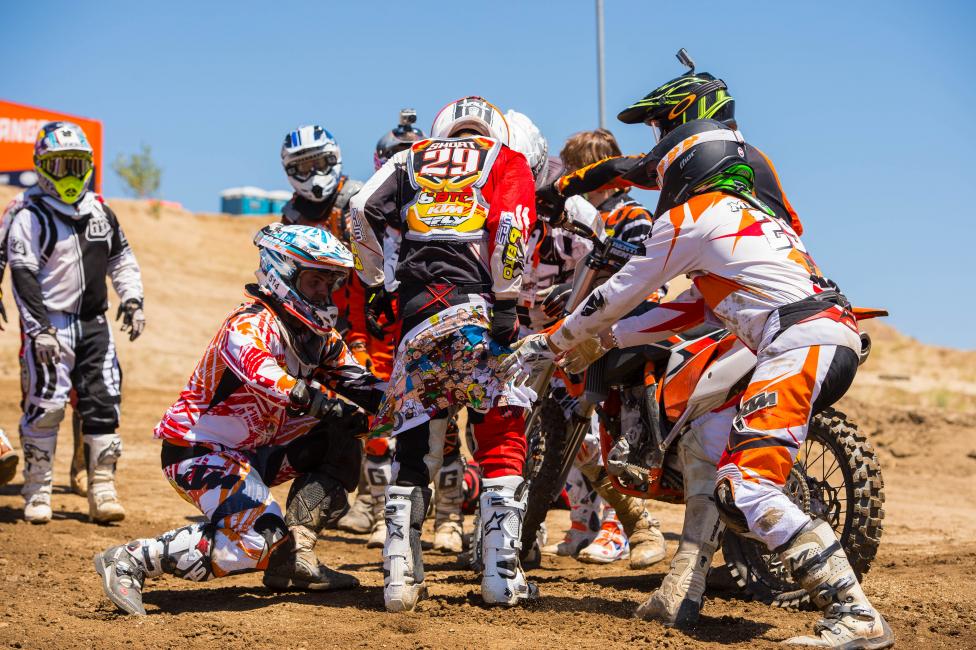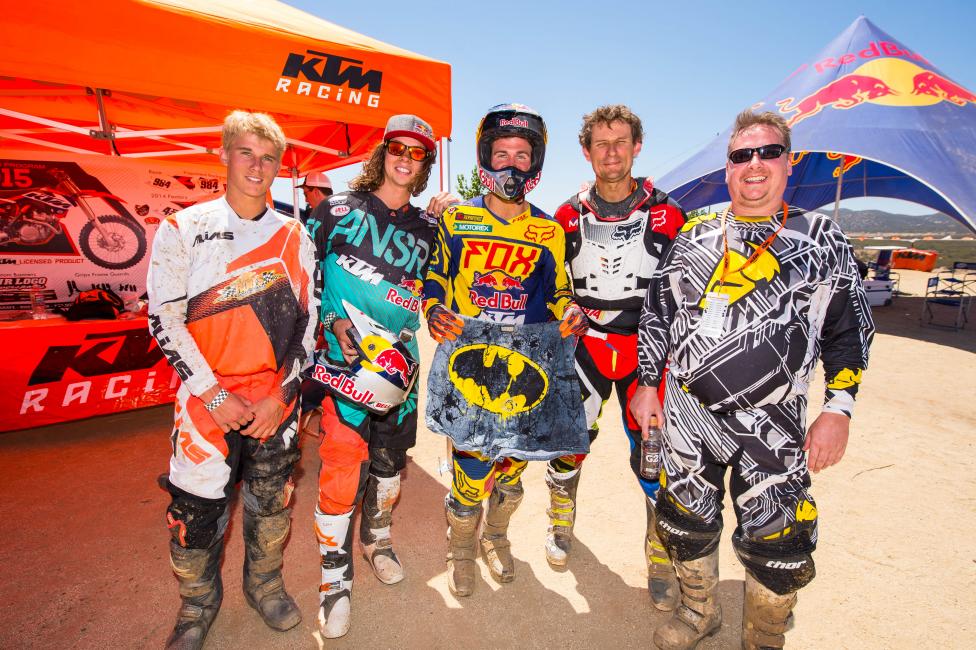 These dealer shows, be it for KTM or any other brand (full disclosure: KTM hired me to host the show), serve as a pep rally of sorts, designed to pump dealers up so they buy a whole lot of bikes, parts, gear and accessories for their shop. It's always strange to think of the real concept of retail business, in that companies are actually selling product to stores and not people. In the case of this industry, if dealers aren't pumped, customers aren't buying.
KTM doesn't have a tough time pumping dealers up right now. The brass seemed was giddy over the 450 Class in Lucas Oil Pro Motocross, with the Kenny/Dunge train smashing everything in its path. For hardcore moto fans watching the races every week, Roczen/Dungey domination doesn't seem too crazy. But if you're a long time KTMer, you have to be pinching yourself. Try as they might, the brand had basically never had success in the big class in the U.S. Dungey carrying the team to premier class wins seemed like a long shot and now Dungey might not even be the best KTM rider in the class!
But the off-road market has always been KTM's heart, and I know all the previous pushes for supercross and motocross success risked alienating that customer. Back when I covered the GNCCs, I heard plenty of: "They better remember that the off-road stuff is what put them on the map." They have not forgotten, in fact, their off-road gang is stronger than ever while some other brands have pulled out completely. And I've always respected the respect they show the off-road set. In this case, Kailub Russell, Taddy Blazusiak, Charlie Mullins, Mike Lafferty, Ivan Ramirez, Stewart and Grant Baylor, Casey Martinez and Taylor Robert are introduced just like Roczen and Dungey.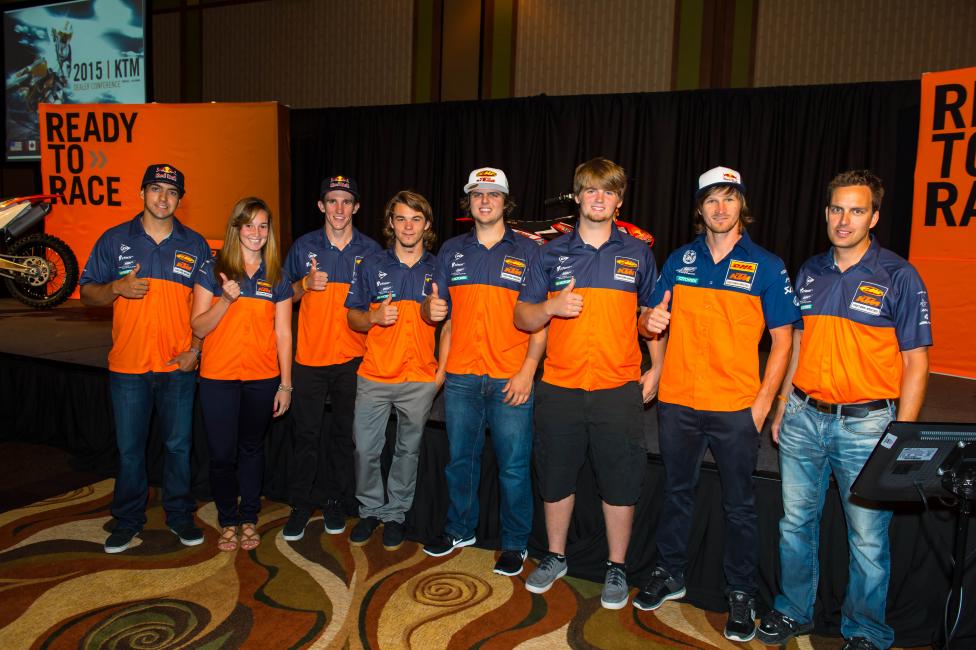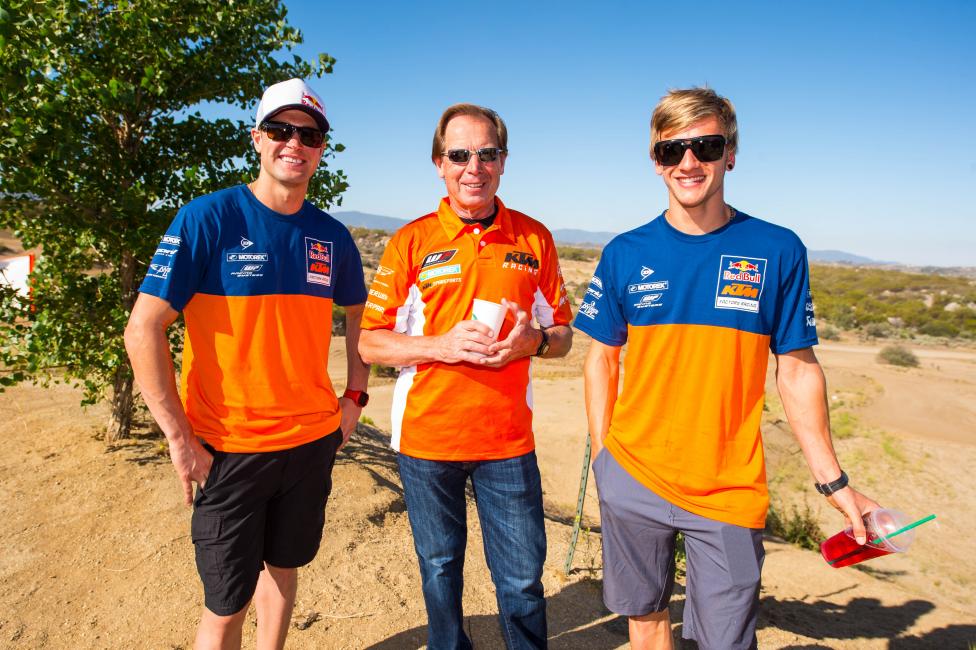 In effect, this has become KTM's biggest challenge—handling success. As the brand made strides in the early 2000s, there were always rumors of parts shortages and supply chain issues. That's far in the past now. There were worries that the focus on the motocross would take eyes off off-road, but they kept both pots on boil. This summer will test the team in new ways if Roczen and Dungey end up in a tense fight down to the wire.
There was a time when KTM was a cult brand, a counter culture way of saying you wanted to be different. As it edges closer to the main stream, it will face the same obstacles other boutique brands do in this situation. Can it stay close to the unique core values while also pleasing the larger audience?
I think it can, but only in a specialized industry like this. In this case, KTM keeps pushing its hardcore "Ready to Race" edge harder, and at the dealer show North American President Jon-Erik Burleson freely admitted that racing is too extreme for some people—it's a line many are not willing to cross. KTM could probably chase more sales if it aimed closer to the recreational market, but really, once you're involved in something as core as dirt bike riding, haven't you already crossed that line? No one buys dirt bikes as appliances the way they do toasters or washing machines. The KTM guys pointed out that they make "six 250s." That's ridiculous, and might I add these bikes aren't cheap. But one dealer from Canada told me how proud he was to have a collection of Dungey Factory Edition 450s. And while most brands aren't even convinced that an off-road bike should be hardcore racing oriented in the first place, KTM keeps cranking out new models. Do people that just hit trails on the weekend really need a KTM that could win a GNCC? There's a pretty big line between the 50-year-old trail cruiser and Kailub Russell, but you know that guy just has to get a 350.
Doesn't matter. This is a lifestyle sport and we want what we want not what we need (honestly, you can't really make a practical and logical argument for any dirt bike purchases. This is all love, baby). Because of that, KTM's plan works.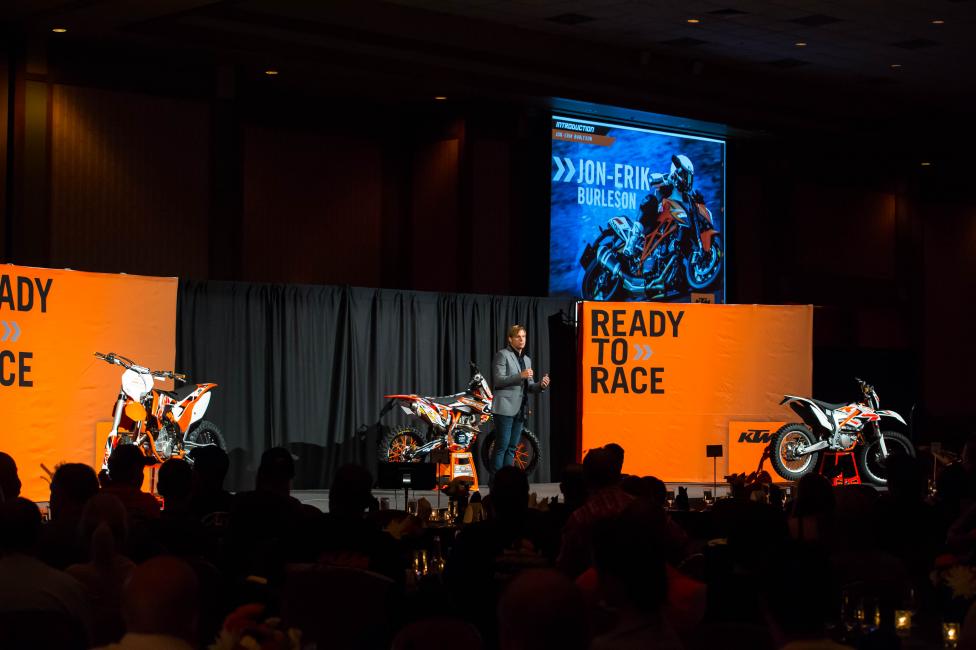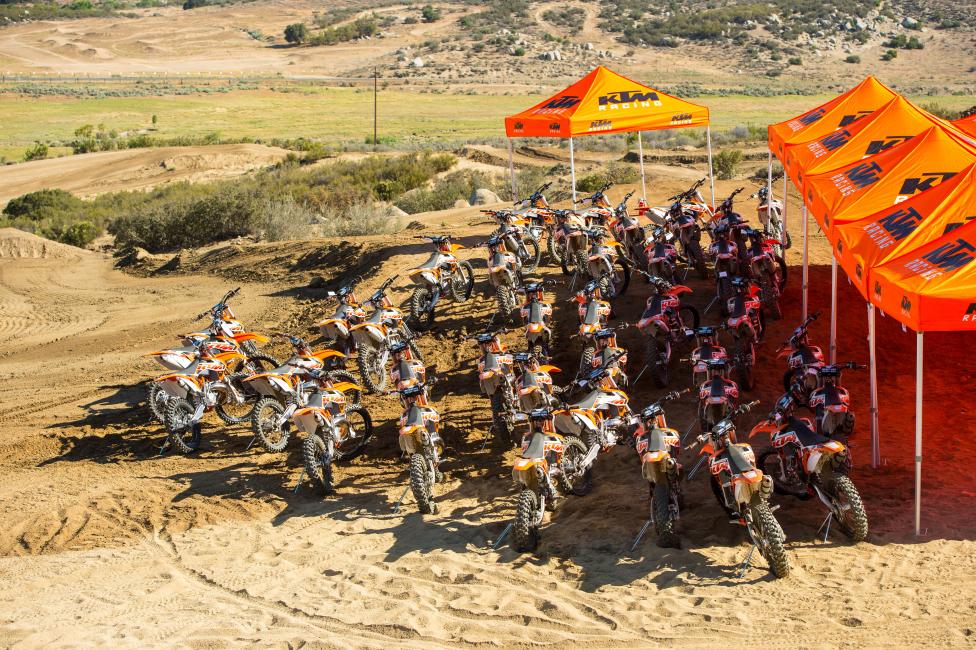 At the dealer show, Monday was for workshops and business sessions on product, parts and the rest. We pumped everyone up with the factory team appearances at night. But Tuesday was the real day. Everyone headed to Cahuilla and got to spend the day riding a mountain of bikes. Just piles and piles of SXs and SX-Fs and XCs and XC-Fs and dealers riding countless laps. I could have flown home after hosting Monday night's show, but I wasn't passing up a chance to ride brand new bikes all day. I met dealers from all over, made new friends, and chatted with old ones. It seems like all of the KTM brass are people who race or used to race, so most of them are old friends from other avenues. We basically enjoyed an old-fashioned day at the track. It's the reason we all got into this sport in the first place, long before we had jobs in it (and in the case of a dealer event, every single person in attendance is making a living off of dirt bikes somehow).
The day capped off the with the team race. We saw Dungey riding a 125 and getting tangled with Kailub Russell accidentally (hearts stopped for a second, but Dungey was okay). Roczen on the ground with those shorts. And a new friend I'd met at breakfast in the morning, a dealer from Texas, got to team up with GNCCer Grant Baylor and EnduroCrosser Taylor Robert and win the team race. People were riding dirt bikes, and they were pumped. While they'll be business people once they get back home, the event flushed out the real reason to do what they do—they're all enthusiasts. They all ride. They all love this sport. These hard core KTM folks are a little different than everyone else. As long as they still embrace that, everyone's still going to be happy.