Thunder Valley Motocross
Lakewood

,

CO
Thunder Valley
Lucas Oil AMA Pro Motocross Championship
Aside from the United State and Europe, Australia has the most storied history in moto, a lineage that stretches across generations. The late Andrew McFarlane, the Marmont and Moss brothers, Dan Reardon, Craig Anderson, Michael Byrne, Brett Metcalfe, and multi-time AMA Supercross Champion Chad Reed, among others, have paved the way for a new breed of Australians. This fact is not lost on nineteen-year-old Cairns, Australia native Jackson Richardson.
"All I did growing up was watch AMA Supercross and Motocross and dreamed of being there," Richardson said in a recent phone interview. "Seeing guys like Metty and Chad… when you see guys like that, there are only one and a couple hundred that can pull that off. "
Growing up in Cairns, a regional city in far north of Queensland, Australia, Richardson always enjoyed the countryside. A self-described country boy, Richardson, who would would rather "have all the land he could have" than live in a big house, yearned for the simple country life. Around the age of twelve, his father, who runs a construction and haulage business, bought property outside the city to grow and run a sugarcane farm. It would become Richardson's own motocross heaven.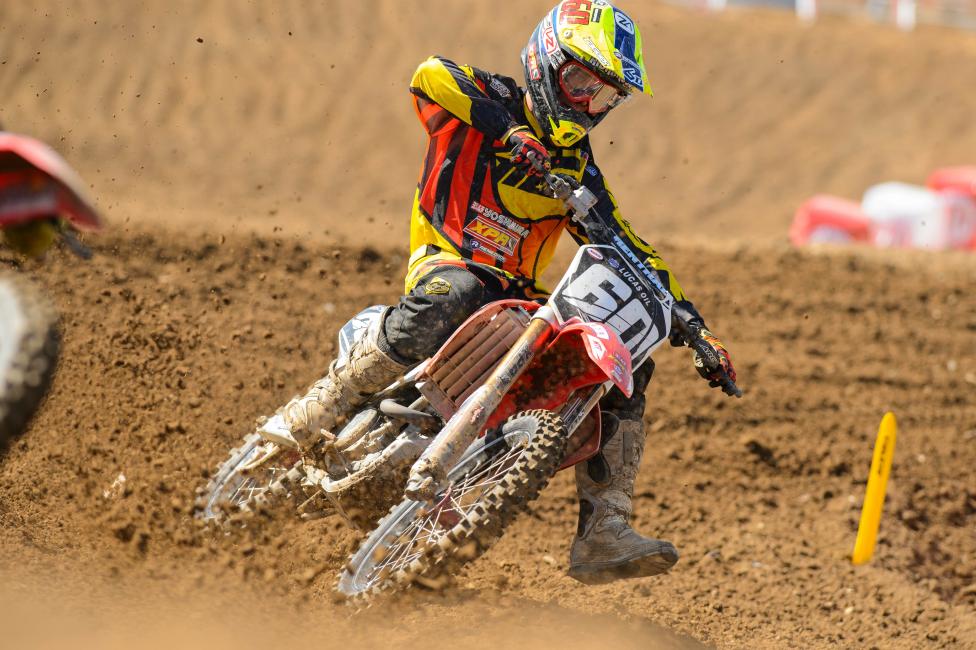 "Until I was about 10 or 12, I lived in my house in town," said Richardson. "It was just outside the city. I had probably about a two-acre bit of property. We had a little track there and that is where I rode 60s and stuff. Once I started getting on the big bikes, my dad had bought some property and he started building tracks on it, and so I always had a place to ride."
Father and son were meticulous in their training. They didn't just build a track to ride—they built a track to train. "We built stuff to practice certain things on," explained Richardson. "When I was about 15, our house was built on one of the properties we had. I have just been living on property ever since."
Before moving to the United States, Chad Reed was a highly respected amateur in Australia, and then a World Grand Prix title contender in Europe. Jackson Richardson was neither when he came to the United States. In fact, when he came over he wasn't even old enough to compete in the GPs.
"I wasn't a huge amateur back home," said Richardson. "I wasn't really one to set the world on fire. When I came over and raced the first time on an 80, those guys were so much faster. I was one of the faster kids in Australia, and I came over here and was like, "Wow, these guys are nuts." When I would go back, I would be a different rider. "
Richardson always had the goal of racing in America. It's why he would take the more than 19-hour flight from Cairns to Nevada for the World Minis. Or the more than fifteen-hour flight from Cairns to Hurricane Mills, Tennessee, for the Loretta Lynn Amateur National Championship.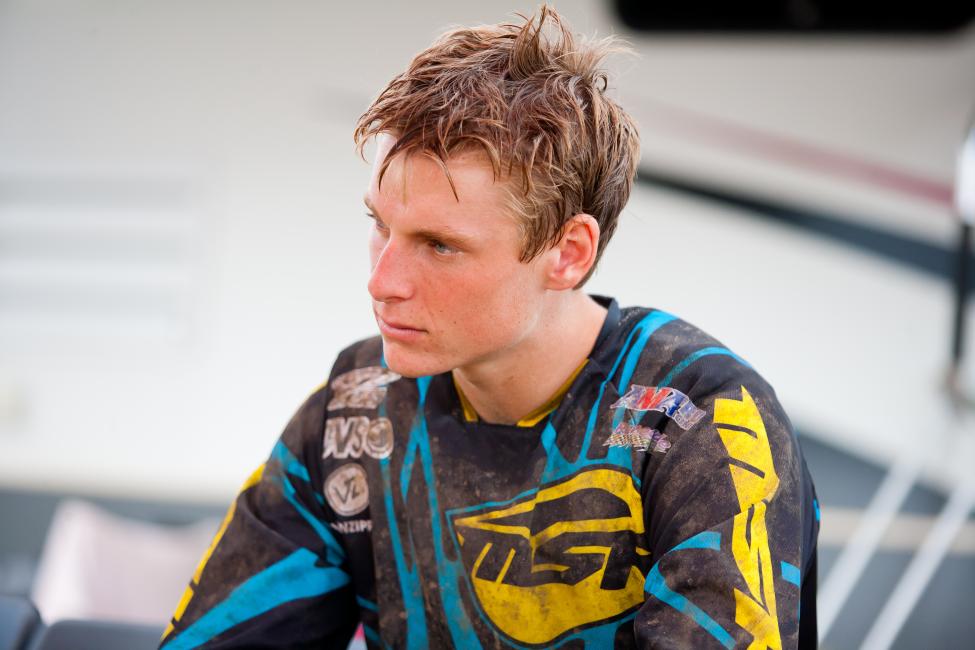 "I spent a lot of time over here racing as an amateur because we knew this is where we wanted to race," says Richardson of the time he and his family spent in the States. "We are working hard toward it and it is paying off with some good results."
Indeed the results are beginning to come. Last season, Richardson finished inside the top ten in Toronto (and again two more times in 2014), becoming one of a handful of Australia born riders to capture a top ten in a regional supercross race. Now, Richardson, in his second full-time season in Lucas Oil Pro Motocross, is also making the adjustment outdoors.
"I kind of surprised myself a little bit with that result," said Richardson of his ninth in the second moto at Hangtown. "I'm feeling more comfortable in my second full season. But the big thing this year is bike setup. I've been working with Chad from Xtreme Performance Racing and we've got the bike setup really good this year."
Richardson's fast start—a top ten and top fifteen through four motos—will be cut short. Like last year, when he returned to Australia following RedBud (he signed with Carlton Dry Honda to race the Australian Nationals before breaking his femur in practice at his first race) Thunder Valley may mark the last race of his season in the States.
"When me and my mum came back over here, we only planned to do the last three rounds of supercross but we decided to do at least the first three [of Lucas Oil Pro Motocross] and then I'll have to go home and interview for my visa," he explains. "Hopefully I'll get that sorted and stay for a longer period of time next year. I might be able to come back and do the last few, but it is still up in the air."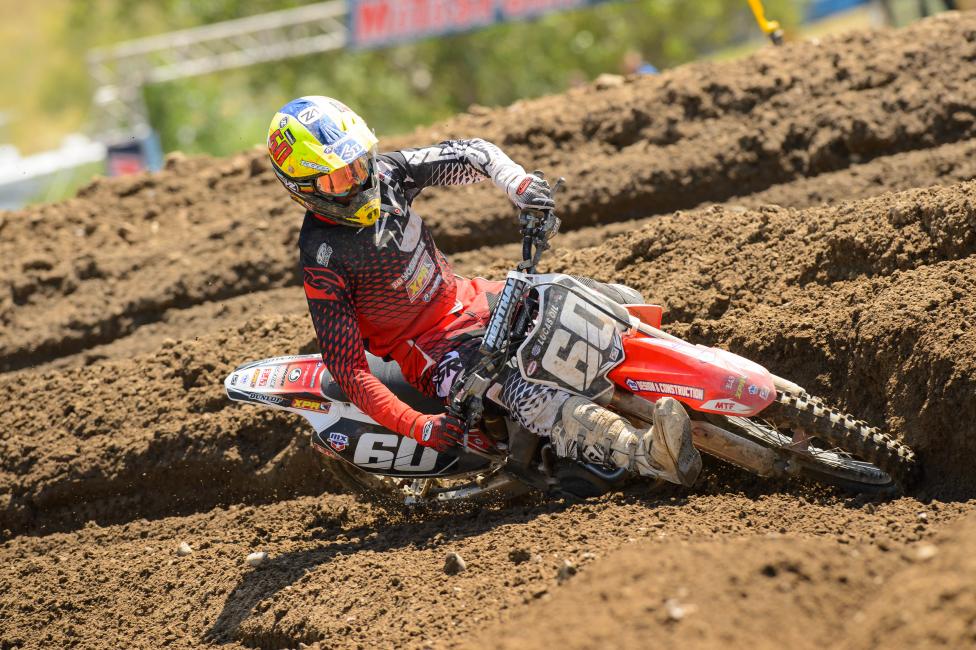 But his visa isn't the only impediment to his season. Richardson's father, who also serves as his practice mechanic, had to stay home this trip and tend to his construction company and sugarcane farm.
"I've had to take on the role of practice bike mechanic and had to take on a lot more responsibilities," said Richardson. In addition, it hasn't been easy to find a race mechanic full time. "My mechanic Chad runs his own shop Xtreme Racing Performance—he builds engines—and he has a look of work to do with that at the moment. So he probably won't be able to make the rounds on the east coast. Last weekend was even a last minute thing. We weren't even sure if he was going to be able to come or not. If he doesn't make it, it would be pretty hard. We don't want to be spending on that money to go there and be totally unprepared."
Once again, it appears Richardson's season may be cut short. He hopes to leave a lasting impression.