The ninth round of seventeen means the 2014 FIM Motocross World Championship has slipped into the second half of the calendar and it is arguably the most crucial time for its biggest star—Red Bull KTM's Tony Cairoli—in his quest for a sixth-consecutive title in the premier class. The Sicilian has suffered personal tragedy in the last two weeks and although his victory on UK shores seven days previously at round eight was a heroic and fitting effort, the effects of a personal life turned upside down were clearer to see at St Jean D'Angely in France. Two very uncharacteristic late mistakes from the 222 allowed the closely pursuing Rockstar Suzuki figure of Clement Desalle to seal a 1-1 scorecard for his third victory of 2014, extending a winning run to five from the last six motos and draw the MXGP title chase to just 20 points between the two principal rivals for the crown.
Desalle was capable but Cairoli looked in control for the most part; beginning right from his two holeshots. The power of the 350SX-F (recently ratified and cleared from suspicion over engine capacity by an FIM check) was quite staggering as it pulled the champ along the hefty start straight at the 2011 Nations venue. With his "yellow shadow"—which was extended to blue for Jeremy Van Horebeek's factory Yamaha and green through Steven Frossard's Monster Kawasaki in moto two for a breakaway quartet—Cairoli could not afford to put a foot wrong on a devilishly difficult track. And he did. Picking a risky line over the bizarre new speed jump in moto one cost him the lead, and then panicking and braking behind a backmarker in moto two caused him to crash and slip to third with just two laps remaining.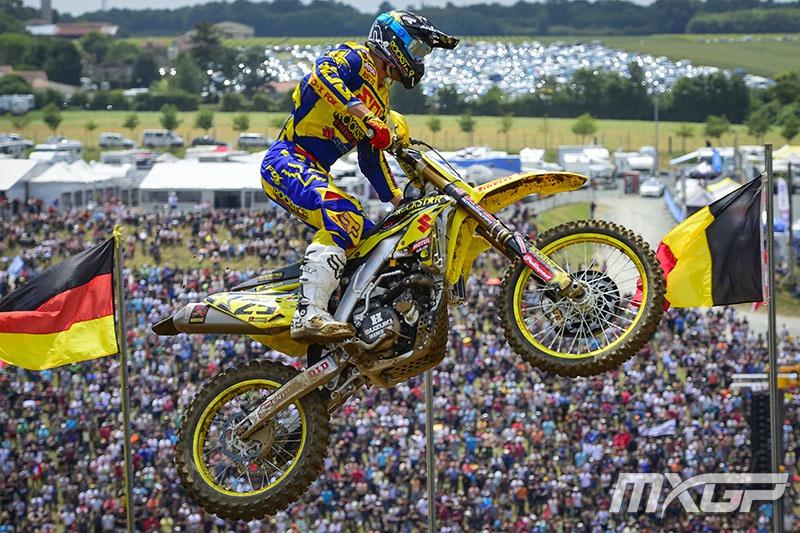 Jeffrey Herlings had already run his MX2 riot with a fifth double in a row and holds an unbeaten streak on the 250SX-F since the end of 2012 with CLS Monster Kawasaki's Arnaud Tonus in his dutiful second position (a sixth podium from the last seven for the Swiss). Herlings' Red Bull KTM teammate Jordi Tixier appeased some of the French fervour with a podium slot in front of the throng. The bank of fans was an indelible element of this latest Grand Prix.
The British round at Matterley Basin a week ago was well-run at a capable circuit, and although the meeting dodged a bullet with heavy rain on either side of race-day the turnout was still a little disappointing for one of the strongholds of the sport in Europe. It was left to the French to boost MXGP once more and the combination of the habitual GP site St Jean D'Angely, a noisy crowd (practically all spectator zones were full for a 32,000 attendance count) and some fine weather forged a decent spectacle.
St Jean splits the riding fraternity like few other tracks on the calendar. There are those that love the slippery and stony hard-pack and others (usually those frustrated with starts) that hate the limitations of the narrow and limited flow of the hillside curves. It can be difficult to make up time, and mistakes that cost seconds usually mean the loss of a race and in some cases (Xavier Boog, Luke Styke and Tyla Rattray) a trip to the hospital. MXGP podium finishers Desalle, Van Horebeek and Cairoli were saying some of the sections badly needed fixing between motos, chiefly the rutty landings from several of those big downhill drops.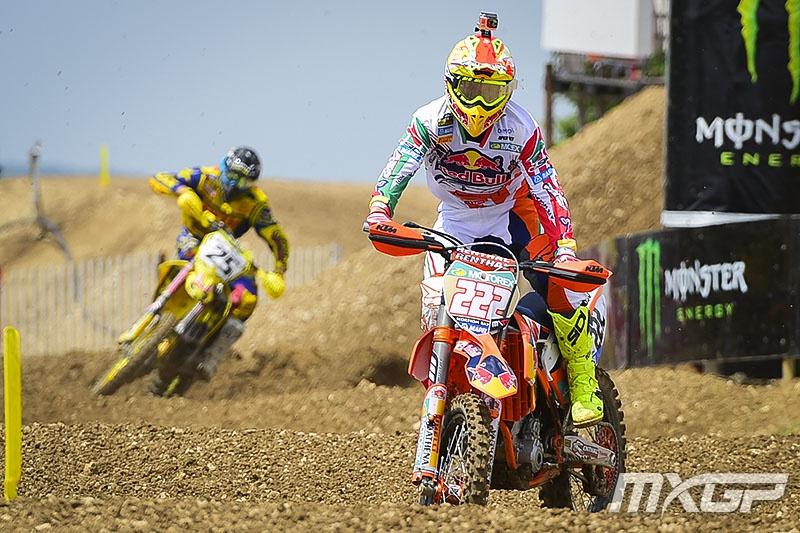 Cairoli, unsurprisingly, didn't look like himself. He admitted on Saturday that he is still struggling to get to grips to life after the death of father Benedetto. "It is not easy to focus on the race," he admitted. "Last week was easy than this one because I've had more time to think about the loss. It's tough, especially just before the race to get focused but I will try. To make it to the podium will be a good thing."
Cairoli understated his ambitions as his holeshots clearly demonstrated, but even he looked a little shocked afterwards by the manner in which a sixth triumph of the season was snatched from his hands so quickly. His pursuit to close a five second gap to nothing by the finish line to Desalle in the first moto was some of the best and edgiest riding seen around St Jean all weekend and was nothing short of awesome. The Sicilian can still turn it on and up to 11 when he wants.
This is not to remove anything from Desalle who gratefully accepted the spoils and enacted that same smooth laps that worked so ruthlessly in Italy, Spain and part of the British GP already this year. "He [Tony] is a very good rider so my plan was to stay as close to him as I could until the end of the race and it worked out like this in both motos. It is a really great feeling that the strategy worked. I wasn't hoping that he would make a mistake because I never want a rider to crash but to have an opportunity to pass was the goal.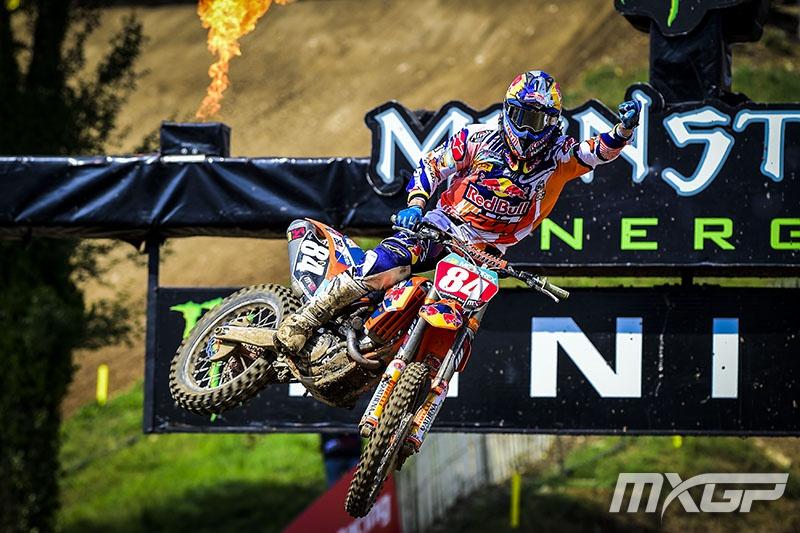 "It was easy to hit stones and make errors," he added, and this was the case for Cairoli in moto one when he changed lines. "You have to focus so much on a track like this and it is not hard to lose concentration, especially when you are pushing at the front. It was an intense few laps in both motos and I'm definitely very happy."
Van Horebeek sat in the press conference with his eighth trophy in a row. The 24-year-old Belgian is just 35 points away from Cairoli and although he is waiting for that first win in his second MXGP term, the Yamaha man is the perfect example of controlled consistency. It will be curious to see if this builds up its own form of pressure in the coming rounds: will JVH feel the need to take risks for a forward step? Or will he resist the urge for further glory and maintain his patience until mid-September and the season-closer in Brazil to see where all this preservation and persistence will get him?
Gautier Paulin was in the paddock with his left thumb heavily strapped and talking about a return when 100 percent (there was conjecture this could be for either Italian or German GPs by the end of the month). The Monster Kawasaki star also dodged a question about his future in green with strong rumours he could switch to AMA racing in 2015.
The hard, French ruts were felt by Xavier Boog (a hurt neck) and Tommy Searle; although the Kawasaki rider was unhurt after being knocked from a possible top six finish by Evgeny Bobryshev (no passport issues for the factory Honda man in France) in the first moto. "It was stupid but that's just the Russian in him," the Brit alluded afterwards. Red Bull IceOne Husqvarna's Tyla Rattray had a fast crash in warm-up that left the South African concussed and in need of a hospital visit. The battle of attrition is not being won by many in MXGP at the moment. Kudos to riders like Dennis Ulrich and Matiss Karro for capitalising on their good starts for top ten results.
The support card for the Grand Prix saw the French roused by Livia Lancelot's win in the fourth round of six for MXW and four girls all in with a shout of Kiara Fontanesi's title including the Italian herself who heads Aussie Meghan Rutledge by a slender four points. The fourth round of seven in the EMX125 two-strokes saw the highly rated Brian Hsu walk the top of the box on the Rockstar Suzuki.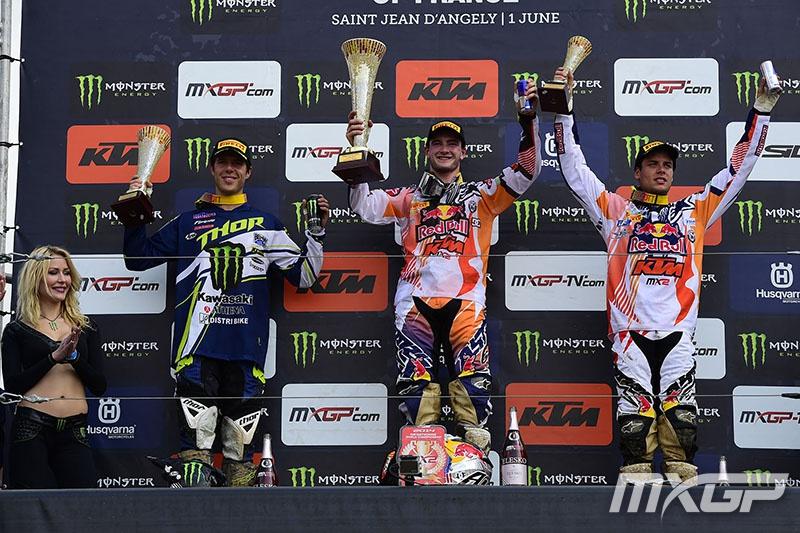 Elsewhere the bizarre gossip that the Grand Prix of Mexico would be swapped for a trip to Southwick or somewhere else in the USA were banished with a comprehensive presentation by organisers Rallymex at St Jean. There is a renewed sense of optimism around the race to be staged at a new circuit in Leon as the company in charge of the event have handled World Rally Championship events as well as Enduro Grands Prix.
Two more big meetings will take place in June. Maggiora is rumoured to be trading on its nostalgia once again and will have Johnny O'Mara present to perform some demo laps on a replica Honda from the memorable 1986 Nations win as well as hosting a fund-raising dinner for Road2Recovery in Italy. MXGP then moves onto Teutschenthal in Germany.
MXGP Moto1
1. Clement Desalle (BEL, Suzuki), 33:48.880;
2. Antonio Cairoli (ITA, KTM), +0:00.602;
3. Jeremy Van Horebeek (BEL, Yamaha), +0:34.663;
4. Kevin Strijbos (BEL, Suzuki), +0:37.158;
5. Evgeny Bobryshev (RUS, Honda), +0:41.290;
6. Steven Frossard (FRA, Kawasaki), +0:45.568;
7. Xavier Boog (FRA, Honda), +1:01.240;
8. Shaun Simpson (GBR, KTM), +1:06.237;
9. Dennis Ullrich (GER, KTM), +1:08.293;
10. Davide Guarneri (ITA, TM), +1:15.518;
MXGP Moto2
1. Clement Desalle (BEL, Suzuki), 33:47.790;
2. Jeremy Van Horebeek (BEL, Yamaha), +0:01.575;
3. Antonio Cairoli (ITA, KTM), +0:01.774;
4. Steven Frossard (FRA, Kawasaki), +0:06.786;
5. Evgeny Bobryshev (RUS, Honda), +0:42.302;
6. Tommy Searle (GBR, Kawasaki), +0:53.826;
7. Rui Goncalves (POR, Yamaha), +0:55.634;
8. Matiss Karro (LAT, KTM), +1:09.383;
9. Davide Guarneri (ITA, TM), +1:13.164;
10. Shaun Simpson (GBR, KTM), +1:13.964;
MXGP Overall
1. Clement Desalle (BEL, SUZ), 50 points;
2. Jeremy Van Horebeek (BEL, YAM), 42 p.;
3. Antonio Cairoli (ITA, KTM), 42 p.;
4. Steven Frossard (FRA, KAW), 33 p.;
5. Evgeny Bobryshev (RUS, HON), 32 p.;
6. Kevin Strijbos (BEL, SUZ), 26 p.;
7. Shaun Simpson (GBR, KTM), 24 p.;
8. Rui Goncalves (POR, YAM), 23 p.;
9. Matiss Karro (LAT, KTM), 23 p.;
10. Davide Guarneri (ITA, TM), 23 p.;
MXGP FIM World Championship standings after 9 of 17 rounds
1. Antonio Cairoli (ITA, KTM), 393 points;
2. Clement Desalle (BEL, SUZ), 373 p.;
3. Jeremy Van Horebeek (BEL, YAM), 358 p.;
4. Kevin Strijbos (BEL, SUZ), 276 p.;
5. Gautier Paulin (FRA, KAW), 205 p.;
6. Steven Frossard (FRA, KAW), 197 p.;
7. Shaun Simpson (GBR, KTM), 183 p.;
8. Evgeny Bobryshev (RUS, HON), 168 p.;
9. Maximilian Nagl (GER, HON), 166 p.;
10. Xavier Boog (FRA, HON), 159 p.;
MX2 Moto1
1. Jeffrey Herlings (NED, KTM), 34:07.083;
2. Arnaud Tonus (SUI, Kawasaki), +0:19.178;
3. Valentin Guillod (SUI, KTM), +0:20.249;
4. Jordi Tixier (FRA, KTM), +0:30.491;
5. Romain Febvre (FRA, Husqvarna), +0:41.655;
6. Dylan Ferrandis (FRA, Kawasaki), +0:56.313;
7. Max Anstie (GBR, Yamaha), +1:01.818;
8. Aleksandr Tonkov (RUS, Husqvarna), +1:09.508;
9. Jeremy Seewer (SUI, Suzuki), +1:13.405;
10. Petar Petrov (BUL, Yamaha), +1:15.163;
MX2 Moto2
1. Jeffrey Herlings (NED, KTM), 35:38.863;
2. Arnaud Tonus (SUI, Kawasaki), +0:08.844;
3. Jordi Tixier (FRA, KTM), +0:42.104;
4. Romain Febvre (FRA, Husqvarna), +0:48.795;
5. Tim Gajser (SLO, Honda), +0:55.255;
6. Dylan Ferrandis (FRA, Kawasaki), +1:24.411;
7. Jeremy Seewer (SUI, Suzuki), +1:25.905;
8. Petar Petrov (BUL, Yamaha), +1:26.927;
9. Valentin Guillod (SUI, KTM), +1:27.220;
10. Jose Butron (ESP, KTM), +1:41.044;
MX2 Overall
1. Jeffrey Herlings (NED, KTM), 50 points;
2. Arnaud Tonus (SUI, KAW), 44 p.;
3. Jordi Tixier (FRA, KTM), 38 p.;
4. Romain Febvre (FRA, HUS), 34 p.;
5. Valentin Guillod (SUI, KTM), 32 p.;
6. Dylan Ferrandis (FRA, KAW), 30 p.;
7. Tim Gajser (SLO, HON), 26 p.;
8. Jeremy Seewer (SUI, SUZ), 26 p.;
9. Petar Petrov (BUL, YAM), 24 p.;
10. Max Anstie (GBR, YAM), 22 p.;
MX2 FIM World Championship standings after 9 of 17 rounds
1. Jeffrey Herlings (NED, KTM), 394 points;
2. Arnaud Tonus (SUI, KAW), 349 p.;
3. Romain Febvre (FRA, HUS), 297 p.;
4. Jordi Tixier (FRA, KTM), 291 p.;
5. Dylan Ferrandis (FRA, KAW), 278 p.;
6. Tim Gajser (SLO, HON), 235 p.;
7. Aleksandr Tonkov (RUS, HUS), 216 p.;
8. Valentin Guillod (SUI, KTM), 205 p.;
9. Jose Butron (ESP, KTM), 199 p.;
10. Glenn Coldenhoff (NED, SUZ), 176 p.;