Hangtown Motocross Classic
Rancho Cordova

,

CA
Race Center: Hangtown
Lucas Oil AMA Pro Motocross Championship
Well, that didn't take long. A week after losing two motos at the Lucas Oil Pro Motocross opener at Glen Helen by a combined distance of about 20 feet, Red Bull KTM's Ken Roczen rolled strong at the GoPro Hangtown National with 1-1 scores. He's now the points leader in the 450 Class. Not bad for a rookie—although he won a round sooner in Monster Energy Supercross.
It's good to be Ken Roczen. Here's what he had to say at the post-race press conference and later to our Steve Matthes.
Racer X: Ken how's it feel to have round two under your belt and to have a solid start to the season?
Ken Roczen: It feels great. It's always good to lead the race and have two solid motos under you. It makes the week a lot easier. They did a good job with the track; I've always liked this place plus this year it looks like they brought in some softer dirt. I had fun and there was some pretty good racing. My starts were pretty good, too—overall I don't have anything to complain about!
Lets talk about last week to this week. Last week you had a pass on you on the last lap, this week it looked like you weren't going to let that happen. Did you change anything?
No, I think it was just getting the first race out of the way, and I've never been a big fan of Glen Helen. I've always done pretty good at Hangtown. I have good memories here. And so is Colorado, actually, so I'm looking forward to that.
Just to follow up on that with Colorado, you raced the Motocross of Nations there and it seemed liked you loved the place.
Yeah, for sure. It's a little bit at altitude, but I really like the dirt there, and it has some long ruts that I really like. Just in general I think the whole track is pretty good.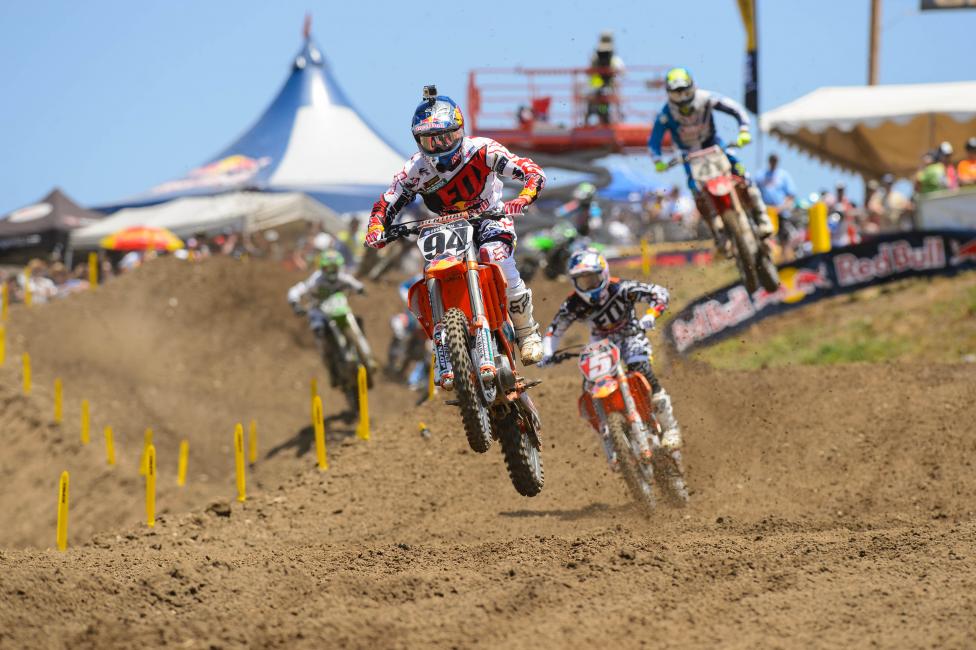 You looked a little frustrated last week after that second moto, were you extra determined this week?
Well, it's never fun to lead a whole race and then lose it in the last few corners. But Ryan is one of the strongest riders out there and, you know, I guess he just wanted it more than me. I learned from that, took experience from that, and this weekend I had some comfort on the bike.
Talk about the adjustment from the 250 to the 450 outdoors, now that you have a week under your belt.
Well, obviously the bikes are a lot heavier and more powerful. I'm used to riding the 250s, which are usually the second set of motos, and the tracks are rougher. So it feels kind of good to be the first race of the day. The track is still good and that makes it a bit easier.
The second moto, it looked like you were hanging back a bit while the two guys in front of you [Metcalfe and Barcia] were really going at it. You were able to get them one after another. When they were out front where you trying to hang back?
Obviously if you can get by right away, that's ideal, but I just tried to settle in and watch for good lines. Everyone was still fresh and going fast. I was able to basically pass Barcia and Metcalfe at basically the same point, and after that I had a clear track, so that's always good.
Compare this track to how rough it has been in previous years. I talked to one of the 250 guys and he said the track was rougher than ever.
I think it was rough, but I think the more difficult the track is, the better. It's actually funny, because back in the day, when I was watching Nationals, like a few years before I came over, the track looked really flat, and I didn't get it. I was like "Why is the track so flat?" It looked like they just prepped every time before you went out there. Now since I've come over, it seems like the tracks are really rough. Really rough. So I don't think today was anything out of the norm.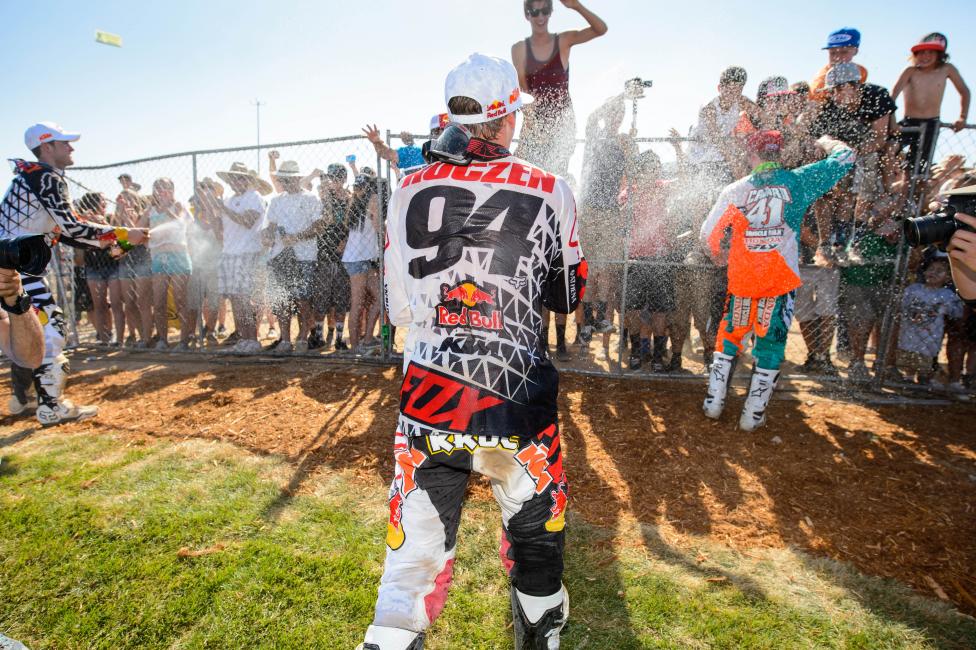 After the presser, our Steve Matthes caught up to Kenny for more:
Matthes: About 3/4s through moto one, you picked up your lap times. You were maintaining the same with Ryan and then you started dropping your times.
First moto I don't know exactly what Ryan and the other guys were doing. I felt like I was just riding—it was good because I felt like I saved energy. I don't know, it just happened that way. When you're fit and you're comfortable on the bike that's just how it goes sometimes.
Second moto were you just marking him?
When I did the parade lap I said, "If I get the holeshot I can check out" because I saw some good lines. But obviously that didn't work out.
[Laughs] Did you plan on passing from third to first in one turn?
[Laughs] That was a good thing! It was kind of a sketchy move because I tried to pass Barcia on the outside and he's normally a guy who doesn't shut off. I'm pretty sure he doesn't feel to good about me passing me around the outside.
So RV's out, is Aldon Baker putting all his attention on you?
He's definitely a big part of it; he's been staying at my house for the last three weeks. I'm glad he's finally gone home now! No, just kidding. It's good, we've been putting in work, and you start knowing your body. That gives you confidence.
You started saying in supercross near the end that you were getting tired and the grind was catching up to you. That doesn't seem to be a problem now—that two weeks off in between really made a difference?
Yeah. But outdoors comes more naturally to me. I've been doing it longer, obviously. The full 450 season is definitely long. I'm trying to find myself in a good spot, and I'm trying to ride energy efficient, and I can do that better right now outdoors. So I want to just keep clicking them off. I think I have a pretty good shot at winning a championship. I know it's early, but it's definitely good to start off good.