Hangtown Motocross Classic
Rancho Cordova

,

CA
Hangtown
Lucas Oil AMA Pro Motocross Championship
Welcome to Racerhead, and the start of summer. Not only is the Lucas Oil Pro Motocross Championship up and running, but so are the regionals for the Loretta Lynn's Rocky Mountain ATV/MC AMA Amateur National Motocross Championships. And having spent a couple of weeks at Glen Helen pitching in for what turned out to be a fantastic opener, I decided to skip Hangtown this weekend in order to go to the new national track in Indiana—the Ironman MX track outside of Crawfordsville—for the Mideast Regional. Practice is going on right now, which means about 1,000 riders (one of the largest regionals ever) are getting to ride the Marc Peters-built track for the first time. We will drop some photos in below.
But back to Glen Helen. This marked the first national there since 2009, and it was a big one—for both Red Bull KTM and Yamalube/Star Racing Yamaha and for motocross in general. Getting Glen Helen back on the schedule took some work from everyone, but once it was decided that the series would return, the whole Glen Helen crew went to work. Jody Weisel designed a great (and rough) track, Karl Scanlon and crew kept it prepped to perfection, and a whole bunch of spectators and industry friends came out to support the Red Bull Glen Helen National. I'm really glad we're back there, and I imagine we will stay there for a long time to come.
Here's where I should turn it over to the rest of the gang and get back out on this new track and see what's happening.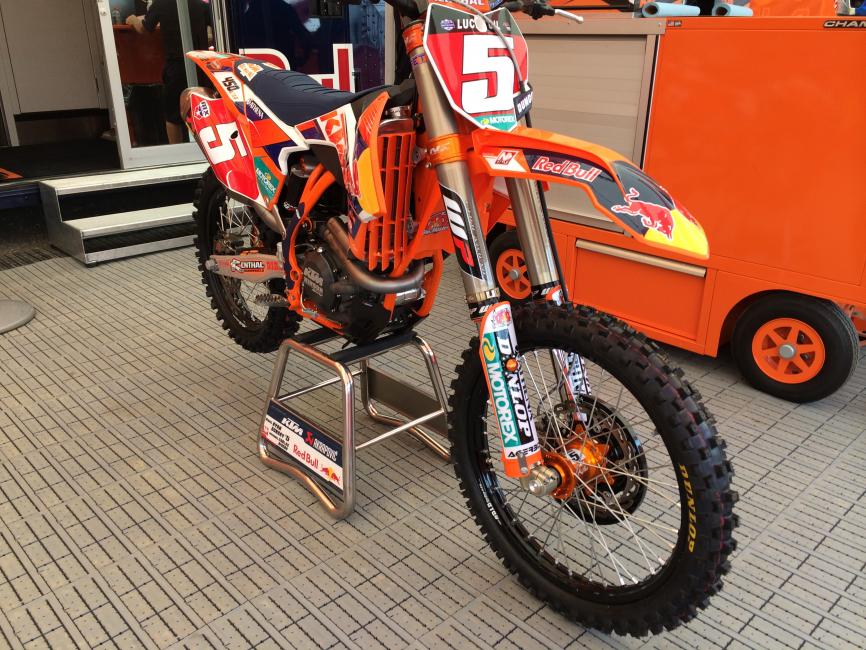 YEAH, HANGTOWN! (Matthes)
Yeah, Hangtown! I've been going to that track since 1997, and I have to say there is no more improved track on the circuit than the Northern California facility. When you go back and watch some old film of the place—or if you went there in 1997 or so—you were greeted with a dusty, silty concrete-like surface that was no fun. I remember I got to ride the track on a Monday once courtesy of Pirelli tires, and after three laps I just wanted to go home.
Nowadays it's got some nice mulch into it, the water is kept on it, and the layout is great. It's still Hangtown—like Glen Helen, it gets some chop and square edges—but traction is there, and like I said, it's much, much better than it used to be when legend has it Damon Bradshaw told a track worker that putting a lock on the front gate was the only way to improve the place. The Dirt Diggers North M/C must have gotten the message, because over the past decade it has evolved into something much different and better, and the crowd there will be every bit as big and boisterous as it was at Glen Helen.
You can watch the first motos live once again on either MAVTV or www.promotocross.com and the second motos on NBC Sports Network. Here's more about how to watch the GoPro Hangtown National.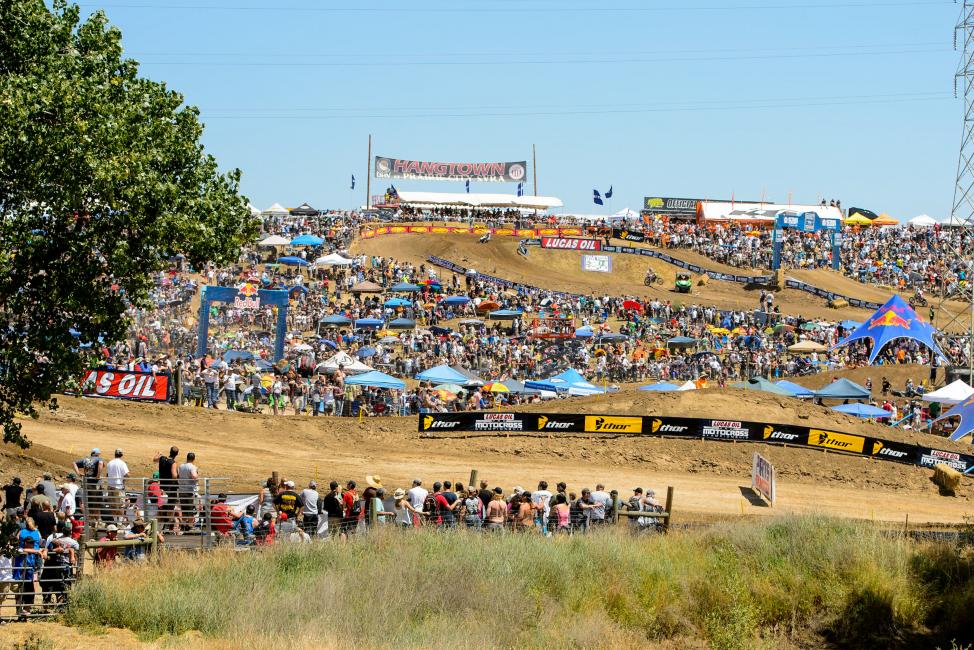 THE NUMBER – 28 (Aaron Hansel)
The 450 motos from Glen Helen were fantastic, living up to the hype and delivering every bit of excitement a moto fan could hope for. Maybe that's why Ryan Dungey' move into second on the all-time 450 win list got somewhat overlooked.
Dungey came into the season tied with Bob Hannah at 27, but his thrilling last-lap heroics in the second moto delivered the win and sole possession of the record. Dungey has only been in the class since 2010, just four seasons plus Glen Helen, so it's pretty amazing that he's been able to rack up those kinds of numbers in such a relatively short period of time. Maybe it's because he's remained consistent, fast, and healthy as well—which hasn't been the case for several other big names.
Now just a mere 48 more and he'll tie Ricky Carmichael.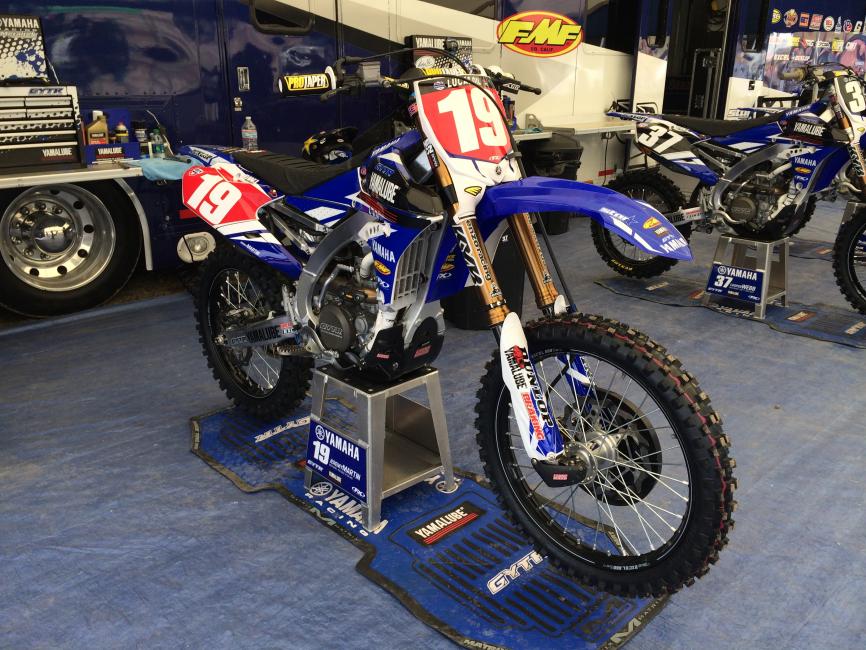 NOTICED AT THE GLEN (Matthes)
Now that the opener has come and gone, I thought I would highlight a few riders I thought were sneakily underrated pretty good at The Helen. You're not going to read too much about these guys because maybe their overall finishes weren't great, but trust me, they opened some eyes.
Rockstar KTM's Jason Anderson is the real deal. He looks like he's done his work and is ready to make an impact in the 250 Class. At Glen Helen he came from around fifteenth to third in the first moto, and in the second moto he was cruising in fourth and looking to take a third overall on the day when, with just two laps remaining, his motor let go on the KTM and he was screwed. Anderson's very fast, he's in shape, and to me he's going to be a factor every weekend. In fact, you can stamp that he'll win an overall this year. It's a little disturbing that the team changed a motor between motos and it still broke, but I'm sure they'll figure that out.
GEICO Honda's Zach Bell has had a rough start to his pro career. He just can't keep it on two wheels, and at Glen Helen he crashed again. But he was also running up front in the first moto when he tipped over. Second moto he worked his way up to eleventh before he (I assume) crashed again. Bell needs to work on his fitness a bit, and staying on two wheels, but he showed me something at The Helen. Just slow it down (relatively speaking) and stay upright should be the plan.
In the 450 Class it was Ben LaMay of the Cycle Trader/Rock River team who quietly (is there any other way for the Alaskan Assassin?) scored a twelfth in the second moto with a good ride. LaMay's been on the fringes of the top ten before and his second-moto ride showed that his rough 2013 season because of injury is behind him. He just needs to work on his starts a bit, but he's in shape and he's capable of putting in an entire 30+2. He's not going to wow you with speed but he's a solid professional, and his twelfth in the second moto was, well, solid.
Fredrik Noren isn't very much of a supercross rider, but he was making a go of it this year until he broke his hand/wrist at, I believe, Toronto. The friendly Swede is now back and at the discipline he excels at: the great outdoors. Noren had a good second moto at Glen Helen and is going to be one of the top "true" privateers this summer. And it's good news for Freddy that Southwick is off the schedule, because for some reason he just couldn't ride the sand very well.
And finally, TLD Honda's Cole Seely. Yes, he got third overall and wasn't exactly overlooked, but he rode hard and well in both motos to score 4-4 finishes and earn his first outdoor podium. But he was overshadowed somewhat because of these screaming blue Yamahas out front in both motos. Now that he knows his way to the podium, expect Cole to be there again soon—and maybe even on a higher step.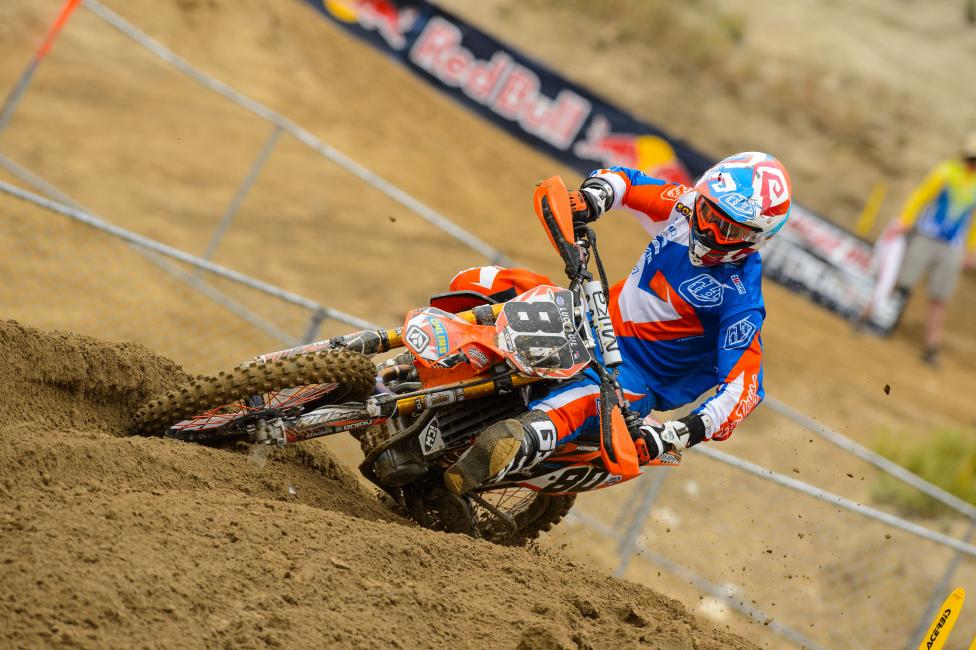 ORANGE NUMBERS (Andras Hegyi)
Since 2010, Ryan Dungey has able to win in every 450 season. Only RC and Ricky Johnson were also able to win in at least five consecutive seasons. RC has eight consecutive winning seasons between 2000 and 2007; Johnson has seven (1982-'88). Coincidentally, this is the first time Dungey ever won a 450 season opener.
Ken Roczen is the first German rider to podium in a 450 National (though back in the day, Adolf Weil, Willi Bauer, and Hans Maisch all got podiums in Trans-AMA racing). K-Roc is the nineteenth non-American motocrosser to get podium in premier category. Roczen is the sixth podium rider for KTM. And Roczen now has podiums in every AMA series where he ridden, which not many guys can say!
KTM's podium riders for in 250/450 Class? Ryan Dungey, Mike Alessi, John Dowd, Justin Brayton, Frank Stacy, and now Ken Roczen.
The Austrian brand started same way it did in 450 Supercross this year: 1-2. This is the first double in the 450 Nationals for KTM. After 1972, 1973, 1975, and 1976 the season opener was won by a non-Japanese brand. KTM is the first non-Japanese brand to get podium and win at Glen Helen. After 1974 it happened for the first time that a non-Japanese brand got 1-2 podium result.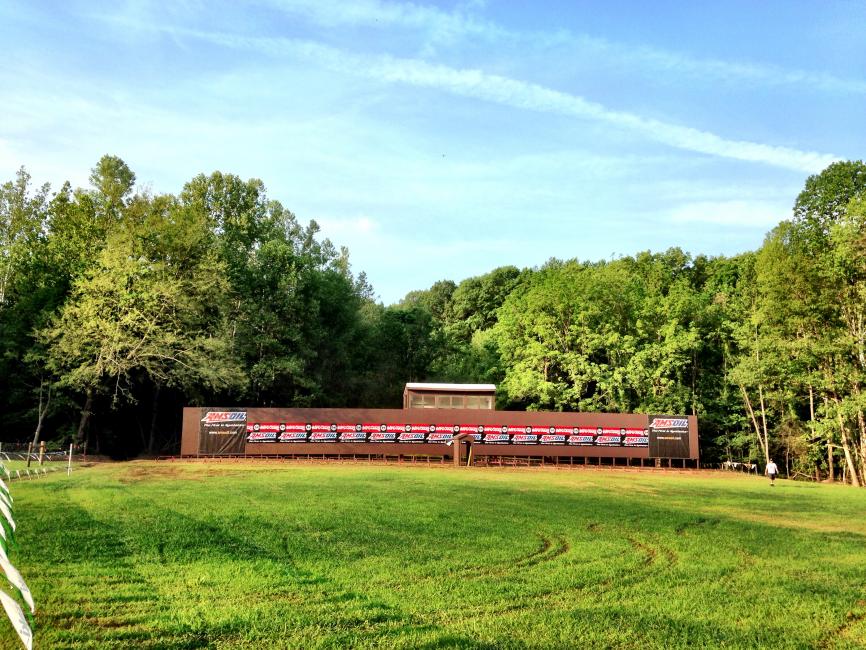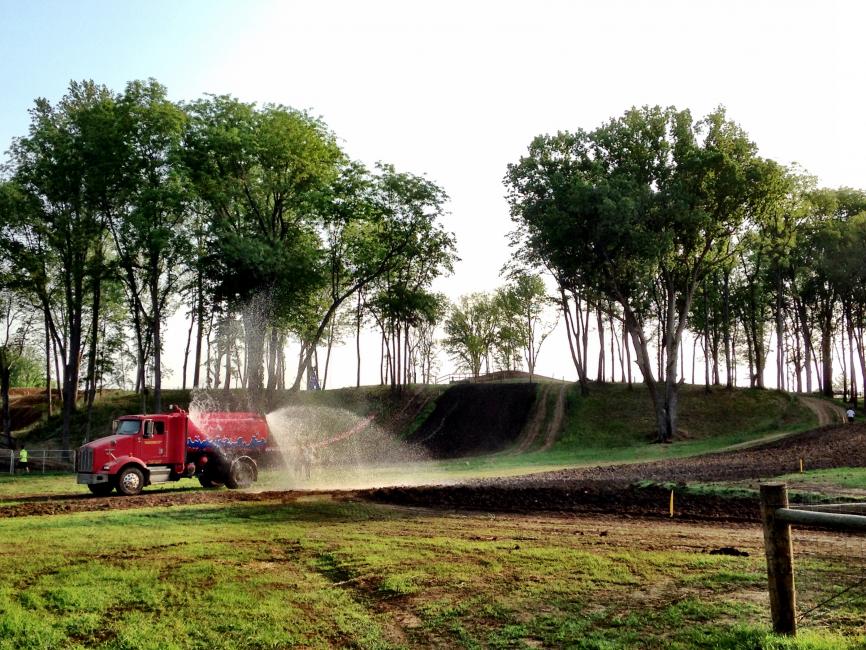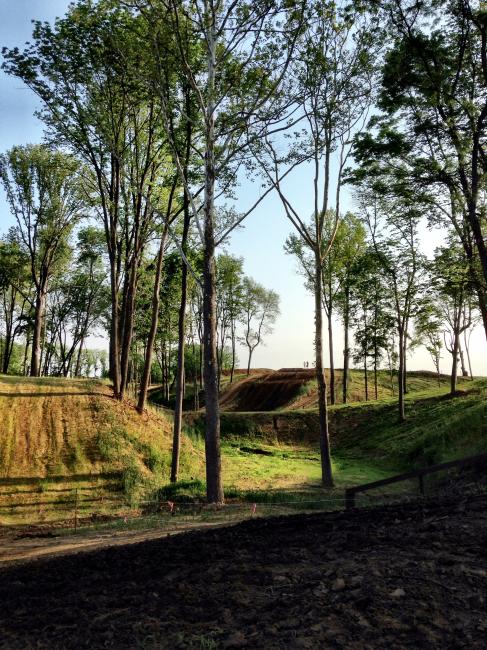 PRO PERSPECTIVE – ADJUSTMENTS (David Pingree and Jason Thomas)
Ping: Aside from Yamalube/Star Racing Yamaha and Red Bull KTM, it wouldn't surprise me if there were some serious round-table meetings in the days following Glen Helen. Let's face it: The Dungey/Roczen and Martin/Webb duos destroyed their respective classes on Saturday. I should add JGR to that mix since Josh Grant put in an amazing ride in moto 1 and their bikes seem to be the horsepower kings of the class. Still, the four riders I mentioned were there both motos, out front and gone.
This is definitely not the time to hit the panic button and start trying to reinvent the wheel. Glen Helen is a tough track to set up for, and if your bike wasn't working perfectly there it doesn't mean it won't work great somewhere else. I don't care where you go, you really can't duplicate those hills and the bumps that develop on them. Glen Helen is its own animal.
Still, you learn things in a race environment that you can't during practice, and I suspect many teams are taking the feedback they got from their riders and attempting to make improvements going into round 2.
James Stewart's ho-hum rides over the weekend were probably one of the biggest surprises. He talked about bike setup problems, which seemed odd since he skipped the pro ride day at Glen Helen to test at Lake Elsinore, of all places. I can't think of two tracks more different from each other, so that seemed like a weird decision. However, I am sure James will come around. He is more comfortable on the tracks out east, and I imagine he'll be up front more when we cross the Mississippi.
Trey Canard and Justin Barcia weren't too far off. I would guess they are doing a few starts this week and are hoping they don't have another chain issue.
Chad Reed is likely using the motos for testing and training right now. I expect he'll poke his head up front at round 3 or 4. Coming into a season as unprepared as he was is difficult, but if anybody can rally and turn it into a good summer it's him.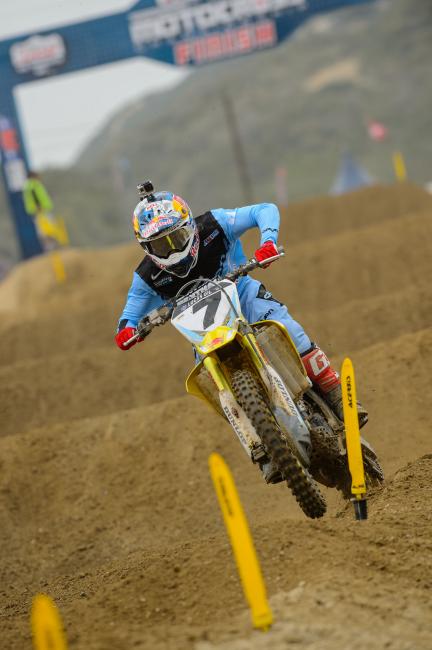 JT: After weeks and months of testing, the first race at Glen Helen has come and gone. The entire paddock knows Glen Helen is a tough one for both riders and crew. The riders won't be entirely happy with how their bikes worked, and the technicians will be frustrated with the inability to perfect their settings. It's just how Glen Helen goes. As Ping said, however, I do think there were some very long discussions about not repeating mistakes at Hangtown.
All of the riders were feeling each other out last Saturday, because regardless of how much practice everyone put in, no one truly knows where they stand until that gate drops. Someone who was consistently slower than you on every Tuesday at Milestone may have been a completely different rider on race day. With a race day behind everyone, the assessments and corrections can begin.
I do agree with Ping that no one should throw the baby out with the bathwater (strange phrase, by the way). The method and setup you banked on pre-Glen Helen should at least be seen through to this weekend. Hangtown will give us a much better picture of what to expect moving forward. The terrain is totally different and there isn't the "home track" feeling like Glen Helen. Sure, the Californians will still feel comfortable on the hard, square-edged bumps that will inevitably form, but they have thousands fewer laps on Hangtown than GH.
I think the real assumptions and accurate predictions can be made after this weekend. We will have double the evidence to support our theories, and on a much different course. If the riders who struggled last weekend—James Stewart, for instance—once again find themselves out of character on Saturday, then they will have to take a long, hard look at the situation. Glen Helen was the opener and certainly very important, but Hangtown will tell us much more about how this series will turn out.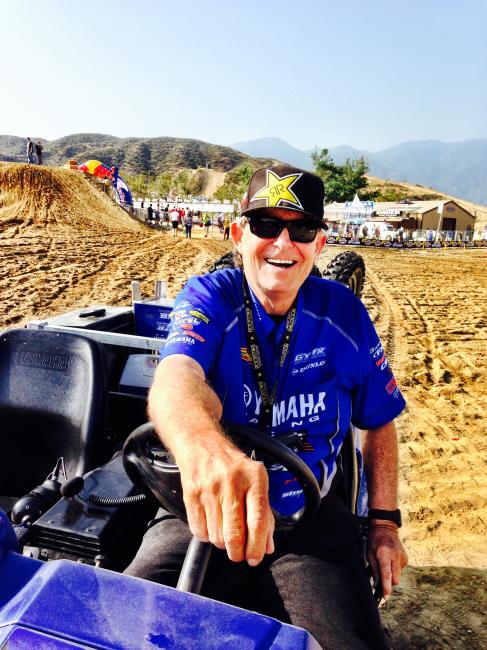 BLUE NUMBERS (Andras Hegyi)
What a day for the Yamalube/Star Racing boys, who seemed to show up late in supercross. Here were Yamaha's last three doubles in the 125/250 National class:
2014 Glen Helen: 1. Jeremy Martin, 2. Cooper Webb
1998 Moto-X 338: 1. John Dowd, 2. Jimmy Button
1996 Glen Helen: 1. Kevin Windham, 2. John Dowd
Jeremy Martin is the seventy-third winner in 125/Lites/250 category. He won in his sixteenth race. And this is the first time ever that two riders from Minnesota swept both classes at an outdoor national.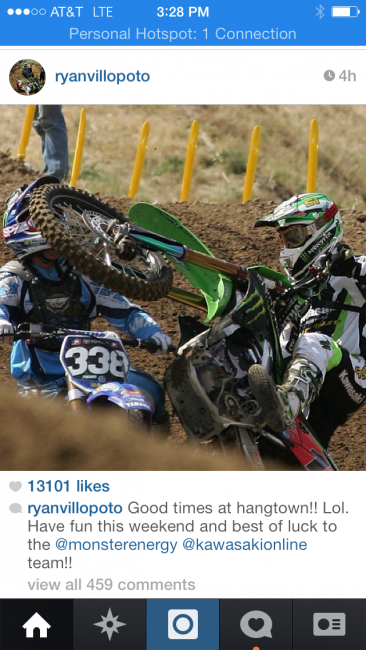 GNCC UPDATES (Kayla Oliver)
The Amsoil Grand National Cross Country Series presented by Maxxis has now hit its halfway point. FMF/KTM's Kailub Russell came away with his fourth win of the season in dominating fashion, leading wire-to-wire in West Virginia. But the real news came later in the week when his teammate and rival Charlie Mullins—the GNCC series and AMA National Enduro Series points leader—is out for likely the rest of summer. Mullins posted a photo on Instagram Wednesday night of a badly broken wrist. It's not as gruesome as the shot of Dean Wilson's leg from Glen Helen, but it's still pretty bad.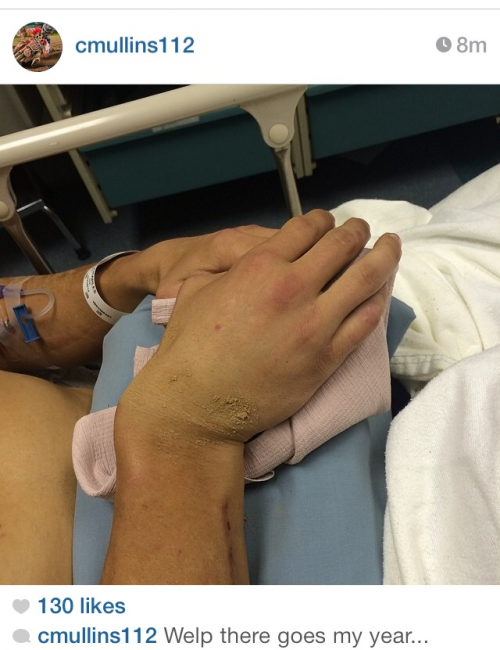 Russell is now in the driver's seat to repeat as GNCC champion. The last riders to win back-to-back championships were David Knight in 2007-'08 and Juha Salminen in 2005-'06. Since then, defending champions have seemed to have lackluster seasons sporting the #1 plate. One thing to always remember about GNCC Racing: Anything can happen, and anyone can end up taking a win at any race.
Which takes us back to the Mountaineer GNCC in West Virginia last weekend. The scene at the finish line of Saturday's ATV race was hectic and frightening after Chris Borich lost control of his ATV after colliding with Walker Fowler in a battle to the finish. Several fans sustained leg injuries, including RacerTV producer Jason Hooper. No one was at fault, and no penalties were assessed. It's just one of those things that can happen in off-road racing, and we wish everyone who was injured a speedy recovery. Fortunately, there were no serious injuries. (Fowler held on to win, by the way, with Borich second.)
Check out the cool Mountaineer Overall award.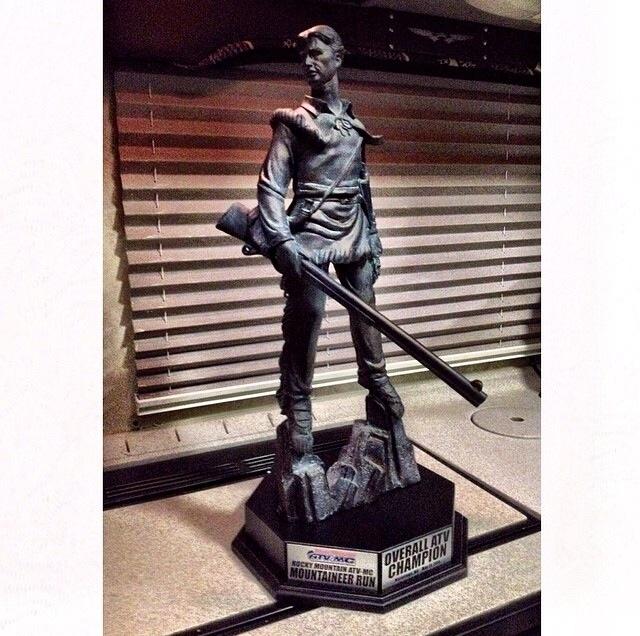 Video:
Series/Rider Special Information:
KR4 Performance is raffling off a chance to try your hand at UTV racing! For more details on the raffle and everything you need to know just click here.
GNCC is off this weekend, but Round 4 of the 2014 Mtn. Dew ATV Motocross National Championship Series takes us to the ATV Showdown at Sunset Ridge MX in Walnut, Illinois. Catch up with ATVMX by watching the live broadcast from Round 3 at High Point Raceway in Mount Morris, PA on www.racertv.com.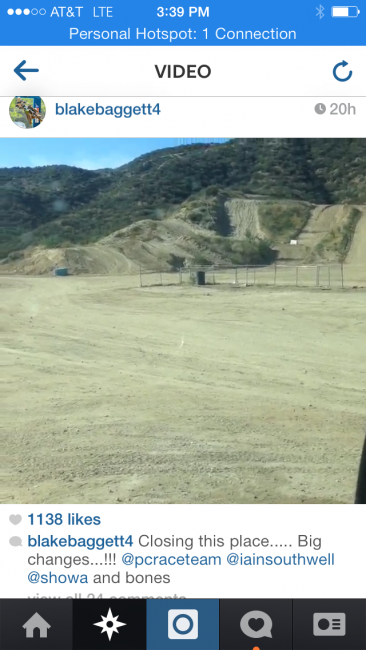 ISDE FUNDRAISER (Jen Kenyon)
The USA ISDE Trophy team announced that it will be bringing back the ever-so-popular golf tournament at Snowshoe Mountain's Raven Golf Club the Friday before the Snowshoe GNCC. All proceeds will go toward assisting the USA ISDE Team at the 2014 running of the International Six Days Enduro (ISDE).
The golf tournament will have a shotgun start at 9:00 a.m. and run until approximately 3:30 p.m. Participants will get to play eighteen holes of golf on a championship-caliber course ranked the #2 public golf course in West Virginia by Golfweek Magazine.
USA's ISDE Team Trophy riders will be participating in this event. Each rider has three available spots open on his team, and participants will be assigned to them on a first-come, first-served basis. After the USA Trophy teams are filled there are thirty teams remaining. Each team can have four players. The cost is $100 per person, which includes a meal at the end of the round. Participants can register their teams or sign up as individuals and to be placed randomly on a team.
All proceeds from the event will go direct to the USA ISDE Team to help fund the transportation of our athletes to this prestigious event. If you have questions about this event or would like to learn how to donate to the team, please contact events@ktmusa.com.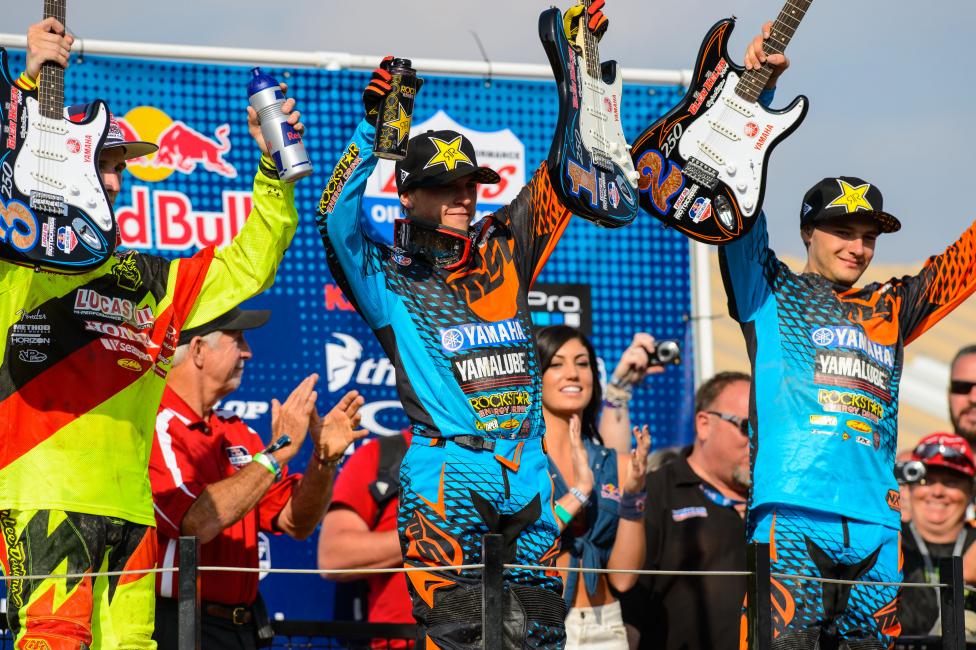 HEADLINES OF THE WEEK
Motocross legend Carey Hart takes unexpected ride
HEY, WATCH IT!
Racer X Film's Austin White put together two fantastic videos from Glen Helen. Check out his Remastered video, as well this video spotlighting Cooper Webb.
Weege, Ping and Matthes were watching this Feld Motorsports track worker at Vegas work on the track with a shovel and run up and down while wearing a helmet the entire time. And it really made me think of the video game Dig Dug. So James Lissimore put this together for us. I'm trying to track down "Dig Dug" for an interview real soon.
Adam Cianciarulo REALLY loves Maxima Oil. In fact, he's found a bunch of uses for it since he got hurt.
Miss anything from Glen Helen? Promotocross.com has you covered—you can watch all the action from round 1 here.
RANDOM NOTES
Great GoPro still of Dungey's last-second pass on his Red Bull KTM teammate Ken Roczen.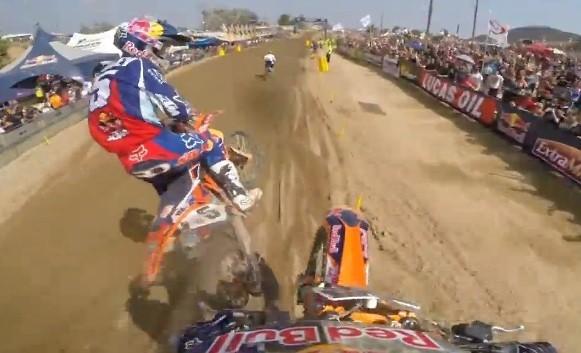 Do you plan on attending the Hangtown Motocross Classic? Stop by the Racer X booth to sign up or renew your subscription for $20. You'll receive 12 issues in the mail in addition to an extra issue and Racer X six-pack cooler sleeve at the event with your purchase.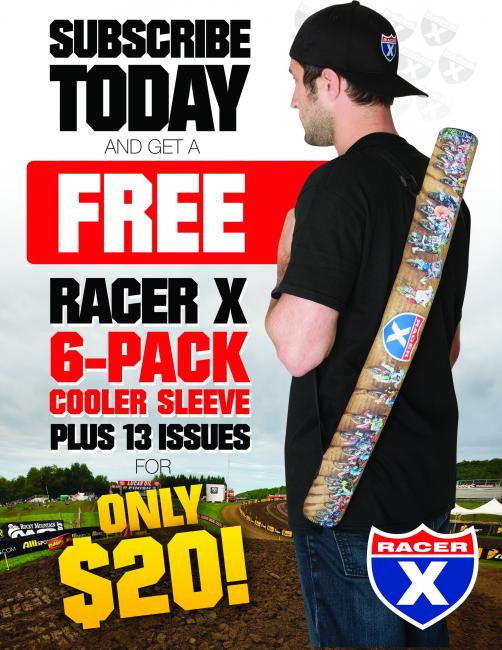 Some PulpMX links from Matthes, because Weege won't let him put them in Breaking News anymore:
David Vuillemin takes a look at Glen Helen and answers some key questions from the race here.
Paul Buckley shot the photos and Ronnie Lechien talks about them in MX Captured here.
Jason Thomas updates us all on silly season in his Hammerhead Moto column here.
Swizcore takes a look at The Helen from the couch here.
After years of hosting an international race team, WMXtreme/MPH is launching its first U.S.-based team in 2014. The team will begin its Lucas Oil Pro Motocross campaign at the High Point National, then split its time between the Canadian Nationals and the U.S. series. Initial plans are to run five U.S. Nationals and three Canadian Nationals. WMXtreme/MPH has signed Matt Babbit for the 450 Class and RJ Beck for the 250 Class.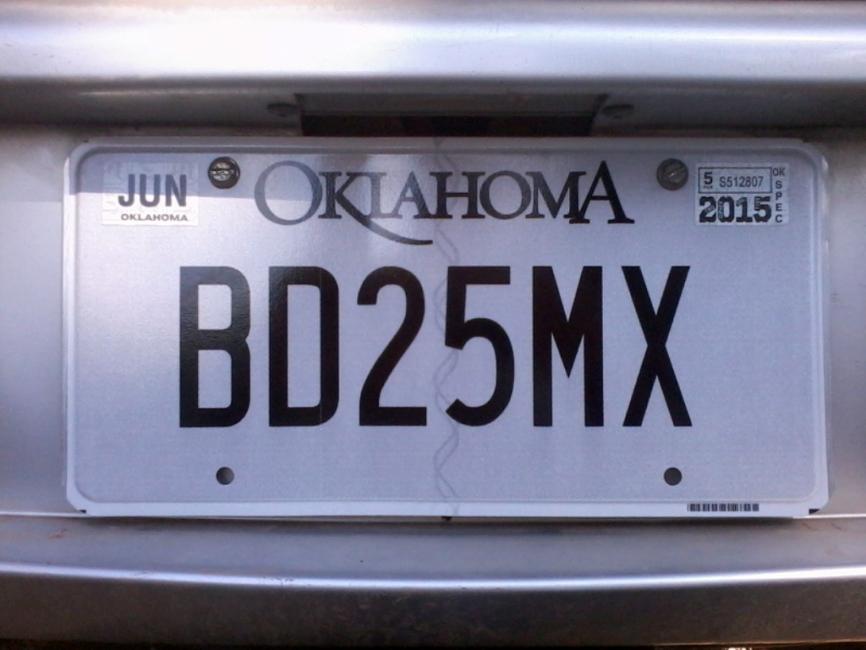 Here's a cool Moto Plate of the Day from our friend and longtime reader Billy Disney.
All right, that's it for this week. Thanks for reading. See you at the races.