Glen Helen Raceway
San Bernardino

,

CA
Glen Helen
Lucas Oil AMA Pro Motocross Championship
BTO Sports is your number one source for all of your motocross parts, gear, accessories and apparel. BTOSports.com is a motocross company who is truly dedicated to the sport and to the customer. Proud sponsor of your Racer X Podcasts and the BTO Sports race team.
Yeah! The Nationals are back, baby! And some would say better than ever... well, if "ever" meant the series was going back to Glen Helen. The Lucas Oil Pro Motocross Championship was back on the hilly SoCal track for the first time since 2009 and that's a good thing. There's no other track like Glen Helen and it definitely taxes the riders and the teams for the very first race. Monster Energy Supercross tries to make Anaheim 1 a little tamer than other tracks, figuring the riders need some time to get into the flow of things. Well, apply the exact opposite approach to the outdoors because Glen Helen is arguably the toughest race of the entire series!
As always at The Helen: it was a man's track. The hills are so gnarly (I raced the World Vet races a couple of times and we ran Mt St Helens in the center of the track. It wasn't very bad going up but the downhill late in the day is indeed something I never want to experience again. My hands are still hurting…) and it gets plenty rough. I'm not sure what was up with the numerous supercross-style obstacles but hey, whatever. I'm not the one who has to shift up to fourth to air out some 90-foot triple when I'm dead tire. By the way, it was overcast at the start of the day and I figured we dodged a bullet but the sun came out for the motos and it got plenty hot. And the first 450MX moto was 37 minutes long!
Well, we had all these pre-season podcasts, internet radio shows, written columns and general bench racing about how we'd see all these 450 contenders, but in the opening round, it was an all-KTM show. With apologies to Josh Grant, Ryan Dungey and Ken Roczen looked on point and the rest of the class has a lot of work to do. They crushed the field going 3-1 (Dungey for the overall) and 2-2 (Roczen). They were closely matched. Roczen snuck away a bit in the first moto, but Dungey made a nice pass on the last lap of the final moto to snatch victory from the jaws of defeat. Great rides and it sure looks like we'll be seeing some more battles between these two.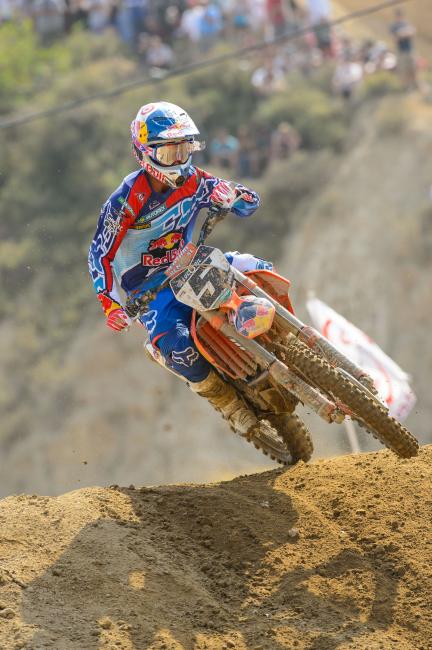 I loved Dungey's pass on Roczen for the win. It was perfectly aggressive and perfectly within the boundaries of making a clean pass. Ryan needs to be more aggressive like that in the future. Meanwhile Roczen's post-race interview was great. He handled the pass with class and gave his teammate props after the moto.
Can we talk about the rest of the field? Dungey had over a minute on fourth place in moto one and Roczen had over thirty-seconds on third place in moto two. Wow! I hope this is just a one round deal and we see more competitive racing up front at the other eleven rounds. I was very surprised that James Stewart, Trey Canard, Justin Barcia and the rest weren't closer to the top guys. We've got 22 more motos to go so there's no reason to panic, but this KTM domination wasn't an accident, let's put it that way.
Josh Grant certainly showed everyone that although it doesn't surface much these days, there is still some SERIOUS talent inside that bruised and battered body of his. On a track that he loves, the JGR/Toyota Yamaha rider grabbed the holeshot (with teammate Filthy Phil right behind him) and rode a tremendous race to grab his first moto win since 2010. These rides have been few and far between in the last few years as Josh racked up the injuries, but may I present to you Josh Grant at his finest. Now if he could just somehow bottle Glen Helen and bring it every weekend, he'd get re-signed at JGR next year and continue to get good money and a good bike.
Honestly I was almost, and I said ALMOST, more impressed with Grant in the second moto. We've seen Grant do well in a first moto before and then either not answer the bell (last year at Elsinore), crash in the first turn (Lakewood 2010 and Millville 2009) in the second moto. Although he didn't back up his first moto win in the second moto, when he crashed early on and grabbed his leg, I thought that was it for him. I figured he was going to take his moto win and call it a day. But no, he pulled into the pits to straighten his bike, was WAY back, went off the track again at one point, and then soldiered on for a 15th by the end of the long second moto.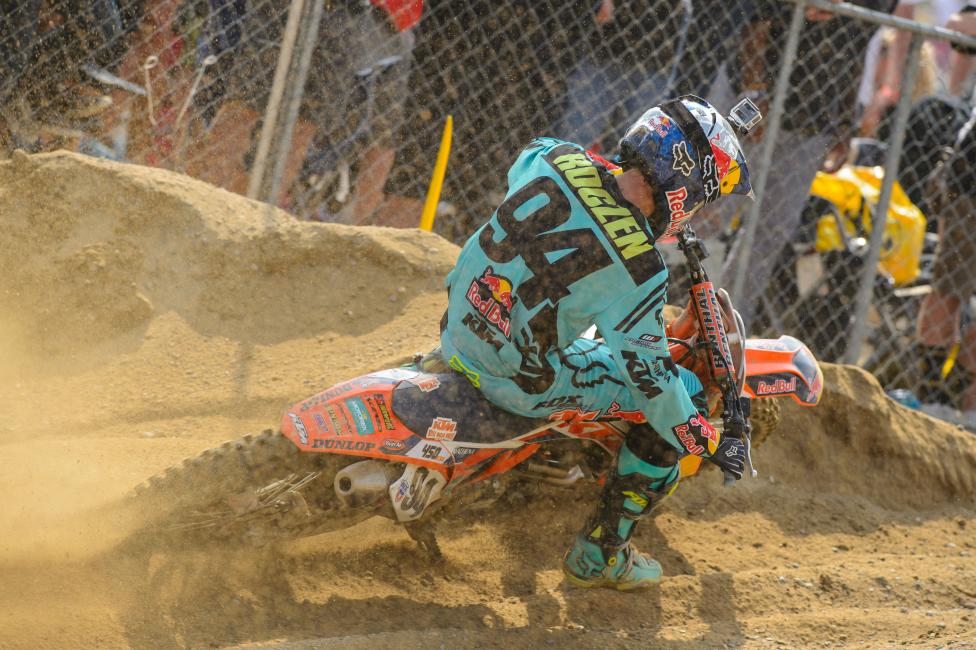 As a former mechanic, I didn't like JG throwing his bike down (or letting it drop) onto the ground after his first moto win. There are two motos in a National, what if something had broken and needed to be changed? Yeah, yeah I know I sound like an old man right now but seriously, there's no need for that kind of celebration. The bike just helped you win! It doesn't deserve that…
What we saw at Glen Helen was a Jeremy Martin ass-whooping. The younger Martin brother just worked everyone in the 250MX field with two out of three holeshots (one moto was red-flagged when Martin's teammate Anthony Rodriguez went down hard) and a second place start in the other. From there, the kid's speed and fitness went unmatched as he built twenty-second leads on the field. He was untouchable. It's amazing, really. Martin certainly showed some speed at the end of last year but he's raced 15 career Nationals with an average finish of ninth place. I don't think anyone would've been surprised with a top five or top three for Jeremy but a 1-1 soul-crushing win? No way. Amazing ride and this kid just put himself into the championship discussion because even if he slips a bit from his GH form, he's still going to be great.
Almost as amazing as Martin's ride was his teammate Cooper Webb's 2-2 score. Webb had raced 12 career Nationals and had an average finish of ninth place. So pretty much the same as Martin. In the first moto he came from around 15th all the way to 2nd and in the second moto he caught and passed national champion Blake Baggett from a ways back and dropped him. They were eye-opening rides that got a bit overshadowed by Martin's domination, but make no mistake about it, Webb was impressive.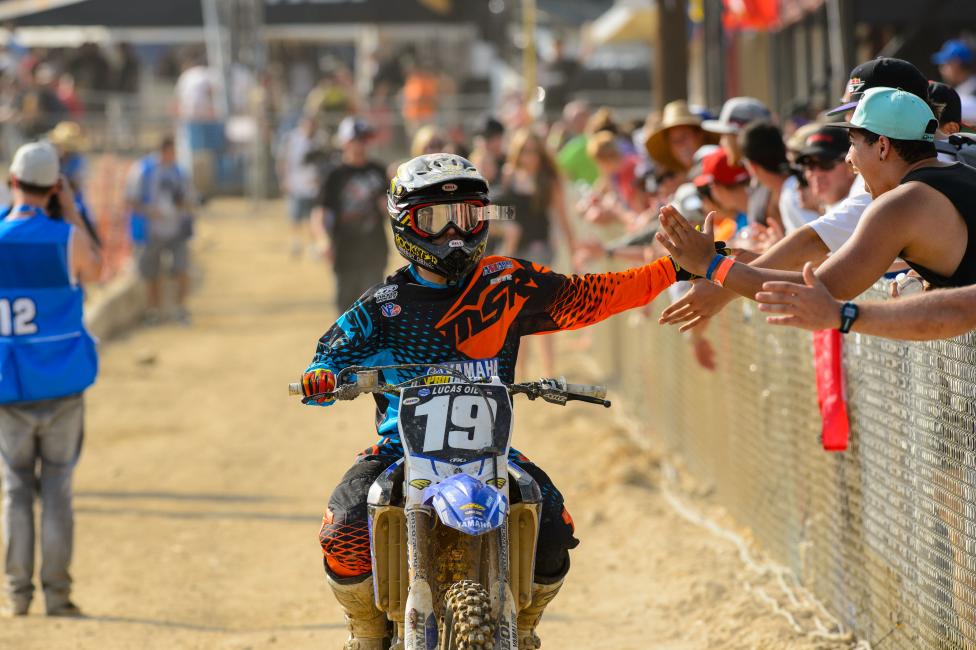 You know who else had a great day? Yamaha, that's who. The tuning fork company has had a rough decade in the 250 Class with the Star Yamaha team and the shadow-of-its-former-self Yamaha of Troy team (in fact, the last overall win by Yamaha in the 250MX class was YOT's Mike Brown in 2004). Now they've got an all-new bike and things are looking up. Martin and Webb have both re-signed with Yamaha for the next two years, they picked up Christophe Pourcel and Josh Grant even won the first moto. They got great starts at the Helen and crap, even those new headphones they put out I hear are pretty good. Things are looking up over at Yamaha!
Let's take a look at the results shall we?
250MX Results
1 19 Jeremy Martin Millville, MN Yamaha YZ 250F 1-1- I interviewed Martin after the race and I couldn't tell if he won his first ever National with a 1-1 score or we were in a dentist's office. He was pretty muted and not super impressed with himself. I honestly don't know if this is good or bad.
2 37 Cooper Webb Newport, NC Yamaha YZ 250F 2 2- When was the last time MSR gear went 1-2 at a National? When Guy Cooper and Keith Bowen did it in 1985, perhaps?
3 21 Cole Seely Newbury Park, CA Honda CRF250R 4 4- Seely really showed everyone something at GH. His best ever finish in a National was sixth overall and with him going to the factory 450 Honda truck next year, he needs to show that he can hold his own outdoors. Well, this was more than holding your own! He ran second in the first moto for a long time and came from around 20th spot to 4th in moto two. Fitness seemed great, speed was obviously great and good for Cole. Now let's see if he can keep it up.
4 4 Blake Baggett Grand Terrace, CA Kawasaki KX 250F 8 3- Sure fourth overall is okay for most riders but Baggett's got to be worried about these upstart kids and their speed. Someone said he had only three days on the bike before this race so let's see going forward how he does. The Blake Baggett I saw out there is not the Blake Baggett we've come to know and admire.
5 377 Christophe Pourcel France Yamaha YZ 250F 7 5- Pourcel is back and when he set the fastest time in both practices it looked like this whole thing could be an amazing comeback. But in the motos I thought he was just okay. But, hey, it's his first race in 18 months. He definitely looked winded in the second moto but he still took weirdo-lines and still looked to be a gear higher than everyone else. Classic Pourcel!
6 32 Justin Bogle Cushing, OK Honda CRF250R 5 9- Bogle was great. He had a strong first moto and was looking good for a podium when he went down right into the mud on the first lap of the second moto. That must have really sucked for a guy like Bogle who likes to look good. No matter, he came from 29th to 9th covered in mud and looked to be in shape and charging. Don't sleep on Bogle, bro.
7 96 Matthew Bisceglia Tualatin, OR Honda CRF250R 11 7- Very good finish for "Mike" out there. The season opener this year for The Bisch was much better than any of his rookie Nationals last year. Funny how that works, huh?
8 25 Marvin Musquin France KTM 250 SX-F 10 8- Moving Marvin The Marv Attack Musquin hurt his shoulder in practice and he's already not up to speed from the ACL injury that he's coming back from. So all things considered, not a bad day for #25 and good to see him back at the races. Marvin's a good dude.
9 50 Jessy Nelson Paso Robles, CA Honda CRF250R 15 6- 33rd to 15th in the first moto. Not too shabby…
10 17 Jason Anderson Rio Rancho, NM KTM 250 SX-F 3 31- Do NOT sleep on this guy. Anderson didn't get the starts he needed but he was very fast. Martin, Webb, Anderson, Seely—the underdogs all came up big against the vets like Wilson, Baggett and Pourcel. I was very impressed with Anderson this past weekend. I was less impressed that his team changed a motor after moto one and his new motor blew up. This is where we're at with these 250 motors. They literally should have a lit fuse on them that counts down until the end of each moto.
11 30 Kyle Cunningham Aledo, TX Honda CRF250R 14 12- After the race Kyle told me that he wasn't happy with his suspension and he needs to do more testing. I told him not to worry because Glen Helen is its own animal and with the race over, it's all going to be better from here.
12 15 Dean Wilson Scotland Kawasaki KX 250F 6 33- And just like that Wilson's summer is ruined. His engine was cutting out for a good part of the second moto, and while running in sixth, he clipped a bump coming down one of the hills and just ate poop. The result was a badly cut leg and he's out for a month or more. Just when you thought it couldn't get any worse for Dean-O…
13 737 Valentin Teillet France Kawasaki KX 250F 12 16- This was a very good ride by the French wonder kid. He showed speed and tons of style. We can work with this!
14 78 Matthew Lemoine Baton Rouge, LA Kawasaki KX 250F 13 17- Matt, that's Mitch Payton calling you on the red bat phone for a replacement ride. Or I should hope so, anyways.
15 16 Zach Osborne Abingdon, Virginia Honda CRF250R 9 37- Osborne got a poor start in the first moto and was involved in a first turn crash in the second. And now he's broken his thumb. Just like that, all the training, outdoor riding and preparation is down the tubes.
16 55 Alex Martin Millville, MN Yamaha YZ 250F 40 10- Good second moto for Troll. After the race I asked him where "the good Martin was" and this caused his buddy Filthy Phil to laugh and laugh. I'm such an a-hole.
17 87 Shane McElrath Canton, NC Honda CRF250R 18 13
18 60 Jackson Richardson Australia Honda CRF250R 17 14
19 35 Justin Hill Yoncalla, OR Kawasaki KX 250F 36 11- Bad day for Hill, let's hope for his sake and Pro Circuit it gets better.
20 47 Kyle Peters Greensboro, NC Honda CRF250R 22 15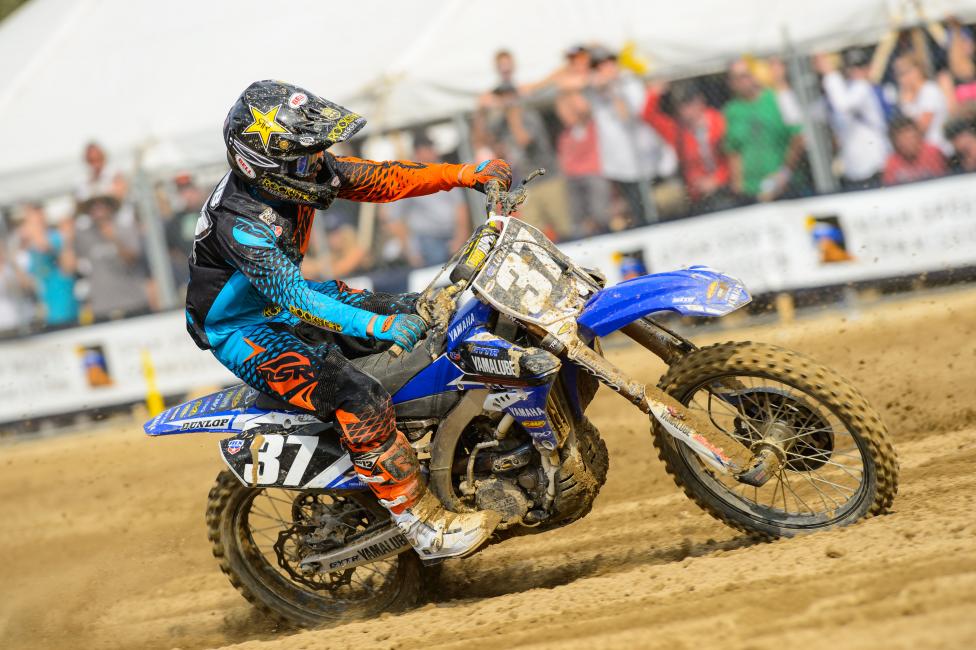 450MX Results
1 5 Ryan Dungey Waconia, MN KTM 450 SX-F FE 3 1- Combined with Martin winning the 250 Class, this was the first time ever that Minnesota born riders won both classes at a National. Unless I'm forgetting a Heath Voss/Jimmy Polvolny sweep somewhere along the line?
2 94 Ken Roczen Germany KTM 450 SX-F FE 2 2- Roczen almost had Grant at the end of moto one, which would've made Dungey's pass on him in moto two irrelevant. Well, except for the three points, I suppose.
3 41 Trey Canard Edmond, OK Honda CRF450R 7 3- Good start for Canard, but again I'm shocked that the KTM guys were so far in front of him (and everyone else). I'm sure him and the great Tim Ferry (that's actually his name people, "The Great Tim Ferry") are working on ways to shorten that gap up.
4 24 Brett Metcalfe Australia Kawasaki KX 450F 4 5- This is just what Brett Metcalfe does. He's so solid it's ridiculous. He's in great shape, he's fast and he just never stops grinding. He's a slower version of Ryan Dungey and I mean that with all due respect.
5 33 Josh Grant Riverside, CA Yamaha YZ 450F 1 15- Good for the JGR guys by the way, they're all good guys and I'm happy they got a moto win. I interviewed team manager Jeremy Albrecht and suspension guru Johnny Oler after the race right HERE.
6 7 James Stewart Jr. Haines City, FL Suzuki RMZ 450 6 6- Stew went 6-6 for sixth. Yeah, I know, it's weird, man. Plenty of people told me that they didn't like the way his bike looked and I'll give them that but IT'S JAMES STEWART, MAN. He once went 24-0! I would think Stewart riding an ill-handling bike could still go 3-3, right? Anyways, a slow start for the #7 and I'm sure he'll be better from here on out.
7 34 Malcolm Stewart Haines City, FL Honda CRF450R 8 8- Mookie had a battle going on with Weston Peick in the first moto that was basically like a mid-80s action movie. A couple of gigantic bodies fighting tooth and nail back and forth with blood, sweat and tears flying everywhere. It was awesome! Look at the Stewart brothers going 8-8 and 6-6… you know, just their usual consistent selves.
8 12 Jacob Weimer Rupert, ID Kawasaki KX 450F 10 7- Weimer went down at some point in the first moto so that sucked. And in the second moto he did okay. Jake should always be from 5th to 10th and every once in a while he's got the speed and talent to get inside that top five.
9 40 Weston Peick Wildomar, CA Suzuki RMZ 450 5 13- I spoke with Weston's dad for a while in the morning and he told me that Weston is still getting used to the air forks on the RCH Suzuki and the fact that after he gets off his bike there are ten dudes standing around wanting to help him go faster. Good first moto for Weston and I'd look for more of those coming up.
10 22 Chad Reed Australia Kawasaki KX 450F 9 10- Reed's not running at 100 percent capacity right now and said he'd be happy with a top ten. I talked to him after the race he was indeed happy with his top ten.
11 9 Ivan Tedesco Albuquerque, NM Suzuki RMZ 450 13 9- Hot Sauce's first National in a while and a pretty good showing in the second moto. He got a good start and hung in there inside the top ten.
12 38 Phillip Nicoletti Bethel, NY Yamaha YZ 450F 11 11- There is no way an 11-11 should get you 12th overall. Filthy got effed. Still, good starts by Phil and overall a good start to the series because he didn't crash in either moto. BUT he did crash on press day…
13 51 Justin Barcia Monroe, NY Honda CRF450R 34 4- Barcia was pretty good at The Helen, he had a 4-4 day going until he broke his chain in the first moto. That sucks but what doesn't suck is Justin pushing his bike back afterwards. Yeah, he was super pissed but it's not the bikes fault. It doesn't deserve to be dropped right there. Barcia did the classy thing and pushed his own bike back. As a former mechanic that's a good karma move… push it back people!
14 11 Kyle Chisholm Clearwater, FL Yamaha YZ 450F 15 14- Chisholm was the first true privateer of the race as he logged a couple of respectable finishes. You might not have recognized Chiz out there because he was wearing Alias gear (that's his sponsor for the Canadian series where he's heading next week) and the fact that you wouldn't believe that a top rider would put his numbers on like Kyle did. As proof of privateer status, he went to a dealer and purchased numbers on Friday night! Eventually some professional numbers showed up and Kyle looked great in the motos.
15 48 Ben Lamay Wasilla, AK Yamaha YZ 450F 20 12- Good second moto for the Alaskan. He started 13th and finished 12th. Once again proving that starts are indeed very key for a good finish.
16 207 Sean Collier Saugus, CA KTM 450 SX-F FE 12 38- Collier just drops into a National here and there, does pretty well and then checks out to do whatever it is Sean Collier does.
17 77 Jimmy Albertson Shawnee, OK Honda CRF450R 17 17- Albertson's Crossland Racing team couldn't find enough funding for the Nationals so Albertson is out there in his Sprinter van with his brother Gregg as his mechanic. It's as old school as old school gets. Jimmy's the rider, Gregg's the mechanic and Jimmy's wife Georgia is earning her keep as the pit reporter for the TV show. And she's probably making more money than the brothers.
18 331 Tommy Weeck Washougal, WA Honda CRF450R 14 22- Weeck is a full privateer like Collier and Albertson so a 14th is solid.
19 80 Fredrik Noren Sweden KTM 450 SX-F 29 16- Look who's back! After a wrist injury suffered in, I think, Toronto, the Swedish warrior came back with a good showing at the opener. Noren is much better outdoors than in and should be a regular fixture inside the top 20.
20 95 Evgeny Mikhaylov Russia KTM 450 SX-F 19 18- Americans, Australians, Germans, Swedes, whatever country Albertson is from and now Russians. Sadly though, STILL no Canadians. I'm going to go light myself on fire now.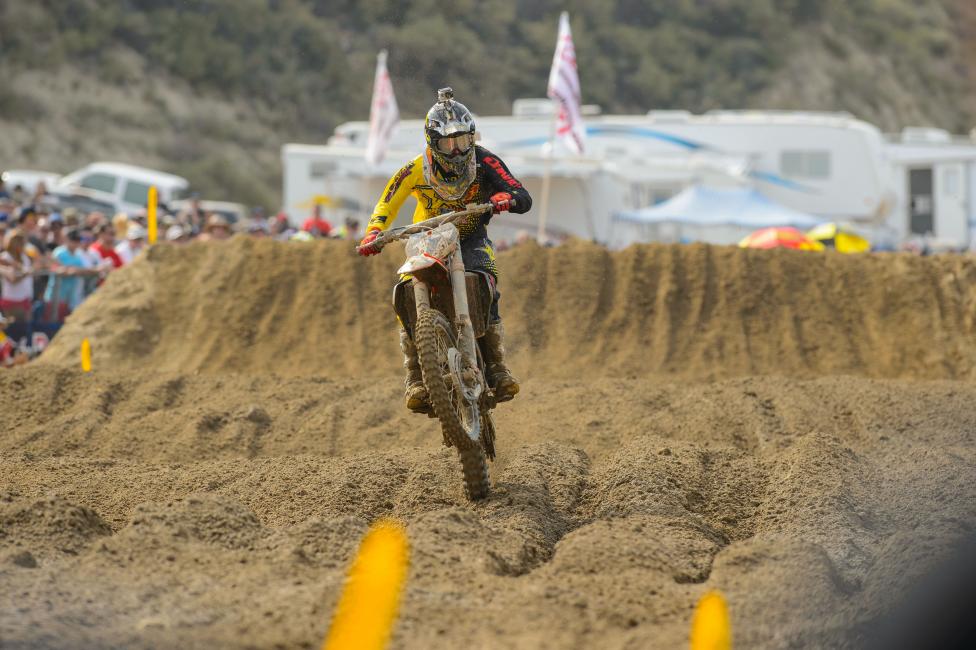 Some more news and notes:
- I don't know if I've ever seen two chains break in one moto, never mind two chains break in the same moto on the same spot in the track on two factory bikes. But that's what we had with Justin Barcia and Andrew Short in the first moto. Very bizarre. I spoke to Dan Betley, team manager at Honda, and he said that it was a rock on their bike. The sprocket was missing a tooth and the chain was recovered for DNA testing back at the shop. So weird.
- That's it Zach Bell. Keep this going. Yeah you started in the front and didn't finish there. And yeah you did crash… but you showed some speed and you finished both motos. The pyramids weren't built in a day.
- Speaking of fast amateur kids not being able to stay on the track, Yamalube/Star Racing's Anthony Rodridguez came back from a crash early in supercross and promptly went down hard in the second moto. He'll be out for a while according to people on the team and that sucks. He showed some speed but he couldn't keep it on two wheels.
- Andrew Short had another tough start to the Nationals. Breaking the chain in the first moto and a bad start/crash in the second moto held him to a 23rd overall. Shorty's got a 34th, a 17th and a couple of other outside-the-top-tens at National openers in his career. Now he's got a 23rd! Talk about being behind the eight ball. After the race Andrew was still his super happy self, laughing about his results. We all need to take life lessons from Andrew Short.
- As I walked around the pits after practice and in between the motos I became acutely aware of the fact that my socks were soaked. And looking down my shoes were a disaster. Thanks to the teams washing bikes and creating mud piles everywhere, I now had to stand there with wet feet. But really, who cares about me? What I do think matters is if some big rich outside sponsor guy shows up and is walking around the pits., he won't be happy to have his expensive shoes getting soaked. When do we just join the modern ages and create some wash bays for the teams?
Thanks for reading, many more of these coming along the way and I appreciate any comments you have—good or bad. Well, not really. Anyways, email me at matthes@racerxonline.com and let me know what you're thinking.