Glen Helen Raceway
San Bernardino

,

CA
Glen Helen
Lucas Oil AMA Pro Motocross Championship
Mike Williamson, the four-time Monster Energy Supercross Championship-winning mechanic, has a pressure washer hose in one hand and a mud scraper in the other, diligently working away at getting the #24 KX450F back into showroom-clean condition. This wasn't Ryan Villopoto's #1 bike he was toiling away on here in the Glen Helen Raceway pit area, nope. Well, actually, it was, but the motorcycle was now in possession of RV's fill-in for the 2014 Lucas Oil Pro Motocross Championship: Brett Metcalfe.
With RV2 now on the injured reserve list and out of the 2014 Lucas Oil Pro Motocross title chase, it was something new and something different for Mike Williamson at the season opening National as he had been tapped by his Kawasaki bosses to work in unison with journeymen racer Metcalfe.
"Is Brett meeting our expectations?" I asked. "Absolutely," offered Williamson while taking a quick reprieve from washing the opening practice session sand and mud off the big KX. "I think speed-wise, right now, he's about fifth fastest. This is his first race since last summer, but I think he'll be good.
"We're just looking for two solid motos from Brett today," he added. "You know, put it in the top 10 and get two solid motos, and if something falls better, than good for him. He's easy to work with. He's a nice guy and he's very appreciative. I think he's going to do good."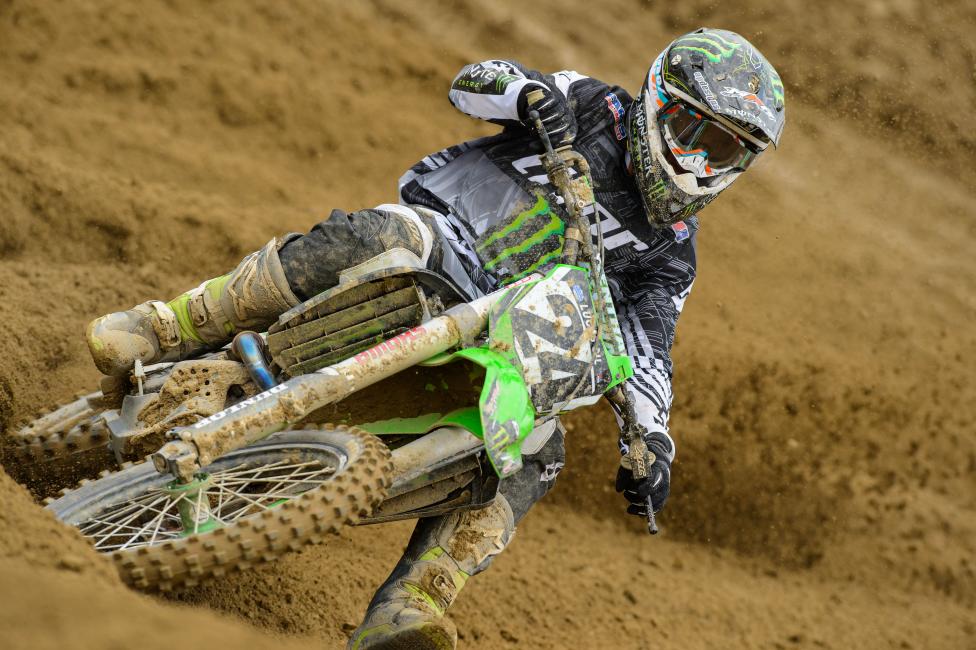 At 10:20 a.m. just a few minutes prior to the second Group A practice session, Brett Metcalfe came waling into the Kawasaki pit area. Bevo Forti, the man who has seen more motocross races than anyone in the United States, stopped him in his tracks.
"It's good to see you," said the longtime goggle man. "I'm so happy you got a break."
"Me too. Me, too," said Metcalfe, shaking Bevo's formidable hand. "Thanks, Bevo."
One practice session now behind him and his big race day now in motion, Metcalfe appeared to be gaining confidence. "Today, so far, has been good," he explains. "We've had our first practice now and I felt good on the bike. I had a better flow. So far the team's been unreal. Everyone on the Monster Kawasaki team has been phenomenal—they've taken the time to get me up to speed with everything with the bike and what they do day to day. Mike Williamson has been phenomenal and so far everything is good."
As motocross moves forward in this age of technology and instant information—no doubt learning lessons from big brothers like Formula 1 and MotoGP—the shadow arts of data acquisition and telemetry have come to the fore. And yes, while MX will be almost exclusively be about the dude on the bike, any rider aids certainly help the overall cause. Enter Monster Kawasaki technician Kurt Rood and his laptop.
"It records the whole session," said Rood, plugging the computer into the mechanical soul of the #24 bike. "It records the throttle position, suspension travel, clutch, gearing and how the motor is performing."
The tech is somewhat new to this hunter and collector approach in obtaining an edge, and Metcalfe concurred that when the gate drops, it's still about the man twisting the throttle.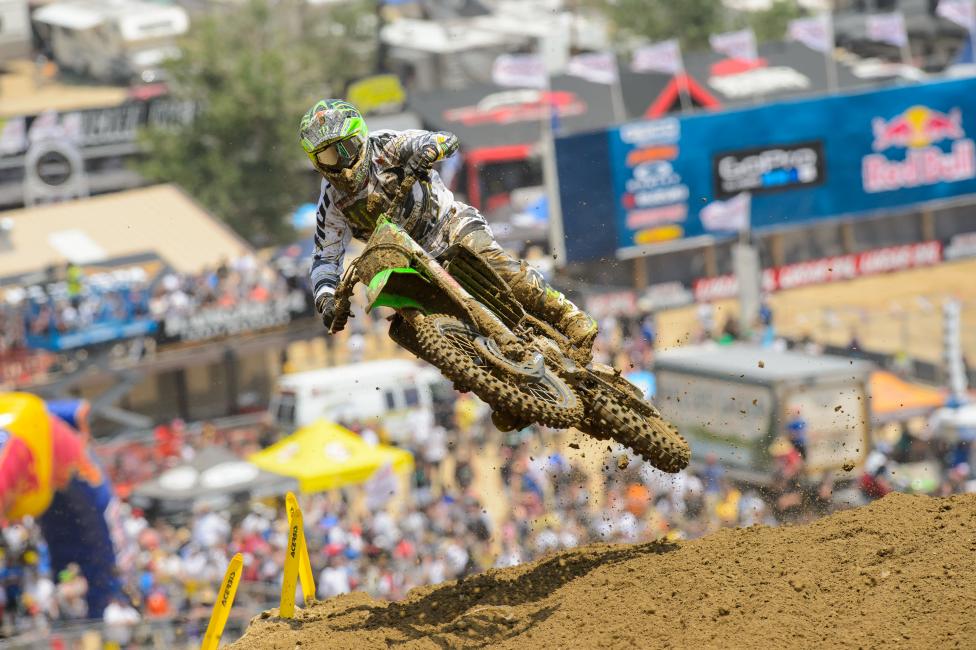 "That's on me," he says. "Really, the team provides everything. They provide all the tools. If I say, 'Hey, I'm having trouble here,' they've got technology now to pinpoint things better and quicker and that allows them to make better decisions. But still, it's on me. The rider is the guy who gets on and has to call the shots."
During final practice, Metcalfe flashed up a fast lap of 2:17.461, which slotted him in just behind Roczen, Canard, Stewart, Grant, Dungey, Barcia and Weimer.
"Everything is good," said a pleased Williamson of his rider. "We'll just soften the rear suspension up a little bit and it'll be good. The story today will be told at the end of the moto. We want Brett to get in position and just start plugging away and just get a good pace going. You have to have something you can maintain the whole race. I don't think he has the flashy speed, but overall, he's got the speed to go the whole distance. He's definitely a top 10 guy, but I think he has a little bit more."
Just shy of 1 p.m., the shrill of an air horn sends the signal that it's time to go racing. Before going to the line, Metcalfe hugs a few friends and family. Soon after, the gate dropped on the opening 450MX moto of the summer and all present in the signaling area, Williamson among them, count off the bikes flying over the sea of people teeming around the Glen Helen infields. Metcalfe was in seventh and charging. The Australian would stay there for most of the moto, later moving up the leaderboard when Trey Canard and James Stewart hit the ground in a slow-speed shunt and Justin Barcia snapped a chain. When all is said and done, Metcalfe would place a remarkable fourth.
"It was good!" exclaimed Williamson while walking back to the paddock. "I think he's going to be good in the second moto. He's going to be strong. Hopefully, he's going to do it again."
Later, after the team has downloaded all the feedback from their rider (and the computers) and put the finishing touches on the #24 bike, all congregate around Metcalfe and begin getting prepared for another journey to the staging area.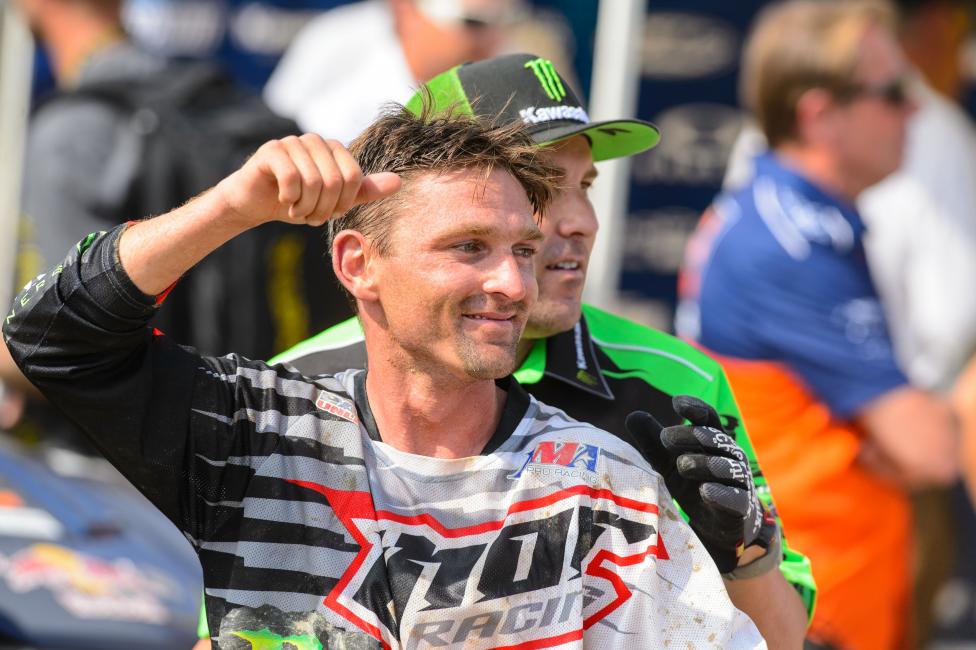 "It was good. It was solid," explained Metcalfe while getting suited-up for moto two. "It wasn't great, but it wasn't bad. I was consistent and stayed up. Those guys made mistakes and some things happened and I came home in fourth. It was good. I wasn't overly-thrilled with the riding, but the result was great. I'm just trying to get myself comfortable and in a position where I can really attack the whole moto. In that one I learned a lot. It's nice to get that first moto out of the way. We'll progress form here and we've got another moto coming up. It's all good."
Metcalfe would finish fifth in moto two for an excellent fourth overall. All things considered—and with all opinions factored in—the Glen Helen National truly has truly been a success for all involved with the Brett Metcalfe experiment.
"I'm happy," said a soaking wet Metcalfe, boots and jersey long pulled off and water bottle in hand. "I'm real happy. We were real competitive and that's what I hoped for. I'll get into more of a rhythm with each moto. We're right there and now it's on to Hangtown."