Glen Helen Raceway
San Bernardino

,

CA
Glen Helen
Lucas Oil AMA Pro Motocross Championship
"He's healthy. I think he's healthier than he's been in a couple of years," said Ian Southwell, mechanic for Blake Baggett. Despite the fact that Baggett was coming off a recent eye injury—not to mention a star-crossed 2013 Lucas Oil Motocross Championship which was beleaguered by a broken wrist—here he was in San Bernardino—his home track, mind you—in shape and up to full-speed in preparation for Saturday's 2014 curtain opening National. Despite the adversity, the 2012 MX250 National Champion is back and he's flying. Ready, willing and able to make a run and his second AMA title.
Racer X: Blake, along with all the other riders here today, you just knocked out two 20-minute practice sessions on the Glen Helen National track. You looked great out there. What's your take on everything?
Blake Baggett: The track is definitely good. It's a little bit loose today. The soil is kind of powdery so the ruts were kind of more like berms. They moved around a lot because the dirt was kind of powdery and not very moist and they just kind of blew out. But it was pretty fun out there. I don't really have much time on the bike. I only have about five days, plus today. I'm still getting comfortable and still making changes. We made some bike changes before the second session just to try and get a little more comfort because as soon as you're comfortable, then the speed comes next. It's all hand in hand in. I feel good. I feel like I've won before and I know what it takes. You can make days turn around. You might not be fastest, like today, lap time-wise, but on Saturday it can be a whole different ballgame.
Were you guys looking at lap times much today?
Yeah, I think the whole industry and turned into kind of a stopwatch National, you know? No matter what, the stopwatches are out. Does it really matter? No. It doesn't matter until the checkered flag falls on both motos on Saturday. It doesn't even matter on Saturday morning. I've qualified 23rd before and went out and won both motos and I've qualified first and DNFed motos. It just depends. It's all about Saturday and the motos and how comfortable you are. This thing is 24 motos long so you have to remember that, too. This is only moto one and two out of 24.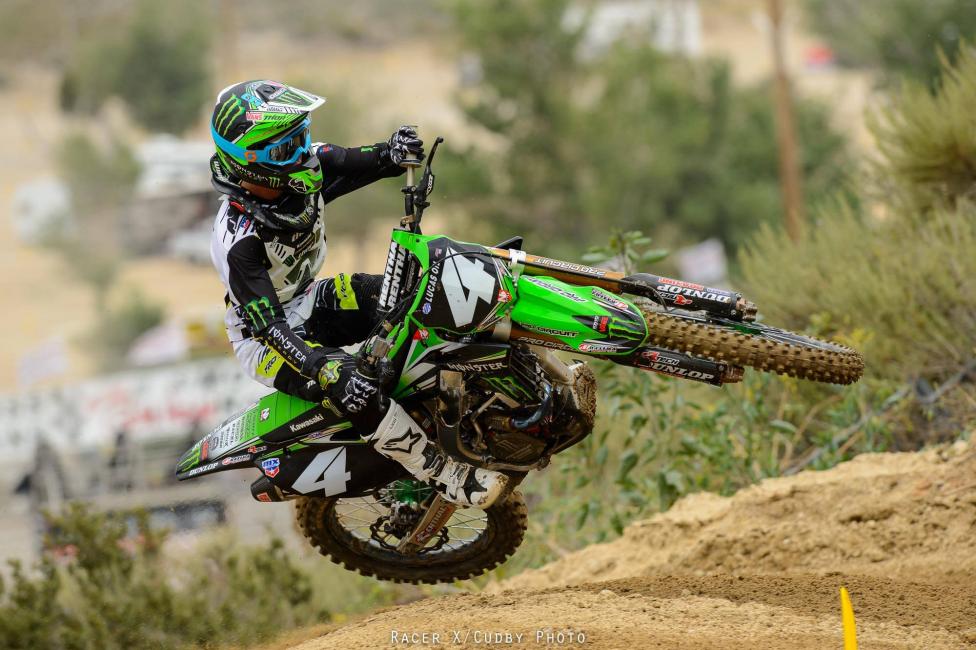 You've always struck me as racer who actually raises his game when the gate drops. In other words, you're not really a practice player.
Yeah, definitely. I'm not really a practice guy. I'm here, but most of the time when I shine, it's on Saturday. That's when I'd rather shine. I don't really worry too much on the practice thing. I mean, I like to know where I'm at, and I like to see what's going on, but then again, I just like to turn it up on Saturday. It just depends on how comfortable you are. Everybody can have a good day. The competition is going to be stiff this year. My teammates are both going real fast and so is everybody else. You've got [Jason] Anderson coming off a championship. [Justin] Bogle is coming off a championship. [Christophe] Pourcel is back. This class is never weak and you can't take anything away from anybody because you never know what's next.
If there is a portent of things to come today, you sure ran well at that anomaly of a supercross called Daytona, huh? That race is more of an outdoor race and you sure shined there.
Yeah, a little bit. They say it's the toughest race out of any of them because you're on a supercross bike, which is completely stiff, and you're riding an outdoor sand track, which is just rough and nasty. It definitely feels good to go there and win and that's one of those things you put in the back of your mind and remember. You don't forget that. But you never really know until you get to the first round and see where everyone is at. It's a sort of a guessing game but you always want to consider yourself one of the top guys and I do. I consider myself a guy who should be up there battling for wins.
There was a lot of talk about your troubled wrist in 2013.
Yeah, I only won one overall last year, but I had a broken wrist all year. In fact, halfway through the year I re-broke it again and rode on a broken wrist at the last five rounds. It just wasn't my way. This sport is gnarly. It's dangerous. I try to wear all the protective stuff that I can, but when you're going so fast out there, stuff out of your control happens. Injuries come into play and that's a big thing in this sport. You just try and stay healthy and be there no matter what.
I have to ask the question: How is your eye?
My eye is not 100 percent. It's at, like, 80 to 90 percent. I was blind out of it for almost a full day. I was bleeding out of the eye for a few days. It was a close call. The doctors told me there was a small percentage of a chance that I was going to lose my eye. It was sketchy. It was scary. I thought that maybe my racing career was over there for a second. It is what it is and it's good now. When I'm out there I don't really notice it. Every once in a while it'll get a little fuzzy and blurry, but you just have to blink a bit a times to kind of bring it back. Other than that, they say it's healing. Once your heart rate is up and you're out there, you kind of forget about it because you're in the zone.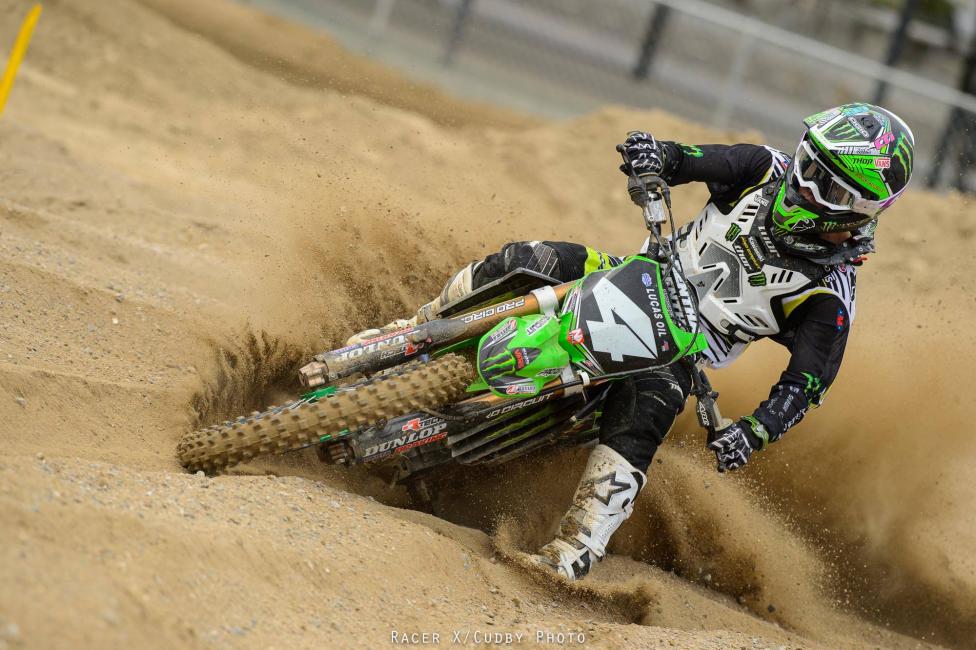 Do you think you can win?
I'm here to win both motos at Glen Helen.
As you said earlier, you know you can win. You won this championship in 2012. Winning races and winning a championship are entirely different things, aren't they?
It's 24 motos. That's the biggest thing. Twenty-four motos don't happen overnight. You've got to be there. It's tough. It's a man's sport outdoors. That's what they say. It's just real gnarly and you've got to do what you've got to do. I've won one before and I came close in 2011. Last year I was fighting injuries all year, but I was there. I definitely wasn't way back there. I was fighting for some stuff. I'd like this to be my year again.