Glen Helen Raceway
San Bernardino

,

CA
Glen Helen
Lucas Oil AMA Pro Motocross Championship
Welcome to Racerhead, and welcome back to Glen Helen for the opening round of the 2014 Lucas Oil Pro Motocross Championship.... It actually feels good to type that, and I think a whole bunch of people around the world are glad to read it too. After months of negotiations, big talks and little talks, agreements and disagreements—all with the common hope of making this thing happen—the starting gate drops tomorrow on familiar ground.
As you can imagine, I am pretty busy doing my other job with MX Sports Pro Racing, and so is pretty much everyone else here in the motocross industry. Bud Feldkamp and his crew are expecting a massive crowd, and Jody Weisel and Karl Scanlon have built a spectacular and downright bitchin' track. Everyone wants this thing to work, and I've been out here myself since last Wednesday trying to help however and wherever I can—but to be honest, the track was already done, as you've seen on all the videos from all the ride days and photo shoots. It's got to be the most videoed/photographed pre-national track ever!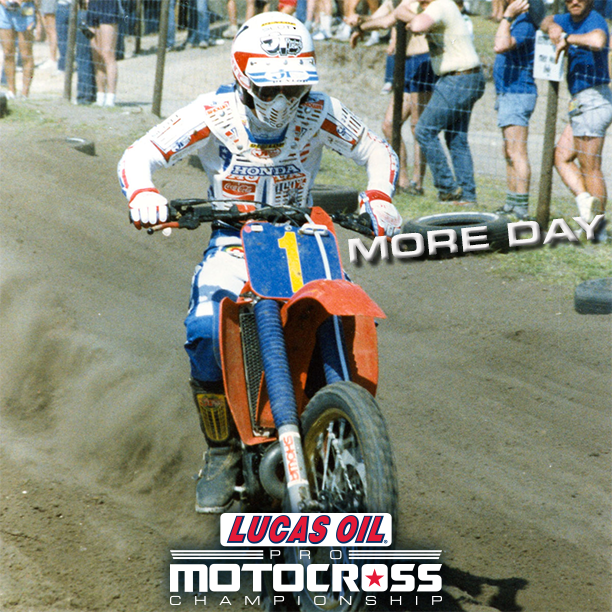 There are a bunch of ways to watch the races tomorrow: first motos live on MAVTV as well as streaming live (and free) on www.promotocross.com. The second motos, unfortunately, won't air until later on Saturday night on NBC Sports Network due to all of the hockey playoffs and car races on Memorial Day Weekend.
But next week, beginning with the Hangtown National, it's pretty much all live every moto on TV. Thanks to everyone at NBC/Alli Sports, MAVTV, and the whole Lucas Oil TV Productions crew for working hard to make this better and better for viewing.
Wait! According to NBC's John Sikorjak:
The live stream of second motos can be viewed online via the Live Extra page and Mobile App (iOS/Android). Please note: In order to watch a live stream of an NBCSN broadcast, you have to verify your cable provider. Live Extra is a service offered through participating cable, satellite and telco TV providers that allows you to watch Motocross coverage of live events on the NBCSN. Don't see your provider? Contact your provider by clicking here to express your interest in receiving this service. Provide your email address and we will contact you once your provider has been added. We are actively working to add additional TV providers to this service, and recent additions include Cox, Charter and DirecTV.
Look for the full scheduling details here.
Okay, amateur practice is over and I'm due back out on the track to help out however I can. Please tune it tomorrow—it's going to be a great race!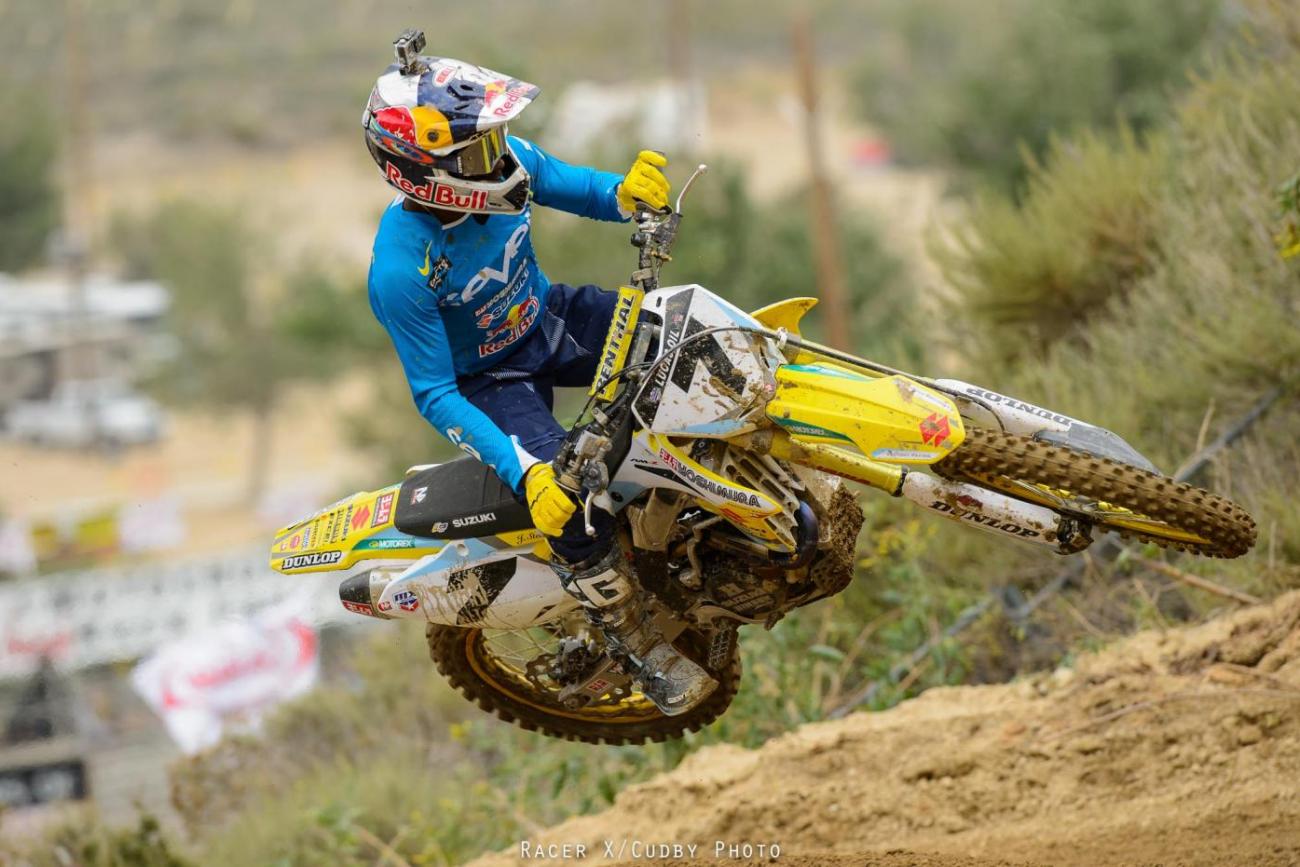 BACK TO THE GLEN (Matthes)
As you read this, I'll be heading down the I-15 driving to a place that I can honestly say I knew we'd be back at one day. Four years ago, when MX Sports and Bud Feldkamp (owner of Glen Helen Raceway) couldn't come to an agreement on terms to hold the national in Southern California, I was shocked. It seemed like an ideal track/location for a national and I was eagerly awaiting seeing what each side was going to do next once the they separated. Glen Helen was like the dad having a mid-life crisis and buying a red Corvette and maybe some hair plugs—they wanted to see what else was out there. And MX Sports was the trophy wife taking their "talents" elsewhere to see if they were going to be appreciated better.
Two lesser tracks in four years for MX Sports and a couple of Grand Prix where basically no one showed up forced both sides to take a look in the mirror and realize they were meant for each other. "Glen Helen, we can't quit you" is probably something muttered by the MX Sports people. And the need to be truly relevant again was probably driving Glen Helen's interest in getting back on the Lucas Oil Pro Motocross schedule, which has become quite bigger everywhere else but SoCal.
So we're back at the Helen for the opening round of Lucas Oil Pro Motocross (opening round is better than the last round, in my opinion), and with the dawn of a new series it opens up endless possibilities for the riders and teams. It's always an exciting time in the sport when we start fresh.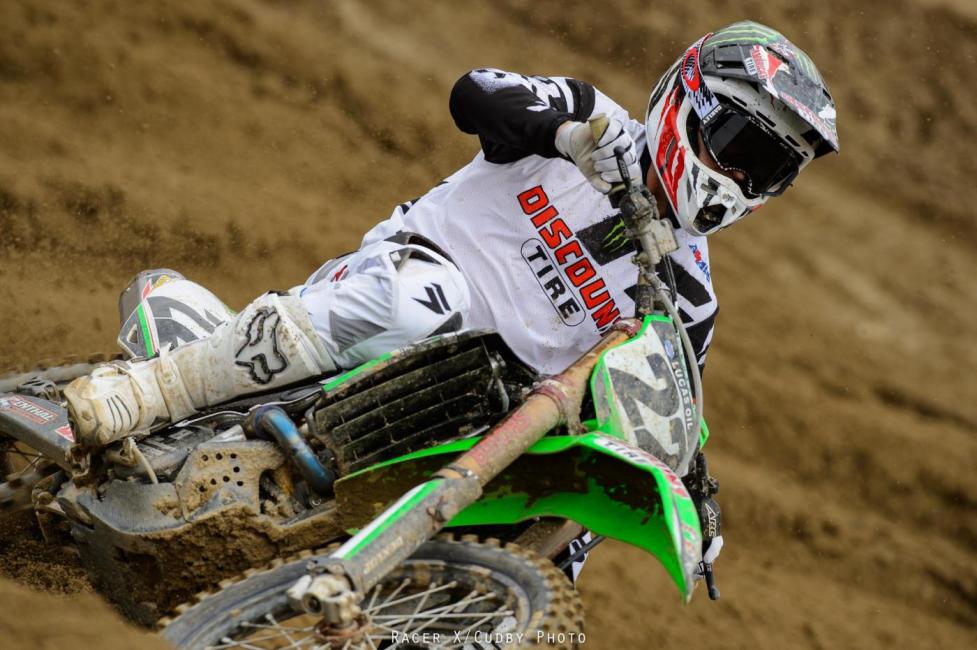 Things I'm looking forward to:
- There's just something about standing by the side of the track when a rider is pinned in fourth gear and hanging off the back. Outdoor motocross is more of an assault on the senses compared to supercross, and you can get closer to the action at that. Also, we all grew up racing outdoor motocross, so we can much more relate to watching the guys rip it up out there.
- Can anyone step up into the James Stewart-Ryan Dungey battle for the top spot in the 450 Class? We all know those two are going to battle for wins, but is there a guy who can get right in there and maybe snatch wins (and maybe a title?) away from the Red Bull warriors?
- What exactly is Christophe Pourcel going to do? First? Fifth? Tenth? DNF? I'll take any and all of those for $100, Alex.
- There are about six riders by my count who can win the 250 Class title. I wouldn't be shocked if Dean Wilson, Blake Baggett, Jason Anderson, Marvin Musquin, Zach Osborne, or—yes—Monsieur Pourcel were holding the #1 plate at the end of twenty-four motos. That's some serious parity, folks.
- I'm looking forward to hearing Weege and the GLs (Grant Langston and Georgia Lindsay) on my TV screen calling the action. Jeff Emig was great, but he's with another network now. But change is also great and I want to see how the new team comes together.
- For all of you filling my timeline with TV complaints about the outdoor schedule, just please stop. If you don't get MAVTV, you can watch all the motos live on your computer at ProMotocross.com. If you're not happy that all the second motos are live except Glen Helen (those damn hockey playoffs!) get the NBC Sports App and watch them live on your computer as well. There are many options and many ways to watch motocross this summer and it's up to you to figure out the best way. To the people who told me they don't have/can't get high-speed internet, all I've got to say is either find a McDonald's or Starbucks or Paneras with free Wi-Fi or just move.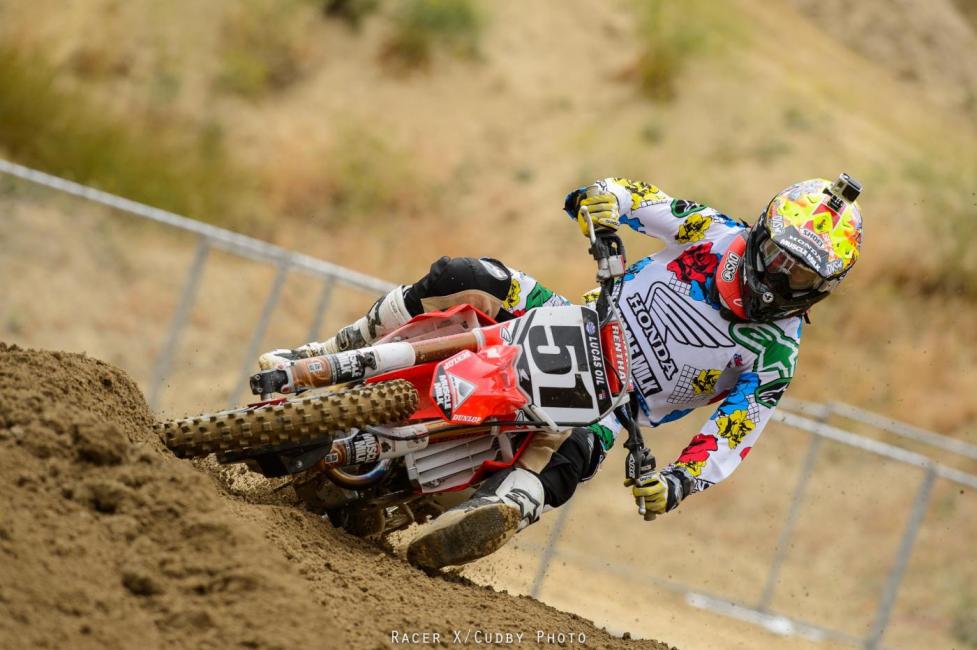 Some links:
The great Johnny O'Mara gave me the scoop behind a some classic Buckley photos here. I bet O'Mara feels like he cheated on Eric Johnson. Sorry EJ!
I did the 250SX class last week, this week Swizcore and I broke down the 450SX top twenty in points here.
David Pingree and Jason Thomas joined me for the Fly Racing Moto:60 Show presented by N-Fab where we talked about outdoor motocross here.
Tony Blazier did his Classic Steel column on the 1986 YZ 125 here.
THE FRENCH (Weege)
I found him! I talked to him! I didn't know what to expect when I walked up to Christophe Pourcel for a chat yesterday, but he was cool and seemed genuinely excited about the season. I know, we're all wondering if CP is going to push through the full twenty-four motos since most of his other moves in the last four years haven't worked out, but he's not making any excuses this time. He says he really likes his bike (much more than the Yamaha 450 he tried racing for MotoConcepts in 2011) and is fully healed up from the ruptured spleen that kept him out of racing in 2013. In fact, Pourcel was working on deals to try to race the nationals last year before a crash and a spleen injury kept him off a bike for eight months. He says he likes racing in America better than Europe, so his goal after a season back in the GPs in '12 was to come back and race here. He was back on a bike late last year and says he needed about two months of hard riding to get back to where he needed to be. He's now had four months and feels very good.
The great thing about having Pourcel back is his completely out-of-the-box thinking on line selection and race strategy. He just approaches his craft totally differently than others. And, once again, he expects race day at Glen Helen to hinge on that: "We'll see how it goes. I will try to find some lines and go from there." We haven't seen CP racing in the U.S. in a while. No matter what you think of him, it's definitely fun to watch him ride a motorcycle.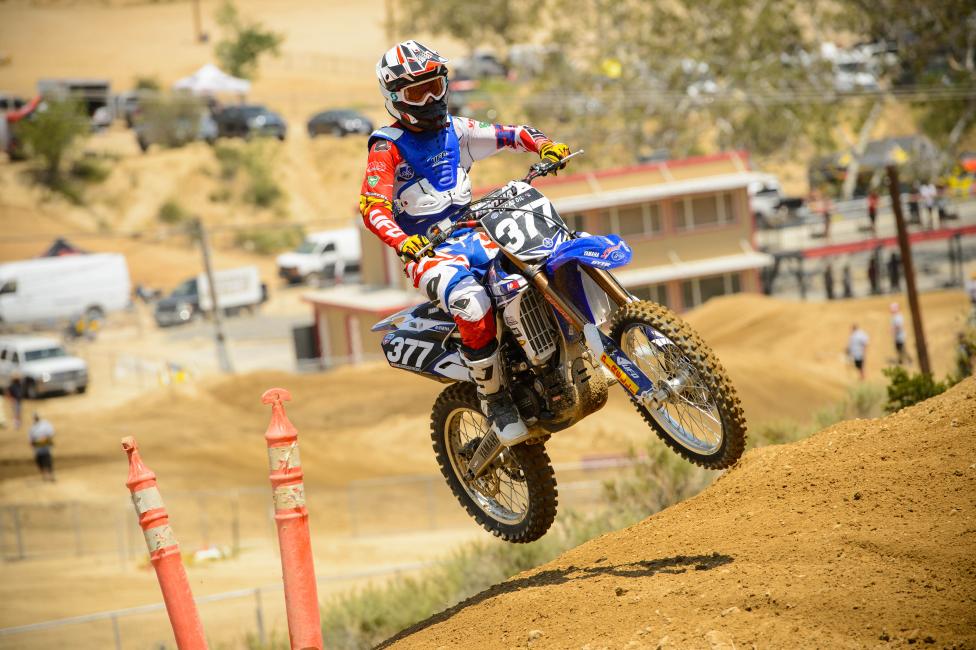 Yamaha isn't messing around, either. CP was surrounded by factory Yamaha men Dan Rambert, Bob Oliver, and Jim Perry, as well as new mechanic Scott Adkins (who was with Jeremy Martin at Star earlier before leaving that team, until Yamaha called him and asked for his help on the CP project) and new Valli team manager Erik Kehoe. CP seems in good spirits, he likes his bike, and the team is willing to do whatever it takes to make this work. So will it work? I didn't know, but now I'm now leaning much further into the yes category.
On the other end comes Red Bull KTM's Marvin Musquin, who admits his knee isn't quite at 100 percent strength. It's been just over four months since his ACL surgery—that's on the short side, and he was only able to start riding hard about two weeks ago. The first few races are going to be approached with caution.
I also spoke with Mike Alessi, who says he is absolutely going to Canada next weekend and is just treating this national as a warm-up race. "Kind of like how they used to have the prequel race here," he said. That would be funny if it weren't in fact kind of sad.
One final note from press day is how many freaking good riders there are to watch. Once they all hit the track, you just kept getting reminders of how deep the field is. "Oh, there's Chad Reed! Oh, there's Dungey and Roczen! Oh yeah, Metty is back! Weimer! Alessi is here! There's Canard! There's Barcia! There's an army of GEICO Hondas! Wilson and Baggett! Anderson and Seely! Josh Grant!" The list goes and on. I can't wait for the races to start.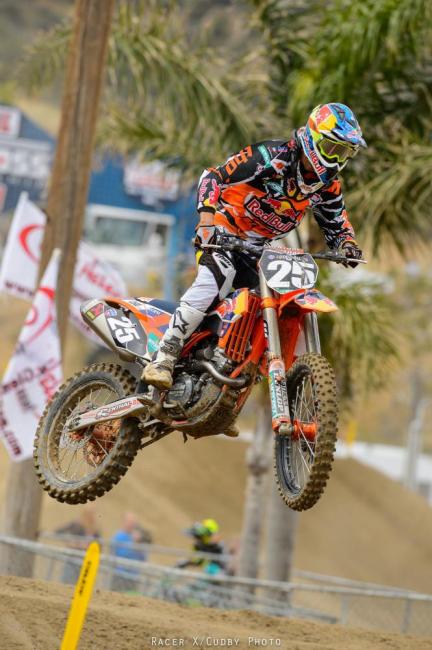 PRO PERSPECTIVE – STOPWATCH NATIONALS – (David Pingree and Jason Thomas)
Ping: The term "stopwatch nationals" has been flying around lately because you can't swing a stopwatch at a local California track right now without hitting, well, another guy with a stopwatch. In an effort to size up the competition, every team manager, mechanic, trainer, and groupie is recording lap times. But how accurate of a gauge are they? Some riders only know one speed: wide open. When they get on the track they are flat-out, as fast as they can go. Other riders need the adrenaline a real race environment brings to get up to speed. And still others don't care to practice hard—at least not in front of others. They will either avoid the crowd and ride somewhere private or they will cruise around, a la Pourcel, and keep everyone guessing.
I was never that good on the stopwatch. The extra shot of adrenaline I got from an actual race helped me drop seconds from my lap time. I would regularly be several ticks faster in a race than I was in practice. It drove my mechanics and managers nuts.
The point is, take the lap times as a rough reference. The guys who are fast will be near the front, but it isn't going to be an exact representation of what you'll see in the motos.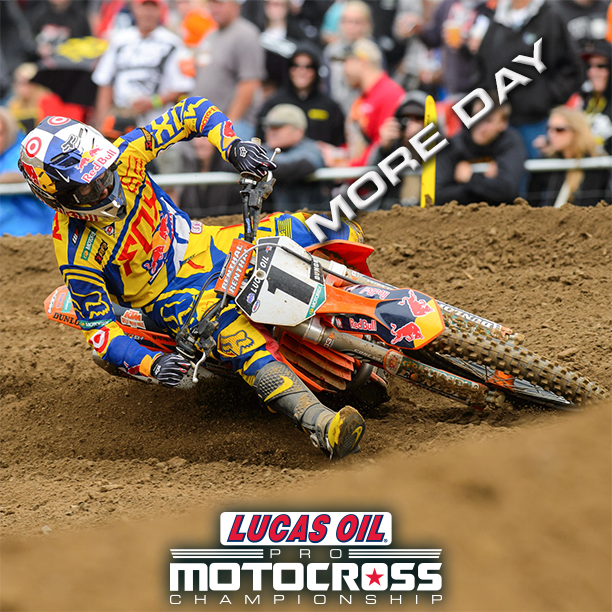 JT: The dreaded (for me anyway) Southern California practice days—or ego contests, as it were—happen in these early weeks of the outdoor season. You would think there is a pot of gold at the landing of the finish-line jump for some of these guys. I literally tried to avoid riding with that crowd because it did nothing but hurt my confidence. I wasn't that crazy about the SoCal tracks to begin with, so adding a death-defying sprint lap wasn't really my cup of tea.
I typically knew where I was going to shake out on race day. I had done the series many times and was racing the same guys I had the previous year. Things don't tend to change all that much, so once that gate drops and one lap turns into seventeen or eighteen, everyone falls back into place. Riding at the local SoCal tracks would have me second-guessing myself for no good reason. Everyone gets so wrapped up in that stopwatch, but come race day, as I said, racers are who they are. Ken Roczen is another example of this, as he often would post less-than-stellar supercross qualifying times and simply shrug it off with the "I am a racer" explanation.
Lap times are a great tool to gauge yourself and push your own limits. Finding out where you can gain time and efficiency is key, but the overemphasis on the unrealistic one-lap pace is foolhardy. They don't pay points for lap times. So for all the industry and non-industry people freaking out about who was fast at Milestone, I can assure you that at Glen Helen on Saturday, no one will care about Milestone on a Tuesday.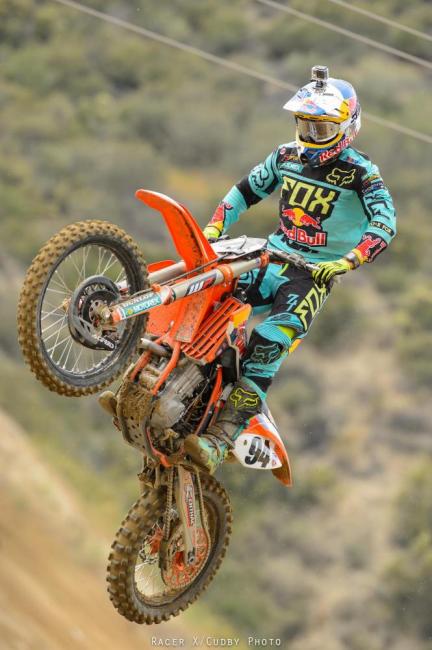 HEADLINES OF THE WEEK
Everything must go: Pontiac Silverdome's assets for sale
Kardashian Girls File Criminal Charges Over Clown's Confetti Attack - TMZ (natch)
THIS WEEK IN GNCC (Jared Bolton)
While the rest of the world is focused on the Red Bull Glen Helen National, the Amsoil AMA Grand National Cross Country Series presented by Maxxis is back in action this weekend for its "home race" at the Rocky Mountain ATV/MC Mountaineer Run in Masontown, West Virginia. The Mountaineer Run course offers up a true classic cross-country course with rocks, roots, and the occasional muddy spot. In just a short two-year history with the tour, it's become a popular stop among racers and spectators alike.
As the series approaches its seventh round, riders are beginning to focus on the championship battles at hand. For the overall, it's 2011 GNCC Champion Charlie Mullins holding a 12-point lead over his FMF KTM teammate, Kailub Russell. Mullins also holds a commanding lead in the AMA National Enduro Series, which races on separate weekends. No rider has ever won a GNCC and National Enduro title in the same year—in fact, Mullins is the only rider to have won in both at all. This has to be some sort of motivation for him to make history, but Kailub Russell has stepped up in the past few seasons. After narrowly missing the championship in 2012, Russell claimed the 2013 GNCC crown and wants another. Not since 2008 has a rider won back-to-back GNCC titles, and KR wants to break that streak.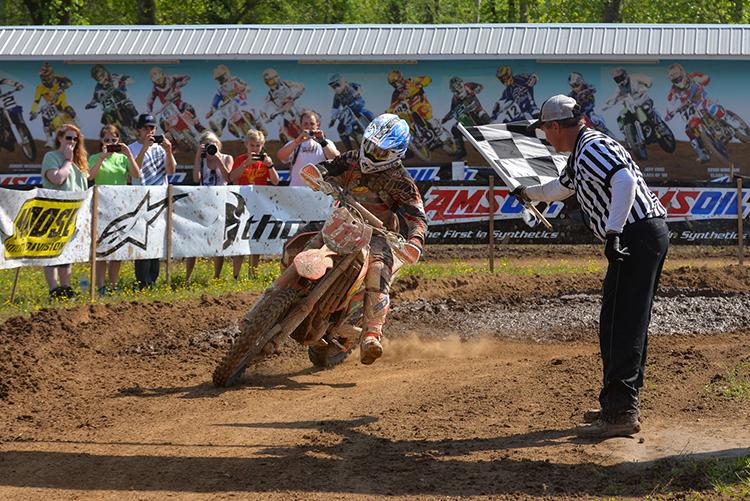 In the previous round of GNCC Racing at Loretta Lynn's, Mullins came away with the overall win after a hard-fought battle with Russell. While most are familiar with the soft, loamy dirt of the Loretta's motocross track, the woods are a whole other animal. The small, jagged rocks littered throughout the course are not only a test for the riders, but also their machines. Mullins actually won the race with a hole in his tire. No, he didn't rip off a few knobs—he actually blew a pretty large hole in the tire and also took a chunk out of the Bib Mousse. His story wasn't unique, as Russell also put a large crack in his tire in addition to a number of other riders.
Catch all the action live on RacerTV.com this weekend. ATV coverage starts at 1 p.m. Eastern on Saturday, while bike coverage will begin at the same time Sunday. As always, if you can't watch it happen live, the shows are archived—if you miss them the first time, you can catch them later!
Upcoming Broadcasts:
RacerTV.com Saturday, May 24 at 1 pm EST
Round 7 at Mountaineer Run: ATV Racing LIVE
Saturday, May 24 at 4:30 pm EST
Round 7 at Mountaineer Run: UTV Racing LIVE
NBCSN Saturday, May 24 at 6:30 pm EST
Round 2 at The General ATV & Bike Highlight Show
RacerTV.com Sunday, May 25 at 1 pm EST
Round 7 at Moutaineer Run: Bike Racing LIVE
Videos:
Driven To Win '14: Five Rounds Down
Series/Rider Special Information:
KR4 is raffling off an opportunity to race a UTV at the John Penton GNCC event on June 7. For more info, click here.
The 1974 Appalachia Lake National at Bruceton Mills, West Virginia.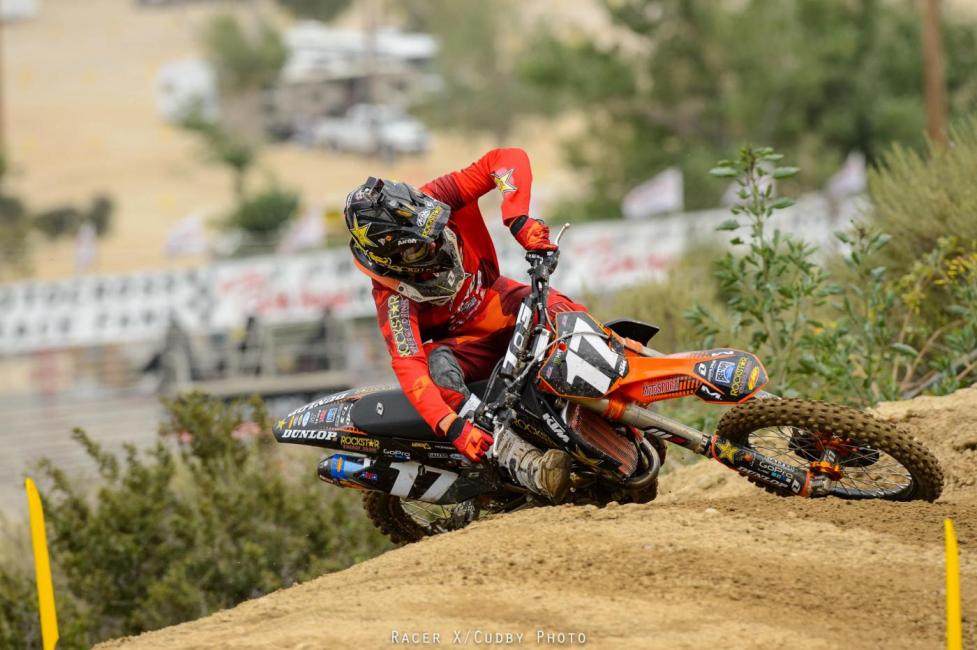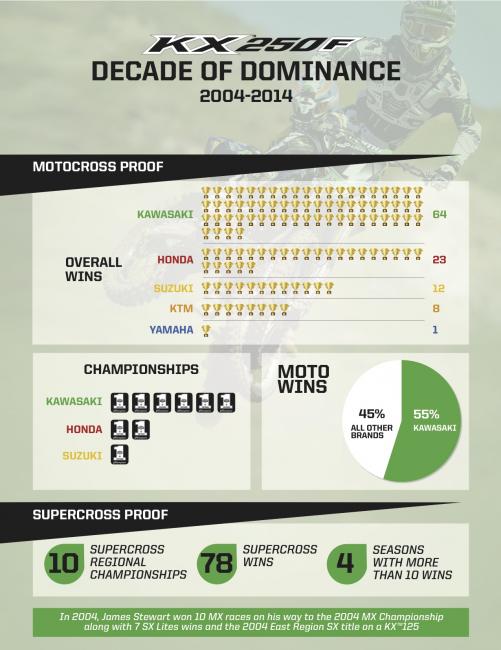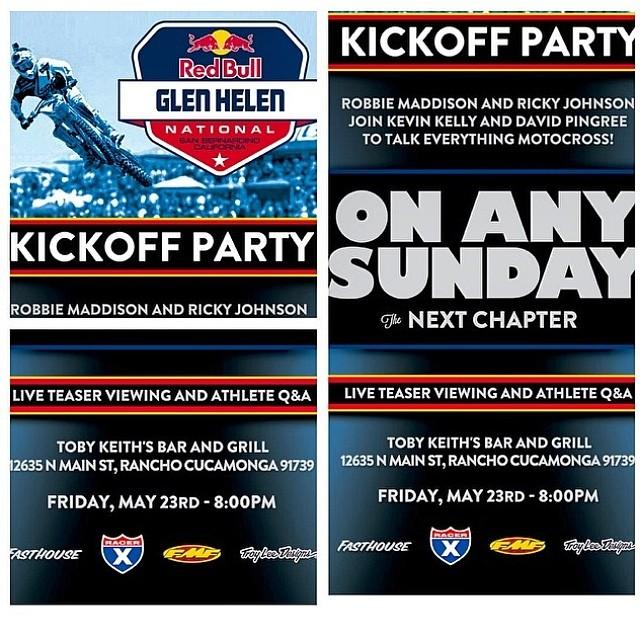 Oh, and if you're in the area, make sure you swing by Toby Keith's Bar & Grill in Ranch Cucamonga tonight at 8 p.m. for the big Glen Helen Kickoff Party, which will also feature a teaser for the upcoming On Any Sunday: The Next Chapter. Ping and Racer X's Jason Weigandt (Kevin Kelly wasn't able to attend) will be on hand talking to Robbie Maddison and Ricky Johnson, so it's not something you want to miss!
Okay, that's it—let's go racing! Thanks for reading Racerhead. See you at the races.