Glen Helen Raceway
San Bernardino

,

CA
Glen Helen
Lucas Oil AMA Pro Motocross Championship
"I think with Ryan [Villopoto] being out, a lot of guys look at it like a door opened," said James Stewart over at his Yoshimura Suzuki hauler. "Before, if you had me, and the two Ryans, that's going to be the three podium guys a lot. Now, that podium spot is open, and it's going to make guys push that much harder. I think in some ways, that's going to make it tougher than if Ryan actually was here."
We know Ryan Villopoto didn't make it to the Nationals, but the good news is most of the other big hitters did—except for Davi Millsaps who is still dealing with a nagging injury. And even though many have gone through the grind of 17 Monster Energy Supercross races in 18 weekends, they all seemed pretty pumped. Maybe it's the change of pace. Maybe it's because this is essentially a local race for all of them. Maybe because they like Glen Helen when it's prepped up in race conditions. Maybe it's just the prospect of a good season or maybe it's just because the dominant rider of the last few seasons is out. "It's unfortunate for Ryan but I bet most of the other riders are happy about it!" joked Brett Metcalfe, who will fill in at Monster Energy Kawasaki. All around, for a variety of reasons, spirits were high.
"We've made a lot of improvements from last year," said Ryan Dungey. "Last year was good, but Villopoto's hard to beat. He's a great rider. As we got there to the end he seemed to step it up a little bit more and we couldn't find it. I feel like we're at that level already early this year—and it really helped to have the extra off-weekend to prepare. We're in a better place. Now it's just a matter of putting together the plan of attack and doing it."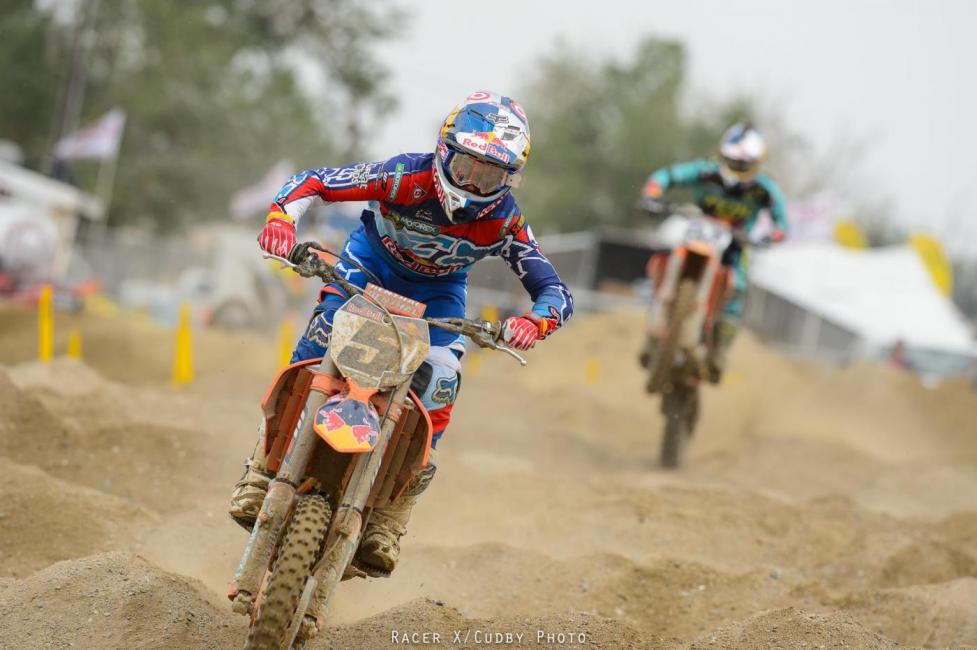 Dungey's strength, always, is playing the long game and staying tough through every round, not just the opener. Stewart and Chad Reed have won this title before and they know how to play it, also.
"The plan is, honestly, to just get through these first races," said Stewart. "With Ryan out there's an extra podium spot open and people are going to be going for it. I think it will really kick in around the fourth round or so, when it starts getting hot and stuff later in the summer. You'll start to see who is going to be good for the whole year."
"I started riding right before the Vegas supercross, actually," said Reed, who went through rotator cuff surgery on his shoulder after his San Diego SX crash in February. "You want to go out there and kill it and really push hard, but my hands, I felt like I had washed 1000 dishes and changed 1000 diapers. And I didn't even do that! But my hands were so soft. So we've got to be careful and get through these first few races."
The good news for Reed is that he feels his Kawasaki gives him a similar feeling to the Honda he raced in 2011, when he led the points for 2/3rds of the season. "And I think the window is big," he said, implying that the bike feels pretty good even if he doesn't exactly nail the bike setup every time. Watching the three former champions ride, you could see measured laps from Dungey and Stewart—nothing too crazy, but certainly effective. Reed's situation could have been different since he's coming back from injury, but he looked fine—and very fast. Last year Reed wasn't even able to ride press day due to an illness, and we now know that illness ruined his whole season. Things seem much better this time.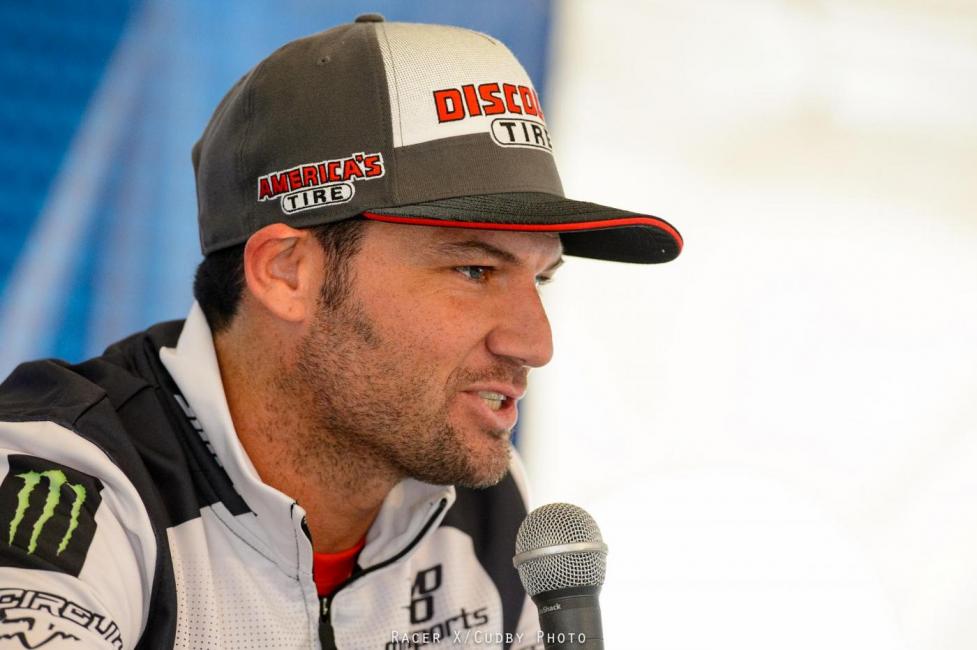 Justin Barcia later took to the press conference stage. "My last race here was 2009 which was my pro debut—I had about 25 minutes in me that day. I'd like to think I improved that part of my game a little bit!" he said. While Barcia is well-known as an East Coast guy, he says he likes Glen Helen because "you can hang it out and it has some big jumps, so you get to show some style."
Last year Barcia got close to the Ryans at times but wasn't able to get a win. He wants more this time. "As long as our bike setup is good we'll be good. I know I've done a lot of testing, since Vegas we've put a lot of time on these hard packed tracks. I want to keep that momentum going and I think we'll have a good shot this year."
No one is impacted more by Villopoto's absence than Metcalfe, who now has a factory Monster Energy Kawasaki slot. While rumors were swirling that Villopoto would be out and Metcalfe could possibly be the replacement, the deal didn't officially happen until right after the Vegas supercross, so Metcalfe only has two weeks of riding on the factory bike. "It's short notice," he said. Kawasaki had let Metty try a few factory motor parts over the last year or so as he worked on his program for Canada, but he'd never ridden with their chassis and suspension setup, and for the most part was just riding his own bike with a Pro Circuit built motor. "It's completely different than the bike I was riding—it was a Kawasaki but it was my own stuff. So it's a learning process. I've had plenty of riding and training under my belt, but it's a whole new factory team to work with. I'm just looking forward to racing and hopefully we can progress."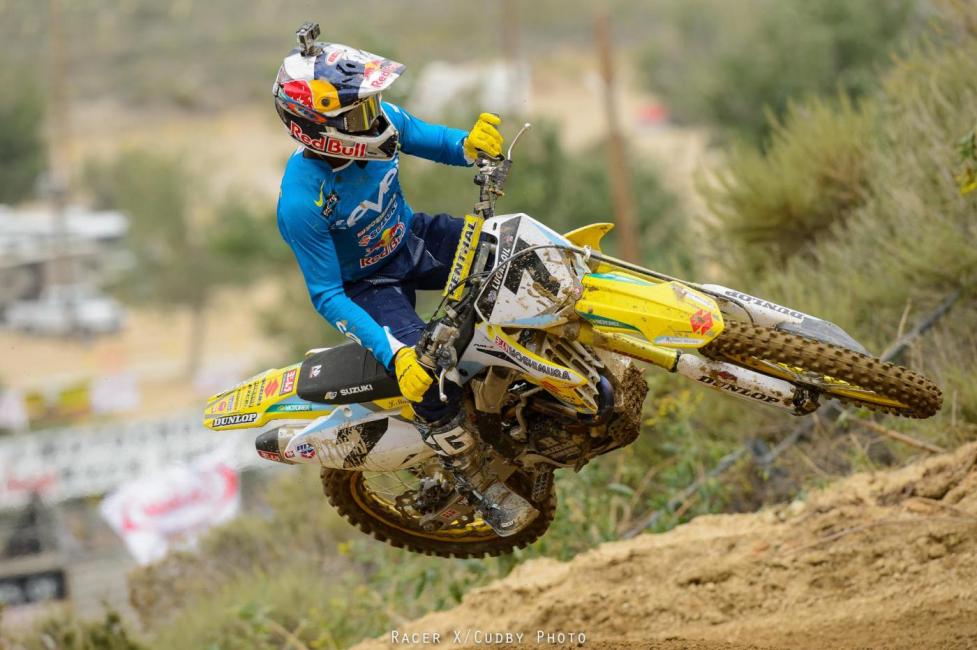 While everyone considers Glen Helen their local track because they all spend time in California, no one is more local than Josh Grant, who grew up about 20 minutes from the track. "I definitely expect to be up there and at the front," said Grant. "I think my name deserves to be in that hat. Supercross wasn't great for me, I got hurt at the second round and once you do that it's kind of hard to gain that momentum back. I want to really turn it up and shine a lot more here."
Oddly, the rider who has raced most recently at Glen Helen is the rider not even from the U.S. at all, Ken Roczen, who raced the USGP here in 2010 and 2011. He likes the track, and even despite his considerable success in supercross this year, still feels a little more at home in motocross. "It's funny, but I think I just noticed this—I think I actually am more comfortable outdoors. I've been doing that part as a pro for a few more years than supercross. I feel like I can control what's happening in supercross a lot more than outdoors. Right now, it's motocross where I'm feeling more comfortable."
At least on the eve of the opener, everyone seemed to feel that way.