Glen Helen Raceway
San Bernardino

,

CA
Race Center: Glen Helen
Lucas Oil AMA Pro Motocross Championship
Most anyone would name Ryan Dungey as the most consistent rider in the sport today. You'll hear people calling him "The Diesel," because once The Dunge gets rolling, he doesn't stop. But while we know he's the most consistent guy, we didn't quite realize how consistent he really was until we opened up the Racer X Vault and started digging through the stats. The strongest piece of evidence lies in this stat: Dungey has an active National start streak of 72 races. The Red Bull KTM rider hasn't missed a National since he broke his collarbone at Steel City in 2007, which means that when he lines up at Glen Helen this weekend it'll be his 73rd consecutive National. That's seven years. Incredible!
To put things in perspective, some of the guys he'll be racing against this summer, like Ken Roczen, Justin Barcia and Eli Tomac, hadn't even turned pro when Dungey missed his last National. And new kids like Adam Cianciarulo and Cooper Webb? They were still on 85s back then! If you're new to this sport, look at it this way: The last time Dungey missed a National was about the same time Barry Bonds broke Hank Aaron's homerun record. Mind blown? Brains everywhere?
Dungey may not be the flashiest rider out there or give controversial interviews, but this streak (which is still growing) is pretty amazing. Let's see how it stacks up against some of the other big names:
Ryan Villopoto, current National streak – 12
RV is without a doubt one of the best racers of all time, but those darned knee problems have really put a hitch in his step (pun intended). He made it through all of the races last year, but when the gate falls without him on Saturday his streak will be back at zero. Villopoto's longest stretch ever? From his pro debut at the end of 2005, through his three-straight Lites MX titles in 2006-2008, through the first two rounds of the '09 450MX Series, he ran 41 races in a row. Then he bowed out with a torn ACL.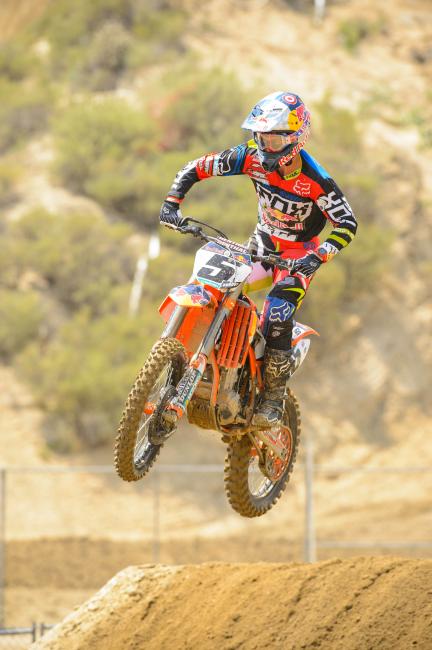 James Stewart, current National streak – 0
When you used to have a reputation of either winning or crashing, it isn't likely you're going to have long start-streaks. Last year Stewart hurt his back in Utah, forcing him to miss the final round at Lake Elsinore. The last time he got through a National season without missing a race was in 2008, the same year he won every single moto.
Justin Barcia, current National streak – 60
Not quite as long as Dungey's, but still very impressive. Almost as impressive as the fact that Barcia has never missed a National since his pro debut in 2009. BamBam is more consistent than you think!
Chad Reed, current National streak – 0
After pulling the plug on his season last year in Utah, Reed missed the Lake Elsinore National, resetting the clock for 2014. Before that, he missed the entire 2012 season with a supercross injury, raced every National in 2011, pulled out early in 2010 with Epstein-Barr Virus and started every race in 2009 on his way to the 450 National Championship. Reed did start 42-straight Nationals back when his time in the U.S. began, from 2002-2005.
Trey Canard, current National streak – 12
Canard's incredible skill has unfortunately been paired with an injury history, and last year was the first since he won the 250 National Championship in 2010 that he made it through an entire season without missing race. In fact, those are the only two seasons he hasn't missed any races.
Josh Grant, current National Streak – 1
See above. Although it's not as bad as you might think. If Grant hadn't missed Utah last year with a family emergency, his current streak would actually be 24. He did make it through the full 2012 season without missing a race, but before that you'd have to go back to 2007 to find another year where he made every National.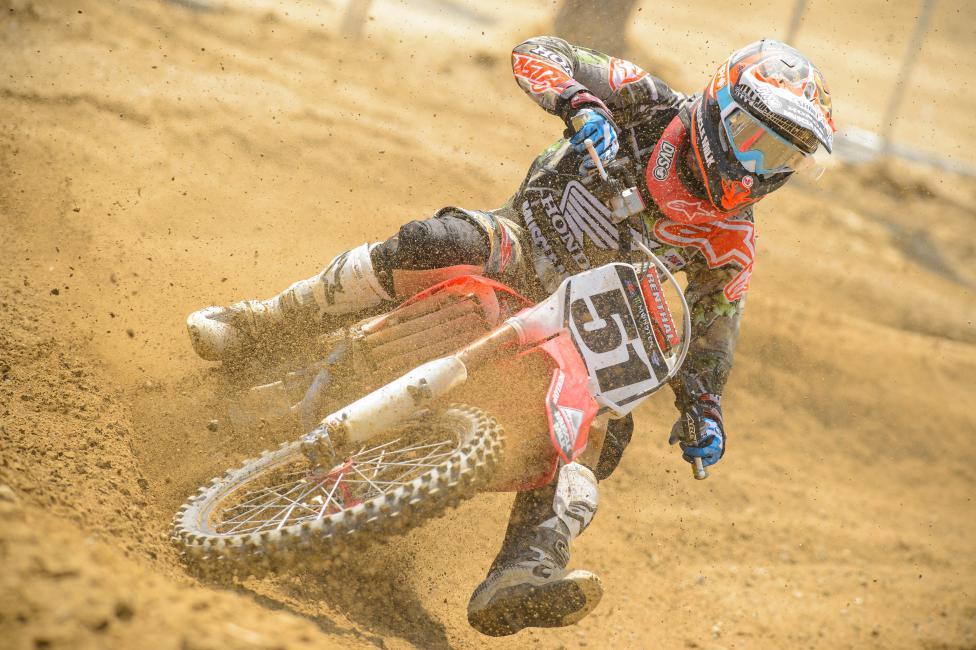 Jake Weimer, current National Streak – 36
Admit it, that's better than you thought, isn't it? While a few injuries have held him back a bit in supercross, Weimer's record in motocross is very good. In fact, had a back injury not forced him to miss the last four races in 2010, Glen Helen would be his 85th consecutive National start!
Andrew Short, current National Streak – 24
If Short hadn't encountered a problem with his KTM in 2011 that resulted in a pair of broken arms, his current streak would be 84.
Justin Brayton, current National Streak – 32
After sitting out the first four Nationals in 2011 with an ankle injury, Brayton hasn't missed an outdoor round since. Unfortunately, he's expected to miss this weekend's Glen Helen National with injuries leftover from supercross, so this streak is about to end.