Glen Helen Raceway
San Bernardino

,

CA
Glen Helen
Lucas Oil AMA Pro Motocross Championship
Things blew wide open when the shocking, completely unexpected news of Ryan Villopoto's knee injury was released last week. For the reigning champ it meant rehab and a forced vacation. For the rest of the class it is one huge obstacle removed in their quest to win a championship this summer.
James Stewart has to be one of the favorites to lead the way. He looked smooth, comfortable and very fast at Glen Helen last week, and the same patient style and demeanor he's had all year looks like it will translate outside. Ryan Dungey was also riding last week and you could easily call him the title favorite. James has that magic speed but also a history of giving up big points in a race or two. Dungey is a machine and he will be there every single moto.
The biggest unknown is Ken Roczen. Ken was groomed on the fast GP circuits and is very comfortable on a motocross track. His speed has been amazing at times this year but he is still adjusting to life in the 450 Class. So, where will his head be next week? Is he burned out from a long supercross series? Is he already thinking about which sets of Fox gear will match his Suzuki in 2015? Or will be bring the heat at Glen Helen and win motos?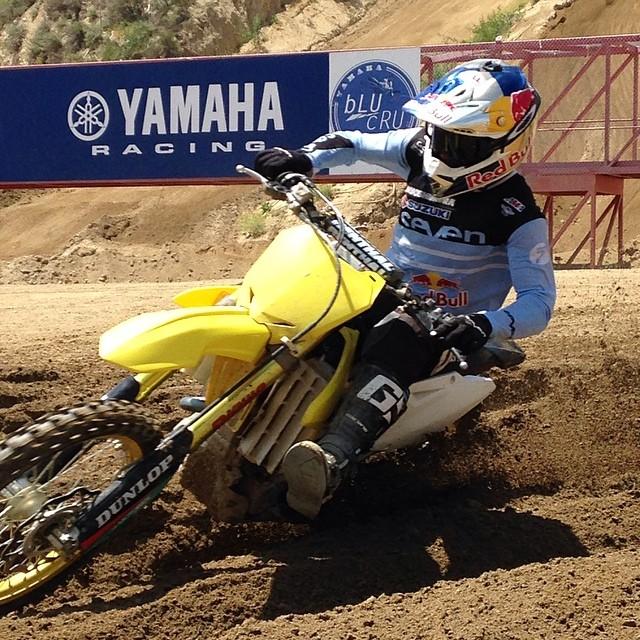 The Honda guys are hoping to have a revival this motocross season. Trey Canard and Justin Barcia are both glad to have supercross behind them and want to make a statement this summer. I chatted with Honda Muscle Milk team manager Dan Betley and he was really happy with the way both riders looked on the track. I asked him about the setup issues that some of the Honda guys have been having this year and if they had solutions moving forward.
"It's tough because each rider likes different things," he said. "It isn't like there is one setting that is way better and everybody runs that. I tell all these guys we have a bunch of toys we can put in the sandbox for them. It's up to them to choose which ones they want to play with."
Canard and Barcia both looked good on the rough, rutted Glen Helen circuit. A common complaint from some of the red riders is that the bike—the front end, mainly—wouldn't settle into a turn, particularly when the racing surface was hard packed. As you can imagine, that was problematic in supercross. Hopefully now that things will be a little softer and fluffier they can get a better handle on things.
Another issue, one that goes across brand lines, is that the air fork isn't that great. However, no matter how much the riders ask, the manufacturers and teams will not let them go back to a traditional spring fork. I thought that was strange. The Honda boys had their full staff in attendance Thursday and it was obvious they were serious about having a good summer. Look for big things from those two.
Weston Peick and Ivan Tedesco were out shaking down their latest setups. Weston was loving his new ride but, like many others, they were having a tough time getting a good fork setup. Despite that, I think Weston is going to have a great summer. He does well at Glen Helen and I think he'll carry that momentum through the summer in an effort to secure a long-term spot at RCH. Hot Sauce looked good and it won't shock me to see him flying around Talladega with at least one of the holeshots at Glen Helen.
Andrew Short was there Thursday. He looked good, like always, and he will be inside the top ten, like always. Brett Metcalfe was there trying to get his new Kawasaki dialed in. The few times I saw him on the track he didn't look like he was really comfortable yet. I'm sure those guys are hustling to get through all the parts and pieces and find a setup that Brett likes. Jake Weimer looked good and he will be one rider laying it on the line every weekend this summer. It's a contract year and his supercross season wasn't what he wanted it to be. Josh Grant looked like he was having more fun last week bombing through the bumps and ruts than he did all season inside the stadiums. It's no secret he shines in motocross events and Grant needs a run of good luck. Hopefully he and Brayton can stay healthy and do well for the JGR guys. If Josh's riding last week is any indication they seem to have a good outdoor setup already.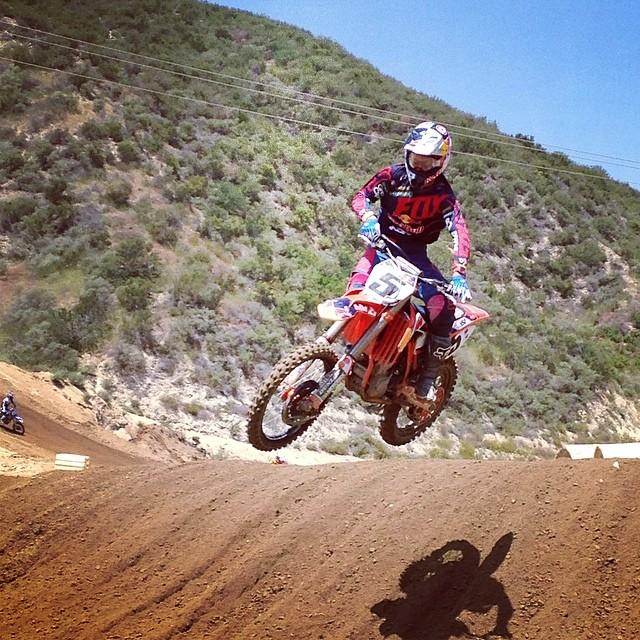 Davi Milsaps was there as well and looked like he was working through some testing. He looks a little cramped on the KTM, to me. I know he's a big dude and he probably looks cramped on every bike but for some reason I noticed it that day. The Rockstar KTM guys have done an amazing job of being ready to go when the gate drops so I imagine they will be ready next week.
Mike Alessi was at Glen Helen riding and I'm still shaking my head a bit about his move to Canada. With Villopoto out this would be his best chance to win a title and he's passing on that to be the Canadian champ. That's like being valedictorian at summer school. No offense, Canada, but come on.