In The Mag, On The Web is an online feature where we take a behind-the-scenes look at one of the print features in Racer X Illustrated. Check out some more information on "World's Toughest Local Race" by Steve Matthes and it's Daytona Amateur Supercross sidebar by Chase Stallo.
Steve Matthes:
Of course it started with DC. The feature idea was his, we've really come from a sport thirty years ago where just about every rider was from Southern California to now a Southern California rider is the rarity. And there are so many people who are based in Florida now for land purposes, tax reasons, better weather for training for Lucas Oil Pro Motocross, and it's a peaceful life for many compared to SoCal. Florida is so appealing that one of the only Southern California riders in the top twenty even moved there (Mike Alessi)!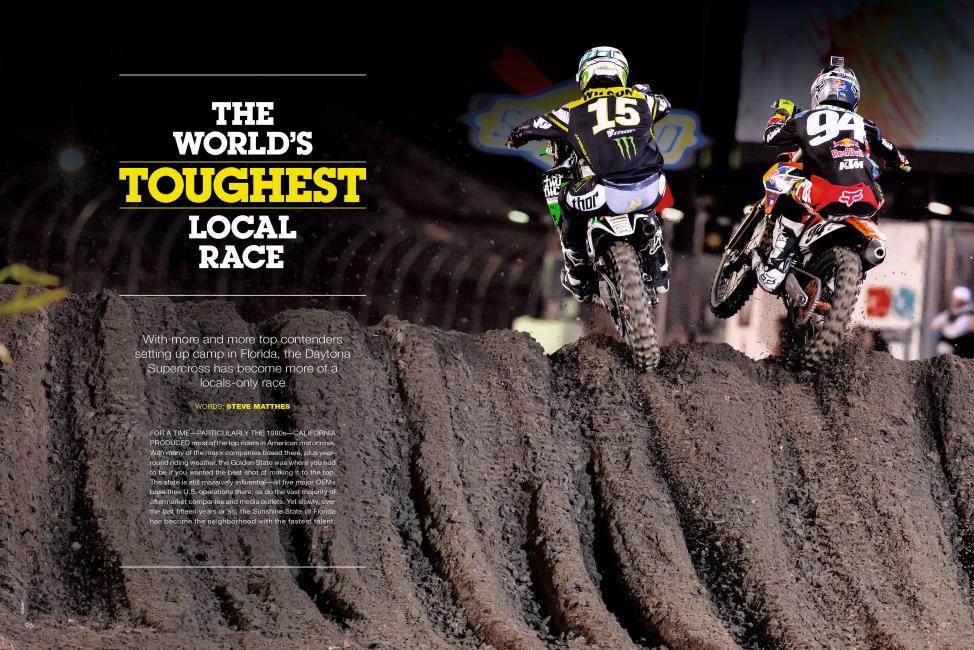 As far as the feature, I thought it would work nice if I worked Mapquest and mapped how far these rider's compounds were from the Daytona SX. I spoke with Justin Barcia before the night show in Detroit SX upstairs in the Honda rig, I spoke to Reed on the PulpMX Show about it, Weigandt got me a Ryan Dungey quote, Dean Wilson just moved to Florida and I got him on track walk in Detroit and Villopoto, I don't remember where I spoke to him but it was around that time.
Having been to most of the Florida compounds (although Carmichael is sometimes credited as having the first riding compound, it was actually Ezra Lusk during the Suzuki days) these places are pretty amazing for a rider. Everything you could want or need is there and the tracks are prepped perfectly. It's Disney Land for dirt bike racers. My goal was to capture what it's like to have one of these places and why more and more riders are heading to Florida.
Chase Stallo:
In publishing, stories can, and do, change on the drop of the dime. Word counts have to be compressed. Layouts have to change. And writers and designers have to adjust. It's part of the business.
Unlike online, where I typically write, publishing requires strict word counts to fit space. You can't just hammer out 5,000 words because you feel like it. You have to be short. You have to be concise. You have to jam a lot of information into a small window. Sometimes, that can provide challenges.
From the beginning, I knew the word count on my Ricky Carmichael Daytona Amateur Supercross sidebar would be around 900 words. The rise of RCSX over the years has truly been a testament to all the parties involved. (Note: MX Sports, the sister company of Racer X Online and Racer X Illustrated, helps promote RCSX) With RCSX hosting the first round of the newly formed American Motocross Championships—a brand identifier for five standalone amateur events called The Majors—I knew I had found my lead.
In my research I talked with a number of riders and team representatives, including Kawasaki Team Green team supervisor Ryan Holliday, to get a better representation on why RCSX had, over the span of a couple years, become a destination. Why has it suddenly become a hot spot for amateurs? Check it out in the June issue.
Read the entire "World's Toughest Local Race" feature and Ricky Carmichael Daytona Amateur Supercross sidebar in the June '14 issue of Racer X right now or look for the cover below on Newsstands to pick up the issue in person.