You might have noticed a unique look out on the track with national #91, Jacob Baumert, who runs an all-black bike and custom gear. Last season, we covered Baumert's path to professional motocross with the Crosley Radio/RiderSurance/Bee Line/H&O Contracting team in the Racer X Illustrated feature "Roads Taken." What's the deal with this team's distinctive look and outside sponsors? At the helm of the team is former Superbike rider Brandon Parrish,who now owns the company RiderSurance. Parrish also runs Baumert's team as owner, mechanic, truck driver and manager. We caught up with the "One Man Show" to get his take on the team's first full year, how it started and what the future may bring.
Racer X: Last year's Lucas Oil Pro Motocross Championship marked the first year for the team. The team went in a very different direction with the all black gear, bike and truck. Was that intentional from a marketing standpoint?
Brandon Parrish: Yes, it was. The Crosley Radio and RiderSurance logos are red, white and black or red, gray and black. We wanted to go with a Kawasaki, but we couldn't get any Kawasaki support, so I decided to go all black with the bike. We designed the wrap and our entire image the same way. I've looked at a lot of truck wraps over my 16 years in racing and I think a lot of them are so busy with graphics that you lose the true logo of who is helping you. So I started off with a black canvas and started placing stickers on there and all four of our title sponsors— Crosley Radio, RiderSurance, Bee Line and H&O Contracting —really stand out. For our gear we decided to make our own custom pants and jerseys in solid black with the proper logo placement, and for outdoors we have an all white kit as well.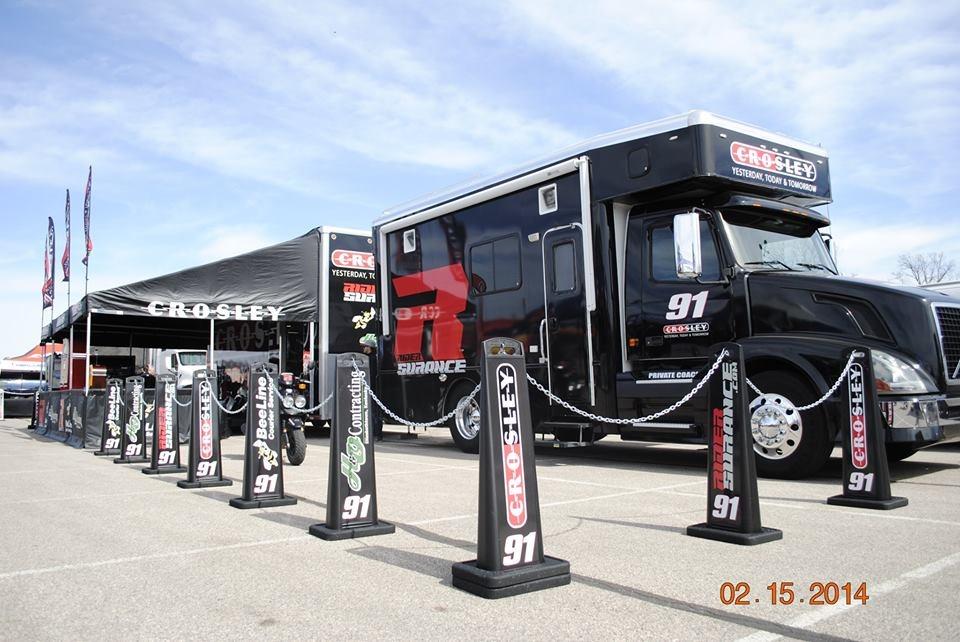 The main sponsor of the team is Crosley Radio. How did you get involved with the company?
When I was 15 years old I had gotten into motocross and the guy that owns Crosley, Bo Lamastus, also owns Podium1 Motoplex in Charlestown, Indiana. He has been a racer for a very long time and has helped out guys like Ben Riddle and Ryan Sipes and a ton of other guys. He started helping me out and we became friends through his motorcycle shop, which was also called Podium1. He and Jake's [Baumert, team rider] dad started the shop together, so instantly I became friends with Jake's dad, too. I raced moto for six years, and when I was twenty I had found a new love of street bikes so I switched over to Superbike racing and Bo showed interest in getting involved, too. So we started road racing motorcycles together and I won twelve national championships in my first year. My next year I decided to try pro racing and I asked Crosley for more support and we went road racing on a privateer effort.
How did you get involved with Jake Baumert?
I've known Jake since he was two. He would always come to the races with his dad and his family. Jake has always kind of been like a little brother. Crosley has also been a sponsor of Jake's ever since he started racing—not as an official sponsor, but more just Bo helping out with bikes and other needs every once in a while. At the end of 2007 I quit racing and was focused on growing my company, RiderSurance. You always see stories about riders getting hurt and their medical insurance won't cover them. That's one of the main free services that RiderSurance offers. So I wanted to start working full time on the insurance side and also start going to races to do the marketing. But as I started watching Jake get better and faster, I also realized that the motocross scene is a very tight circle and extremely relationship driven. You can't just show up at the track and start selling insurance because no one would trust you. So I really saw the need to be at the track and network with racers and teams so they could match my face with my brand.
In 2011 Jake was getting really fast, but he was always on a mom and dad program and never really had too much organization. I told his parents that I wanted to start managing Jake and going to these A class races with him and set him up on a work out plan. I wanted to put together a full effort, so I put together a meeting with Bo at Crosley and told him what I wanted to do, for business objectives, as well as for Jake. It all came together and Jake and I moved out to California from November to May last year to prepare for his first season as a pro in the outdoor nationals.
As a business owner with RiderSurance, have you seen the benefits of being at the races and starting this team?
I've definitely seen a lot of people asking questions and people signing up, but what this really gives me is leverage and credibility. Being at the track gives you that "Okay, these guys are a legit company" which drives all kind of traffic and questions. So now it's up to me to take everything we've done in the last year, and what Jake has done, and really utilize this information and leverage the sponsorship and generate sales. Have I seen the benefits yet? I haven't seen the financial payoffs, but I've seen exactly what it's given me: the tools to market our services and capitalize with sales, and to get our brands and names out there.
As well as being the owner of RiderSurance, you are also a one-man crew for the team. In essence you're the owner, manager, truck driver, the mechanic … basically doing it all. How are you able to juggle that?
Well I'm single and I don't have kids, so there couldn't be a better time. Every time I pull over in the truck, I'll jump in the back and work. I've taken out the dinner table in the motorhome and made it into an office. I work on my insurance business and check inventory on parts. My motor builder is back in Kentucky, and we keep a tight relationship so everything is fresh. I'm constantly stopping at FedEx and shipping stuff back to Kentucky for servicing. Our suspension guy is in Long Beach. So to keep our suspension at its best, I sent a van out to Corona last winter so we could have a West Coast bike. Once a month Jake and myself would fly out to California and do suspension testing. As things progressed throughout the season and Jake got faster, I would ship our suspension back between rounds. So basically it's a 24/7 commitment. If I'm not sleeping I'm working on insurance or team related stuff. However, I do get in some quality mountain biking and road bike rides along the way to each race, so that is definitely a nice perk.
On the training side of things I'm not heavily involved with Jake anymore. Tim Crytser, of Racer X Virtual Trainer, is doing all his physical training now. All winter he trained at Matt Walker's [MotoX Compound] training facility in Georgia and got his feet wet with supercross. Now he is at Shannon Niday's training facility in the Dallas area. Now I can focus better on getting to each race, setting up the pits and having the equipment ready.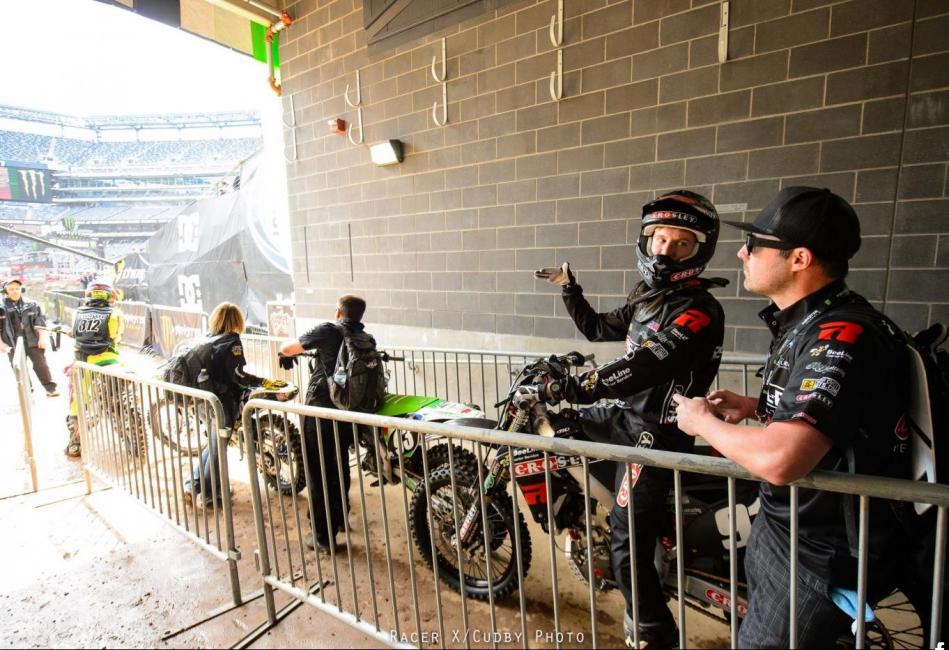 You're approaching your first full year of doing this. Obviously, it's a steep learning curve. What have you been able to take away a year later?
It's not like I was brand new to racing and just got in—that would have been a huge learning curve. Like I said, I raced for twelve years and raced the pro side with road racing. So I already knew the racing world. But I have learned a lot about my business, more about my audience and a lot about sponsorships.
Nobody is providing the industry with the services that RiderSurance offers. I love helping riders and their friends and family so I'm working hard now to grow my business and hopefully the community will come to see that and place their insurance business with us. We broker health insurance, supplemental insurance, life flight and ambulance insurance, disability, life, international travel medical and high risk Lloyds of London type plans.
On the sponsorship side, when I was racing, I was looking for parts and cash. Now, I'm on both sides. I'm trying to promote our products but I'm trying to help the industry. In addition, I always get requests for sponsorships from riders for RiderSurance. I have a different outlook on it, because I'm on both sides. Racing at this level is a business and it must meet business objectives to make sense to sponsor an athlete.
The team has other outside sponsors. Have they seen the benefits?
A lot of racers think that sponsorship is all race results driven. A lot of people will say that Jake's best finish was only fourteenth, and this looks like a factory team and he doesn't deserve it. Well, sponsorship is all about something that is a hot button for that company. It just depends on how that company can utilize it. Crosley Radio is in a lot of catalogs, online retail like Amazon, they are in Target and Wal-Mart and Bed Bath & Beyond. And, Target, for example, is involved in all kind of racing avenues. I think they still sponsor Dungey, they are in NASCAR, etc. So it's up to Crosley's sales people to leverage this platform we have created. Now Crosley has another tool, another angle, something else to talk to their customers and clients about. Maybe the key decision maker at Target that buys their radios is into motocross or involved in the corporate hospitality at NASCAR or whatever it may be. It's all about networking and building rapport with that key person. That's exactly why I'm doing this at the track. I'm trying to build relationships with those key people. If Crosley's people can utilize that and find a different way in to make a sell, then bam, one huge order from Target is totally worth it. Again, it's no longer that old school situation where "We only sold ten radios at the track, but it cost ten grand to be there that weekend." It's just a bigger picture than that.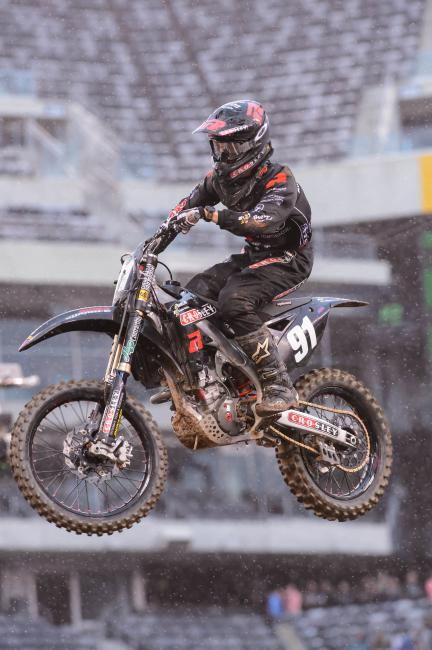 Crosley is the main sponsor for the team, but you also have other outside sponsors that have helped grow the team, correct?
Louie Seger is the owner of Bee Line Courier Service and Jake's dad also works for Louie at Bee Line. They run that business, and they are also partners in another business, which is a salvage yard courier service called Out of the Box. A lot of their clients in that business are salvage yard clients and they do some hospitality stuff with them and give them tickets to come to RedBud and some of the nationals. So that is something they are leveraging. H&O Contracting is our other title sponsor. Tommy Higdon and Steve Ogle have been business partners for a long time and their business is construction. As we all know there are a lot of moto guys and families in the construction field that love to race. So again, this is another tool that they use to build better relationships with their clients. Furthermore, I don't want to leave out the rest of our sponsors: CheapCycleParts.com, Commonwealth Motorcycles/Wells Tuned, Kwik Service Electronics, Works Connection, Dubya, Yoshimura, Hinson, Factory Effex, Rite Way Equipment and Mutual Underwriters.
What is the future of the team?
My commitment to Jake was a two-year commitment. My plan in the beginning was to see how good we can get Jake and hopefully we could get him a ride on another team, but we would hopefully be able to control Jake's helmet like James Stewart's RedBull helmet. James wears that wherever he rides. So our goal would be to have Jake always in a Crosley Radio, RiderSurance helmet. That was our original goal, but after being in it for a full year, now I want to find other sponsor partners that have the same goals. I would love to have a full on team like TwoTwo Motorsports or RCH. I would love to have a crew and more personnel. If I had that it would give me more time to fine-tune more things with the team to make it better. Like hire a top rider in addition to Jake and have a two-rider team. That is kind of what I'm trying to do over the next six months is to find another big sponsor.