Hello, everyone, and welcome to the Rev Up. Supercross is a wrap, and we have two weeks until the 2014 Lucas Oil Pro Motocross Championship takes off May 24 at Glen Helen. After being left off the tour for a couple years, we can expect nothing short of a gargantuan event to kick off the action this summer. Heck, the return to the venue alone is worth a column in itself. I actually raced the Glen Helen National in 1996 and '97, and it was an awesome experience. A lot of people have been screaming for her return and now, she's back. And, wow, what a summer this is going to be!
The Nationals were really strong in 2013. I think it will be a long time until we see the kind of weather last summer delivered for 12 rounds of competition. It was crazy nice, as the temperatures never spiked too hot and there were no mud races to speak of. Save for the freak windstorm in Utah, the season really was a gift from the motocross gods. I think the heat will be back this time around, which is kind of fitting, because both classes are going to be absolutely smoldering.
Ryan Villopoto is out. Sure, it's a blow to the series because he is the greatest champion we have seen since Ricky Carmichael. Watching Villopoto attack an outdoor course is simply mind-blowing. It's my opinion that he was going to run away with the championship again had he been able to race. He just can't be beaten right now, and I don't think he'll lose a championship until he retires. But now he's out. Boom! The floodgates have opened! Suddenly the championship picture is a kaleidoscope of different possibilities. Who will step in and win this thing now?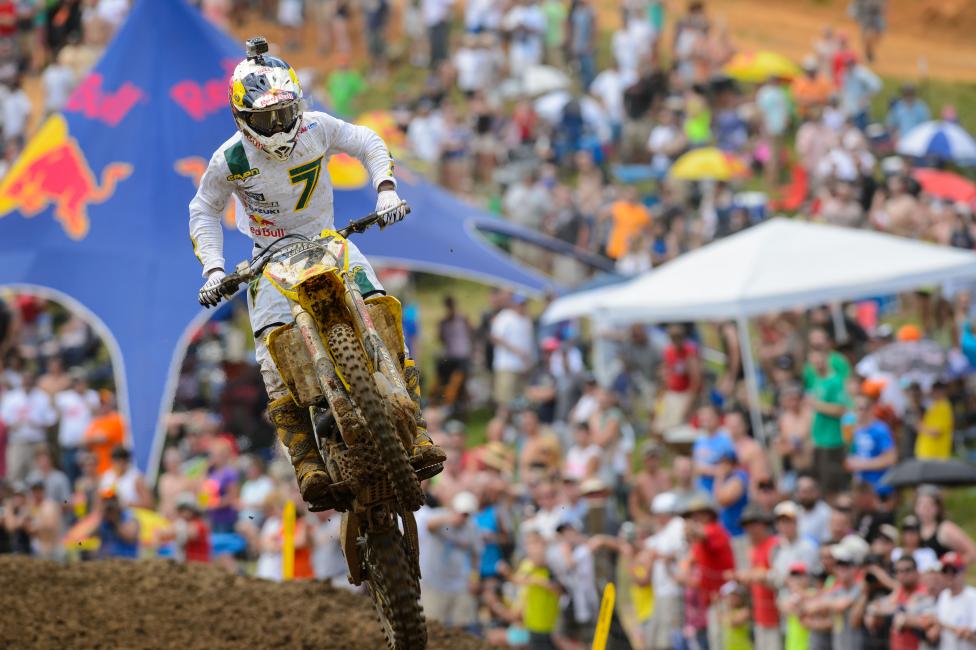 I think it's going to be James Stewart. Let me explain why:
First off, think about his career revival in this year's supercross series. Did we see a different James Stewart? In some ways no, but in the only way that matters, yes. That way being the speed was back. The crazy, shake-your-head speed we all remember. At times, James was faster than he has ever been, and that is really saying something because he has put in some bangers during the course of his 12-year pro career. Hard to believe you have to go all the way back to Glen Helen in 2002 to see Bubba's first outdoor national. By the way, I was there to see him win the O/A as I stood atop Mt. St. Helen's drinking CL's and having a good time. I actually saw a fan cartwheel down the steepest part of the goat trail near the top. He (very obviously) broke his lower leg on the way down, yet still did not let go of his beer. That's commitment, but I digress…
Stewart missed a championship on 125's in 2003, then came back to dominate in 2004. He had a very rough go of it against Carmichael in 2005 on his KX250. He didn't really have that much better fortune on the KX450F in 2006, and his first years in the class saw him suffer some of the most horrific crashes we've ever seen at the Nationals. Remember that one at High Point on the step down? Good gravy. Then came the perfect season in 2008. That's something people tend to take lightly, but it's almost impossible to make happen. It's only happened three times in outdoor motocross history, and Carmichael somehow did it twice. I'll just say it right now: it will never happen again, Carmichael and Stewart are going to forever stand alone with that mark. Anyways, it has been a long, long time since James has won an outdoor title, but things are really setting up nicely for him and Yoshimura Suzuki this time around.
There are some credible questions I've heard that call out my forecast. Like, "What about last summer when Mike Alessi was riding by him?" Others like, "What about Southwick when he had a 20-second lead and laid himself out instead of winning?" It's true, Stewart is his own worst enemy. I've said it for years that he is most dangerous to himself when he has a big lead. This is where I think things changed with James this year. Father time, experience, and a pad load of hard crashes have helped him remove this part of his game. I think. There is the other factor where he simply has some of the weirdest luck of any rider I can remember since Robbie Reynard. I mean, who breaks a clutch basket on the starting line? Who has their pipe smashed in the first corner, or their forks malfunction on lap one? Who has a photographer walk across the track in front of him? Racing karma is a living, breathing thing and #7 has had his share of sketchy moments, including landing on other riders, or otherwise taking them out because of an error in judgment. I think James has learned from all of it and is primed to make it happen for this championship.
I have a question of my own: who is going to beat him? Red Bull KTM's Ryan Dungey is the strongest candidate, but something is stale with him. It's hard to put a finger on it, because everyone said he wasn't being aggressive, then "Angry Dunge" came out and the results were less than stellar. He just hasn't found his groove, and things don't seem peachy in his camp. The Muscle Milk Honda men really need to salvage their 2014 season with an assault on the Nationals and Justin Barcia could win some motos. Again, Barcia is in the middle of a silly season mess (that is likely already signed and over) and it's no secret he's been battling with his CRF450 at times. Meanwhile, Trey Canard is hard to place. I just get nervous with Trey because he has been through so much, and he is still so fast. Then we have Discount Tire/TwoTwo Motorsports' Chad Reed. How much has he been riding? How is the rehab on the shoulder and will he be really ready by Glen Helen in two weeks? There are a lot of unknowns in our odd little sport, but he will be nowhere near 100 percent, I can tell you that. It sure would be awesome to see him find his legs around the halfway point of the series. I'm not counting him out ever again—I never, ever, ever will.
It's the rookies who will be the strongest threat to James, in my opinion. They're both gnarly, and GEICO Honda's Eli Tomac has to be going crazy after his supercross effort went to hell in the opening heat race of the year. Now he's struggling with a collarbone injury and we'll have to see if he can line up for the opener. Even if he can't, I expect him to find his groove and threaten for wins regularly as the season rolls on. As for Ken Roczen, we can't forget he has a World Grand Prix Championship and multiple Motocross of Nations triumphs. Kenny is an animal on an outdoor track, but his late series slump in supercross kind of has me scratching my head. There are more guys, but I'm getting away from the theme. It's Stewart's time to win.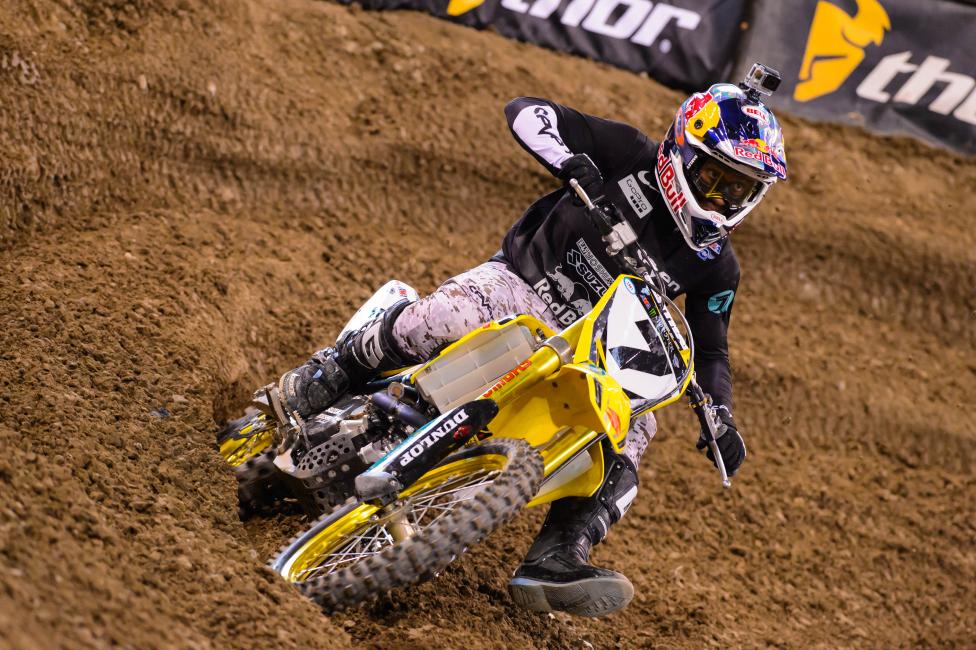 What are his motivational factors? First and foremost, he really wants to win another championship. Doing so will put a flourish on an amazing career, but not only does he need it for himself, factory Suzuki really, really needs this championship. We also can't forget Stewart's investment in his gear company, Seven. He has a lot to race and win for, and with Villopoto stepping out to fix his knee this is his chance to finish reinventing himself. I'll go out and say I think Stewart will go 1-1 at Glen Helen. We'll see some motos where he gets a bad start and doesn't find the flow but I think you can go ahead and chalk up GH, RedBud, and Budd's Creek as wins.
In closing, I realize making a bold prediction like this opens myself up for some critique. I don't care; I'm just calling it as I see it. The sad part is there will be an asterisk beside the championship, no matter who wins it. The same one sits beside those MXdN motos Antonio Cairoli has won without facing Ryan Villopoto. In order to be the man, you have to beat the man. That said, championship bonuses pay the same no matter who you did or didn't defeat. All champions get respect. And if Stewart goes five years between titles and then delivers, it will be an impressive feat.
450 Class: James Stewart #7.
Thanks for reading, next week I'll throw out my pick for the 250 crown.