Sam Boyd Stadium
Las Vegas

,

NV
Las Vegas
Monster Energy AMA Supercross Championship
More Bob Hannah than Ryan Dungey, Vince Friese is never one to back down from aggressive racing. Over the course of his six-year career, Friese has made his fair share of enemies. His in-your-face aggressive style has ruffled more than a few feathers. For better or worse, Friese is who he is: an aggressive rider who is tough to pass and isn't afraid of contact.
Over the past few seasons, Friese has tamed down his style a bit and let his results do the talking. Last year Friese finished a career-high fourth overall in the 250SX East Region. But pundits were quick to point out that the East was "weak" and "depleted." The Cape Giradeau, Missouri, native took it to heart and was intent on proving 2013 wasn't a fluke. He signed with a brand new team this off-season—The Factory Metal Works/Club MX—and opened eyes with impressive early season rides in 450SX. Friese finished fourth in the 250SX East Region opener in Arlington—behind title favorites Adam Cianciarulo, Blake Baggett and Martin Davalos. From there, Friese ripped off three top six performances over the next six rounds before capturing his first career podium in New Jersey.
Even in points with the idle Adam Cianciarulo and Blake Baggett entering the season finale in Las Vegas, Friese needed just one point to become the first privateer since 2000 to capture a top-three position in points. But as you'll find out, it wasn't as easy as it looked.
(For more on Vince's season, pick up the August issue of Racer X Illustrated that drops June 10.)
Racer X: This past weekend you became the first privateer to finish inside the top-three in 250/125SX points since 2000. That has to mean a lot to you.
Vince Friese: For sure. It's definitely really cool. I think I saw [Steve] Matthes or one of those guys mention that, and it is definitely really cool that I was able to do that. I'm happy for my team and everybody that we could get that done. Getting top-three in points was honestly my goal this year. Last year my goal was to be top-five and I did that. Two strong, consistent years and coming on late in the season I saw that there was a legitimate shot to get top-three and I really wanted to do that. But my main goal this year, even over being top-three in points, was to get on the podium—and I was able to do that. I was even happier with that. It was just an awesome year. Vegas didn't go so good, I had a crash in the main. But overall, it was a solid way to end the season. I think for a privateer operation, the way we did it … I'm not saying my bike in not up-to-par or anything like that because my bike is awesome and everyone that helped us out is awesome and everyone that is part of the team is there for a reason, and mainly there because I wanted them there. It's not like I'm Chad Reed and can start my own team and do whatever I want, but the Factory Metal Works guys worked with me and kind of let me pick and choose who I wanted to work with and the companies I wanted to work with and the parts I wanted to use. The privateer operation is still a struggle in comparison to the guys we are going up against but we got it done anyways, which was pretty awesome.
Do you almost feel like you scored one for the little guys?
Yeah, definitely. I kind of had that outlook last year and this year going into the season, like, "Hey, I can really do something big for all these smaller companies that really don't have much of a chance to be part of something that big." It's hard for those guys to afford a guy that can be a championship contender, or even a podium contender, and I knew that if I put together all the right parts and companies and bikes and surrounded myself with the right people and did everything the way I knew how, I would be right up in there. The smaller companies, and everyone that was involved, were really happy to be a part of that.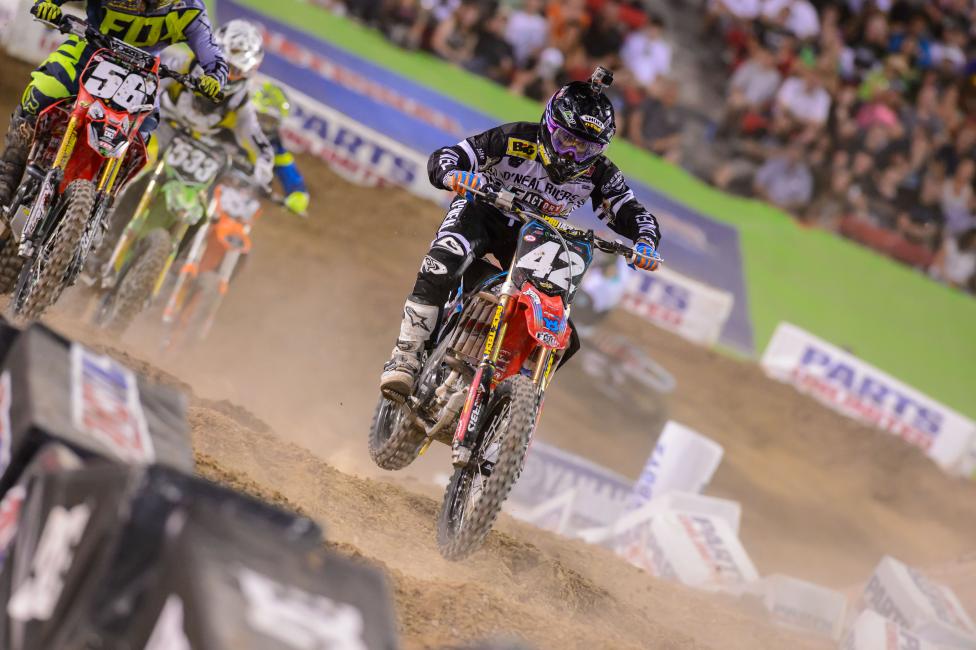 Everyone going into to Vegas was looking at you needing only one point to pass Adam Cianciarulo and Blake Baggett, but people overlooked that Kyle Cunningham was in the mix as well. Were you cognizant of that fact, and when you went down in the main were you like, "Man, I may have just tossed this away?"
Going into Vegas I was trying not to think about that so much. I knew how far he [Cunningham] was behind me and I went over the scenarios if he won what position I needed to get to stay there. The difference between third and fourth [in the series] is not much, but for me and a privateer team getting top three in points is a big deal and we wanted to get it done. We knew what I needed to do, but at the same time I wanted to get another podium in Vegas. I knew I could and with a couple guys out, Davalos and Cianciarulo not in there, it was kind of wide open for someone new to be on the box. [Matt] Bisceglia got his first podium there [Vegas], which was cool, I was pumped for him, but I really wanted to be on the podium and realistically I wanted to try and get a win because I felt like everything was there for me to get a win. It didn't really go my way. I crashed on the second lap and bent my front brake rotor and my wheel wouldn't spin, so it was really tough to jump—my front wheel would lock up in the air every time. Once I crashed and hit a jump the first time and my front wheel locked up, I kind of went into panic mode and then into salvage mode. I was looking up at the board to see where Cunningham was at and I saw that he was in fourth. I know that he rides good at Vegas and I was kind of doing the math, because we had talked about where I needed to be, and I think I was back in about 15th and I worked my way up to 10th. I was just glad he wasn't able to make anymore passes and get too far ahead of me.
With so much on the line, how were you able to refocus?
After crashing I was like, all right I can still regroup and get back inside the top six. Because we figured out that if Cunningham won, I think I had to get sixth or something around there. I got up and luckily my bike stayed running, and initially it wasn't that big of a deal because I only dropped back to 15th or so. Then I hit that first jump and my front wheel locked up in the air, I was like "Ohhhh crap, here we go, it's going to be a long race". Especially at Vegas because that track is sketchy enough as it is. It was definitely tough. It was a little scary, too. Normally, I would never ride a bike like that on a supercross track unless it was in a situation like I was in. It's really dangerous and really scary when you take off on jumps and your front wheel is locking up. I had to jump front wheel high and let it lock up in the air and just ride it out. I somehow made a few passes like that and made it to the top ten where I needed to be. It was definitely a close call.
With your performance this year, it seemed like a lot more people were taking notice—you got a brief fill-in roll with JGR/Toyota Yamaha. What do you think this does for you going forward?
I think there is no reason that the bike I had couldn't win, but I do think there are advantages to being on a factory team and it does make it easier. I definitely want to be on a factory team; that's kind of a given. We're all racing to be on a factory team and make that factory salary and bonuses and everything that goes along with it. It makes it a lot easier, I think. I hope something comes up for next year. But the Factory Metal Works team this year was awesome. They did everything they said they were going to do and they provided me with a bike and program to get the thing done. But a factory deal is what we are out to get and hopefully it comes about, but we still have a long outdoors and off-season to go.
You also avoided disaster in Seattle while filling-in for JGR when you had a big crash in practice. With your ultimate goal the East Region, when the crash happened were you worried you may have hurt yourself, as well as your chances in 250SX?
Honestly at that point, I was pretty amped up to be on the bike I was on and the team I was on. At the end of that day I did look back and was like, "Whew, I'm lucky I walked away from that whole day," because I had another big one [crash] in the main event. It was definitely a rough day, but at the same time I wouldn't have changed it. It was a great experience and I learned a lot and got to see a top-notch program in operation. I've always been a big fan of [Jeremy, JGR team manger] Albrecht and the entire team. It was a dream to ride for those guys and hopefully one day I'll be able to be a permanent guy on a team like that. I was a little weary of doing it last minute because I had essentially no time on the bike. We just had a fluke crash in practice, but I think that would have happened regardless. That track was really rutted and kind of nasty. But I'm glad I did it, it was really fun.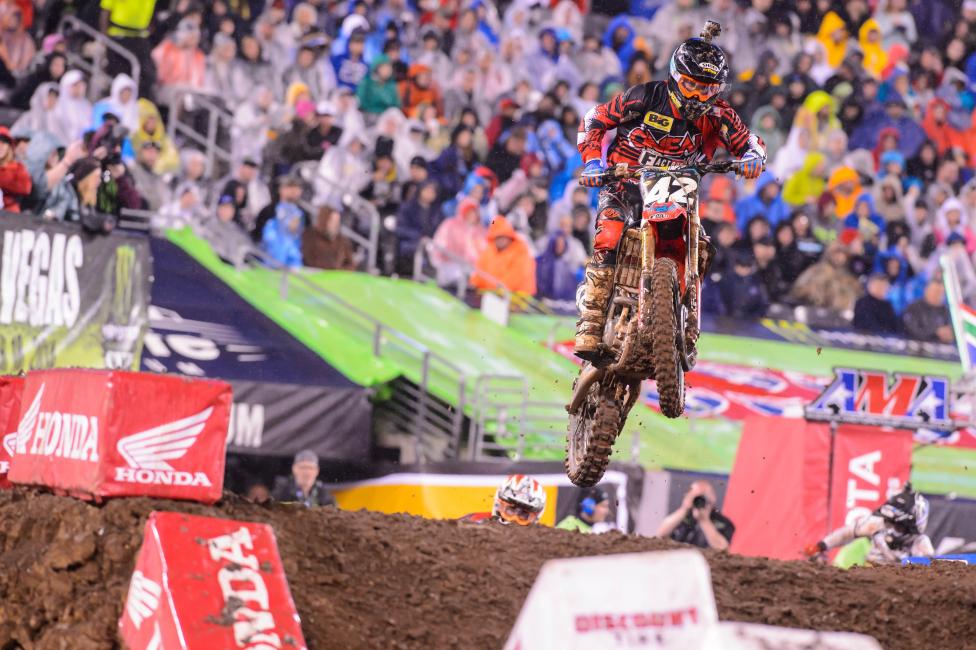 In talking with yourself and other privateers, many felt they weren't getting the respect for last year's results due to a depleted East Region. Do you feel validated by putting in another top-five performance and basically showing last year wasn't a fluke?
Yeah, definitely. Honestly, last year I thought we were pretty stacked. I think everybody thinks the West Coast is fast because they have the west coast kids that everyone sees everything and hears everything about, because they are always out at these west coast tracks and all the media and photographers are out at these tracks. But these east coast kids … deeper in the field, aside from the factory guys, these east coast kids are better than the west coast kids. I've raced both coasts, and against both sets of kids, and definitely the west coast kids are more hyped up because they are out here [California], but the east coast kids are straight up better, in my opinion. These kids are back east at places like MTF, GPF, South of the Border, Club MX and they are putting in the work out there and these kids are good. There are a lot of really good kids deep in the field that don't really get as much hype or recognition that the west coast kids do. Last year, it was a tough class and this year it was even tougher. This year had a stiffer factory lineup, and obviously the PC team was really strong at the beginning but dropped out at the end, but right off the bat at the first round I had a fourth or fifth place finish and I think at that time it was more stacked than the West Coast. And to finish off the season with a podium in New Jersey, I think validated what I did last year. And I think on a privateer effort makes it even better.
I've heard that the team is not going to run the Lucas Oil Pro Motocross Championship. Do you have anything set up as of now?
We are looking for help right now for the outdoors, but as of right now we are going to get going and do these first three rounds that are close to me. I have my own personal 450 that I bought and the team and some of the sponsors behind the team are going to help me freshen it up and get some good stuff on it. I'm going to do Glen Helen, Hangtown and hopefully Colorado and see how it goes.
Congrats on a great season, Vince. Who would you like to thank for making it happen?
I want to thank The Factory Metal Works, Club MX, Big St. Charles Motorsports, Wideopen, Playground Poker, Pickett Weaponry, TLR, Shoei, Dunlop, Spectro, Acerbis, O'Neal, Moto XXX, DT-1, Race Tech, Super Sprox, Pro Taper, Dubya, Ryno Power, Guts, CRF Stuff, Engine Ice and Stock Car Steel.