In The Mag, On The Web is an online feature where we take a behind-the-scenes look at one of the print features in Racer X Illustrated. Check out some more information on "Paradise Lost?" by Adam Duckworth.
When you tell friends that you're escaping the ravages of a freezing European winter to jet to hot and sticky Thailand for the second round of the World Motocross Championship—especially as it's based near the beach resort city of Pattaya—then it sounds like the ideal assignment. Fly to Bangkok, drive an hour south then slurp cocktails by the pool prior to an evening out full of wild entertainment in the Far East's Sin City. Then show up at the track and celebrate your luck with the GP racers who, no doubt, would be relishing the vacation vibe too.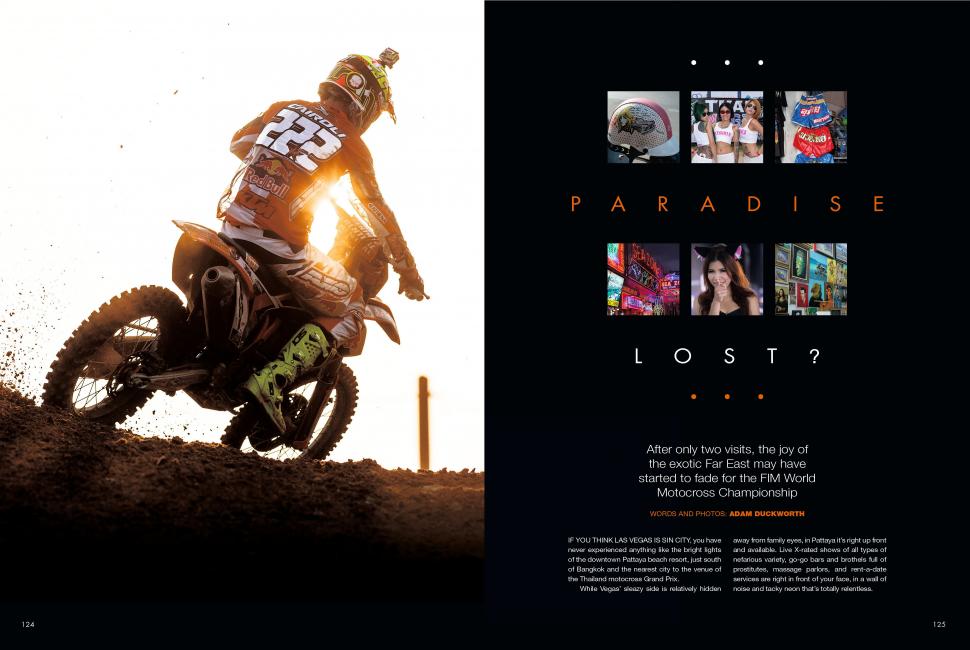 That may have been true a decade ago, when racing and riders seemed far more laid back. But now, it's a very different situation. With certain riders petrified of getting ill on local food or bitten by local bugs, many played Russian roulette with jetlag to arrive a few hours before the race. Others hid away, tried to keep cool and hydrated and fed on imported drinks and TV dinners. And when the state of near civil war in downtown Bangkok meant importing race fuel was not an option, the stakes were raised. Stakes that saw unproven locally-sourced fuel mixed with immense heat and humidity that the bikes and teams were just not ready for. It was a gamble for everyone, and for some it paid off. But others paid the price dearly.
What started off as a real vacation race, complete with interviews with not only the local race organizers as well as the GP boss Guiseppe Luongo, soon ended in frustration and anger as the event took its toll. You'll want to read the whole story in Racer X.
Read the entire "Paradise Lost?" feature in the June '14 issue of Racer X right now or look for the cover below on Newsstands to pick up the issue in person.