Sam Boyd Stadium
Las Vegas

,

NV
Las Vegas
Monster Energy AMA Supercross Championship
Second place really is first loser in this sport. To the top riders, winning the title is all that matters, and a solid top-three or top-five in the final rankings doesn't dry their tears. Ryan Villopoto wins the Monster Energy Supercross Championship again and Ryan Dungey finishes second. You think Dungey leaves Vegas super pumped?
I'll give you an idea how little people care about second. Most people probably left Vegas saying, "Dungey finished second again this year." But, and this will shock you, Dungey has actually never finished second in 450SX before until this year.
This is the first time.
The assumption is always "Dungey is bridesmaid to Villopoto" but in fact Dungey finished third in 2011, third in 2012, and third in 2013. Davi Millsaps nipped him for second the last two years, and Chad Reed was second in 2011. To an outsider who knows nothing about the mentality of this sport, it would look like Dungey finally cleared a hurdle by progressing from three-straight thirds to a second.
But we get:
"We don't put in all the work for second or third place," said Dungey to our Aaron Hansel on Saturday night. "Those are respectable positions, but winning, that's why we're here. We enjoy it of course, but we want to win."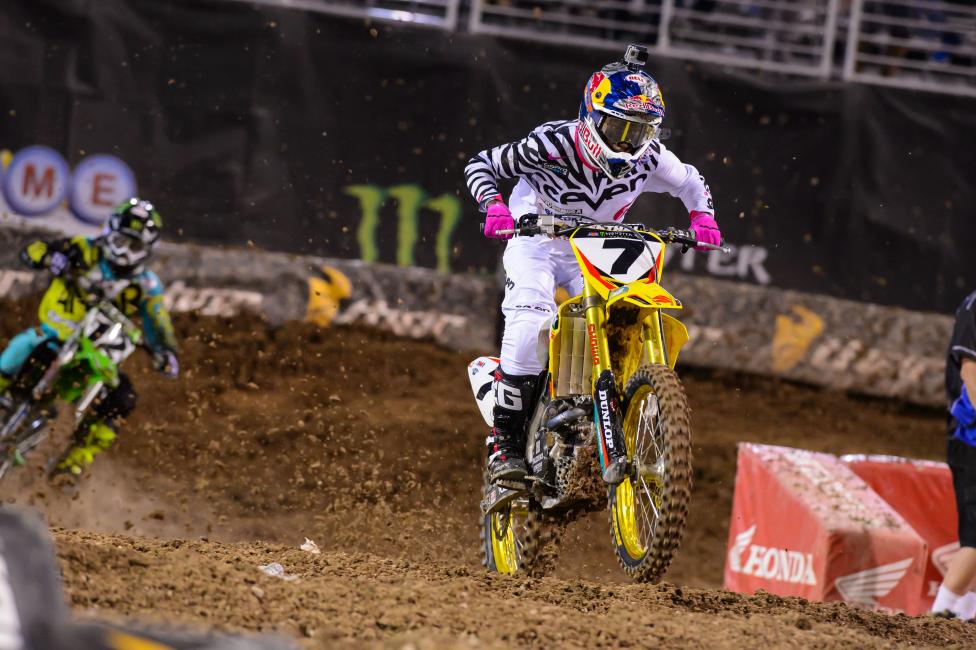 Dungey outdueled James Stewart for second, and Stewart's twin DNFs to end the season dropped him to fourth in the series behind Ken Roczen (Roczen, as a rookie, could maybe be happy with "top three", but since he tasted the red plate early in the year, I doubt it. These dudes just want to win).
Last night we chatted with Stewart on the Pulpmx.com show and he at least admitted that while he normally thinks second sucks, he actually did want that spot this year. Since he finished 17th at round one, he felt like second would have represented a solid comeback. He was disappointed, but this year was different. For the most part, Stewart and the rest of his peers are never happy to be runner up.
On the other end, there is one sweet spot the riders do seem to care about, and it's landing in the top ten. Curiously, there's a bigger money difference up toward the top. The series bonus for second is $35,000, third is $25,000 and fourth is $21,500. Stewart's slide cost him about 14 grand … and you know that means basically 25 cents to him. On the other end, there's less than $100 difference between 10th ($11,390) and 11th ($11,315), but riders on that end care very much.
Bragging rights of "top ten" are big, plus, some riders at that level have sponsorship bonuses tied into top 10. The likes of Dungey and Stewart usually only get a bonus if they win the title.
This year's top ten battle was ferocious. The injured Broc Tickle and Wil Hahn were hanging in there, but Mike Alessi, Weston Peick and Eli Tomac had a chance at getting them in round 17. Tomac got hurt right before the race, but Peick and Alessi were definitely thinking top ten when the gate dropped. They were both tied with 119 points each, so they needed to beat each other and also needed four points to jump Hahn, and eight to go past Tickle.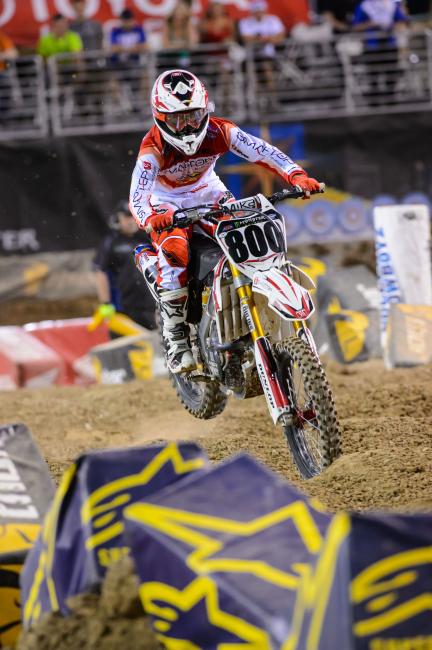 Unfortunately for Peick, a mechanical problem ended his chances (he had one heck of an up and down season). Then Alessi ran into misfortune, also, when his chain came off while running eighth. He was stuck between the jumps of the finish line double, which brought out a yellow flag, and riders had to roll the jumps while Alessi stood there trying to wrestle the chain back on. It looked scary and crazy as riders jumped and roosted past him, and since it was the final race of the season, it seemed like Mike would be better off just pushing the bike off and calling it a night.
Oh no, he was thinking top ten. So Alessi kept wrestling with the chain, desperate to get it back on and maybe salvage an extra point or two (it's doubtful he even knew Peick was out). It wouldn't work, though, and eventually he had to push it off. Luckily for him, Peick and others were already out, and Alessi was credited with 17th. He ended up scoring one more point than Hahn to steal 10th in the final standings.
To a few guys, this actually mattered.