Sam Boyd Stadium
Las Vegas

,

NV
Las Vegas
Monster Energy AMA Supercross Championship
By Jason Weigandt and Aaron Hansel
Jeremy Martin, Yamalube Star Racing Yamaha, 1st in East Region 250SX Main
It was a good night. All day was good! I was fastest in practice and I was able to bring it to the main event and get my first ever win. And it happened in Vegas, so that's pretty cool. In the first couple laps I kind of settled in behind Justin Bogle and I just decided to let the race come to me. I knew where I was faster than he was, and I was able to triple into a section and get in front of him. He tried to get back around in the sweeper so I just held it on a little longer to make sure he couldn't. From there I was able to ride my own race and pull away.
The track looked slick. Were there any sketchy moments for you out there?
I had more than one sketchy moment, that's for sure!
You came around right in front of your brother to take the checkers, and he got a front-row seat of you taking your first win. Was that a special moment for you guys?
Yeah, I think so. Alex and I pretty much crossed the line right next to each other and he came over and gave me a hug. He's proud of me. It was a cool moment.
It was a great way to close out the series after not qualifying for the first two rounds. How do you end up with a win after starting the season like that?
You know, after the start of the season I think a lot of people wrote me off and didn't think I was going to be able to do anything. And you know, if it wasn't for the Carmichael family, Dillon Turner and my mom and dad I don't think there was any way that I would have been able to turn it around.
Are you surprised that it took as long as it did for you to get this win?
I knew it was going to happen this year, and I would have loved for it to have happened sooner, but that's what makes this win so sweet. I know a few of the other guys are hurt, but a win is a win.
So what's next? Do you take a few days off or just jump straight into National prep?
I'm going to get right back into it. I really want to do well outdoors; I want to win the championship. It's going to be good and it's going to be tough. There are a lot of good guys in there. Justin Bogle, he just won the championship, Jason Anderson is fast, Christophe Pourcel will be there, there are a lot of guys. But I just need to worry about myself and do what I need to do and go from there. – Aaron Hansel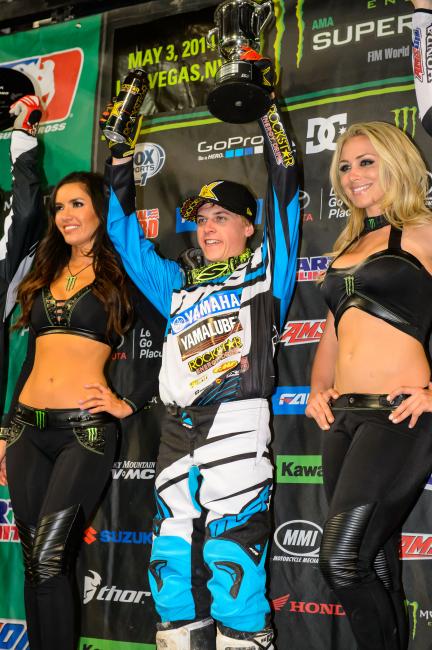 Kyle Cunningham, SmarTop MotoConcepts Racing, 4th in East Region 250SX Main
I handed the podium to him [Matt Bisceglia]. The day started good, I had good times in practice and everything and went into the main and got a decent start. The jump wasn't the greatest but I weaved through some people in the first corner and was riding well. I messed up the rhythm the first four laps, but right when I started hitting it I felt like I had a charge coming. Unfortunately I fell over in a right-hander, hit my gut and got tight. Then after the Shootout I came off the track dry heaving. It knocked the wind out of me, but I still managed to get fourth. I would have loved to have the podium here in Vegas again, but we'll take the good from the bad and look forward to getting ready for the outdoors.
What's your plan for the summer? Are you going to Canada with the team?
The SmarTop MotoConcepts team is still going to support me, I'll still have the bikes I have and all the sponsors, but I'm not going to Canada. We have a good program set up for me down here and I'm looking forward to staying and racing in the U.S. Luckily I could work it out with Mike [Genova, SmarTop MotoConcepts team owner] and I'll use the next few weeks to get ready so I can show up at Glen Helen ready to go. – Aaron Hansel
Trey Canard, Honda Muscle Milk, 5th in 450SX
How did it go?
I got fifth, which is good. I can't be too disappointed. It was a steady climb I think upward from the time that I started until now. The results might not have showed it completely but I had some good heat races. You can't make a lot on that but I'm just glad that the speed was there. I felt like I had a decent pace by the end of the series, so that's good. I think a bad start really hurt me. The start was so important here. As slick as everything is you want to get out front and have a clear track. It's a sketchy place. So bad start, and I didn't really move forward too much. Got a couple gimmes, which put me into fifth. Overall I'm leaving here safe and I'm excited to start a series even with everyone. That's a big thing. Excited for doing outdoors.
Was it fun? You really battled with Stew pretty good in the heat last week and then you battled with RV. Those are two big hitters and you were running their pace. That's got to feel pretty good. You were right there, where you would have been at the beginning of the year.
Yeah, which is really cool. It was hard to come in this late and get that speed. It's difficult. I was really happy about that. I'm bummed on my main results but I think a lot of that was due to starts. I thought my starts actually got better, which I think the heats showed. I kind of had some run-ins with a couple people the past two weeks. So hopefully work on that and get out front outdoors.
Do you feel like you have a little head start on everyone because you weren't so focused on supercross? Does it really make any difference in your schedule compared to anyone else's?
No, I think this time in supercross really helped me. I didn't spend hardly any time riding the outdoor track beforehand. I do feel like what I learned about the bike in this time is really going to help us outside. I think really just this is what we wanted, kind of that intensity that you can only get in racing. Hopefully that really helps going into outdoors.
How about your buddy over here [Bogle]? Oklahoma, bringing home another east title.
That's two times. Pretty cool for Oklahoma. I'm really happy for Justin. He's just such a cool guy. It's been a tough two years for him. People can say what they want. If AC hadn't got hurt, or Martin [Davalos] wouldn't have got hurt … But you know what? Bogle gave away a lot of positions the past two years and I think he's due. He deserves it. Really, really happy to see him get it.
Do you guys still ride quite a bit together? How does that work down there?
He's been in California a lot this year but I think he's coming home this summer and we'll pick back up in Oklahoma.
The track itself, you had to come up a little bit. How hard could you push on that track? Did you kind of tone it down a little bit because it was pretty sketchy?
It was very, very sketchy. I think the wind and the heat really were the big things that made that track so sketchy. It's a thing where I was not in a podium position and it gets harder to risk it, to push it when you're not really … Not to say that I wasn't trying but it gets a little easier to say, "I'm just going to go a little bit easier through the whoops" or whatever. – Jason Weigandt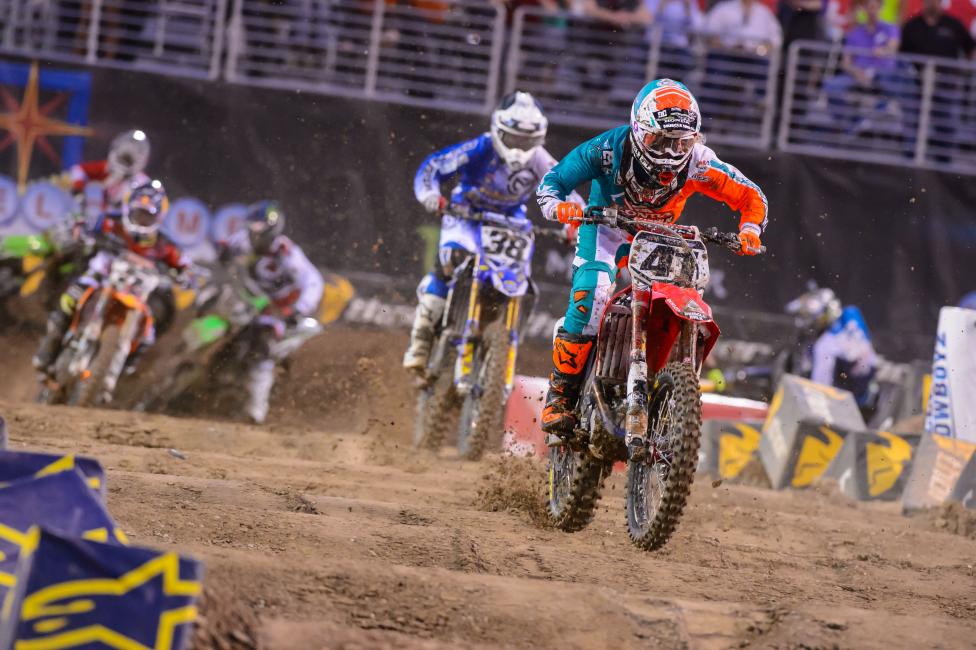 Cooper Webb, Yamalube Star Racing Yamaha, 2nd in West Region 250SX Main
First of all, this start, you had like 10 bike lengths on everybody coming into the stadium!
Yeah, finally got my starts back and was able to lead, I think, nine laps. Kind of got messed up, one of the riders went down and I saw lights, started rolling. Dean [Wilson] ended up getting by me and then I got by him and we pretty battled. It was sick. Tried to throw it in there the last two laps but just weren't quite close enough. But overall it was a good way to end the season, for sure.
Do you feel that was the best ride you've had? Obviously the result was really good.
Yeah, I think I definitely earned that. My second earlier in the season was kind of a gimme and I felt like I finally rode like I can. But I sucked in practice and kind of had a heart to heart with the team and kind of turned it around. So I was pumped on that, to kind of overcome. I think I qualified ninth or something. It was cool to lead and almost get a win.
For outdoors, you've got a whole year under your belt there. So where do you think you are compared to last year? Is this a big step?
I think I'm way, way more prepared for outdoors this year. I kind of know what to expect. The bike's unreal this year. I think the main thing is I know what to expect. I think that'll help a lot. I feel good this year, so hopefully be battling for podiums outdoors as well. –Jason Weigandt
Matt Bisceglia, GEICO Honda, 3rd in 250SX East Region Main
Last week and this week things were coming together.
Every weekend things getting a little bit better. I'm just doing everything I can to just improve and catch up. It was good. I got off to a decent start and just rode my own race and came in third. It was good. I was pumped to get my first podium.
How hard is it doing this first year of supercross? Was it a pretty big learning curve?
Yeah, it was a big learning curve for sure. It was tough. It's gnarly but I know what I have to do for next year and I'm ready to put it down for sure.
How much more comfortable are you going to be going in? More of your element here.
Yeah, it'll be way better just kind of knowing what to expect and knowing what to do coming in. This year I kind of was a little bit scatter-brained in a way. I know what to do now and I'm on a good program—me and Johnny Louch, Justin Hill, all those guys. It'll be good. I'm excited to go into motocross and come out swinging next year.
Are you more of a California guy now? I know you spent your amateur career working out of Texas.
Yeah, a little bit I guess. Me and Justin Hill kind of have an apartment together right now. We live in Menifee, California. I go home as a vacation now unfortunately. But I think 'll get the chance to go home after Lakewood or something, after one of the first rounds. When it starts to go back east I think I'll go back home a little bit.
And ride?
Yeah, and ride. Stay there a little bit. It just depends. If I'm ready to go home and I feel like I know what I'm doing then I'll go home for sure for a little bit.
What do you think you can do outdoors? You got a few under your belt last year but that's really a small sample. How do you feel coming in now?
I feel good. We just have to do some testing in the next couple weeks. Unfortunately after my little tibia fracture at St. Louis I missed out on all the testing so we have to go do some testing, me and the team. But they're going to bust their rears to get my stuff working good and I'm excited. – Jason Weigandt