Welcome to Racerhead, coming to you on the eve of the last round of the 2014 Monster Energy AMA Supercross Championship. It's been a long haul for the riders and teams and all the sponsors and industry folks who work the series—and especially the folks at Feld Motor Sports who organize this massive production. Congratulations to everyone for reaching the finish line. It really has been a fantastic series to watch, whether in person or on the couch at home.
Racerhead is coming to you from the press box at Sam Boyd Stadium in Las Vegas, where the press conference just wrapped up, as well as from Racer X HQ back here in West Virginia. I decided to skip Vegas after a long and busy couple days in New York/New Jersey last weekend, then grinding out a magazine deadline this week with the gang back here. We will be watching tomorrow night's race live on Fox Sports 1 from a local establishment while Weege, Matthes, Cudby, Snoberts, JT$, and Hansel all work the race in Vegas.
I heard that today was going to be a big day, and sure enough it has been. The announcement we all worried about did not come: Monster Energy Kawasaki's Ryan Villopoto, the newly re-crowned Supercross Champion, is still a go not only for tomorrow night's race but also for the upcoming Lucas Oil Pro Motocross Championship, where he is also the defending champ. Our own Jason Weigandt wrote a superb column about this talented, driven, and very complex champion. It puts a lot of things into context in regard to what it means to be Ryan Villopoto today, compared to Jeremy McGrath in the nineties or Ricky Carmichael a decade ago.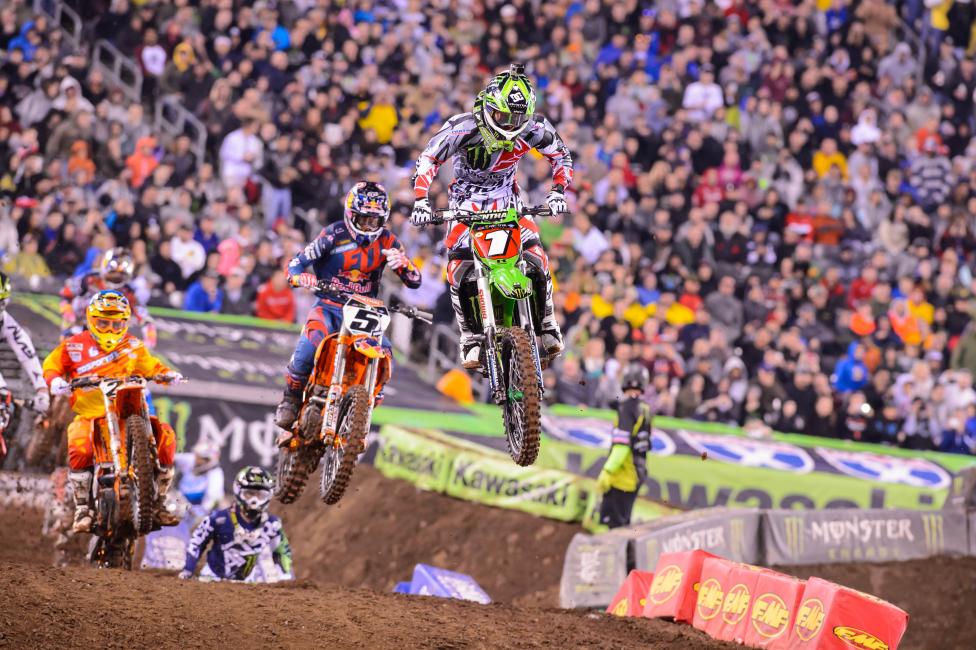 But we did get news of the 2015 Monster Energy AMA Supercross schedule, which you can find right here. The big news there is two Atlantas, which I believe has long been a good idea, and also two in the San Franciso/Oakland area—the town of Santa Clara, the new home of the 49ers, will host an April round (though their gain is Seattle's loss).
There was also the announcement by MX Sports Pro Racing, which runs the Lucas Oil Pro Motocross Championship, that we have reached an agreement with the U.S. Anti-Doping Agency to implement a comprehensive anti-doping program, beginning with the opening round of the 2014 series, the Red Bull Glen Helen National at San Bernardino, California. This is something we have been working on for more than a year, in hopes of ensuring an even playing field for all of the athletes involved in this championship. USADA will have the authority and responsibility of testing and managing the program, which they do for many other sports. It will include blood and urine sampling, otherwise known as doping control. USADA conducts this work in a safe manner, as well as one that safeguards the integrity of the whole process. For more on the whole program, visit www.usada.org.
Looking ahead to Glen Helen in three weeks, Racer X Illustrated is once again hosting a Pro Ride Day on Friday, May 16, at Glen Helen Raceway. The track will be reserved strictly for AMA Pro Motocross-licensed riders who are signed up for the Red Bull Glen Helen National, and they will have all afternoon to stretch out on the Jody Weisel-designed, Karl Scanlon-sculpted Glen Helen track. It's a courtesy we do for the pro riders, both factory and privateer, so they have a place to do some serious testing/training on the type of track they will see as soon as the racing starts. We will also be hosting advertisers and industry friends for a morning session at Glen Helen, just to roughen it up a little bit for the pros!
And speaking of Glen Helen, our colleagues over at Motocross Action posted a preview of the national track as it was coming together on their website. (And congrats on the new website, guys.)
Obviously, the shouting is over as far as who wins this 450SX title, and Ryan Villopoto can now drive that brand new Toyota Tundra he won last weekend up to the Mt. Rushmore of Supercross and see where they will one day carve his mug into the mountain next to either Jeremy McGrath or Ricky Carmichael. But the 250SX titles are both up for grabs, and both champions will be crowned tomorrow night. The East Region is almost assuredly going to GEICO Honda's Justin Bogle, as he has a 17-point lead on Martin Davalos, who of course is out with a broken ankle.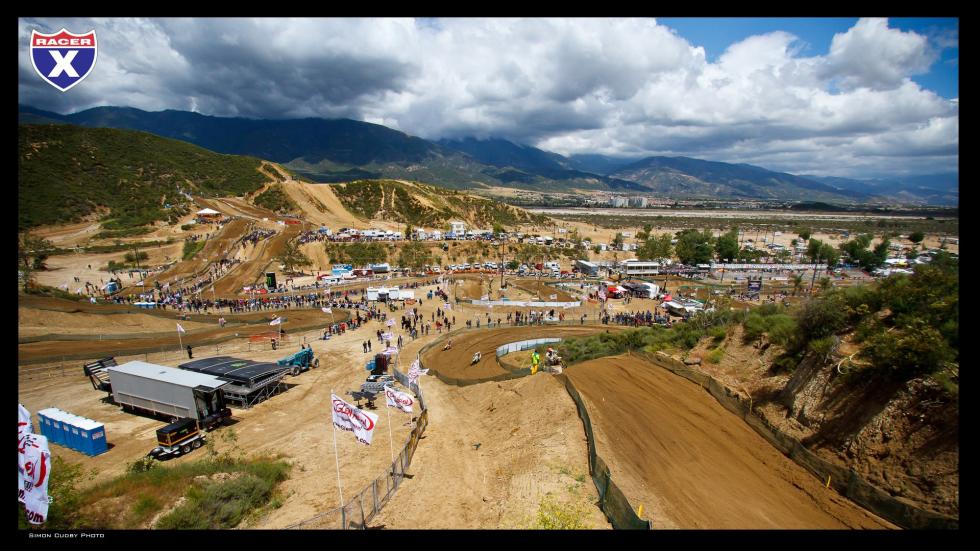 Coincidentally, not only is second-ranked Davalos out, but so are his Monster Energy/Pro Circuit Kawasaki teammates Adam Cianciarulo and Blake Baggett, who are tied for third! They each have 120 points, as does privateer Vince Friese, who rides for the Factory Metal Works/Club MX Honda team. Vince is in a great spot to finish the series in third—he's ridden hard and well the whole series.
The West Region title chase is more interesting. Rockstar Energy KTM's Jason Anderson has an eight-point lead on Troy Lee Designs/Lucas Oil Honda's Cole Seely, and we've been hearing and seeing things about a midweek crash by Anderson at Milestone that may have dinged him up some. Plus there's the fact that Seely has three teammates in this race while Anderson will be out there alone. Given the past contact we've seen between Jason and Malcolm Stewart, it's something to keep an eye on. And right now, think back to the first two races of the year where Seely lost on the last lap to Anderson. That's a 12-point swing in the points, which looks pretty big right now.
And both 250 Regions will end with the Dave Coombs Sr. Memorial East-West Shootout, which Feld Motor Sports graciously named after my late father, who was instrumental in founding the 125cc class back in 1985, along with his good friend Bill West. They thought adding a second class to the series and splitting it into two regions to provide more opportunities for young riders would benefit the sport. I truly believe it has, and the number of young American riders who have made a name for themselves in this class, plus international riders, is more to the point. On behalf of my brother and sister, and especially my mom, I want to say thank you to everyone at Feld Motor Sports, and Charlie Mancuso in particular, for honoring Big Dave's memory this way.
Here's the rest of Racerhead:
MATTHES CHECKS IN FROM PRESS DAY (Steve Matthes)
The final round of Monster Energy AMA Supercross is here, and the traditional end-of-series press conference has just ended. Besides seeing the 2015 schedule, the podium featured Ryan Villopoto, Ryan Dungey, Justin Bogle, Cole Seely, and Jason Anderson, plus host Kevin Barnett of Supercross Live. In regards to Ryan Villopoto retiring, he said the plan is to race. He didn't say where or when this racing is taking place, but he is racing.
I do blame some of this retirement stuff on a conversation we had on the PulpMX Show about how we think he's definitely retiring at the end of his contract next year and due to whispers in the air and a feeling you get from hanging around him, maybe he would pack it in a year early.... Just bench-racing talk, but as I've seen plenty of times before, people will take something and run with it. I hope he stays out there, because his body of work these last four years has been a masterpiece.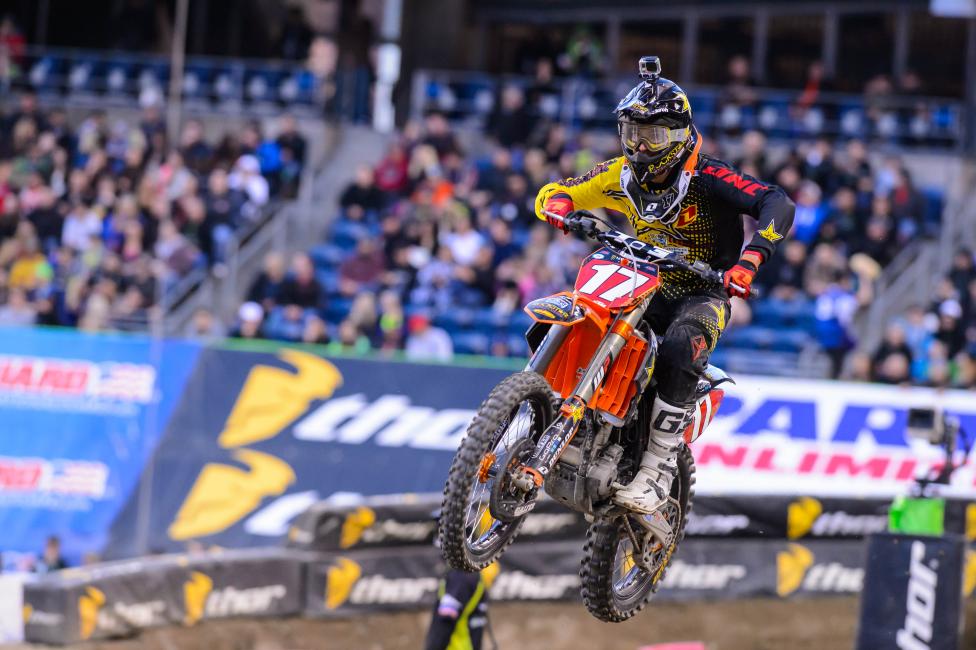 Anderson and Seely both confirmed they are moving up to the 450s next year. Seely wouldn't reveal his team (most of us think it will be Honda Muscle Milk) while Anderson said that his team next year will look a lot like his team this year (the Rockstar Energy KTM team could be switching to Husqvarnas, which is now owned by KTM, and he gets along well with that bike, whether it's orange or white).
As I type this, the five guys are out there riding some laps on the very-hard-packed Vegas track. It's the usual blend of obstacles out there, and it will be hot tomorrow for the final round. Im a little bit of a twist, it's running backward from its usual configuration, with a right-hand first turn, which should ensure some chaos out there. The whoops aren't built yet, but the pad is there and it looks a little small, so expect them to be a 7.5/10 difficulty. Don't forget to tune into the Las Vegas SX PulpMX Show tonight at 8 p.m. Eastern/5 p.m. Pacific on www.pulpmxshow.com
TOMAC OUT (Weege)
It's been a bummer of a rookie 450SX season for Eli Tomac, but it sure looked like things were coming together just in time for the Lucas Oil Pro Motocross Championship. He said Seattle was his best ride of the year, and then he went one better with a runner-up finish over the weekend (yeah, he finished second at Indy, but even Eli admitted that didn't really count since a ton of fast guys crashed in the first turn). When I asked him if he was getting pumped on the outdoors, he said, "Oh, yeah!" But now? Oh, no. Eli crashed at home yesterday and broke his collarbone. Eli will be consulting with doctors over the next few days to determine the best course of recovery, and after that we should have a better idea of his timetable to return. (But of course we're hoping it's by the time Glen Helen comes around).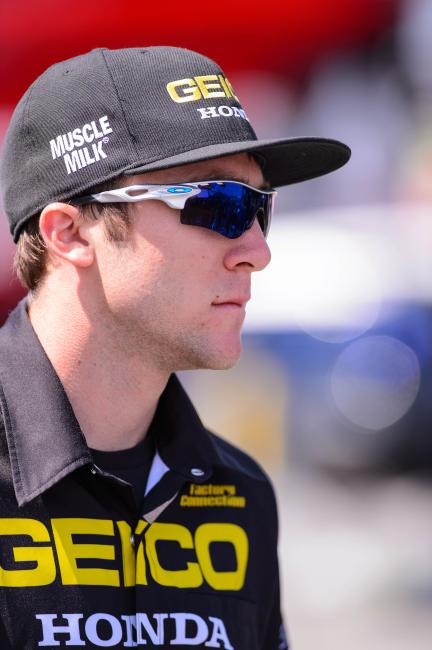 PRO PERSPECTIVE – VEGAS (David Pingree and Jason Thomas)
Ping: Vegas. This city is so nuts it just goes by part of its name, kind of like Beyonce or Prince or … Bjork. I kind of ran out of single-named stars there for a minute. For supercross racers, this weekend has a special vibe to it. After seventeen weeks of following each other around the country and setting up the neon-green dirt bike circus, it closes down in Sin City. Those riders who are of age typically look forward to a few adult beverages with friends on Saturday night after the race and a fresh start on a new series in the weeks to come.
The race itself presents a unique set of challenges. For starters, the weather is starting to change in May and the air in Nevada is as dry as a mouthful of Saltines. After two laps on the track your tongue is stuck to the roof of your mouth and you literally cannot produce an ounce of saliva to swallow and moisten your throat. Add to that the 100-degree temps and a racing surface that's harder than woodpecker lips and you get an idea of what it's like inside Sam Boyd Stadium. Some riders will be swinging for the fences, knowing this is their last time to get on teams' radars. Other riders will be going through the motions, counting down the laps until Glen Helen. Some will be thinking about which pair of skinny jeans they'll pair with their overpriced designer shirts at the Hard Rock later that night.
Trying to work moisture into the soil there is always a challenge, too, so watch for some crashes in the opening race of the night. The dirt tends to look tacky but it's very slick. As the night wears on it gets dry-slick and very technical. Again, watch for crashes. Traction seems to be at a premium around the Circle Bar in the Hard Rock, also, as I have seen many a good rider go down there later in the evening. One last time, watch for crashes.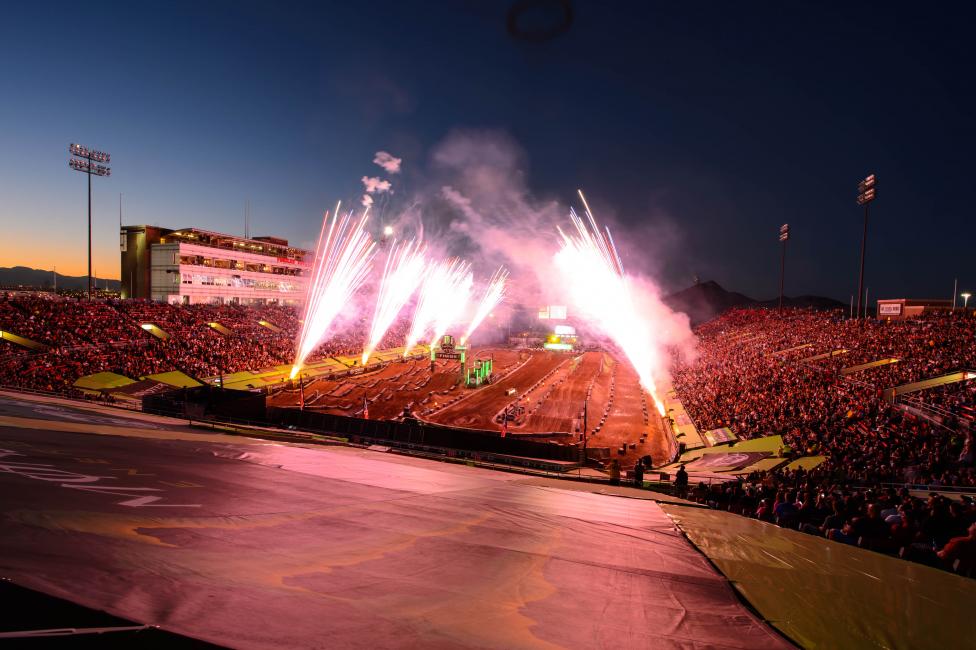 JT: Las Vegas is definitely a unique round for the series. Not only is it the end to a grueling grind for body and mind, but it's also, well, Vegas. This city can be your best friend or your worst enemy, and the track is really no different. Traction is always the toughest ticket in town, and those who have mastered its slippery slopes usually shine here. And as Ping said, one of the more difficult aspects is that to bring traction back, they have to water it to the point that it's muddy. Those first races of the night are particularly tricky. As the track comes around, it definitely improves but is never what anyone would consider optimal. Riders like Kevin Windham who are known for their throttle control always excel when we roll into the desert.
For many guys, this is a chance to get a great finish and end this series strong. The motivation for some will be lessened by the impending summer, rather than going all-out after the previous sixteen rounds of punishment. (Riders like Chris Blose and his fourth-place in 2011 come to mind as someone who took advantage of their opportunity.) I will be watching that scenario closely and see who is here to race and who is here to fulfill their obligation.
THIS WEEKEND'S SCHEDULE (Weege)
We're now four years into the revamped Vegas SX schedule, which features the final main events of the season for 250 East and West, followed by the Dave Coombs Sr. Memorial East-West Shootout. Looking at the event schedule here (PDF link) you'll see a few tweaks for the '14 edition.
The 450SX heats now come first, which means the track will be in better shape for the 250 mains. The track builders used to flood the Vegas track before the night show so it would still be moist come main-event time. The first 250 heats used to be mudders, basically. Ever since those heats became championship main events, they've done a better job managing the water, but it will be even better this year once the 450s sling the slop off. Also, I think this delivers a better show because we get some buildup before the big races with a title on the line. The 250SX West finale comes after the 450 heats, so we'll have about forty minutes to get nervous.
Also note the qualifying format. The 250 LCQ is gone, and instead the top eight in East and West points automatically make the Shootout. The highest-finishing three riders in the mains who aren't top-eight in points also make it in.
These are small tweaks, but honestly I root for almost any kind of change. It's late in the year, and only one title is really left on the line, so let's try to make it as exciting as it can be.
Oh, and speaking of "the line," they scrapped the split starting gates after last year's problems; after all the work and testing and engineering were worked out, an official or mechanic apparently got caught up in the wiring between the two sections of gates. Oh well. It was a pretty cool idea anyway!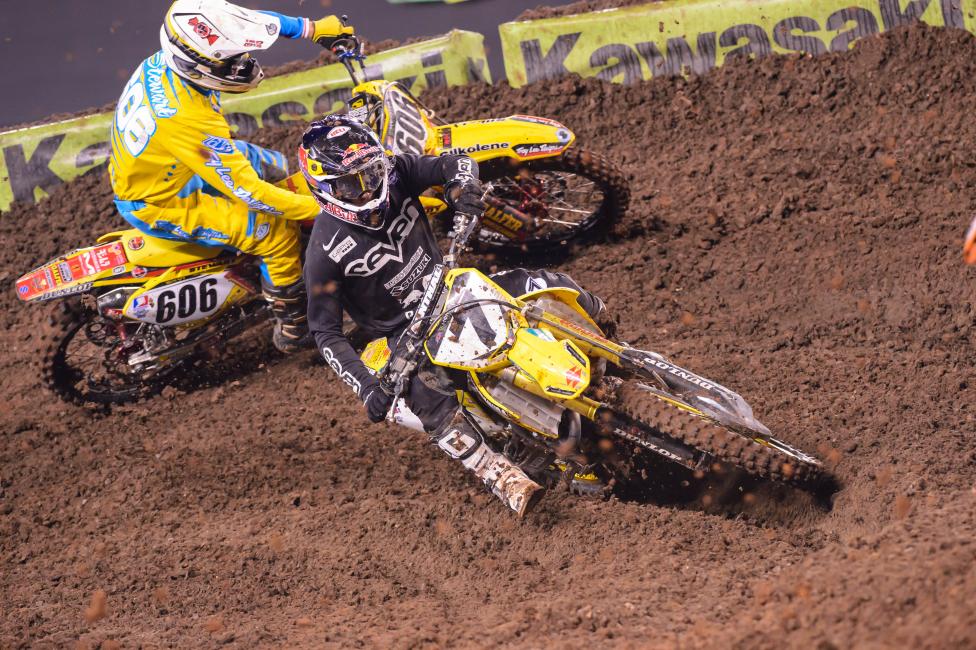 HEADLINES OF THE WEEK
Marine dirt bike 'gangs' of Afghanistan
"RCH Racing Soaring Eagle Jets Into Giant Stadium"
(The RCH PRs are a great weekly treat, but this week's Jets/Giants tie-in—a nod to both of the NFL teams that play in MetLife Stadium—was some of their best work.)
HEY, WATCH IT!
Thor released a great video congratulating Ryan Villopoto on his fourth consecutive championship.
I'm not sure there's anyone out there who has more fun riding dirt bikes than a few of my buddies up in the Northwest, Joey Lancaster and Rory Sullivan. Check out the two-way radio setup they installed before heading out to spin laps at Mt View MX in Oregon. This is what riding is all about!
The Art of Motocross featuring Gautier Paulin.
The gate's about to drop on the 2014 Lucas Oil Pro Motocross season. This summer, the stakes are high and the rivalries are fierce as the riders gear up for another 12 rounds of motocross mayhem. Check out this video before the opening round kicks off May 24th at Glen Helen. Don't miss it.
Mackenzie Tricker likes to ride dirt bikes! The Australian native has traveled to the US over the last couple of years and has done quite well during her racing career. Three rounds into the WMX Series, she is the current points leader going into the next round.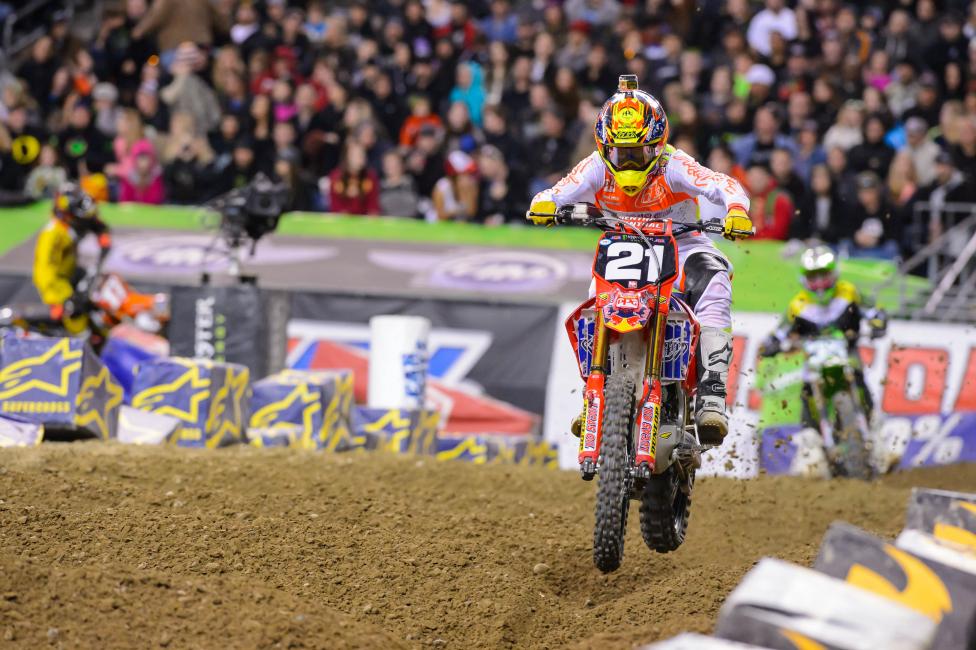 RANDOM NOTES
A local Washington Lacrosse team is auctioning off one of Ryan Villopoto's helmets, a worn race helmet, from what looks like 2007 or 2008, it's signed by Villopoto, and all proceeds will go to the team's equipment for the year. Looking to add a one-of-a-kind piece of memorabilia to your collection, check out the listing here.
The May issue of Trials & Enduro News is online and this month it features a wrap up of the Rad Dad National Enduro, a look at the opening round of the World Trials Championships in Australia and a story about El Trial de Espana. There's also an in-depth look Brad Bakken's N-Fab Am Pro Yamaha YZ250F, plus a whole lot more.
Here's a story about a man who outwitted a local bike-thief ring in Atlanta.
There is a very strange and frightening legal dispute going on in New England over a family's property and motocross track and the concept of Eminent Domain. The folks from the "Save Southwick" Facebook page alerted us to a dispute in Bloomfield, Connecticut, regarding the town's attempt to take a man's land, which includes a motocross track, for half the price it's worth with the legal argument of Eminent Domain. (Fresh Top End, this is right up your alley!)
Facebook's trending topics on Sunday were interesting: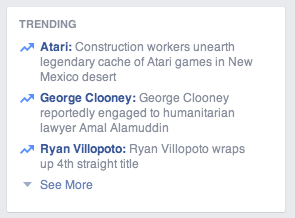 The Weege joined JT and Matthes to talk Vegas SX and the upcoming outdoors on the Fly Racing Moto:60 Show presented by N-Fab.
Jason Thomas and I email-exchanged about the RCH decision to drop Josh Hill.
Swizcorner deals with Ryan Villopoto this week and his legacy of dominance.
Former factory superstar David Vuillemin answers some questions about NYC SX including what his dream TV booth would be.
For the latest from Canada, check out DMX Frid'Eh Update #19.
That's it for Racerhead. Thanks for stopping by, good luck to all the racers in Las Vegas, and here's looking forward to a great summer. See you at the races.