ATV Motocross Premieres on MAVTV
MORGANTOWN, W. Va. - MX Sports announced today that broadcast coverage of the 2014 Mtn. Dew ATV Motocross National Championship, sanctioned by AMA (ATVMX), will make its premiere this weekend on the series' partner television network MAVTV. On Saturday, May 3, fans will be treated to a doubleheader feature with the 2014 season preview show for the AMA Pro ATV Class at 12 noon ET, immediately followed by coverage of the first round of the championship from Aonia Pass in Washington, Georgia, at 12:30 p.m. ET. All ATVMX shows on MAVTV were recorded and produced by RacerTV.
The 2014 season preview show puts the spotlight on the men that will do battle throughout the summer to determine who will emerge as the ATVMX National Champion. The show will set the tone for the highly competitive season that lies ahead, getting insight from the riders themselves as to what it will take to win against such a talented field of competitors. Reigning back-to-back champion Chad Wienen and his Wienen Motorsports/SSi Decals/Walsh Yamaha teammate Thomas Brown discuss how to build off the success they achieved last season, while riders like JB Racing/DWT/Mtn. Dew Live Wire Can-Am's Joel Hetrick, Motosport.com/RRR/ Ford/DWT/Walsh/Fox Honda's John Natalie, BCS Performance Can-Am's Josh Creamer, Baldwin Motorsports/PEP/Upperman Racing Honda's Josh Upperman, JB Racing/Cheerwine Can-Am's Jeffrey Rastrelli, and RootRiver Motorsports/Motowoz Suspension/ITP Tires/JB Racing/FLY Racing/Rage ATV/Culligan Water/Brownells Inc. Honda's Sean Taylor also share their thoughts on the challenges they face in putting themselves in the title hunt.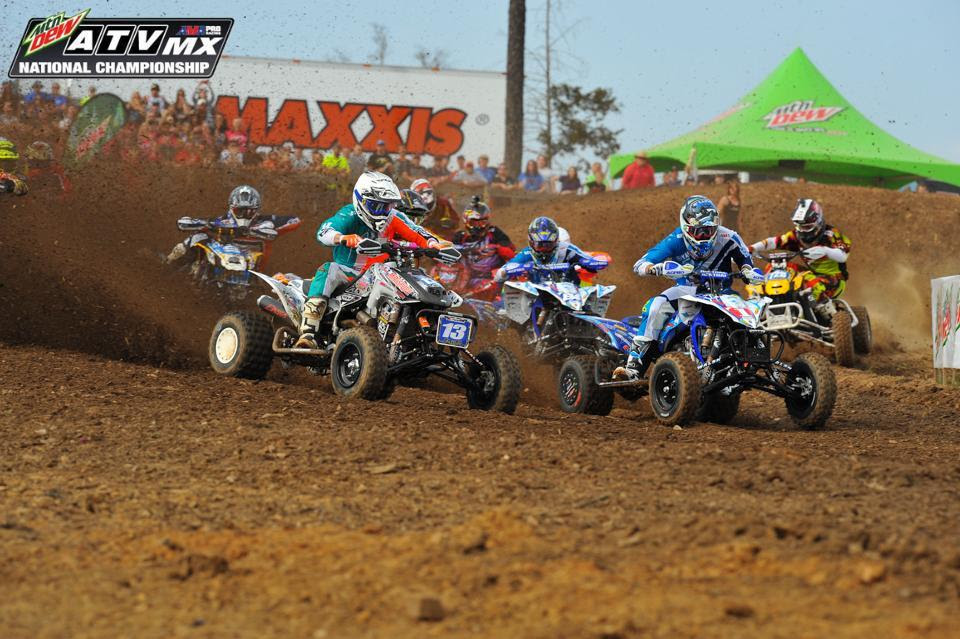 The start of the 2014 ATVMX season was a thrilling one at Aonia PassPhoto: Ken Hill
The opening round of the 2014 ATVMX season at Aonia Pass MX Park provided a captivating beginning for what is sure to be a stellar season of racing. While Wienen was ultimately able to come away with the overall win and begin his title defense on top of the podium, his path to victory wasn't easy by any means. Wienen received a significant challenge from rivals Natalie and Hetrick, while as many as five riders, including Creamer and Brown, engaged in the battle up front for the win.
"We have an exciting new partner in MAVTV that will allow us to expose ATVMX in a way we've never had the privilege of doing before," said AMA Pro Racing ATVMX Race Manager, Harv Whipple. "This weekend is a landmark occasion for the entire sport of ATV motocross and I can't think of a better way start things off than with a doubleheader like this. The preview show tells the story of the 2014 season that lies ahead and we follow that up with a thrilling battle at the opening round. This is exactly the kind of racing that will draw the interest of anyone watching."
With programs such as AMA Endurocross, The Motocross Files, Lucas Oil Off Road Racing, and now the Mtn. Dew ATV Motocross National Championship Series and Lucas Oil Pro Motocross Championship, MAVTV is quickly becoming the go-to place for motorsports enthusiasts. MAVTV is currently available on Dish Network and DirecTV satellite services and many other cable providers. To demand MAVTV on your local provider, click HERE.
Catch all nine rounds of AMA Pro ATV Class action throughout the summer on MAVTV and stay tuned for continued updates on the 2014 broadcast schedule. Find a full listing of events at the official ATVMX website.
For more information on the series, visit www.atvmotocross.com and join the conversation on the series Facebook page or follow on Twitter @ATVMXdotcom and #ATVMX.