Metlife Stadium
East Rutherford

,

NJ
East Rutherford (New Jersey)
Monster Energy AMA Supercross Championship
When Phil Nicoletti took the job as the third rider on the JGR/Toyota Yamaha team, opinions started flying. Nicoletti, along with the help of long-time backers N-Fab and St. Lawrence Radiology, would be the third rider on the JGR squad for 2014, but he was not being added for the full season. He'd get three guaranteed races in supercross and three more outdoors, but also more as a fill-in if riders Justin Brayton or Josh Grant went out with injury.
So, Phil wasn't getting a full season of racing, but he was getting a shot at full-factory equipment, on a team he knows well (Phil trains at Club MX in South Carolina, not far from JGR's North Carolina home base—and he's made no bones about hating life in California). Was that worth missing a bunch of races?
Due to assorted injuries for Brayton and Grant, Nicoletti has gotten in more than just his three designated rides (Saturday's race in New Jersey was his sixth main event of the year). Unfortunately, he's also endured quite a few crashes, and the resultant troubles nailing down consistent results. This weekend marked the New York native's home race, and also his best ride of the year, as he battled for a top ten in the 450SX main event and eventually finished 12th.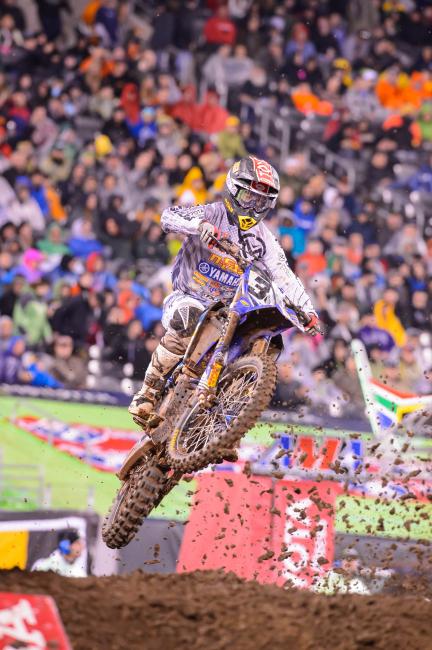 "The race was really good," he said. "It was a solid for 14 laps and then I got really caught up with the blue flags. [Ryan] Villopoto came around really fast and he was all by himself and then next thing I know I'm getting blue flags and [Trey] Canard's right behind me."
Nicoletti didn't know that Canard had gone down on the first lap and mistakenly assumed he was behind Villopoto and lapping him. "There's people that I thought were in the front and people that I wouldn't have even thought were in the front and I kind of didn't want to get jacked up and be that guy to wreck somebody's race," says Nicoletti. "So I let [Jake] Weimer and Trey go by me when I really shouldn't have. At the end of the race I was really gutted about that but at the same time it was the best race I've had and the best 14 laps I've put in. Just got too caught up in the blue flags, [and it] hurt me."
Still, it was the best he's ridden this year. Just getting through the main consistently was a solid step after some rough outings earlier in the season. Everyone has had theories on the designated-replacement idea. What's Phil think?
"I like it a lot," he says. "Obviously I'm a racer; I want to race more. But given the circumstance to be on a good team and a good bike this is the best opportunity I could get. But at the same time I'm learning a lot. The guys treat me very well. It's only an hour and a half from where I stay at Club MX to their race shop. I can enjoy myself and not be miserable in California. But at the same time, yeah, I want to race. Outdoors is coming up and I know for teams they say it doesn't really matter as much as supercross, but for me it matters. That's the heart of the sport, so we'll give her heck and hopefully it all goes well."
Nicoletti has always taken an unorthodox path. Unlike most pro riders born in the frost zone, he stayed there throughout his amateur career, despite showing potential. "I went to high school all the way up through my senior year," he says. "I left halfway through my senior year. I took winters off and I was a high school kid. I just hung out with my buddies and stuff. It was cool to have a life away from racing so it kind of keeps me from not getting burnt out nowadays."
He's definitely not burnt out now, but due to an injury to Justin Brayton Nicoletti will ride the final three rounds of Monster Energy Supercross, and his part-time deal locks him into the first three rounds of Lucas Oil Pro Motocross even with Grant and Brayton back. He'll have six straight races to make an impact.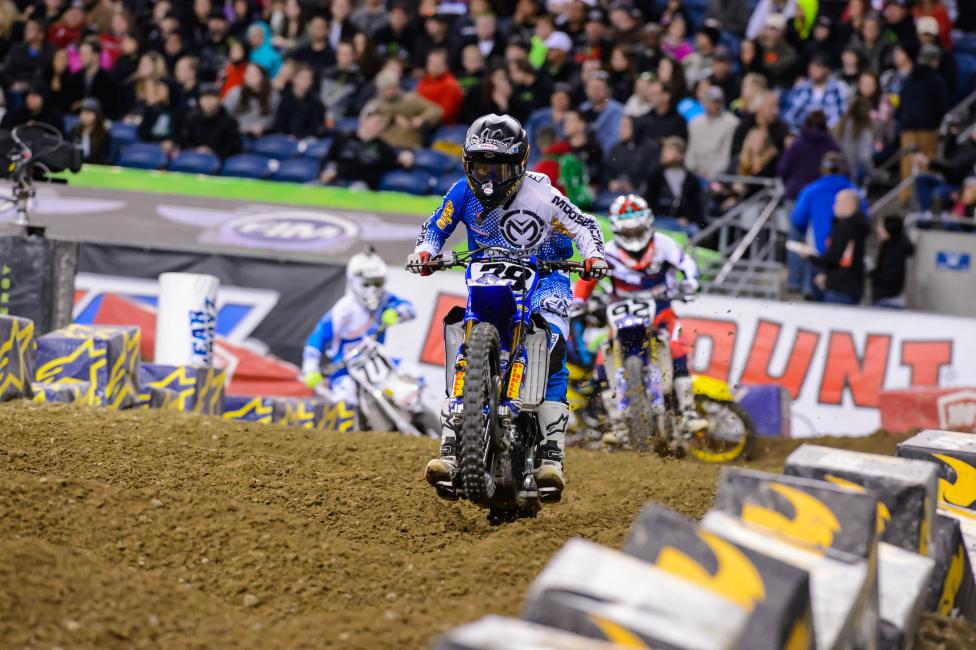 "Yeah, it's hard," he says about jumping in and out of racing. "Obviously you lose the flow. You can't beat gate time, just like anything else. Seattle was a big learning curve. It's almost like doing A1 all over again. You're in a week, out four weeks, in a week … So Seattle helped. This weekend went a lot better having gate time. Hopefully Vegas goes just as good, [or] even better. I'll have the next four races to be actually lined up on the gate, which I'm looking forward to. Hopefully there's more coming summertime, so I would like that."
It's possible that with enough momentum Nicoletti could force JGR into a tough decision on putting him back on the bench. If that's the case, he'd have proven the bench-rider program can work—but only by making it difficult to keep him away from the races again.