Metlife Stadium
East Rutherford

,

NJ
East Rutherford (New Jersey)
Monster Energy AMA Supercross Championship
With only the final round of Monster Energy Supercross left in Las Vegas, Justin Bogle now sits 17 points ahead of the recently injured former points leader, Martin Davalos. Barring a miraculous comeback from Davalos, Bogle has claimed his first championship in the same season he clinched his first professional win.
Racer X: How does it feel to have essentially already won the championship with a round left?
Justin Bogle: This is pretty crazy. I'm not really thinking about it until we get to Vegas and we get that main event over with. It's pretty incredible; I'm glad to get that win. It's super weird because I pretty much have it locked, but I don't have it in my hands yet. I gotta go to Vegas and get that race over with and then we'll talk about it. I'm definitely pumped about tonight.
You've come a long way from where you were before this season and where you're at now. You didn't even know if you'd be racing or not, right?
Yeah, no doubt. I've been saying it all year. I'm blessed to be out here and be racing and doing what I love. It's pretty incredible. I've got great people around me, and they deserve all of the credit for this: my family, my team, GEICO Honda, my trainer, Ryan Fedorow—I give him all the credit in the world for kind of resurrecting my career. I was not on a good path there with results for a little bit. I gotta give up a lot to him and Robbie Reynard for helping me out, and Doc G for helping get back to where I could race. I came back early—probably a lot earlier than I should have—but I had to make it happen and it's definitely paid off.
What was your goal going into Dallas?
My goal going into Dallas … The whole time I wanted to be battling for the championship. That was the goal, but there were a few moments where it looked a little bleak and it didn't look like it was going to happen. Unfortunately, we had some injuries with some guys, but that's not for me to worry about. I'm bummed for them, but I got mine before the season and made it happen. It is what it is and it's definitely part of it. I'm just pumped; this is incredible.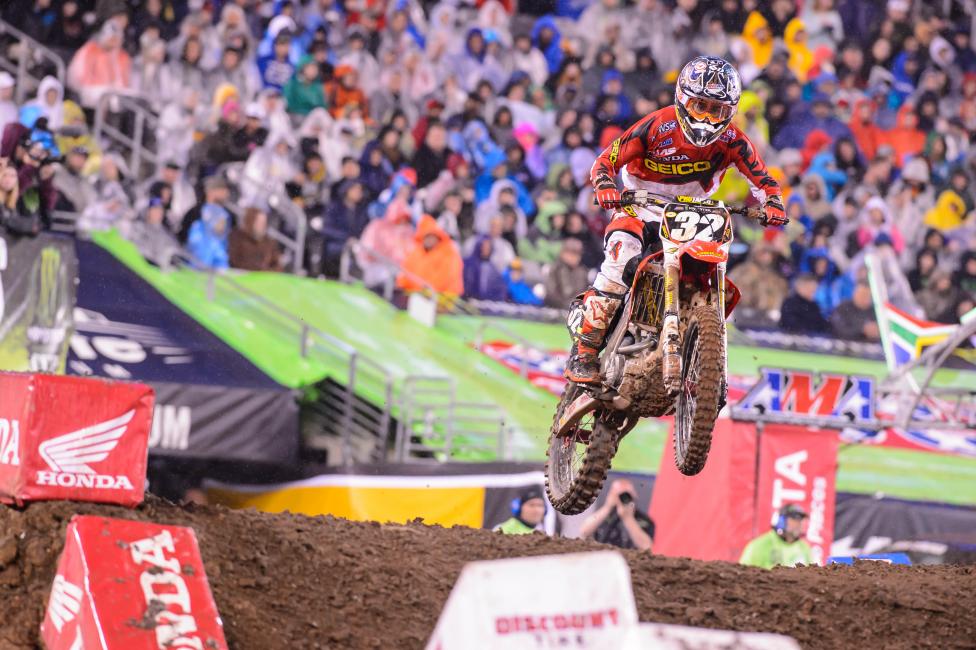 Was there a point in the season that you felt a major change in your season?
Yeah, I think Detroit. That was the spot where I felt like it turned around and I did pretty well there. Adam [Cianciarulo] had a good race and we were kind of pacing each other. I got a lot of confidence off of that one. I've been building up to that through the whole season up until that point. We had a plan: top fives, podiums, and then a win. It played out exactly how we wanted it to. It's pretty incredible—a lot of hard work. As dumb and cliché as it sounds, it's been a lot of hard work and I've had a lot of great people around me.
You've kind of done the same thing that Wil [Hahn] did last season. He got his first win and went on to win the championship. Did any of that enter your mind along the way?
I've had great people to learn from, Wil being one of them. He's one of my best friends and he's been through a lot. He's been in the same situations I have numerous times. Learning from him, and I also live right down the road from Trey [Canard]. The stuff they've been through has helped me out a lot, for sure.
So Vegas, will that basically be 15 victory laps?
I want to get a win there! I want to get a win in Vegas and I want to kill it in the shootout. The second you're there just trying to whip it around is when bad things happen. Even tonight, I wasn't playing it safe. I wanted to win. Once that gate drops, all of that stuff goes away. There was a little bit of it going on, but as soon as the gate dropped, it was go race and try to win.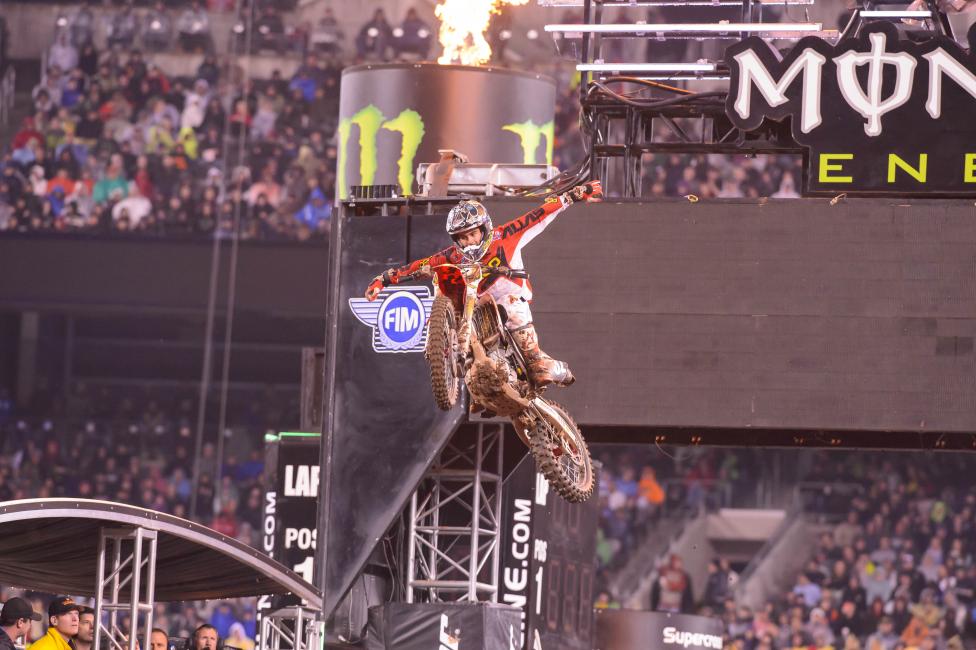 So championship thoughts weren't lingering in your head all day?
I mean, they were, and that's all people were going to ask me about. As soon as the gate drops, it's just what I've got to do—just go through the process. Get a good start and just try to get a race win. It's been the goal all year—just try to get race wins.
Did you have to play it safe tonight with the track conditions and the rain?
Yeah, the track was tough. I wouldn't say I played it safe. I rode in my comfort zone, and for me, that's where I'm at my best. It was tough, but it made it feel that much better to get that race win too.
Where are you going to put those big trophies now?
[Laughs] I don't even care. I'm just pumped to get them. I haven't had a race win or a second place in supercross—or any professional race—up until this year. It's an incredible feeling and it's definitely something I'm going to keep chasing.