Metlife Stadium
East Rutherford

,

NJ
East Rutherford (New Jersey)
Monster Energy AMA Supercross Championship
Hello, everyone, and welcome to the Rev Up. It's time to wrap this thing up! Time for one last push to conclude this year's Monster Energy Supercross Championship.
Yeah, sure, we finally had a weekend off, but that's very little rest for the wicked as the crew travels to MetLife Stadium in East Rutherford, New Jersey for round 16. It has been a hell of a road already, and to cap it off we're going coast to coast for the final 40 laps of the charge. Three championships will be crowned soon, but the Granddaddy of them all, the 450 SX title, will be fitted around the head of Monster Energy Kawasaki's Ryan Villopoto once he takes the checkered flag this Saturday night. I'm pretty sure he's capable of finishing 18th or something to clinch, but I'm not so sure we're going to see him go out like that.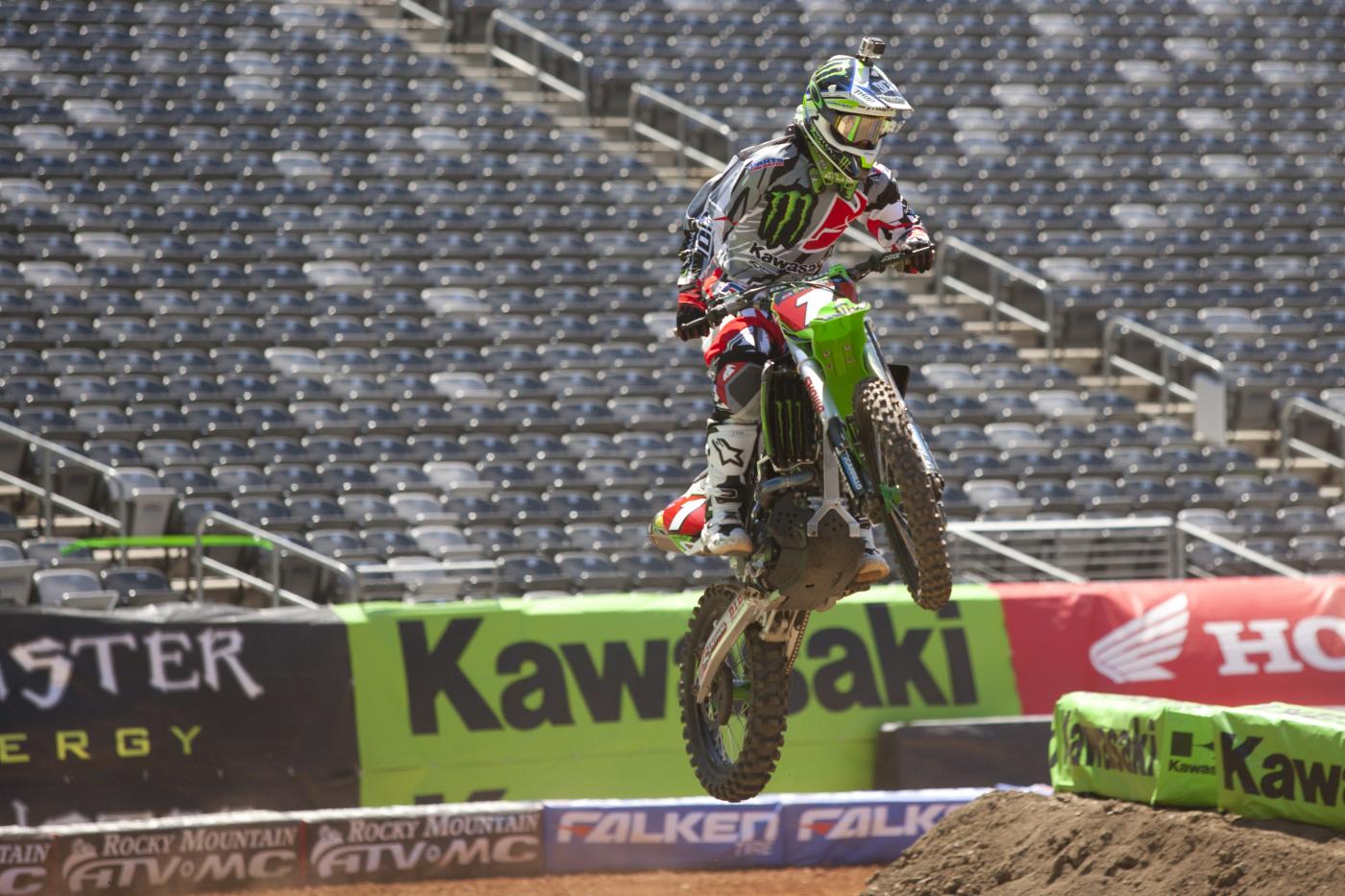 Villopoto is stealthy in his prowess. Just when you think he is points racing, riding smart or simply "doing what it takes," he goes out and hangs a 10-second lead on the pack two weeks in a row. Ryan is prepared to clinch his fourth consecutive SX championship on a four race win streak, and I believe he will do just that. It has simply been a masterful season for one of the greatest riders we have ever seen throw a leg over. Who deserves all of the press? Who is the guy? Who is the fastest supercross rider on the planet? Ryan Villopoto. Scoreboard.
Meanwhile, the air is hardly out of the championship excitement sails, as GEICO Honda's Justin Bogle has a chance to pull off what I call one of the biggest upsets in recent SX history. Why is it such an upset? He's been a pro for a few years, had a great amateur career, and is riding for one of the powerhouse teams, but it's what lies beneath the surface that captivates me. Justin suffered a horrendous pre-season crash that badly broke his back. Upon hearing of his injury I wrote him off for the rest of the season, and maybe his career. What followed were some upbeat tweets from him that I admired, and the way he took such devastating misfortune with a grain of salt and decided to crack on was very impressive. There is a lot to like about the charismatic Oklahoman.
On the other hand, how can you not root for Martin Davalos? The class veteran has had almost every opportunity to win as possible, but failed to do so until this year. This year, his steadfast determination allowed him to make it all up. A lot of people picked him to win the title, but I didn't. In Atlanta, while watching him take the white flag of what would be his first career victory I said to myself, "He'll throw it away." Well, he didn't. Just when it looked like his rookie teammate, Adam Cianciarulo was going to run off with the title he got injured and look who is here to sweep up. A few weeks ago, Bogle was all over him in points and the race, and it looked like he might throw it away. Nope. Then just when he has it all in his grasp, a crash away from the races ends his run. He was doing everything right. This was a heartbreaker.
The Monster Energy/Pro Circuit team as a whole has experienced a razor sharp edge of emotions in 2014. They were supposed to run off with the 250W with Dean Wilson, but it didn't happen. Things got off to a tremendous start in the 250E and the thought of a Pro Circuit sweep of the division was feasible. Now, who would have thought they'd end up not winning the East title at all? No matter what happens, it has been a successful season for Pro Circuit on both coasts. Or has it? Will Mitch be okay with not hanging another #1 plate on the door of his hauler? He's notoriously competitive and wants results, but I think he should be very proud of his entire team effort.
What a story. What highs and lows. There are some other story lines here as Yamalube Star Racing Yamaha sophomore Jeremy Martin really needs to try to finish strong in what has been a horrible indoor series for him. He has been coming on strong and with some soft dirt on tap for this weekend he may show up and be a surprise.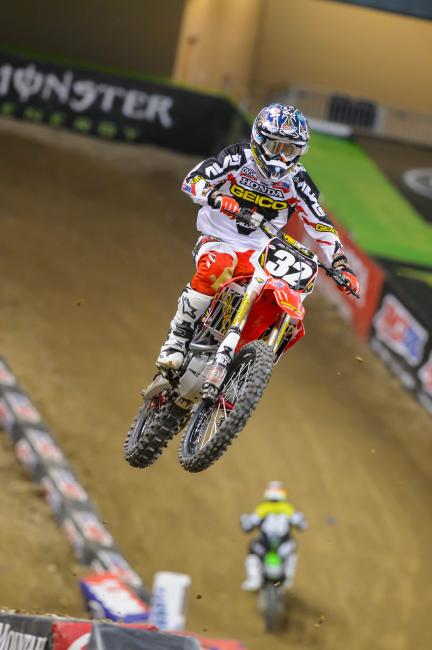 A trend I have noticed in the 250 divisional supercross classes is the penultimate round is always the banger. Remember how wild Salt Lake City was for the West last year? Now we Davalos out, and Baggett, too, this race is crazy. Last year, the 2013 250E champion, Wil Hahn, broke his hand in practice in Vegas and somehow still pulled it off. Is Bogle going to complete an amazing, unpredicted championship run? That's still hard to believe—Davalos was looking good just days ago. This is going to be very interesting.
Back to the 450 class: I think we're going to see Yoshimura Suzuki's James Stewart and the aforementioned Villopoto put on a show. James has wins on the brain, and RV is on a serious roll. I don't see anyone getting in their way, but the Muscle Milk duo of Justin Barcia and Trey Canard have been riding well and will certainly be trying to close out the indoor tour solidly. It's been lean for the Red Riders thus far in 2014.
It's crazy to me how we only took off one week but it seems like a decade ago since Seattle fired off! Supercross has been astonishing this year and we have every reason in the world to be jacked up for the upcoming show in the Garden State. Two more supercrosses to go!
Thanks for reading, see you next week.