The weather, the Sevlievo circuit and their inescapable double act were a crucial element of the Grand Prix of Bulgaria and the fifth round of the FIM Motocross World Championship. Red Bull KTM emerged from some mind-boggling racing conditions with a second sweep of both classes this season. Defending champions Tony Cairoli and Jeffrey Herlings were the ones able to master the transforming Bulgarian dirt. The fast hard-pack that normally lies in store had been softened into a prime tacky surface for deep, long ruts thanks to copious rain in the days leading up to the Grand Prix. Then wind, sun and improved temperatures, not to mention that five categories were in action this weekend, helped carve and harden the terrain further into something vastly more technical. Two new sections added to the layout also assisted in dropping the average speed and pushing up the lap-times. Then on Sunday afternoon the rain arrived again, creating a damp second MX2 moto and a flooding of the latter MXGP sprint. The ruts became yawning crevices; riders tried to get through most of them like they had sharp teeth but did not always succeed. It was a day of two halves.
The course really divided opinion. Some could not believe how sketchy the axle-deep grooves in the landscape forced the racing to become, while others revelled in the difference to the status quo and rightly pointed out that they—as racers—regularly ask for more of this stuff. And they got their fair share in Bulgaria.
For Cairoli the initial outlook was not the best. He had lost points at his home Grand Prix last week and was entering a circuit where he has not won since 2007, which was his penultimate season in the MX2 category. Also, Sevlievo was one venue where his KTM 350SX-F seemed to carry a small disadvantage against the 450s with four major uphill drags pushing the engines and traction to the max. In this respect the rain of Moto2 and the lowering of the lap-times by more than ten seconds compared to the first race was definitely an assist for him. Monster Energy Kawasaki's Gautier Paulin, vanquisher of Sevlivo in 2012 and 2013, was unbeatable in the dry Moto 1 but didn't get the start in Moto 2, didn't have the inclination to take a big risk after a errant stone had ruined a possible 1-1 the Sunday before at Arco di Trento, and also didn't have the speed to catch Cairoli in the showers.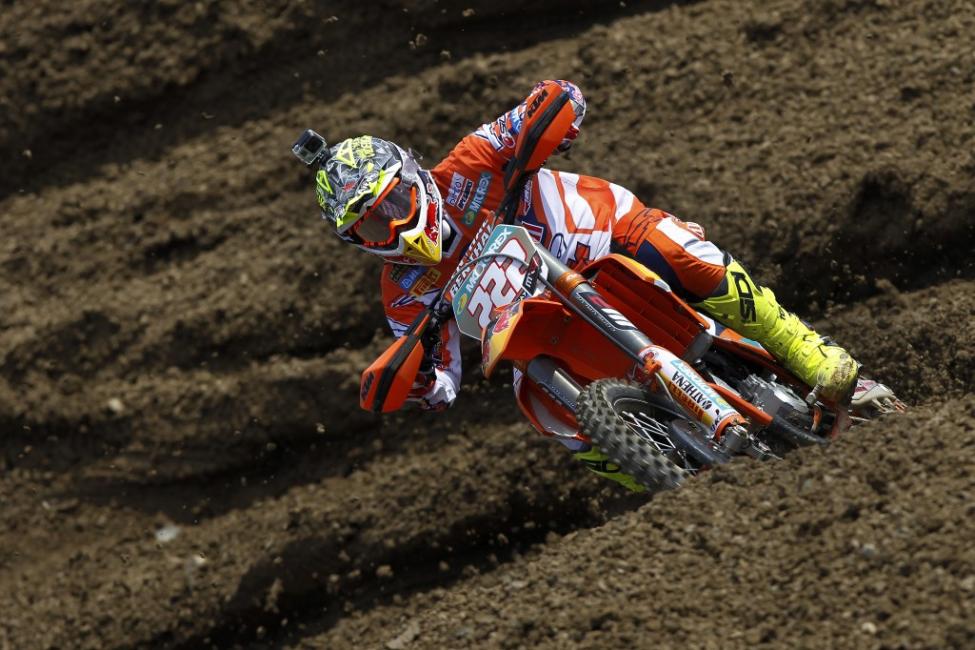 As you'd expect, the mudder saw an incident-packed sequence of events. The action on the track was as much of a contrast to the static procession of the first moto as the blue-to-black skies that eventually rolled overhead. Honda's Max Nagl set off from pole position but was held up by fallen riders on at least three separate occasions. Evgeny Bobryshev and Steven Frossard were again "crashes". Todd Waters, the Australian rookie on the works Husqvarna, was heading for a personal best sixth until he was knocked into the mud by an overzealous Matiss Karro. Tyla Rattray is slowly coming back to race fitness after his broken finger but even the experienced South African will feel a little bad for getting out of shape and knocking Nagl out of eighth position on the last lap. Through scenes of chaos Yamaha Factory Racing's Jeremy Van Horebeek continued the consistency that has seen him accumulate four straight podiums and sit second only to Cairoli in terms of trophy haulage. Rockstar Suzuki's Clement Desalle was one of those affected by the perilous edge to the track and the GP of Trentino winner's fourth position simmered with frustration. Just behind was teammate Kevin Strijbos who seemed to quite enjoy it all—in a perverse way—even if he was disappointed with fifth because he felt he could have done better had he gotten more promising starts.
In MX2 Jeffrey Herlings picked up his second 1-1 of the year and fourth victory from five despite dealing with a batch of arm-pump on Saturday and looking a little more vulnerable compared to the colossus of speed and victories of 2013. Herlings himself claims he is still missing bike time after a succession of injury problems since last September and this assertion was clear to see. CLS Monster Energy's Arnaud Tonus, championship leader for the last two events, was the perfect mix of flow, style and confidence in the first moto and swept past four riders, Herlings included, on his way to a seemingly simple second moto win of the season. Tonus however is also not stacked for race mileage either after his horror experiences with injury in 2012 and 2013 and he suffered a small crash on the step-down before the finish line. It was silly and costly as Herlings took advantage. Tonus added pressure to the Red Bull KTM racer in the second race as they both went for the lead but Herlings controlled the moto with a champion's conviction, setting his best lap-time with three circulations to go to break the Swiss' will. It's hard to see past these two individuals in terms of the title picture for the rest of the year.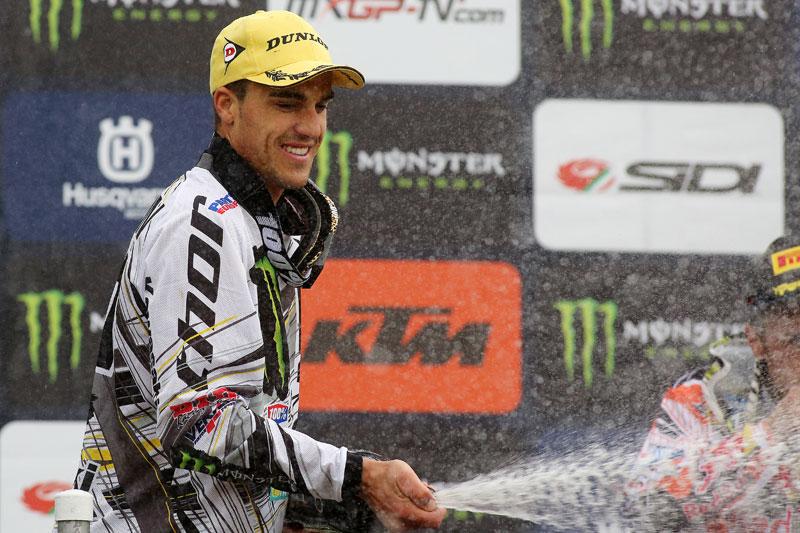 Tonus' teammate Dylan Ferrandis was quick and aggressive once again and on this occasion had a bit more luck to garner fourth overall. Rockstar Suzuki's Glen Coldenhoff had won two motos from the last four but struggled to seventh overall while Max Anstie still has some development work to do on the 2014 Yamaha after a delayed period of testing and evolution during the winter.
Romain Febvre should have taken his second podium of the season on the factory Wilvo Nestaan Husqvarna. The Frenchman slipped off the FC250 with two laps to go while riding in a comfortable in third place. He was then seen angrily lambasting Japanese rider Kei Yamamoto in the paddock, who he had been lapping earlier on. Febvre can feel aggrieved as his late rendezvous with the ground let in Jordi Tixier. The 2013 championship runner-up has had a poor start to the term where he hasn't handled the pressure of being "next in line" at Red Bull KTM and has not taken profit of teammate Herlings' absence and state of "unreadiness" to chase his first victory. The French youngster was nursing two small breaks in his hand after a get-off in Italy the previous week and after a similar slow beginning in '13 might now be able to kick his campaign into gear.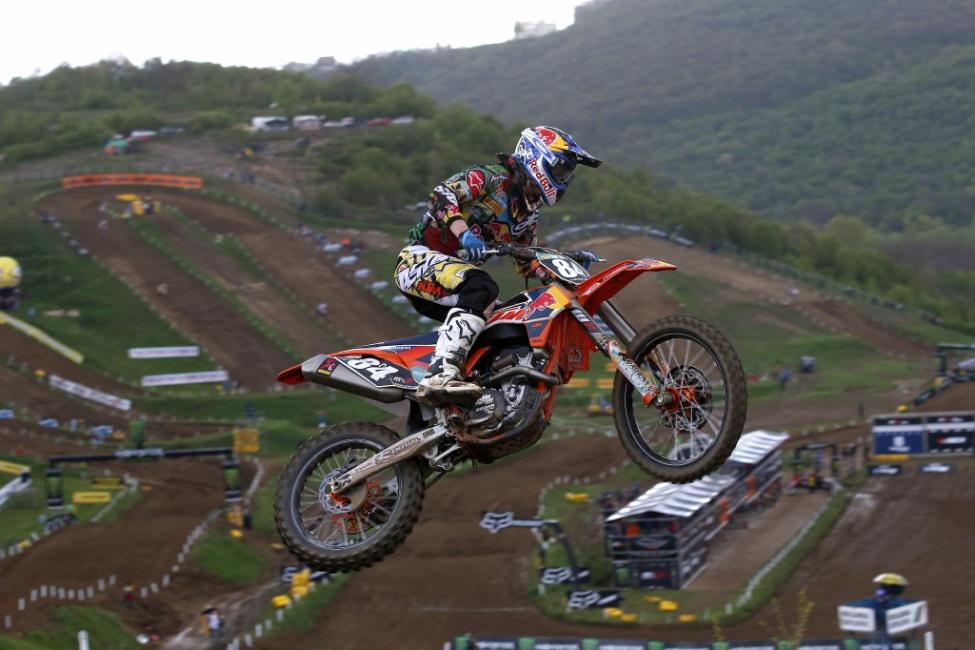 The cheers that greeted Petar Petrov's blast to sixth overall (including a heroic charge on the edge of disaster from last to eighth place in the first moto) showed how animated the Bulgarian public can be when it comes to supporting their motorsport stars. It added a rousing element to the atmosphere of the Grand Prix that is only twelve years old. This fifth round of the world series also saw three European classes in support; the second fixture for the EMX125s (with continued domination by Dutch kid Davy Pootjes), first for EMX250s (won by Spaniard Jorge Zaragoza for the first time but tying on points with promising new British star Ben Watson) and the new 300 two-stroke championship that witnessed a damp turnout in terms of numbers and left many questioning the wisdom of a fresh series launch in such a distant corner of Europe.
It is still just two weeks since Thomas Covington became a full-time member of the FIM Motocross World Championship with CLS Monster Energy Kawasaki and there were some encouraging signs that the teenager is finding his feet with his new bike and team. The former Pro Circuit rider would do well however to forget that Grand Prix debut top three in Qatar last month and instead re-align expectations for a demanding but rewarding learning experience ahead. Results are not everything at this stage. Grand Prix apprenticeships have been learnt by riders from Jean Michel Bayle to Seb Tortelli to Ben Townley to Christophe Pourcel, Ken Roczen and quite a few more. So Covington is planting the roots for a decent grounding and cannot want too much too quickly, especially if he is realistic with the demands ahead not only for his first pro year in racing but also to life on a different continent.
After stones in Italy and chasms of ruts in Bulgaria another meaty test lies in store for round six and the only sandy circuit on the calendar (that we know of—Mexico and Brazil Part Two are yet unseen). The Grand Prix of the Netherlands at Valkenswaard will bring the GP troupe together again in two weekend's time.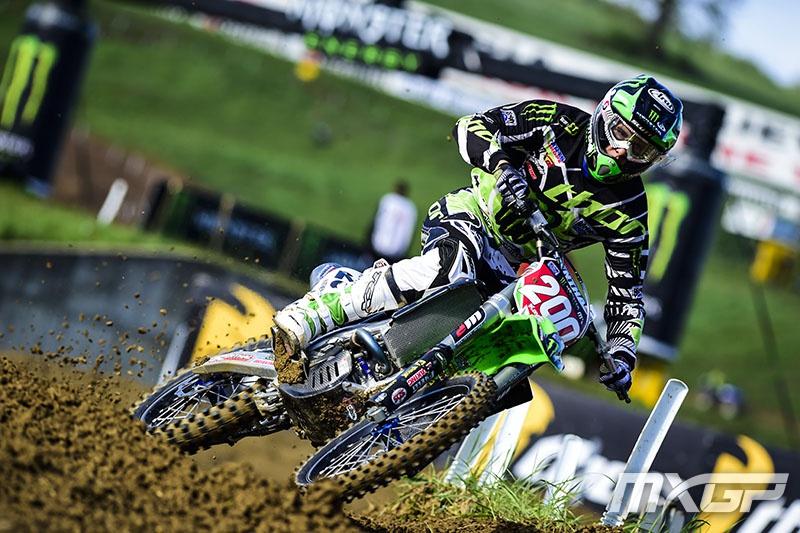 MXGP Moto1
1. Gautier Paulin (FRA, Kawasaki), 35:19.641;
2. Antonio Cairoli (ITA, KTM), +0:08.082;
3. Kevin Strijbos (BEL, Suzuki), +0:16.115;
4. Jeremy Van Horebeek (BEL, Yamaha), +0:30.343;
5. Clement Desalle (BEL, Suzuki), +1:01.766;
6. Xavier Boog (FRA, Honda), +1:09.534;
7. Evgeny Bobryshev (RUS, Honda), +1:12.698;
8. Tyla Rattray (RSA, Husqvarna), +1:24.429;
9. Steven Frossard (FRA, Kawasaki), +1:27.782;
10. Maximilian Nagl (GER, Honda), +1:35.667;
MXGP Moto2
1. Antonio Cairoli (ITA, KTM), 35:40.651;
2. Jeremy Van Horebeek (BEL, Yamaha), +0:03.570;
3. Clement Desalle (BEL, Suzuki), +0:10.551;
4. Gautier Paulin (FRA, Kawasaki), +0:41.981;
5. Kevin Strijbos (BEL, Suzuki), +0:44.961;
6. Tyla Rattray (RSA, Husqvarna), +1:16.440;
7. Shaun Simpson (GBR, KTM), +1:22.728;
8. Todd Waters (AUS, Husqvarna), +1:26.334;
9. Rui Goncalves (POR, Yamaha), +1:27.951;
10. Maximilian Nagl (GER, Honda), +1:38.708;
MXGP Overall
1. Antonio Cairoli (ITA, KTM), 47 points;
2. Gautier Paulin (FRA, KAW), 43 p.;
3. Jeremy Van Horebeek (BEL, YAM), 40 p.;
4. Clement Desalle (BEL, SUZ), 36 p.;
5. Kevin Strijbos (BEL, SUZ), 36 p.;
6. Tyla Rattray (RSA, HUS), 28 p.;
7. Xavier Boog (FRA, HON), 25 p.;
8. Shaun Simpson (GBR, KTM), 23 p.;
9. Maximilian Nagl (GER, HON), 22 p.;
10. Rui Goncalves (POR, YAM), 20 p.;
MXGP World Championship standings after 5 of 18 rounds
1. Antonio Cairoli (ITA, KTM), 222 points;
2. Clement Desalle (BEL, SUZ), 194 p.;
3. Jeremy Van Horebeek (BEL, YAM), 194 p.;
4. Gautier Paulin (FRA, KAW), 180 p.;
5. Maximilian Nagl (GER, HON), 166 p.;
6. Kevin Strijbos (BEL, SUZ), 145 p.;
7. Todd Waters (AUS, HUS), 107 p.;
8. Xavier Boog (FRA, HON), 96 p.;
9. Evgeny Bobryshev (RUS, HON), 95 p.;
10. Shaun Simpson (GBR, KTM), 95 p.;
MX2 Moto1
1. Jeffrey Herlings (NED, KTM), 35:45.533;
2. Arnaud Tonus (SUI, Kawasaki), +0:04.431;
3. Jordi Tixier (FRA, KTM), +0:12.807;
4. Dylan Ferrandis (FRA, Kawasaki), +0:17.900;
5. Romain Febvre (FRA, Husqvarna), +0:18.710;
6. Tim Gajser (SLO, Honda), +0:37.581;
7. Glenn Coldenhoff (NED, Suzuki), +0:49.409;
8. Petar Petrov (BUL, Yamaha), +0:53.953;
9. Jeremy Seewer (SUI, Suzuki), +0:56.176;
10. Aleksandr Tonkov (RUS, Husqvarna), +1:00.286;
MX2 Moto2
1. Jeffrey Herlings (NED, KTM), 36:18.566;
2. Arnaud Tonus (SUI, Kawasaki), +0:04.511;
3. Jordi Tixier (FRA, KTM), +0:49.156;
4. Dylan Ferrandis (FRA, Kawasaki), +0:52.087;
5. Romain Febvre (FRA, Husqvarna), +0:54.248;
6. Petar Petrov (BUL, Yamaha), +0:56.871;
7. Glenn Coldenhoff (NED, Suzuki), +0:57.131;
8. Tim Gajser (SLO, Honda), +1:07.437;
9. Aleksandr Tonkov (RUS, Husqvarna), +1:19.120;
10. Jeremy Seewer (SUI, Suzuki), +1:22.307;
MX2 Overall
1. Jeffrey Herlings (NED, KTM), 50 points;
2. Arnaud Tonus (SUI, KAW), 44 p.;
3. Jordi Tixier (FRA, KTM), 40 p.;
4. Dylan Ferrandis (FRA, KAW), 36 p.;
5. Romain Febvre (FRA, HUS), 32 p.;
6. Petar Petrov (BUL, YAM), 28 p.;
7. Glenn Coldenhoff (NED, SUZ), 28 p.;
8. Tim Gajser (SLO, HON), 28 p.;
9. Aleksandr Tonkov (RUS, HUS), 23 p.;
10. Jeremy Seewer (SUI, SUZ), 23 p.;
MX2 World Championship standings after 5 of 18 rounds
1. Arnaud Tonus (SUI, KAW), 198 points;
2. Jeffrey Herlings (NED, KTM), 194 p.;
3. Glenn Coldenhoff (NED, SUZ), 176 p.;
4. Romain Febvre (FRA, HUS), 158 p.;
5. Dylan Ferrandis (FRA, KAW), 154 p.;
6. Jordi Tixier (FRA, KTM), 147 p.;
7. Aleksandr Tonkov (RUS, HUS), 130 p.;
8. Tim Gajser (SLO, HON), 121 p.;
9. Valentin Guillod (SUI, KTM), 107 p.;
10. Jose Butron (ESP, KTM), 105 p.;