When Thomas Covington decided to extend his trip abroad to race the rest of the 2014 FIM World Championships, he joined the list of Americans who have chosen to race on the Grand Prix circuit instead of the AMA Supercross/Motocross tour early in their careers. His plan is to come back a stronger rider, then make his AMA debut, as he explained to our contributor Adam Wheeler.
So who are some of the other Americans who have taken the Grand Prix route around the world for a global motocross adventure?
A man named Ray McCarty from Washington was the first American to race a 500 GP (at Ettlebruck, Luxembourg, in 1959) and a 250cc GP (France 1961), though back in 1952 Bud Ekins raced one round of the European Championship before they were called GPs and scored a point. And then future promoter Stu Peters, Hoppy Hopkins, and Paul Hunt raced there in 1962 and actually tried to enter the MXdN but were denied due to a paperwork fiasco between the FIM and the U.S. federation called MICUS.
Russ Darnell was a true pioneer of American motocross, going over for a couple of seasons in the late sixties while pro motocross here in America was still in its cradle, so to speak. He was a man born way before his time as far as motorcycle racing goes, and the same can be said for the Ekins brothers, McCarty, Peters, Billy Silverthorn, and others who went abroad in those early years, usually getting embarrassed by Europe's best.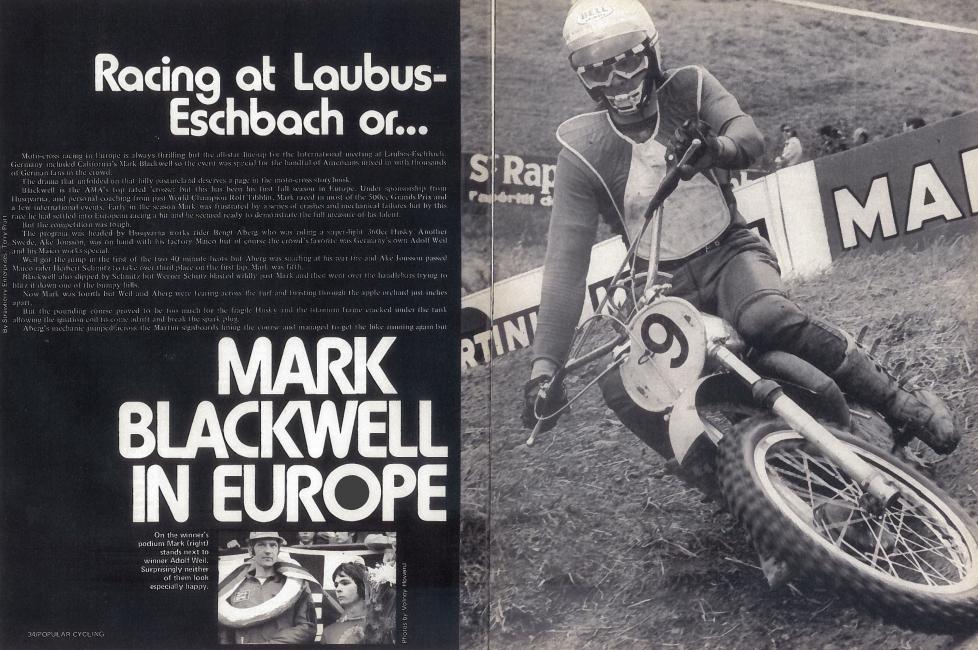 In 1971 Mark Blackwell was the #1 American rider in the 500cc class, based on his finishing as highest-ranked American in the 1971 Trans-AMA Series (though not even in the top ten overall). With help from Husqvarna, he raced the 500cc GPs against the likes of Roger DeCoster, Ake Jonsson, and Adolf Weil before returning to the States. Blackwell's career was cut short with injuries, but he went on to further success as Suzuki's team manager here in the U.S., and then in the motorcycle industry. Blackwell is now in the AMA Motorcycle Hall of Fame. But it was another American rider, Ohio's Bryan Kenney, also abroad in '72, who ended up as the first American to finish in the top ten on the Grand Prix tour.
The 1972 AMA 500cc Motocross Champion also headed straight to Europe. "Bad" Brad Lackey was considered a wild child of sorts, with his long hair and peace sign painted on his helmet, but he was a serious badass on a dirt bike. Lackey went to Europe in 1973 with Kawasaki, beginning a ten-year odyssey that would see him race for Husqvarna, Honda, Kawasaki, and Suzuki before capturing the 1982 FIM 500cc World Championship, the first American to ever win the world title.
Lackey was the first world champ, but it was Yakima, Washington's Jim Pomeroy who got to the winner's circle first. Pomeroy raced his first 250cc Grand Prix in Sabadell, Spain, and shocked the world by not only becoming the first American to win a Grand Prix, but also the first Bultaco rider to win a GP. Pomeroy would stay in Europe for four years, winning a handful of GPs on the Bultacos, even as the bikes began to fall behind their Japanese competition. Pomeroy also become the first American to win a moto at the Motocross des Nations in 1975. Pomeroy was killed in a 2006 automobile accident; like Lackey and Blackwell, he's been immortalized in the AMA Motorcycle Hall of Fame.
Oregon's Chuck Sun and Connecticut's Mike Guerra were also offered a chance to race abroad with Husqvarna early in their careers, and both took the chance to race the 250 Grand Prix circuit. Guerra would end up winning the Spanish 250 GP in 1982, while Sun's best results would come once he returned to the States, winning the 1980 AMA 500cc Motocross Championship and then playing a vital rule on the game-changing Team USA of 1981.
The late Marty Moates raced Ossa motorcycles in the 250 GPs at various times in the late seventies, but his claim to fame would be a GP win right down the street from his house in Carlsbad, California. Moates rode an LOP-backed Yamaha to the U.S. 500cc Grand Prix win, the first American to ever win what was then the biggest race of the year.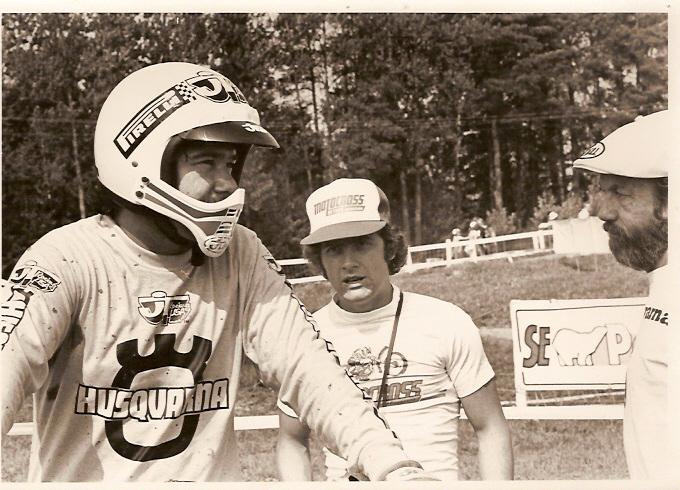 Marty Tripes made a run at the 500 GPs in 1981 for Husqvarna. It was not a match made in heaven. Marty would go out and set blazing-fast qualifying times and then pull off the track during his motos, complaining the bike was not good enough. He had lots of DNFs, and the Husky team manager was at his wit's end as well.
And let's not leave out Marty Smith—he actually tried to race both in Europe and America in 1976, flying back and forth but losing on both fronts (Gaston Rahier beat him in Europe and Bob Hannah beat him here).
Which leads to this great stat: The first American to win the 125cc USGP (Smith at Mid-Ohio), the 250cc USGP (Tripes at Unadilla), and the 500cc USGP (Moates at Carlsbad) were all from California—and all named Marty!
Some guys have gone abroad after running out of stateside options: Danny "Magoo" Chandler and Jim Gibson were both Team USA heroes in the Motocross and Trophee des Nations who landed in Europe late in their careers. In fact, Chandler's last big win came on a KTM in the 500cc Grand Prix of France. Gary Semics, the 1974 AMA 500 Supercross Champion, was also over there in the eighties for a couple of seasons. And of course there's Danny LaPorte, who went to Europe in 1982 after a great performance for Team USA in the 1981 Motocross and Trophee des Nations. LaPorte, the 1979 AMA 500cc National Champ, was signed to a Yamaha deal to race 250 GPs and won the title in his very first try, losing out on "first American" status to the long-time crusader Lackey by just a couple of weeks.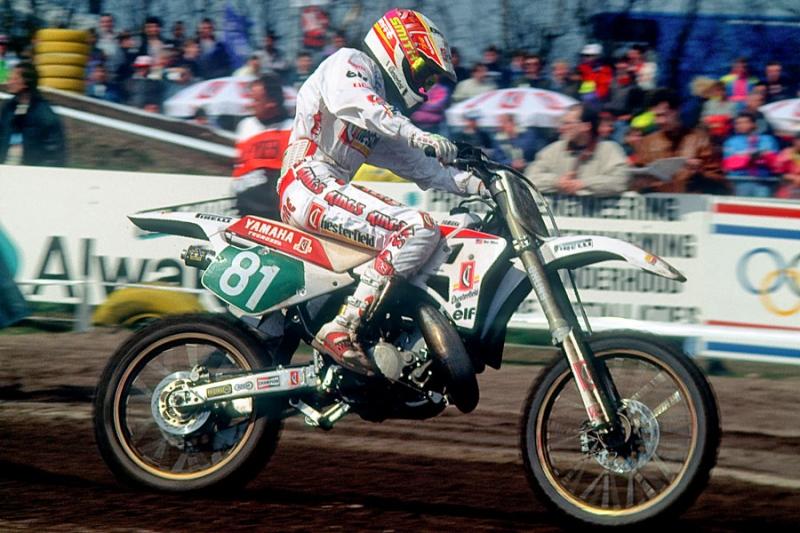 Bob Moore and Mike Healey grew up racing together in Southern California and even became teammates for Team Suzuki in 1985 when they turned pro, each winning 125cc supercross races and Moore taking the '85 West Region title. But neither stayed in America for long. Moore got a ride with a 125cc Grand Prix team in 1986 and ended up racing in Europe for ten years, eventually winning the 1994 FIM 125cc World Championship. Healey very nearly won the 1991 FIM 250cc World Championship while riding a KTM, but the injuries soon piled on, followed by some hard times once he retired. But both have numerous Grand Prix wins, and Moore's legacy includes cofounding the Road 2 Recovery.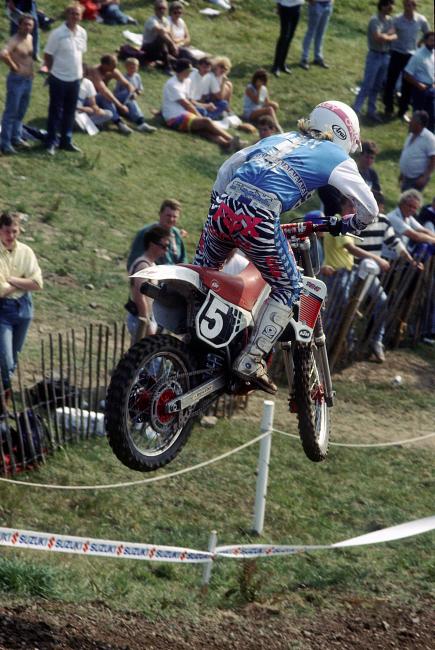 Billy Liles, one of the charter members of Team Green, was doing quite well with Team Kawasaki in the early eighties when he pulled the plug in 1986 and headed to Europe. He would eventually become a title contender in the 500cc World Championships, though bad luck prevented "The Georgia Peach" from ever claiming the world title.
The late eighties and early nineties saw a big group of American expats in Europe: Rodney Smith (who went to the GPs by way of South America), Ricky Ryan, A.J. Whiting, Tyson and Tallon Vohland, Micky Dymond, Mike Young, Ron Lechien, and more.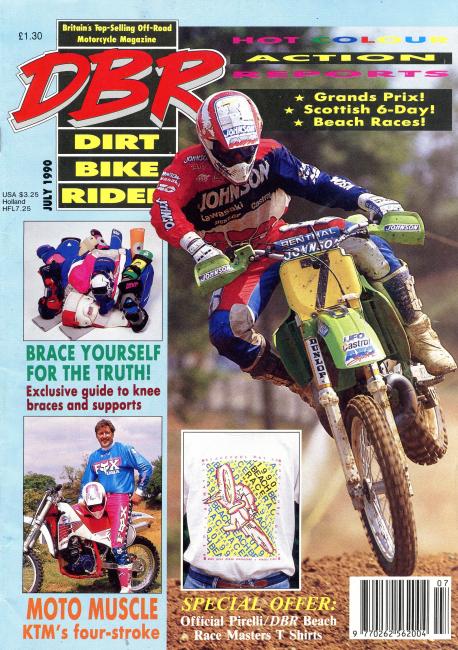 Here's the interesting thing about Tallon Vohland: He won a 125 SX main event both before and after he went to Europe—with almost ten years in between!
But two who really stood out from this late-eighties' group were Trampas Parker and Donny Schmit, both of whom would become double world champions.
Parker's story is one of the most compelling in motocross history: After washing out here in the States, he found himself in Italy, working at a shop between local races. He got serious about his training and riding and was signed to Farioli KTM for the 1989 125cc World Championships, then shocked the world by winning the series opener and staying on top all season long. Two years later he would earn the 250cc world title, and then Parker came very close a few years later to winning the 500cc world title as well!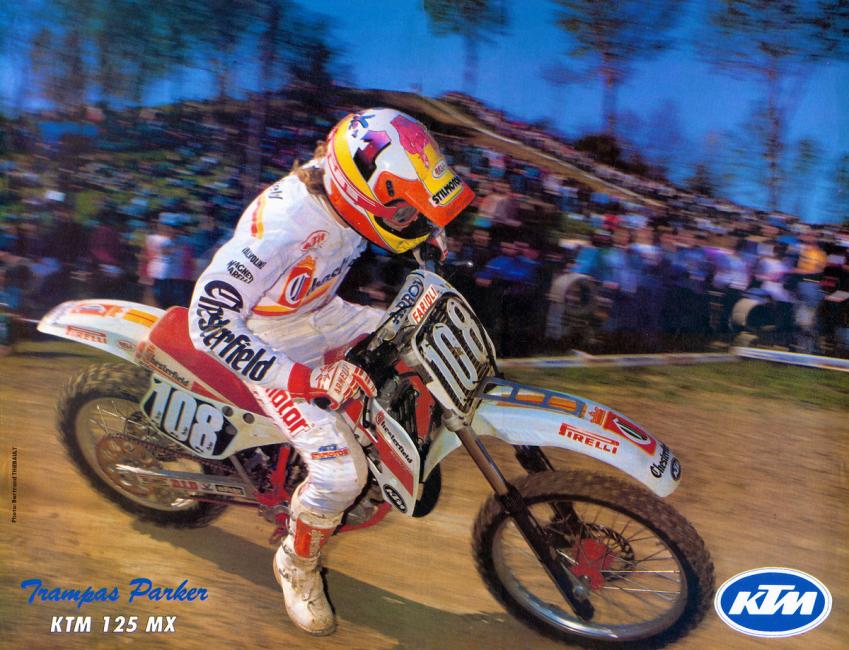 As for Schmit, after deciding supercross was not for him (even though he was a dominant 125cc SX rider), he headed to Europe in 1990 and promptly won the 125cc world title that Parker had vacated to move up. Two years later he would take over for Parker as 250cc world title winner. Tragically, Schmit died in the winter of 1996 due to a rare blood disorder. Like Parker, he is also in the AMA Motorcycle Hall of Fame.
Matthes did a Racer X Podcast with Parker, who talked about his very unlikely ride to two World Championships. Give it a listen.
And at the end of his career, Broc Glover, one of the greatest American motocross racers ever, spent a season in Europe on a KTM. It was something of a misadventure, though Broc did win a Grand Prix moto in what turned out to be his last-ever professional race.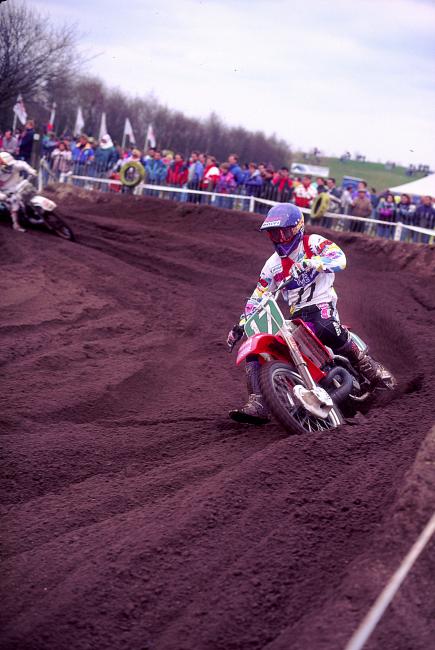 Bader Manneh, an El Cajon kid who was a 125 SX winner in the States, went abroad in 1987—and he's still over there! Manneh ended up living in Italy and teaching motocross, and just last year he was at the Motocross of Nations helping out the Russian team.
In the nineties three riders went abroad, only to return and actually have more success here. Jimmy Button, Mike Brown, and Ryan Hughes all had somewhat limited success in Europe (well, at least the first time for Brown, who would later vie for the 2000 FIM 125cc World Championship with Grant Langston). Button came back and ended up winning his first 450 National at Washougal in 1999. Brown would beat Langston out of the '01 AMA 125 National Championship after both came here, and Hughes would battle Mike Brown for the '03 title, only to see both get injured during the series, opening the way for Langston to win.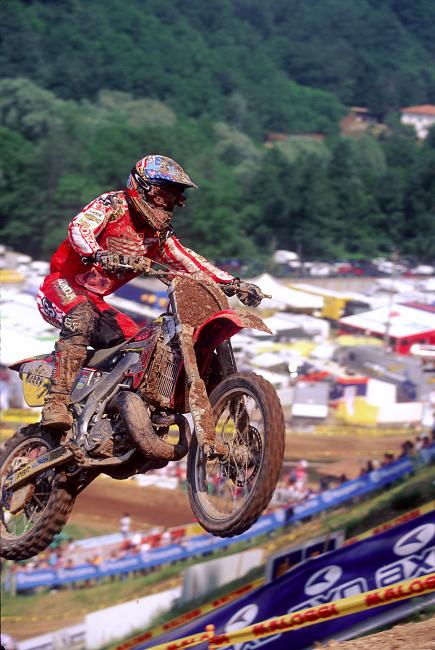 Stay with us here: Mike Brown had three stints in Europe, the first in 1997 as a member of Rinaldi Yamaha in the 250 class. Brown then came back to America for a year, but for '99 and 2000 he switched to CAT Honda to ride the 125 GPs, and he diced with Grant Langston and Jamie Dobb in those years, finishing third in the championship both times. And then at some point Brown went back again and finished seventh in 2007 in the MX1 class. Mike Brown—truly a world traveler!
Sean Hamblin, Scott Sheak, and Ryan Mills also took rides with GP teams, but none had the same success over there as they did here.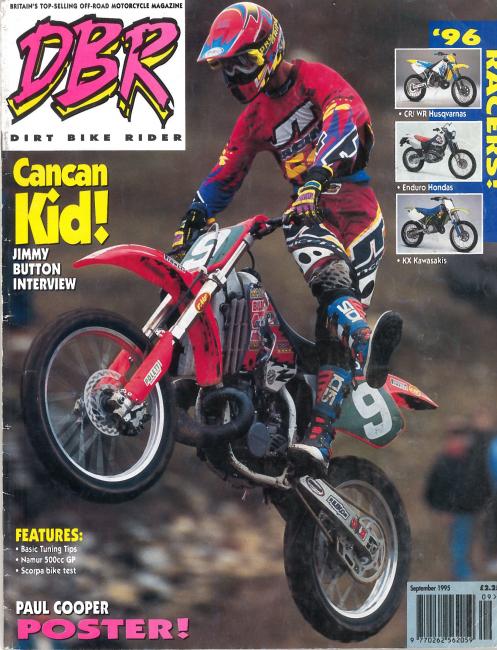 Since then, fewer and fewer Yanks have headed off to Europe. Zach Osborne went over in 2008 and won a GP in the MX2 class before returning recently. Jimmy Albertson, Michael Leib, Jimmy Decotis and Michael Hall also made the trip, but with limited success. And now it's 17-year-old Thomas Covington alone representing the U.S. in the FIM World Championships. He's got his work cut out for him, but he will be seeing parts of the world and different ways of life that will be well worth the journey. Hopefully he comes back faster too.
So who all did we miss? Let us know in the comments below.