Last week, the Soaring Eagle Casino RCH Suzuki team announced they were hiring Weston Peick to race the full Lucas Oil Pro Motocross Championship, which moves the Californian from privateer status over to factory equipment. It's been a long time coming for Peick, who has logged a bunch of top five finishes over the last two years in the 450 class, indoors and out.
For the next few races, though, he'll still ride for the Motosport/Fly/Peick Racing team he built for supercross. We found him inside his rig between practices in Seattle to get his reaction to his new ride.
Racer X: You really kind of have a factory ride now! How does this feel? Is this a huge moment? Is it just something you roll with? What was your reaction when this finally happened?
Weston Peick: I'm definitely super excited with the whole thing, being able to get the opportunity to have that. I'm excited. I just want to get at it and start testing and get the season started. It's an awesome opportunity.
What is the schedule like?
I'm thinking about late next week I'll start testing their bikes, when I get back home on Thursday. We'll take a day and just go out and get all the basics done and kind of go from there. It should start off well.
How different is it going to be from what you have now? I know you have a Suzuki with a Yoshimura engine, but is it totally different?
I wouldn't say it's like night and day difference, but it's going to be pretty close. The Suzukis are awesome bikes. It doesn't take a lot to make them what they are. I think it's just going to be getting used to their suspension that they use and their parts they use. I think overall it's going to be a quick switchover.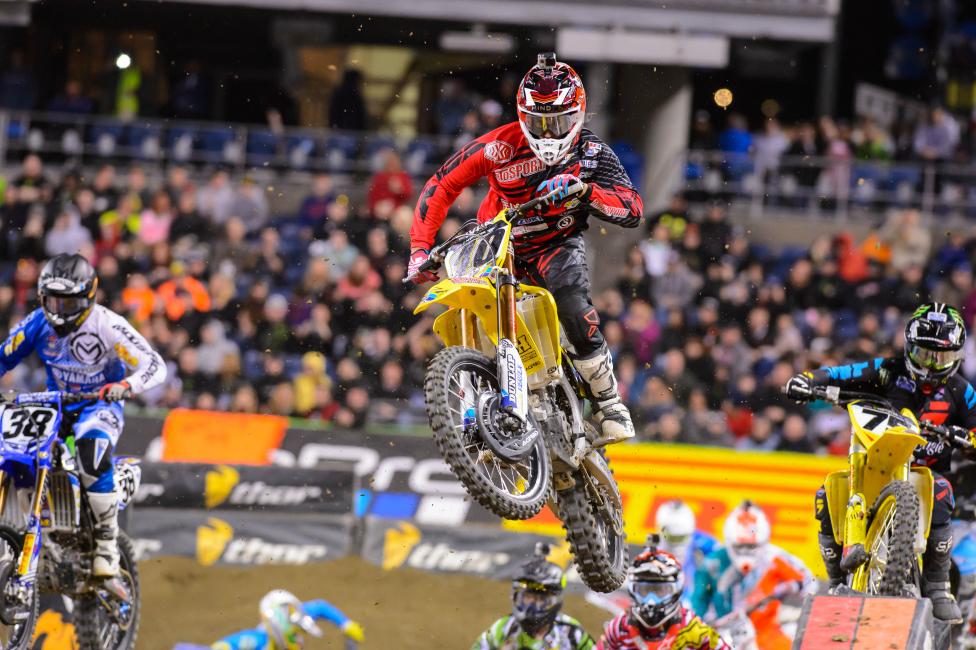 With the program you have now, are you able to test? Will this be new for you?
Yeah, our program right now we definitely can test. We test suspension all the time. We're always progressing stuff and making stuff better through the season. We get as much testing done as we possibly can.
So it's not like you were going from, "I don't really have much stuff to try" to now having a bunch of stuff at your disposal?
The only difference is being able to have everything there on the spot and not have to go out and … It takes more time in my program to be able to try stuff. With the new team you know there it's on the spot. It's like, "Here, we got this to try. Let's swap this, we'll swap this." It just is a little bit easier, but our program, we make it work and we do have a good crew that helps out and gets stuff done.
It was cool that you want to show loyalty to the people that are behind you right now. Take me through how this deal had to happen. I know you didn't want to just leave these people in the ditch.
Definitely. It was a bummer. I'm going to have to leave my mechanic Joel and my suspension tech Dave, as well as all my other main sponsors, Fly Racing, and everybody else. It's just more of a mutual thing. It's a bummer, but everyone understands that it's a great opportunity to take and we had to jump on it. Just for my career, this is getting my name out there more and excelling to the next level. Everybody understands and it was the best idea for us.
When you were getting results and you weren't getting the ride, I heard people say,"It's hard to market the guy." Does that even matter? Aren't results all that matter? Did you hear that?
I never really heard that. I don't know about the marketing, but I think that's more of an excuse than anything. You can market anybody just like anybody else, it's just paper and a pen, email, whatever they want to do to market somebody. You can market anybody. It just comes down to taking time to actually do something.
Right now you're in an underdog role. I don't think you're really affected by this stuff, but is there pressure to perform?
No, there's no pressure coming into this. It's just another thing. We all race dirt bikes and that's just what we do. It's just another day at the track and riding. There's no sense for pressure, it's just doing what we do.
Do you make money on this deal or is the team like, "Hey, we're just trying to get you in?"
Oh, definitely I can make money this summer. They gave me a good deal this year for the 12 rounds. I'm super happy with the deal that we came up with. It'll definitely help me at the end of the year.
Let's talk about the opposite end. You've had a great year in supercross. Will you make money at the end of supercross or did you spend everything you made just to get your name out there?
I'll make a little bit of money. But for me to really make money I have to be in the top 10 every single weekend. That's what it takes to be able to make money to be able to fund how expensive it is to go racing. It's expensive what we do. We go over and beyond what a typical privateer would do but that's what you have to do to get to the next level, and it does cost money. At the end of the year I'll have some. Say if I just raced supercross this season, yeah, at the end of supercross I'd have a little bit of money. But we have to spend a lot to make this happen. It's just what it takes to get to the top.
So for the most part what you were doing in supercross, it wasn't designed the most profitable; it was designed for you to do the best you could, to show what you're capable of, to get to another ride?
Yeah, exactly. You've got to spend money in every which way you possibly can spend it to get what you need to get to the top.
So when you have these dumb races where your front brake gets bent or something and you DNF, that does mess with you?
That definitely dampers with the following months of paying stuff out!
Are you happy the way the season's gone? You've had great races but then there's been so much dumb stuff like that has happened.
I'm happy with the results. Everybody knows my speed's there; it's just been a lot of bad luck and a lot of things that have just happened unfortunately. I'm bummed about that but I've got to take the bad with the good. We've had good results. Hopefully we can finish out the season strong.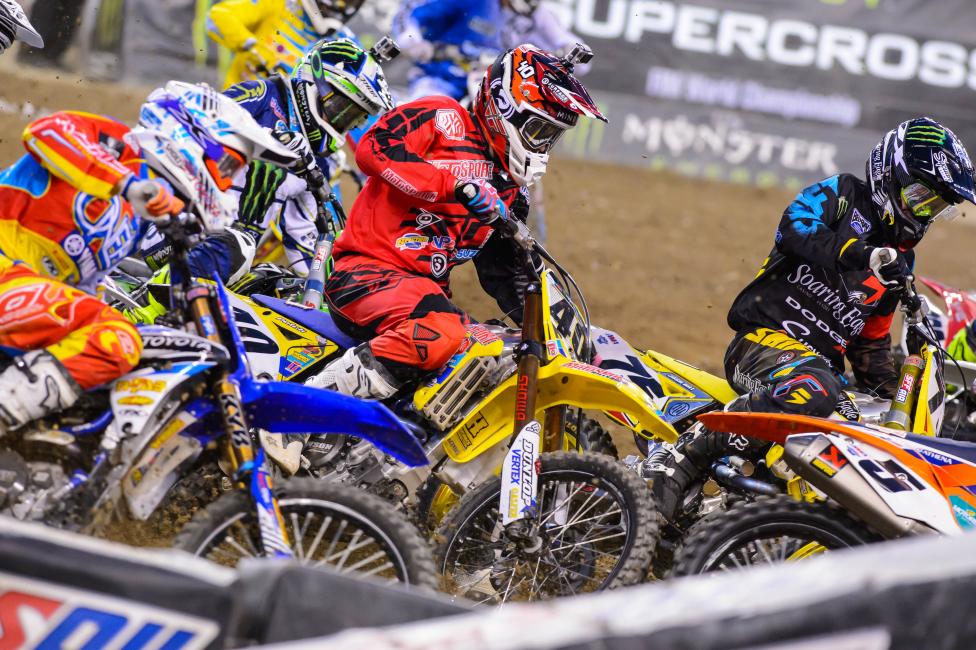 I know I've asked you this a million times, but let's talk again about your level of improvement. I know obviously working with [riding coach] Buddy Antunez must have helped and things like that, but in general, everyone would love to do what you've done, to go from where you were three years ago to now. Can you point a finger at how you did it?
It's just hard work and not giving up … and the people that tell you that you're not going to make it. You've just got to turn that into some drive and just keep going for it and fighting for what you want and just keep driving it. That's the biggest thing from everybody else out there. They don't put themselves in a position to want to excel; they think that, "Oh, I'm a privateer, everybody feel bad for me," this and that. My situation was like, I can't keep riding just to barely make mains. I've got to spend all the money that I have to try to get to where I'm at now. That's the biggest thing is fighting for that spot every single weekend and trying to get better instead of just not giving it all you can.
It sounds like almost a mental thing really more than anything. You have to believe that you're going to get there and take the risk, spend whatever you're making, even though the odds are pretty slim.
Definitely mental is a big part of it, going out and showing up every single weekend and going out there and giving it all you can. A lot of people, I think, in the position that I used to be in, they would just give up and not try to get to that next level. It's super hard, for sure. I've had a lot of good people with me coming up through being a privateer. I've had a mental coach, I've had trainers, riding coaches and everything. I spent so much money to get to where I am now to be strong and fight through that kind of stuff. But that's what it takes if you want to get there.