Centurylink Field
Seattle

,

WA
Seattle
Monster Energy AMA Supercross Championship
Jason Thomas: This seems like a great move for everyone unless your name is Josh Hill or Fly Racing. Weston has been battling riders for the past year or two who are on better equipment and also making quite a bit more money. This summer is his big chance to show what he can do when all his focus is on racing. His bike will be a full factory effort, and with RCH's resources there should be no excuses for not succeeding. Having Ricky Carmichael's guidance will certainly be a welcome bonus, considering RC never lost an outdoor title. The big question here will be what they do with Weston after this summer. I have heard strong rumors of another new team member already signed for 2015, leaving one empty spot for a rider like Peick, Tickle, or possibly someone else. If Peick can perform this summer, he may just lock himself into a great team for the next few years.
Steve Matthes: RCH choosing to put Peick on the team for the full outdoor season (the team's other rider, Josh Hill, apparently didn't meet his supercross season thresholds and won't be going motocross racing with the team. The team has signed veteran Ivan Tedesco to ride the now-injured Broc Tickle's bike until he feels good enough to come back) is a good move for everyone involved except for one side.
First the good: Peick's been blazing fast the last couple of years as a total privateer, and he'll take another step forward with this move. The RCH guys will be supplying Peick with a full factory Suzuki RM-Z450 and all of the team's top personnel will be at Weston's disposal. Weston's going to be very fast this summer, no doubt about it. As good as his program/bike was, this is a step up and could be the break he needs to ride his ass off and stay with the team for 2015 and beyond. I'm pumped for Peick, even if he doesn't care about anything.
And secondly, the RCH team benefits from this move because I think Peick is better than Hill outdoors, and the same if not better than its star injured rider Tickle. So they're going to get some great results from this guy and their team will be made to look good. Also from a PR standpoint, this is the "big guy" (although team owner Carmichael really isn't that tall) giving the "little guy" (funny how there's nothing little about Weston, though) a break that he needs. I like it from the RCH side as well. They're getting a motivated, fast rider for their factory program.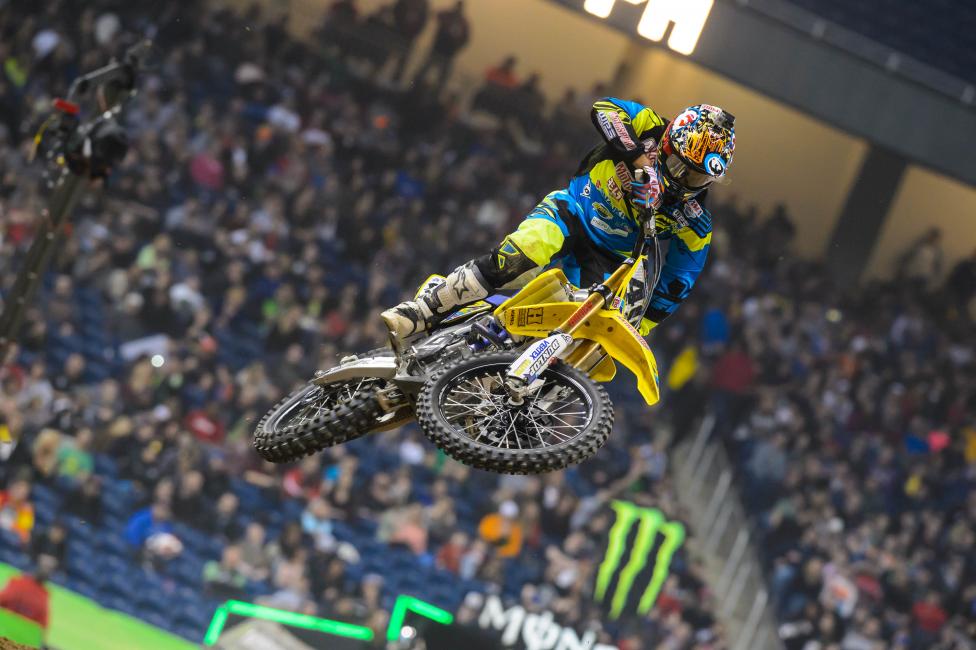 The only drawback to this is the guys that helped get Weston here—people like Motosport.com and Fly Racing (and I'm sure there are others) are sort of left by the side here. This is the way things go in the industry, and they understand it, but it does suck for them. As a former mechanic for a top privateer who did switch teams midseason (1999, Tim Ferry from Noleen to Chaparral Yamaha after two rounds of the nationals) and then one who almost did but didn't (2002, Nick Wey from Moto XXX to factory Suzuki, but XXX wouldn't let him go), I fully understand the people that are behind a small program like this getting dropped for the "big time" of a program like RCH.
But the bottom line is no matter how much it hurts the personal sponsors of Weston, it's the best thing for him, for his pocketbook, and most importantly for his career. That's the bottom line and I'm excited to see what Peick can do with this chance.
Chase Stallo: Last year in a story for Racer X Illustrated I asked a number team managers and former stars of the sport one question: Why Not Weston? In my talks, it was apparent that Weston's 2014 performance would determine whether or not he received support the following year. Although opinions varied, many wanted to see how Peick would back up his breakout performances from a season ago.
Well, it looks like one team decided to take an early step and sign the top privateer. I've spoken directly with Peick at length over the past few years and he has always felt this is where he belongs. He's come a long way in supercross and has always had top-tens in his back pocket outdoors. Now that he finally has his chance, I foresee Peick being where he has been all along: battling the factory guys for top-fives. Only this time, he will be one of those factory guys.