Reliant Stadium
Houston

,

TX
Houston
Monster Energy AMA Supercross Championship
BTO Sports is your number one source for all of your motocross parts, gear, accessories and apparel. BTOSports.com is a motocross company who is truly dedicated to the sport and to the customer. Proud sponsor of your Racer X Podcasts and the BTO Sports race team.
Yeah, Houston! The 2014 Monster Energy Supercross Championship is winding down and it's all over but the shouting. Monster Energy Kawasaki's Ryan Villopoto is poised to be the second rider in supercross history to win four straight titles. Of course we all know the great Jeremy McGrath is the first rider to do this and it's funny because we don't think of RV as being in the same class as the great MC (probably has something to do with being less dominant than Jeremy). But you know what? Maybe we need to start changing our mindsets about Villopoto. I know the fans who walked out of Reliant Stadium in Houston after the 450SX main event knew that they saw one of the greats.
The track in Houston is always pretty basic as far as the layout is concerned. It's a football stadium and the floor is long and narrow to suit a football field so the designers are a bit limited in what they can do. The start going width-wise across the stadium floor is always a sketchy deal but there's not much you can do with the rest of the floor if you use one whole lane for a length-wise start. The whoops were built a little weird this weekend and had a lot of riders wondering what was up. There were normal supercross whoops, then three whoops with big spaces and then it ended with normal supercross whoops once again. And with the loose soil this weekend the whoops broke down big time. They were the determining factor for many riders this week. Either you could get through the whoops or you couldn't.
And of course what would a 2014 supercross track be without a quad? We had a quad, bro! Thankfully we did because the lane where the quad was had one side (there was a tabletop rounded off halfway that provided different options) that was clearly faster than the other side until Villopoto and Josh Hill (the Pacific Northwest clearly breeds the jumpers) were the first riders to quad out of the section. From there we saw Eli Tomac, James Stewart, Justin Barcia and Ryan Dungey, among others, air it out and it was definitely faster. I thought the track was pretty good—it's always good when the riders are challenged and it's always good when the dirt is good. We just need some over/under bridges and some nets and we're all good!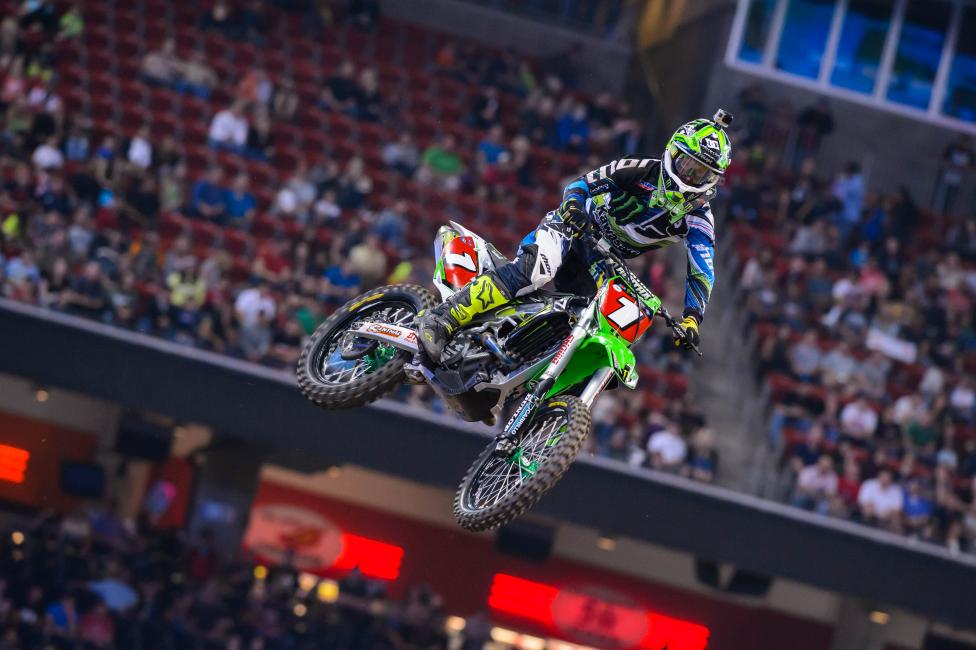 As I said, Villopoto put on a show this weekend. The champ had a rough practice and an even rougher heat race but still grabbed the holeshot in the main event and checked out. A flawless twenty laps later he collected his fourth win of the season and widened his points lead to almost fifty. That's almost two races in case you're wondering. Villopoto has played second fiddle to Stewart the last three races as James put in some great rides to win races but this weekend he stamped his skills with a phenomenal ride start to finish. If you looked around and watched other riders in the main event you saw a lot of tired guys, lots of mistakes and then you saw the #1 Kawasaki rider pretty much crushing it.
A thirteen-second victory (almost thirty seconds to third place) indicated that this track agreed with Villopoto. Afterward in the Kawasaki truck I interviewed Ryan and I could tell he was very happy to get this win in the manner he did. These guys all have egos and Stewart catching and passing RV last week didn't sit well with Villopoto despite what he said after the race. I've been around for too long to believe that all is fine with Villopoto just taking second place last week despite his big points lead. That's why I wrote that if the same scenario presented itself to RV again he's going to fight like hell to make sure Stewart doesn't just motor away. It's the egos, man; these guys don't get to where they are without having one.
Anyway, I asked a satisfied Villopoto (seriously, all he was missing from the ultimate "I'm good" look was if he lit up a cigarette) if all the "Stewie" talk the last few weeks had ticked him off and he replied with:
"Yeah, you're only as good as your last race. He's (meaning himself) over it, he's this, he's that, it's whatever. It doesn't matter to me."
Sure, Ryan, sure. I think we saw that it does matter to you very much. And you made sure all of us saw who the new boss was. And it was the same as the old boss.
That's three podium finishes in a row for Justin Barcia. After a slow start to the series the kid has rebounded nicely with some good rides. He's still most likely going to JGR Toyota Yamaha next year and I imagine everyone at Honda and in Justin's camp knows he's out, so working together to get the best results is a tough deal. Usually riders aren't switching teams until later on in the series but this is a bit different from the usual deal. I know the Honda guys well and they bleed red so getting Honda the best results possible is all anyone over there cares about. Whether they're upset at Barcia for leaving or not doesn't even matter. They're professionals and will do everything they can to make sure red is on top. That's just what they do.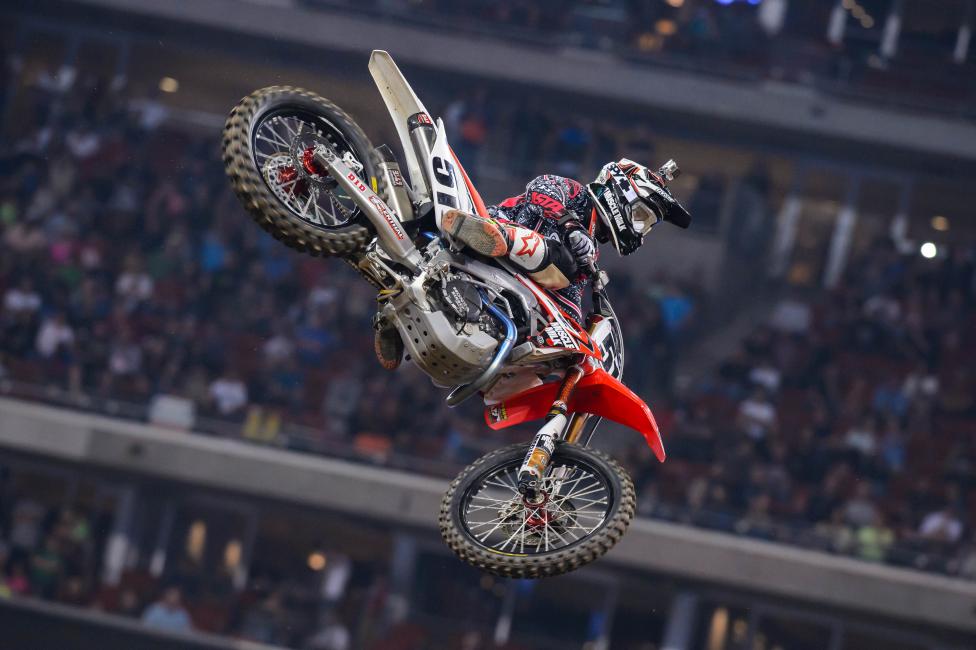 I can't help but think the difference in Justin's results is the quality of the dirt we've seen in Toronto, St. Louis and Houston. He loves to grab a lot of throttle and he loves traction. These things are related by the way.
Don't look now but the injuries are starting to add up. Chad Reed, Wil Hahn, Broc Tickle, Jake Weimer, Justin Brayton (more on him later), Kyle Chisholm, Davi Millsaps (all year now), Matt Goerke and Ivan Tedesco are all missing right now. And each of these guys are main event guys. Nine guys! This is what supercross is. It's as much about staying healthy as going fast. With seventeen races in eighteen weekends, it's a tough deal to try and push the edge and stay upright. That's why a guy like Nick Wey was making good money and riding for some great teams back in the day. He knows when to hold'em and when to fold'em (in a supercross racing sense). I just hope that we don't see any overreactions by the folks in supercross to try and "fix" things to keep the riders more upright. They did this a couple of years ago with some pretty easy track designs and it wasn't very good. This just in, supercross is dangerous and it's a meat grinder. Always has been, always will be.
The Western Regional 250SX guys were back this week and soon we'll see a first-time champion in either Jason Anderson or Cole Seely. Anderson entered Houston with a four-point lead and despite the long break, looked like he hadn't missed a beat. Anderson just shredded out there in grabbing the holeshot and leading every single lap. It was something he hadn't really done this year as two of his wins came on last-lap passes and then his other win he only led a few laps. So in talking to his coach, Jeff Ward, after the race, Wardy mentioned that this was a statement win in terms of grabbing the holie and riding off with the win. Jeff felt like Jason had now checked that box off as well.
Watching Jason ride, it's best described as controlled chaos. He's a bigger guy and he hangs off the back, which makes him look like he's a bit out of control, but he's not. He's ragged yet smooth (something they used to call me when I was single and dating) and about the only thing I can find fault with is that he just keeps having his jersey flapping out there in the wind.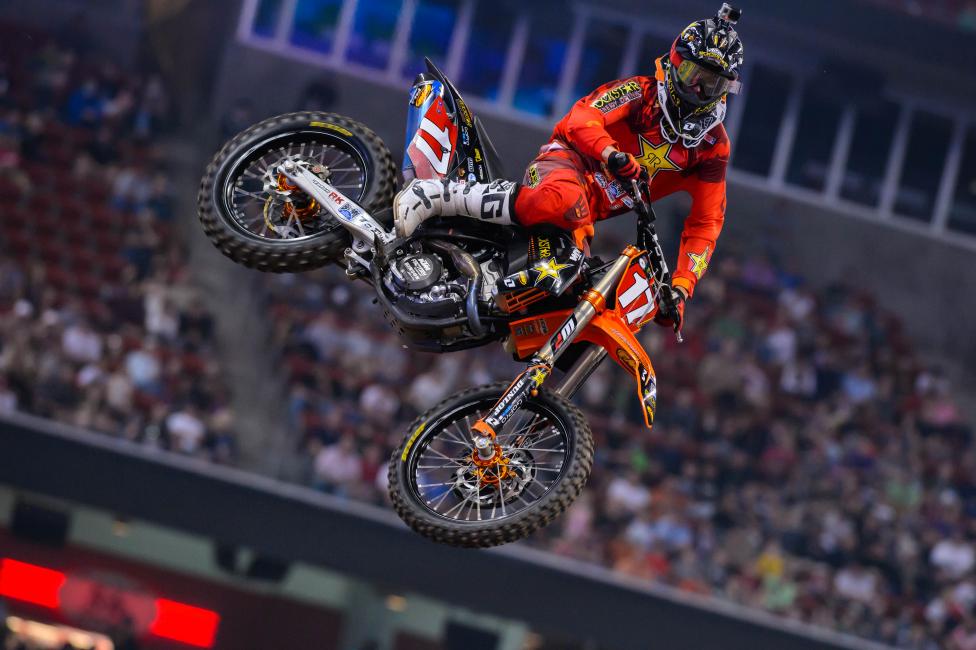 I've been hearing that Anderson, win this title or not, is going to stick around with the Rockstar KTM team for 2015. If he wins this title he'll go to 450s (there's lots of talk Davi Millsaps is available to sign) and if not, he'll stick around in 250s and immediately be a title threat.
The Troy Lee Designs Lucas Oil Red Bull Honda team looks great for next year. Malcolm Stewart might move on, but I would bet he stays on the team. Shane McElrath and Jessy Nelson will be back and they'll have Justin Hoeft coming up to the pro ranks. Right now, team manager Tyler Keefe has all four of his guys in the top ten and good for him and the team. The future looks bright!
Let's take a look at the results shall we?
250 Results
1 17 Jason Anderson Rio Rancho, NM KTM 250 SX-F- It was cool to see Anderson just whip the crap out of it on the parade lap. It's basically a sign that says, "I'm here, I'm happy, I'm good and I know it, bro".
2 15 Dean Wilson Wesley Chapel, FL Kawasaki KX 250F- It's totally conceivable to see Wilson winning the last two races on the West Coast and playing the spoiler. He's that fast. In Houston he went down in the whoops and hurt his shoulder (Wilson's got some fragile and worked-on shoulders so I'm sure everyone in his camp we holding their breath when he went down) in the heat so his second place in the main event was a bit of a surprise.
3 34 Malcolm Stewart Haines City, FL Honda CRF 250- I was a bit surprised (a bit I said) that Mookie didn't start looking around for his teammate Seely late in the race, but he charged the whole way. Mookie came into this season having zero 250SX podiums in his career but he's now up to three this year in seven races. Could we see a full outbreak of Mookie Fever next year?
4 21 Cole Seely Lake Elsinore, CA Honda CRF 250- Bummer for Seely in that he lost his rear brakes after a collision on the first lap with another rider. He definitely looked like he settled out there for his fourth. Sucks for him, his deficit in the series went from four to eleven with just two races left.
5 16 Zach Osborne Chesterfield, SC Honda CRF 250- Osborne missed the last couple of 250SX West races and after two straight podiums to start the season, Osborne's sx season is sort of just becoming okay. A fifth isn't too bad but I can't see where he gets back to a podium (i.e. where he was) in the next two races. While he was out, the other guys got better.
6 37 Cooper Webb Newport, NC Yamaha YZ250F- Webb won his heat which was a good thing for him and his team. A bad start in the main doomed him to this so-so finish as he had to work up from the back.
7 87 Shane Mcelrath Canton, NC Honda CRF 250- Solid race for the rookie and he pulled to within two points of Nelson.
8 66 Jake Canada Sun City, CA Honda CRF 250- Canada went from thirteenth to eighth and I'd say that seeing as how he's a privateer in a class full of big names and great bikes, this wasn't too bad. Look at the names above and behind him and recognize.
9 35 Justin Hill Yoncalla, OR Kawasaki KX 250F- When we last saw the 250SX West guys Hill had gone out and won San Diego. And don't let this ninth fool you. Hill wasn't going to win this race but he could've made the podium easily had he not crashed twice. He looked very fast.
10 50 Jessy Nelson Paso Robles, CA Honda CRF 250- Nelson's starts were good this weekend so there's that.
11 65 Zackery Freeberg Riverview, FL Yamaha YZ250F- Zach "Free as a Bird" Freeberg put in a pretty good finish here. Spark up the lighters!
12 83 Dakota Tedder Surfside, CA Kawasaki KX 250F- I spoke to Dakota's riding coach Josh Hansen for a while in the Kawasaki truck (I'm dead serious) and he mentioned that he's been working with Tedder on his starts. Dakota's got one holeshot on the year but other than that, it's been his weakness.
13 89 Michael Leib Menifee, CA Honda CRF 250- Leib was inside the top ten when he went down in the, where else, whoops. It took him a while to get going also. I'm still interested in this Canada/Leib points battle and who can finish as the top "guy who's making no money" in the points standing.
14 84 Scott Champion Orange, CA Yamaha YZ250F
15 97 Topher Ingalls Carmel, CA Honda CRF 250- Ingalls had his bike stolen before the race (one time back in the Astrodome days I was staying down there in a box van in a hotel parking lot and begging the maids to let me shower before they cleaned other people's rooms and let me just say that it's sketchy down by the dome) and he rode Jimmy Decotis' practice bike to this finish. That's a pretty cool move by Jimmmyyyyy DDDDDDDDDD.
16 565 Preston Mull Livingston, CA Yamaha YZ250F
17 397 Brandon Scharer Gardena, CA Suzuki RM-Z250
18 222 Chris Howell Spokane Valley, WA Yamaha YZ250F- The 222 put it into the main event once again and that's three straight for him. And he qualified pretty well, also!
19 830 Ruben Alanis Pharr, TX KTM 250 SX-F- You outta know that Alanis put it into the main. And isn't that ironic, don't you think?
20 645 Cheyenne Harmon Ovilla, TX KTM 250 SX-F- Best. Name. Ever.
21 526 Colton Aeck Granada Hills, CA Honda CRF 250- Aeck got a gift in the 250LCQ when the guys in fourth and fifth took each other out in the last turn and he rode on by for the last spot into the main. And from there, I don't know what happened.
22 619 Mark Weishaar Belleville, IL Yamaha YZ250F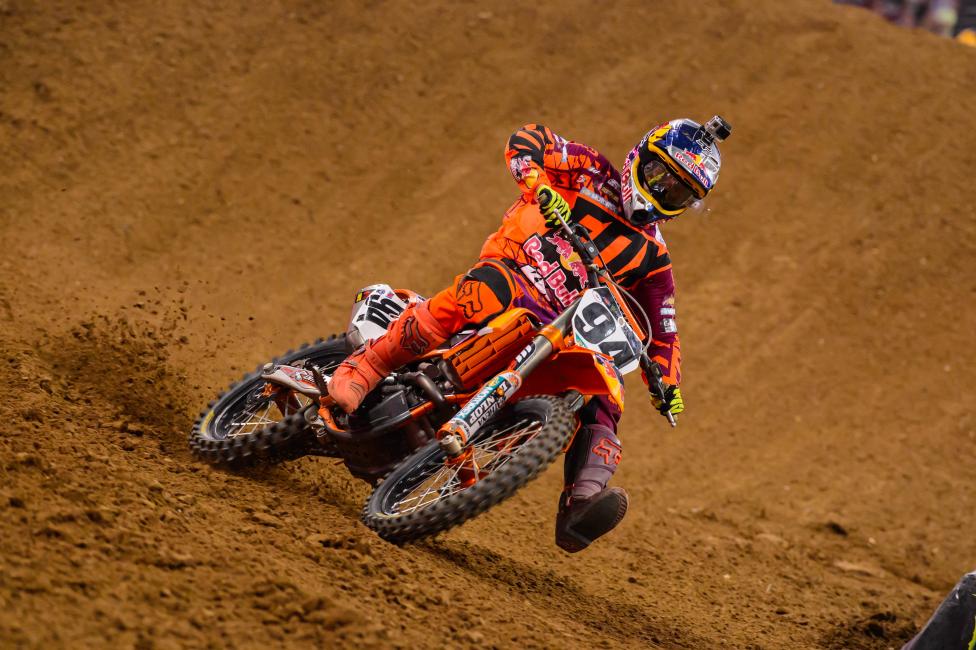 450SX Results
1 1 Ryan Villopoto Seattle, WA Kawasaki KX 450F- A couple of weeks ago we were having an argument in the Kawasaki truck about whether you should "like" a friend's Instagram photo no matter what it is. Not at all surprising to hear Ryan say that he does not do that and that he's "never" liked one photo I've put up on there. I was thinking of this argument while he was out there riding around with that edge. He's just angry folks…
2 51 Justin Barcia Pinetta, FL Honda CRF 450
3 94 Ken Roczen Germany KTM 450 SX-F- Nice rebound for Roczen who admitted after the race that he should've pulled the trigger on the quad. Roczen having a quiet race and getting a third is a good sign for him and his team. If Stewart or Dungey have any issues at all in the next three races Roczen can finish in the top three in points.
4 41 Trey Canard Edmond, OK Honda CRF 450- Canard is back and has gone 5-4 in his two races. Trey's looked great and is making his way up to getting a podium in the last three races. You know what? I'm going out there right now and going to stamp it that Canard gets a podium in one of these last three races. Seriously, I stamped it.
5 7 James Stewart Haines City, FL Suzuki RM-Z450- Stewie was sick this weekend so we didn't see the usual magic out there. He rode about one and a half practices out of three and basically rode around in the main event. I'd love to be able to ride as casually and as easily as he did this weekend and STILL score a fifth.
6 29 Andrew Short Smithville, TX KTM 450 SX-F- A decent night for Short who looked to me to be struggling in the whoops with his fancy air shock on his KTM. Short's in a fierce battle for fifth in the 450SX point standings. I guarantee you I'm the only guy who cares about this.
7 5 Ryan Dungey Belle Plaine, MN KTM 450 SX-F- That's two crashes in a row in main events for Dungey and next thing you're going to tell me is that there was a TV show in the 90s about nothing that was the best show ever. I just don't believe you.
8 800 Mike Alessi Hilliard, FL Suzuki RM-Z450- A quiet night for the 800 and he'll take it as he collected his second top ten finish on the year. I know that doesn't read back very good but trust me, he's never been better at supercross. Seriously.
9 3 Eli Tomac Cortez, CO Honda CRF 450- Tomac was looking good when he went down on the quad in the main event. From there it was a salvage job for the #3 and I would bet Tomac just has giant "X" marks on his calendar where he crosses out the remaining supercrosses and waits for the Nationals.
10 68 Chris Blose Phoenix, AZ Honda CRF 450- Blose rode great at Houston, he qualified well and ripped a good start once in the main. Look, there's no doubt guys like Chris are benefitting from the injuries going around right now but years from now, who cares? He got a tenth at Houston! Blose has been finding ways to get from round to round and this weekend he was out of a rental car with who knows as his mechanic. It cannot be confirmed that he found a local gardener to wrench for him this weekend…
11 27 Nicholas Wey Murrieta, CA Kawasaki KX 450F- Late in the race there weren't too many dudes who were really pushing that hard out there but Wey was one of them. You could tell he REALLY wanted that top ten badly. He didn't get it, but still a good night for the vet. Go to mafiamotocrew.com and support the cause or he's going to retire and we'll all stand around saying things like "Man, these races were more fun when Wey was around".
12 75 Joshua Hill Yoncalla, OR Suzuki RM-Z450- Like Blose, right from the first practice Hill looked like a different guy all day long. Winning his heat race was great and it's too bad he went down in the first turn. With the first pick for the main event I didn't like Hill's gate choice. It was too far inside (I don't have to once again go into my thoughts on inside gates do I?) and left him no room for error. He had to be perfect off the start and he wasn't. Bummer.
13 415 Nicholas Schmidt Riverside, CA Honda CRF 450- Schmidt's got this qualifying stuff down as his buddy Adam Enticknap told us on the Pulpmx Show the other night. There's a big ol'brain behind that long flowing hair.
14 374 Cody Gilmore Blair, NE Kawasaki KX 450F- Gilmore made history by being the first rider who fought off cancer to make the main event using the ODI Emig lock-on grips. That Gilmore, just making history week in and week out.
15 56 James Decotis Peabody, MA Honda CRF 250- The Eastern Regional 250SX rider jumps into the 450SX class and with his fifteenth promptly made more money than all of his 250SX East results combined.
16 606 Ronnie Stewart Easton, PA Suzuki RM-Z450- I think Stewart's got two sets of TLD gear and that's it. I never see him in anything but that red/blue and yellow/blue stuff. Can we get him some different color-ways please?
17 77 Jimmy Albertson Shawnee, OK Honda CRF 450- Top Jimmy had a rough, rough day in Houston. He went down hard pretty much every time he took to the track except for the LCQ (which he won) and the main event. He took a shot to the stomach in practice that made him pee blood, yet he still raced. They don't make'em like Jimmy anymore.
18 771 Kyle Regal Grand Prairie, TX Honda CRF 450- Hey, look who's back! Regal was doing Amsoil Arenacross and jumped in with the Crossland Racing team alongside Top Jimmy. At this point making the main and making some money is what Regal is all about and he did that in Houston.
19 48 Ben LaMay Perris, CA Yamaha YZ450F- LaMay was looking good when he went down early in the race. He's back after a bad injury and doesn't look to have lost that much from before, so that's pretty good.
20 40 Weston Peick Wildomar, CA Suzuki RM-Z450- Peick's had just a bizarre season in that he's been major, hella fast (heat race qualifying, seven great finishes this year) but he's also scored one point in seven out of fourteen races. So basically, if his bike doesn't break or he doesn't suffer a savage crash that knocks him out for the night, he hauls ass. Even with all those DNF's, he's almost in the top ten in points. And look for him to be on the RCH team for this coming summer's Lucas Oil Pro Motocross Championship. That should be great for him.
21 33 Joshua Grant Corona, CA Yamaha YZ450F- Poor Grant. He was an innocent victim of Peick coming into Dungey and bouncing off into him. And then he splattered onto the ground and crawled off. Looked very painful. You sure you want to be a supercrosser?
22 42 Vince Friese Cape Girardeau, MO Honda CRF 450- Friese was collected in the Peick/Dungey/Grant collision and his return to the 450SX class lasted about six seconds.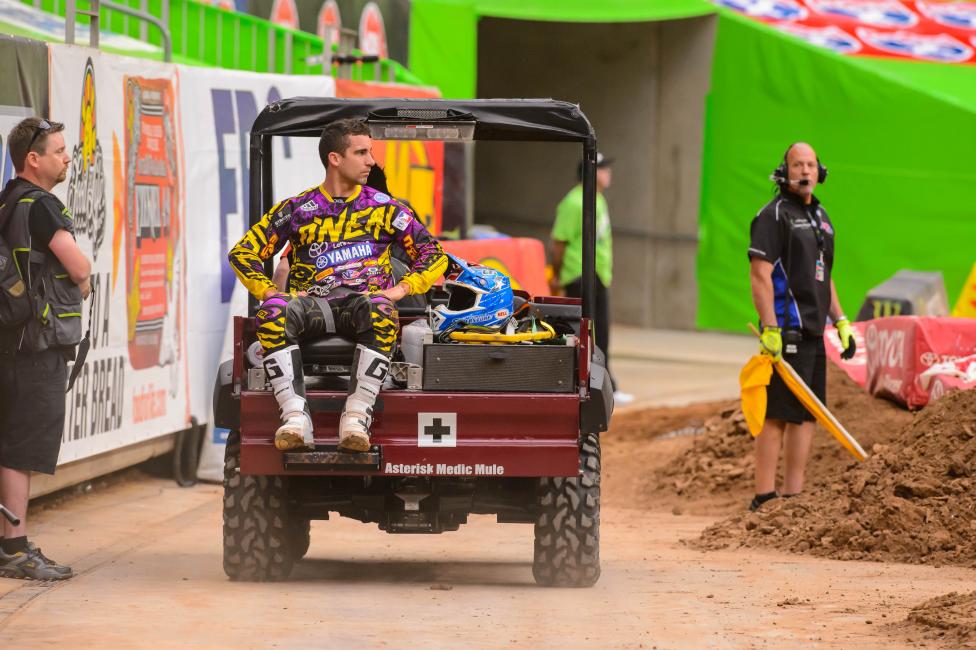 Some other news and notes:
- JGR Toyota Yamaha's Justin Brayton, coming off a great ride in St Louis, further aggravated his broken foot with a couple of big practice crashes. And oh yeah, he now has a broken hand to deal with. Brayton sat out Houston (and is also out for Seattle) and that's too bad, he would've done well with the dirt and the jumps at Houston. As we said, this supercross stuff is no joke.
- A while ago I was assigned an interview with privateer Adam Enticknap for this website. And after talking to him for a bit I started thinking about how awesome and weird he is all at the same time. The 7-Deuce-Deuce loves life and rides around in the Teddy Parks Privateer Journey trying to make the main each and every weekend. And he's close. Real close. And then we started putting him on the Pulpmx Show and showcased him and his "722 life" and for whatever reason, the fans have taken to him. It's unbelievable, really. Enticknap is like a rockstar at the races, and it's pretty awesome to see.
- Mookie had the line of the day when he was interviewed and said "I love Texas, I love the big trucks. That's my style!"
Thanks for reading, email me at matthes@racerxonline.com if you want to chat about this race, Seattle or really anything else.