By Jason Weigandt and Steve Matthes
Ryan Villopoto, Monster Energy Kawasaki, 1st in 450SX
An uncharacteristic crash for you. Looked like you hit your head a little bit there and had to ride a semi. Not a good start.
I hit my shoulder.
You sat there for a little bit. You tried to pick your bike up…
When you slam yourself on the ground, and your shoulder, then the bike slides up the berm … I'm a little guy. Things heavy, man.
Well, a rough start for you. But we saw what happened in the main event: 20 solid laps and the holeshot I guess was key. You took Mike Alessi's gate for the holeshot, which is where he always wants to start, but looks like he taught you the way.
I picked it.
He was pissed I bet.
I'm sure he was not happy. He likes that space.
Really good main event ride. Not any mistakes that I saw. Did you have any sketchy moments?
A couple in the whoops, but I think everybody did. The whoops were tough, but we were able to get through there pretty consistent and fast also. I think that was kind of the key thing. Obviously jumping the quad was quick too.
What about the triple in on the split lane? That was quick.
I think that was quick but I think the real deal was getting through the whoops quick and consistent.
Lots of guys went down today. There was carnage everywhere. Why was that? Was it slick underneath that loose dirt?
It was. It was slippery. This place had a little bit of a harder base and it was kind of chunking away at places. The dirt was one of the better places [this year]. The dirt actually had some moisture in it and seemed like you could ride it pretty hard. I think the whoops were really tough and the track was breaking down and making you have to change up your lines. There were some technical sections but once they broke down it made them harder to do consistently. – Steve Matthes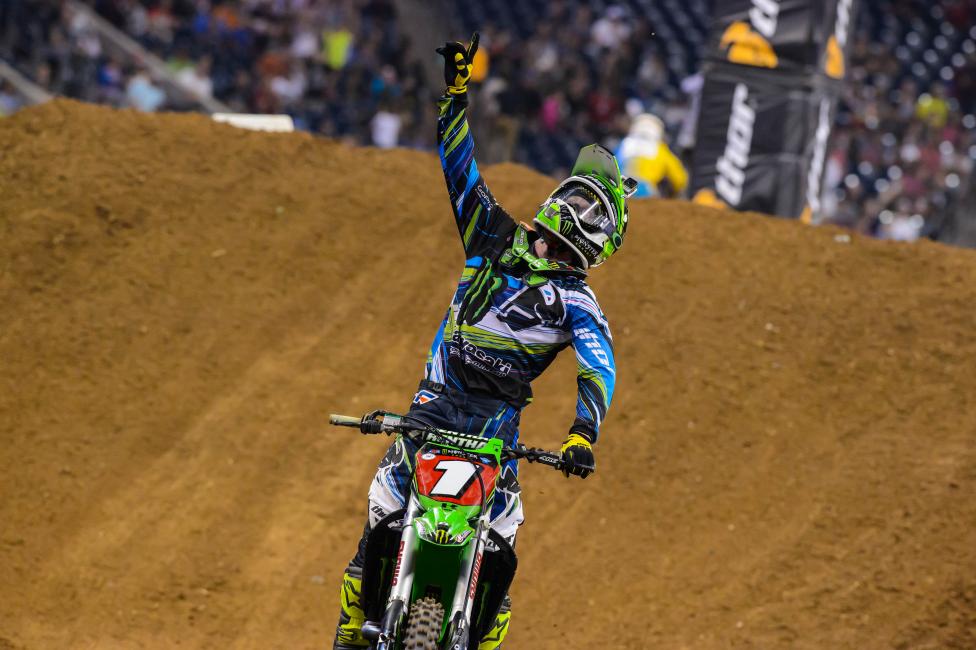 Dean Wilson, Monster Energy/Pro Circuit Kawasaki, 2nd in 250SX
Did I hear you say that you hurt your shoulder or something?
I just kind of landed on it pretty hard in the heat race. It just felt really funny afterwards so I went to Asterisk and they told me it was a small AC separation. It's pretty tough. It was pretty painful more than anything. But it was going to be okay so I still could race. It was a pretty good race. Kind of when you look back at it and losing by that much you kind of wish you did a few things different, but just got to learn from it and move onto next weekend.
What was making the difference? You would close in, then he got ahead, then the last couple laps you were really closing again. What changed there?
Just made a last couple lap push. I was pushing and those lappers were a big factor as well.
Take me through these 450 races. I think it was good because you showed you could ride that thing awesome. Were you pumped with it at all?
Yeah, I think I showed signs of brilliance. I think I showed that I have the same speed as the top guys in heat races and in practice and a little bit for 15 laps at Daytona. But I just honestly didn't have 20 laps in me. I was just having a problem with some arm pump. I'm sure a full off-season on a 450 would have helped instead of riding it for like a week and jumping in. But I learned a lot and I know what to expect for next year. It's going to be pretty gnarly. Got to definitely change a few things to be on the top with those big guys.
Is this arm pump thing solvable? Are you worried?
No, I think it's solvable. I just need to keep doing what I'm doing and keep on the routine and go see Doc G. I think I'll be fine. – Jason Weigandt
Cole Seely, Lucas Oil Troy Lee Honda, 4th in 250SX
Wondering what was going on with you a little bit out there after a great heat race. Then I saw you tweeted, looked like you had some rear brake issues?
Yeah, unfortunately got together with another rider going through the first rhythm right off the start. Luckily I didn't get landed on but the side of my bike got landed on, the right pipe and my rear brake caliper and the side of my wheel. Like five laps in, I was thinking, what's going on? I can't stop.
So it was slowly going away more than right away?
Yeah. I didn't even think anything of it. I was like, maybe I'm using my brakes too much, maybe they're getting hot or something. And then I ride it halfway, I was pushing it pretty far and it wasn't doing really anything. I kind of had to transfer all my braking to the front which is kind of hard to ride with on a track like this where it's super slick. The front end wants to knife. Last couple laps it was gone. I was trying to do damage control because I got a bad start and then also trying to do damage control because I didn't have a very good rear brake. Just a little bit of adversity that I had to face, but to walk away with a 4th from that is still good.
Eleven points down?
Eleven points still. It's been a tight race all year, between Jason and I. It's been fun. Anything can happen. I proved it tonight. It's on to the next one.
For sure you've had some great rides in Seattle, in the ruts, in the mud. It's kind of technical which suits you also. So it's a long way from over. This afternoon though, we were like, what is up with Seely? You were 7th overall in your times. What was the deal? Were you worried? What happened in practice?
It's hard for me to lay down a fast lap. I've always been like that. I don't think I've never gotten pole position going into the race. I've been second or third here and there. I don't practice fast necessarily, just go one lap sprint all out trying to… on edge, and then roll around the rest of it. I try and kind of do four laps together, one lap cruising, four laps together, one lap cruising kind of thing. I like to practice the track. I like to get a good feel for the track. I do try to get a good time but it's something I've always struggled with. You can look back on paper since I've started and I've never been a great qualifier. But I know when I line up to the heat or the main it all just comes together. I'm a racer, I guess.
I think people don't understand, it looked all right during track walk for traction and stuff but then as the track got beat down it looked slippery or some shiny spots.
Yeah, it was very, very hard-packed base layer I'd say. The top was deceiving; it looked like it was going to be a brownie out there, nice and tacky. But it would form ruts and then they'd push out. We'd get down to that slick base layer and it was tough. It was very deceiving. – Steve Matthes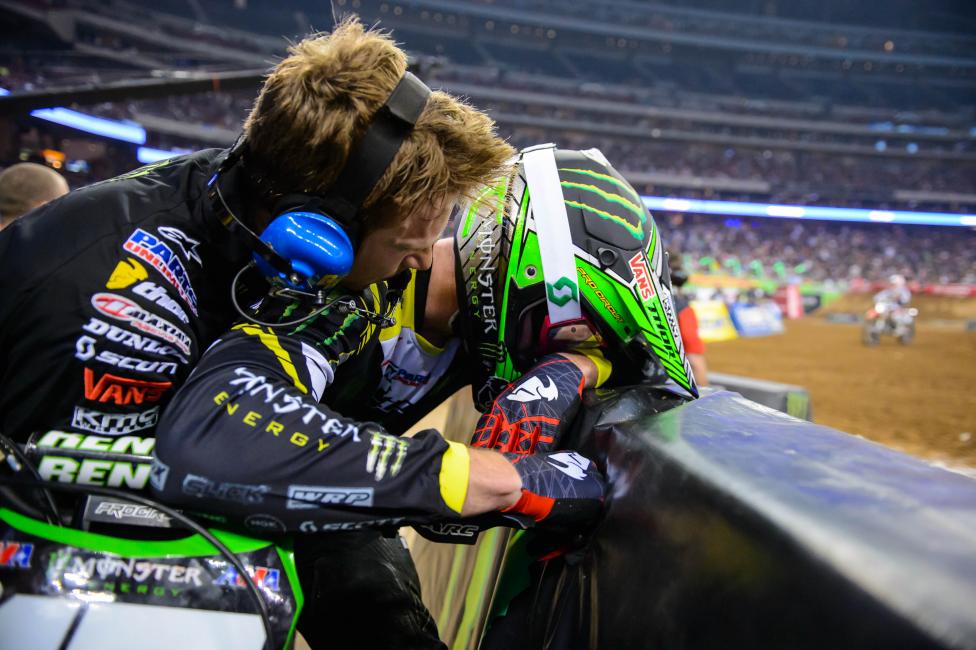 Trey Canard, Honda Muscle Milk, 4th in 450SX
A 5th and a 4th I would say is pretty good. Are you pumped on that?
Yeah, really I am. I thought tonight was better than the other night just because the first few laps were a lot better. I kind of took the wind out of my sails a little bit just because I tried to really charge the first few laps and stay with those guys. But I've come back to two of the toughest tracks of the year, I think, with two of the biggest whoop sections I've seen. Looking forward to next week. Hopefully it's a little bit of a more mellow track! But I was really happy. I thought the day was a lot better and I feel good about it.
Obviously when you're out that many races you're not going to rush back, but when you decided it was time to start racing again, did you feel like, "I'm super 100 percent totally ready" or "I'm just going to see where I'm at?"
It was a little bit of both. You don't miss three months of racing and know you're going to go win. There was a combination of things. One of the things was, I didn't want to just be at home and just practicing, practicing, practicing for outdoors, just because there's that intensity that you never can replicate. No matter how fit you are at home it doesn't translate completely to outdoors. And I just enjoy racing. I was excited to be back and I felt good and everyone else agreed that we should go racing.
How dumb is it that it wasn't even a super gnarly crash? And an arm break usually isn't the gnarliest injury. Like it's just one stupid deal and the way it all worked out, it unraveled badly.
It was just a really bad break, one that didn't heal very fast. You think the radius usually needs five weeks, and I was thinking that even though it was a really bad break. I was thinking, "They're going to plate this thing up and it's going to be good to go," but it just took a long time.
And even the crash itself. It wasn't like you were trying to quad something or do something crazy.
No, I just missed a whoop and went over the bars in the whoops. But it's all right. I'm glad to be racing again.
So what you got out of these two, do you feel like you're progressing week to week?
For sure. I feel like this week was a lot better than last week, so hopefully that translates to the next week.
It seemed like in sections and areas at times you were right there speed-wise.
Yeah, and last week I wasn't, so that's a good plus. I think had the track not been as difficult maybe I would have been a little closer. There's just the speed that these guys have been riding for a lot of weeks and I haven't been in it.
I give you credit. As gnarly as the tracks have been you've been going for all the obstacles. You haven't looked tentative in any of the sections, as gnarly as they've been.
I don't know, maybe it looks that way. At least I'm fooling everyone! Fake it until you make it, I guess. Usually it's not the obstacles I have a problem with, it's racing them and putting the whole track together. That's where you see guys like Villopoto and James really excelling. Yeah they do the obstacles, but they put the whole track together. – Jason Weigandt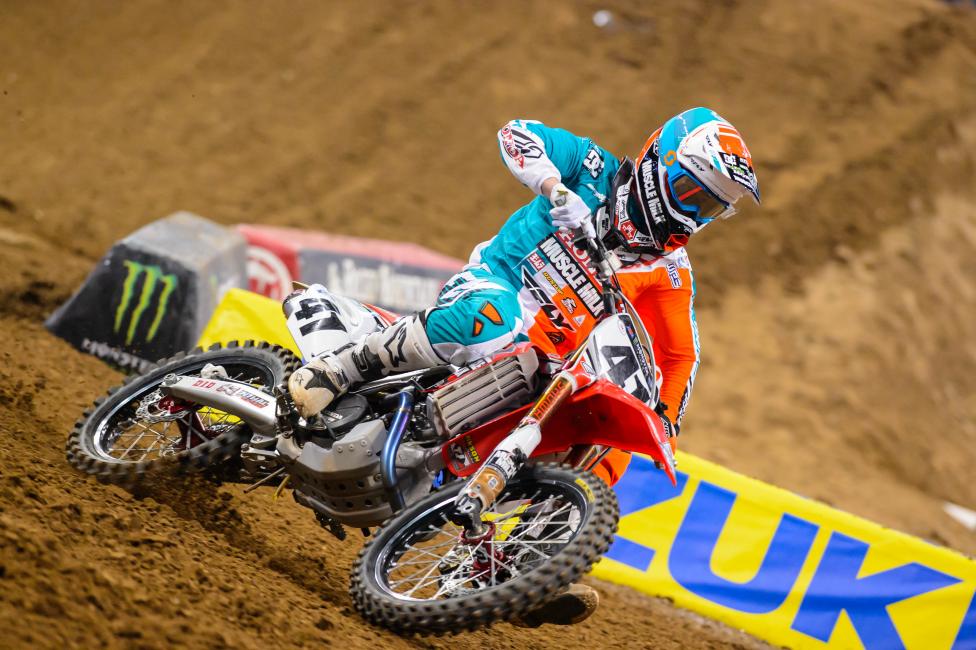 Andrew Short, BTOSports.com KTM, 6th in 450SX
I'm trying to figure you out. You'll have two awesome races and then two okay races. This was good again. What's the difference?
Those two that were really bad—I buried myself. After Detroit I had my best finish there with a fourth and I rode really strong for 20 laps. The week before that I trained a lot and then I got a little over my head and overdid it and buried myself. I'm starting to come out of that hole, hopefully a little smarter. After all these years I get a little carried away still. I'm happy to get some energy back and I think that really contributes to having good results on Saturday.
There's that small of an edge? You can go over that in one week, you can completely go over the line?
We're 14, 15 races deep now, so it all blends together. Recovery's a big part of it. To be on point for 20 laps you have to be sharp.
Were you mixing in outdoor training? Was that part of it?
No, I haven't even really started. Next week after Seattle I'm going to go. But right now I'm just focused on trying to get through this supercross season. It seems like so many years in the past I've always focused on what's ahead of me and not really living in the present. I'm trying to focus and enjoy it. I've had a good season I feel like and if I can finish strong I'll be stoked.
How was tonight? It was good, right?
Yeah, the track was really sketchy. A lot of people crashed. So I was happy to have a consistent 20 laps and to finish 6th, the number's pretty good. My speed wasn't great all day but a sixth is nothing to sneeze at for me. Hopefully these next three I can get some more. – Jason Weigandt
Justin Hill, Monster Energy/Pro Circuit Kawasaki, 9th in 250SX
Looked like it was going to the night of nights for the Hill brothers.
Yeah, started out that way.
Main event was a little rough in the end.
Yeah it was rough for me. It started out good. I was pacing DeanO and just kind of waiting to see where I was going to make my move. I felt really strong and I was riding comfortably. I was getting ready to strike and make a move and try to go after Anderson for the win. The whoops had like a V shape to them. I got into them and I felt really strong in the whoops all day, and probably about lap five or six, I just dropped the rear partially in one, and it just spit me off. I was having a hard time after that—after that crash I was pretty much toast. I ended up crashing two more times. It was rough, but whatever, I'm beaten up but I don't think anything is broken.
Home race coming up?
Yeah, I'm looking forward to that. I finally get to go home. I'm going to visit my family, shoot some guns, get my mind off of it. But it's tough to walk away from this because I'm frustrated. I really wanted to come in here [after the last win] and bam-bam-bam keep the momentum going. Then something like that happens. I can't step back now, I know I still have it. I feel like I definitely would have been on the box tonight if I didn't do that. So I need to keep that in mind and stay positive. – Jason Weigandt