By: Davey Coombs and Jason Weigandt
The 250SX West Region is back this weekend, with points leader Jason Anderson racing for the first time since February. Meanwhile, Cole Seely and Dean Wilson did time on 450s during the break. Will that give them an advantage? We'll see.
Do you know Seely raced a few 450 races back in 2011 and won the first 250 West race when the series resumed? Heck, way back in 1989 Jeff Emig tried two 250 races at Pontiac, Michigan, and finished a lowly 20-16 … before returning to 125 West and dominating the next race in Oklahoma City, Oklahoma.
Wilson and Seely are just the latest to moonlight on a different coast. In fact, you'll see privateer Vince Friese jumping back to a 450 this weekend, and the list goes on. Wait? Did we just say list? Yeah! Let's run down some of the best to jump coasts ever for this week. Be sure to add some additional memories of your own below.
10. The 1989ers: In 1989 Larry Ward was a rookie on the Honda support team, slotted to race the 125 West Region and the 125 Nationals. But they called him "Big Bird" for a reason: Larry was tall! So he went the opposite way, riding a 250 in the premier class when the series came east. His best finish on the 250 was fifth, which he did at the Meadowlands Supercross in East Rutherford, New Jersey. In the 125 class, he finished second five times, but never managed to win a race in the class. But he did win the Southwick 125 National on the #971 Honda CR125, and to this day remains the highest-numbered rider ever to win an outdoor national.
Ward's moonlighting on the 250 did pay off the next year when, after switching to Team Suzuki, he won his hometown Seattle SX at the old Kingdome.
Ward and the rest of the 125 West crew spent two years chasing Kawasaki Team Green rider Jeff Matiasevich, who won the '88 and '89 titles. He raced a 250 in selected East Region races, finishing as high as fourth in the men's class at the '88 Tampa Supercross. But the next year, after streaking to four straight wins in the West Region, Matiasevich signed up for the Miami SX in the 250 class—the same night that his future rival and nemesis Bradshaw was making his debut on the YZ125. Chicken ended up dislocating his shoulder and finishing 21st in the main event, then took a break. He came back just as fast and clinched his second straight 125 West Region Championship.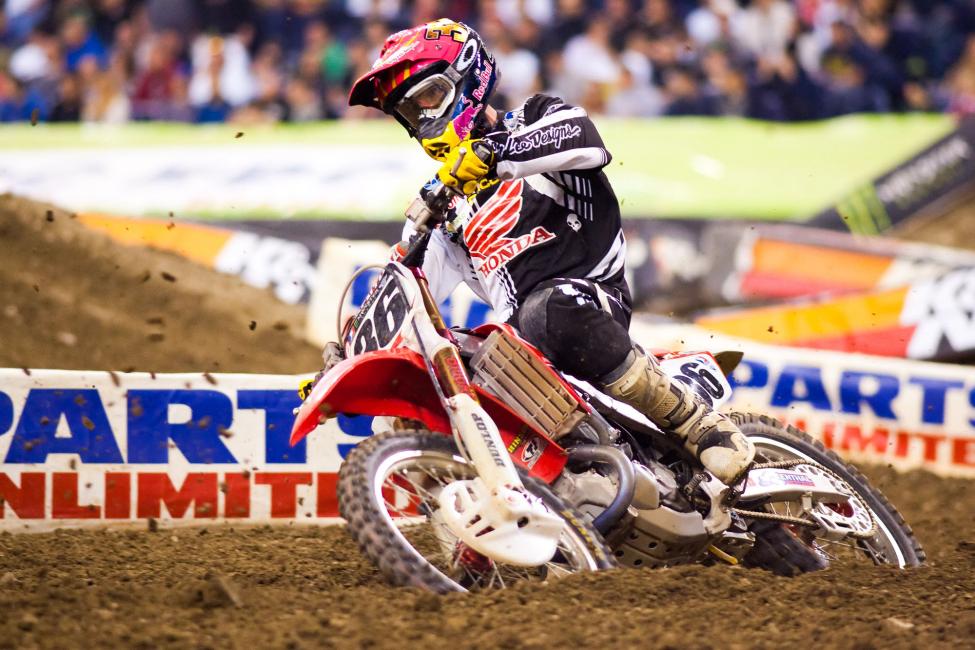 9. Jeremy McGrath: Notable only for what he didn't do. MC, in the middle of his 1991 and 1992 125 West title runs, ran six 250 SX races in '92. He did okay, going 20-10-6-5-8-6. This essentially made no one think MC would rip off a record 10 wins and the 250 Supercross Championship as a rookie the very next season!
Here's a link to the results from McGrath's legendary career.
8. The Factory Connectioners: Check out some stats on Michael Byrne and Travis Preston. Byrne rode 125s for Factory Connection Honda (today's GEICO team) for a few years. He never won a 125SX, but proved adept on 250s, taking three fourth-place finishes while moonlighting out west on 250s in 2002 and 2003. This led to a factory Kawasaki deal for 2004-2006 as a full-time big-bike guy, but he only landed in the top four four more times during that span.
Travis Preston also raced for the Factory Connection Honda team and delivered the 2002 125 West SX Championship. He raced some 250 races along the way, also, finishing fourth at Daytona in 2003. He moved up to the big bikes full time the next year for Team Honda on a 450 and grabbed a few more fourths, but was never able to crack the big bike podium.
7. Josh Hansen: This is confusing, but there was a time when riders from one coast could actually keep on racing the small-bike class on the other coast, but not collect points. So Josh Hansen, who was racing West in 2004, kept on racing a YZ250F on the East. He collected five podiums, and when James Stewart crashed out of Indianapolis in practice, Hansen went on to collect his first career win. He was rewarded with a big-dollar factory KTM contract for 2005.
To dig a little deeper into this "Riders from one coast can try racing another" rule, check this out: Most people remember Ricky Carmichael's first supercross as something of a mess. He crashed hard at the old RCA Dome in Indianapolis in the 1997 East Region opener and snapped his handlebars. But Carmichael actually raced the '97 125cc West Region opener in Los Angeles, as his Pro Circuit Kawasaki teammate David Pingree explains: "Back then the rules allowed that you could ride the West Region races as long as you didn't score too many points and still be eligible for the East Region. Ricky and myself took advantage of that rule and lined up for the opening round at the Los Angeles Coliseum. The idea was to get both of us some track time before our first round a few weeks later. I almost grabbed the holeshot, but went down in a pile instead. Ricky cruised around and ended up eleventh."
Ping ended up 22nd. Here's the complete results of that January 18, 1997 race.
Eventually, the rule was taken away, but not before Hansen grabbed that career-first win we mentioned above.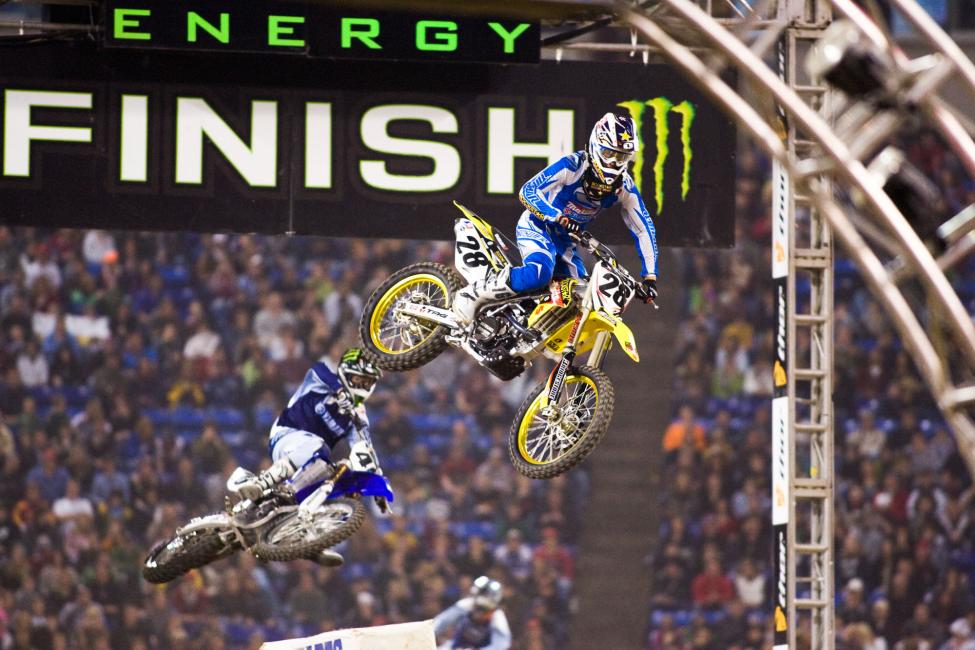 6. Cole Seely: Seely has had a bunch of starts on a factory Honda 450, and he's done well. After three starts in 2011, he won the first race back when the West resumed in Seattle. In 2012, he holeshot and led Atlanta's 450 main for a few laps. Did the same thing this year in Detroit. But the most impressive feat was grabbing a 450 podium this year at Indy by finishing third, just days after deciding to race the bike in the first place.
5. Ryan Dungey, 2008: The Dunge was struggling trying to clinch the Lites West title in 2008, getting serious heat from Jason Lawrence (J-Law makes the list again!). Needing a reset, Dungey jumped on a 450 in the East and did some damage, grabbing a podium with a second place run on a crazy night at his home race in Minneapolis. J-Law did edge him for the '08 Lites West title, but Dungey showed no intimidation when he went to the 450s full time in 2010, and won the championship in his rookie year.
4. Trey Canard: Trey won the 2008 Lites East SX title in his rookie year, which, per the rules at the time, would have forced him into the 450s after he defended in 2009. Everyone was saying "Poor Trey, he's not big enough for a 450" and eventually the AMA revised the rules so he could stay through 2010. But here's the funny part: In 2010, factory Honda's Andrew Short got hurt, so Trey, a Lites West rider, was tabbed to try his 450 at a few races. Trey crashed out of his first race, but then reeled off five straight podiums on the big bike before heading back to Lites West. The next year, he'd win two 450SX races in his rookie season.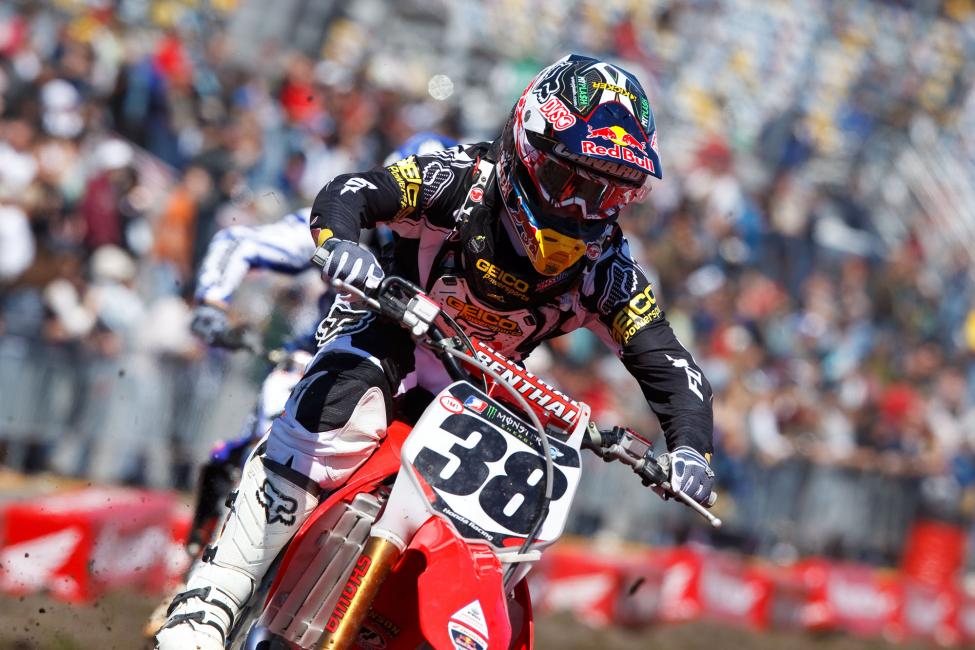 3. Damon Bradshaw: Damon's first AMA Supercross was not a 125cc race. Instead, Bradshaw talked his bosses at Yamaha into letting him warm up by riding some 250 races in the West. He crashed out of his heat race at Anaheim, but came back at San Diego SX in the 250 class, the fourth round of the AMA Camel Supercross Series. Bradshaw finished a resounding third-place in the premier class, the second best SX debut in history behind Marty Tripes win as a first-timer in the 1972 Superbowl of Motocross (and that was the first supercross ever, so whoever won was bound to be a first-time winner). That's why there was so much hype around the Beast from the East—this would be like Adam Cianciarulo finishing on the podium in San Diego's 450 race last year. Then Bradshaw dropped down to the 125 class and reeled off a bunch of wins on the #45 Yamaha YZ125 on his way to the title.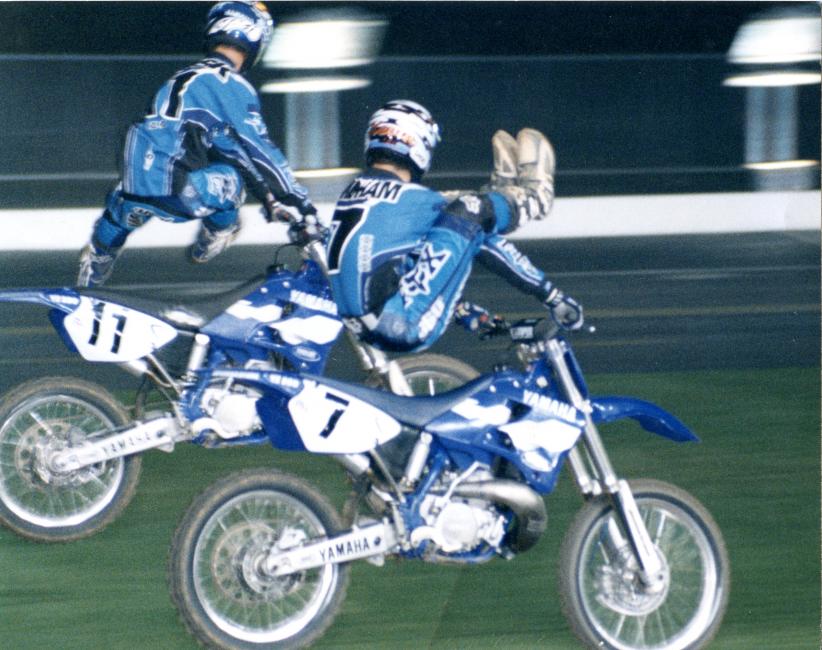 2. John Dowd: Dowd completed a remarkable climb from journeyman privateer to factory rider to premier class SX race winner with a, well, remarkable, win at the 1998 Charlotte Supercross. Dowd was a full-time 125 rider in '98, but he jumped on a 250 for this race, and won. It was a mudder, and Dowd great in that stuff. After this, he'd go on to edge David Vuillemin for the '98 125 West title. The most remarkable part of all, though? See below.
1. Kevin Windham: Exactly one year before Dowd won, at the exact same venue, on the exact same team, Kevin Windham made history by becoming the first 125 rider to ever win a 250 supercross. The defending 125 West SX champion jumped on a 250 for a few East races and scored a big win in Charlotte.