Reliant Stadium
Houston

,

TX
Houston
Monster Energy AMA Supercross Championship
Welcome to Racerhead, coming to you on the first Friday of April. We're pretty much in the stretch run of Monster Energy AMA Supercross, as the series is winding down with a one-month sprint back and forth across the country, beginning in Houston's Reliant Stadium this weekend. Three-time series champion Ryan Villopoto is still comfortably in the driver's seat, though James Stewart is on one of the best three-race SX runs of his career, having swept the last three rounds in various ways. The whole resurgence of the Yoshimura Suzuki rider has led him to career wins 48, 49, and 50, and it also has some folks rating him above Villopoto right now.
To me, that's a little unfair to RV. Don't get me wrong, James has been absolutely amazing, but Ryan is trying to manage this championship from the top down, working his way through that illness in Canada, which certainly took the wind out of his sails and properly gave him pause before trying to get into it with the surging Stewart last week. (And gotta say that pass by James on Ryan was a fantastic piece of race craft.)
Villopoto is in a familiar position—the position Ricky Carmichael found himself in at the end of the 2003 Supercross Championship. Carmichael was well in front after winning Daytona, but class rookie Chad Reed gave him fits that day at the speedway. Momentum seemed to shift, and Ricky seemed to settle into what I would call "championship management mode." For the last six races he simply rode out the series, knowing the numbers were on his side and he had more to lose in a tangle with Reed than Chad did. And the man in third, Ricky's Honda teammate Ernesto Fonseca, was not going to cause any mayhem in the late stages of the series. So the last six races ended with the exact same results:
1.) Chad Reed (YAM)
2.) Ricky Carmichael (HON)
3.) Ernesto Fonseca (HON)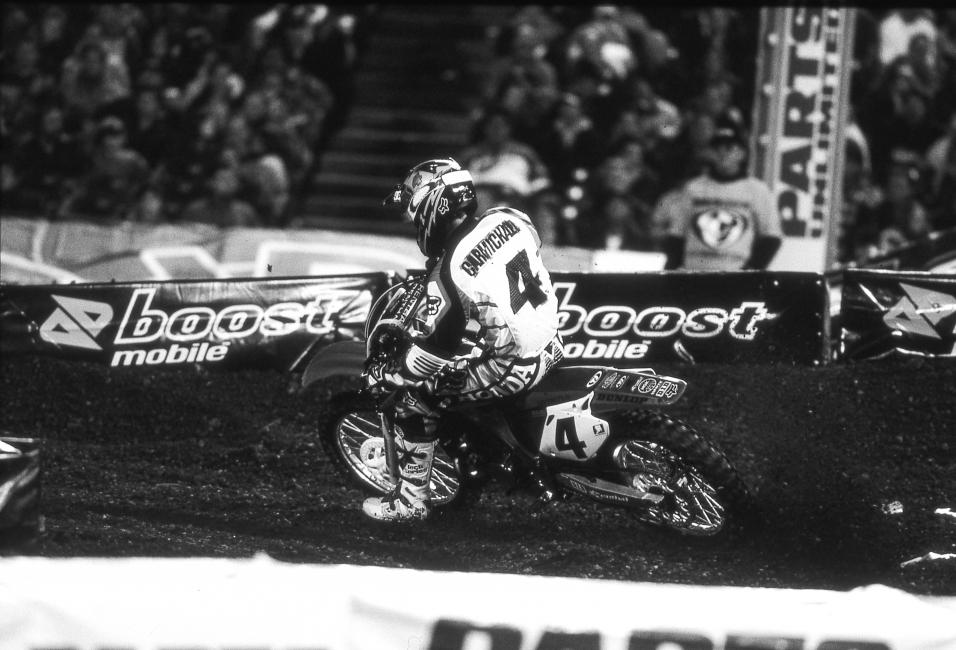 But it was enough for Carmichael to win his third straight SX championship with seven points to spare on Reed (and of course Ernesto was third).
Even if Stewart keeps up his red-hot riding, he's going to need much more than the four wins left on the table to reel in the 36 points he's down on RV—and he's not even second in the standings. Thirty-five points down in the runner-up spot right now is the ever-steady Ryan Dungey of the Red Bull KTM team. Villopoto needs to keep doing what he's doing, and then he can place another championship trophy on the mantle—this would be his fourth straight, giving him nine major titles, which would move ahead of Jeremy McGrath for second on the all-time list.
No matter how it all plays out tomorrow night, or for the last month of the series, we will be watching every lap on Fox Sports 1, beginning live at 8:30 p.m. ET tomorrow night. And stay tuned to Racer X Online and our Racecenter all day long for updates, photos, results and more. Also follow us on @racerxonline for Twitter and Instagram.
Okay, let's get into the rest of Racerhead….
OH WILBUR (Weege)
Man, that Wil Hahn crash in St. Louis was a whopper. A digger. The big one. And while the GEICO Motorcycle Twitter feed first said broken humerus, we didn't think it was that serious—not humorous, but not serious either. On Sunday, additional checks showed a broken skull for Wil as well as a broken collarbone and shoulder damage. I texted Wil on Sunday and he seemed okay, though. He even sent me a photo of him smiling with his neck brace on.
Wil went to California this week to visit with the famous Dr. Ting, and I checked with some sources on the team for more info. The good news is the skull, arm, and collarbone—as scary as that all sounds—should heal up fine. The problem is, until those bones are healed, docs can't really get a good idea of how unstable the rest of his shoulder will be. He could be in for additional shoulder surgery, but the upper arm, collarbone, and skull have to heal first. If the shoulder is fine, there's a chance Wil is back for the end of outdoors; if not, the recovery will be longer.
Hahn is one of the most popular riders in the pits and has garnered a ton of respect from clawing back from huge injuries before. We know he can come back stronger than ever, but we wish he didn't have to keep proving it. Get well soon, Wilbur.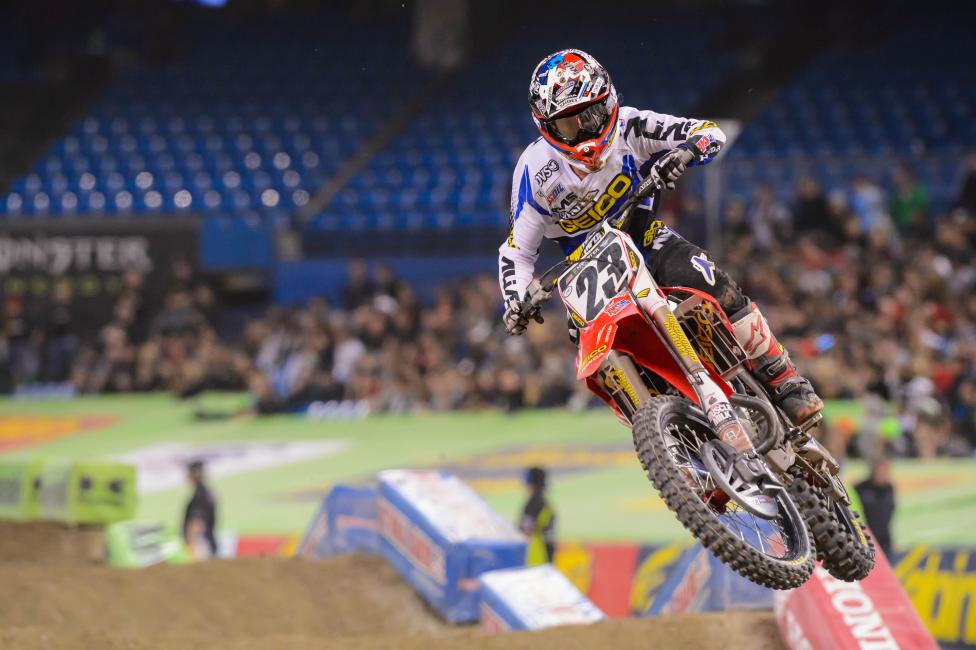 BRAYTON THE BRAVE (DC)
When the red flag was flown in the heat race last weekend following Hahn's ugly crash, he wasn't the only one hurt. Turns out JGR Yamaha's Justin Brayton had broken his foot in the short moments of that same race, and he says he knew it as soon as he went back to the starting gate for the red flag. Justin then went out and won the restarted race in convincing fashion. He also rode well in the main event, only to crash at the end with Ryan Dungey as he was battling for a top-five spot. Justin ended up tenth, but it's like our man Steve Matthes explained in Observations from St. Louis: "Years from now scholars will be researching the 2014 Supercross season, see Brayton's tenth in St. Louis, and not fully understand just how good he was at the race. And that's a shame."
PRO PERSPECTIVE – THE WEST RETURNS (David Pingree and Jason Thomas)
Ping: There are pros and cons to the long break in the West, depending on who you are. For Jason Anderson and Cole Seely, this break has likely felt like an eternity. When you are in race mode, you just want to keep going and get it over with. Seely opted to hit some 450 rounds while Anderson probably did a little outdoor testing and then continued with his routine. But doing the same thing over and over for two months can start to drive you crazy in that situation. Your practice can be clouded with thoughts of getting hurt or just plain boredom from riding the same track lap after lap. Sometimes it's a good thing to ride outdoors to break it up. I think Seely is coming into this weekend's race at a big advantage after continuing to race when the series went east. Anderson will feel like the season is starting all over again, while Cole will be focused and ready to go after race wins. Saturday night will once again be a battle between these two guys.
For the rest of the class, the break offers a distinct advantage over the East Region riders because they have a solid six weeks to focus on getting prepped for the motocross season. They'll switch back to supercross a couple weeks before the series starts up again, but by that point they have their outdoor setup dialed and they've put in some serious 40-minute motos to ramp up their endurance.
For guys who have had less-than-stellar supercross series, this is a chance to start over, and even though they will do their best in the final few supercross rounds, they have their eyes set on Glen Helen.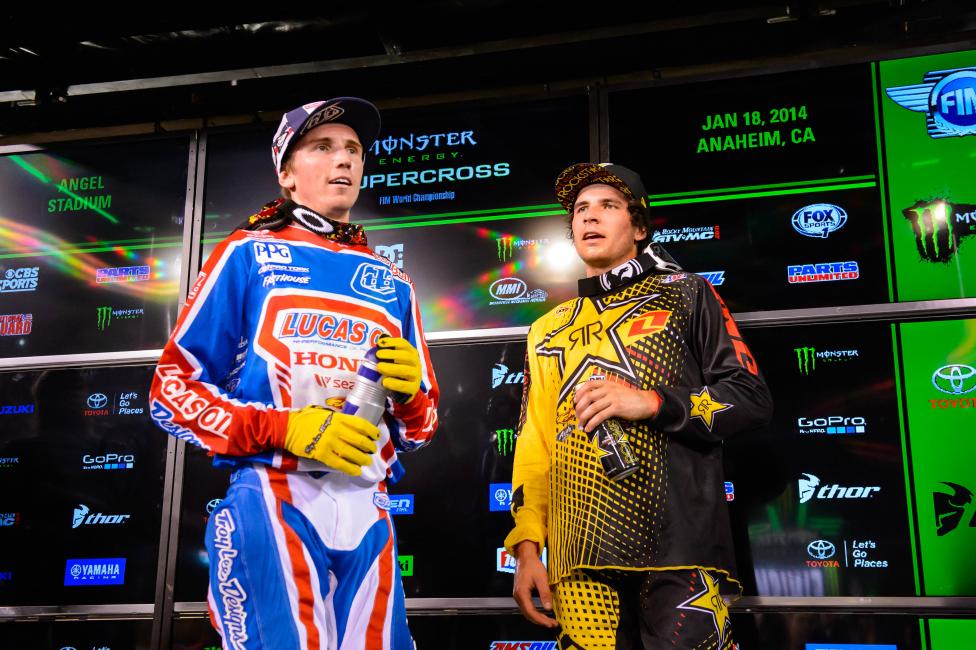 JT: Welcome back, 250 West! After a seven-week break, we return to the epic battle we have seen for this West Coast crown. The emergence of Jason Anderson has been a revelation, while Cole Seely has been rock solid and sits just off the lead. Dean Wilson and Justin Hill have also picked up a win, and although they're all but out of this title, they can still shake things up. Winning races and stealing points away from the leaders is a good way to forget about the early-season mistakes.
I am sure all of these riders have gotten more than their share of outdoor motos in by now, but I would think Jason Anderson and Justin Hill really are ahead of the curve. With Seely and Wilson getting their feet wet on the 450s, they should have momentum rolling for these last few SXes, but will that have a negative impact once we step outside? Time will tell.
Also, don't forget about the return of Zach Osborne, who missed the last two rounds with a broken collarbone but will be 100 percent on Saturday and ready to turn things around—he's the best guy out there who has yet to win a supercross main event. One thing's for sure: These guys have been anxiously waiting for April 4 and the wait is finally over. With the close points chase and the "nothing to lose" approach of some guys not in the title discussion, things should get interesting Saturday night in the Lone Star State.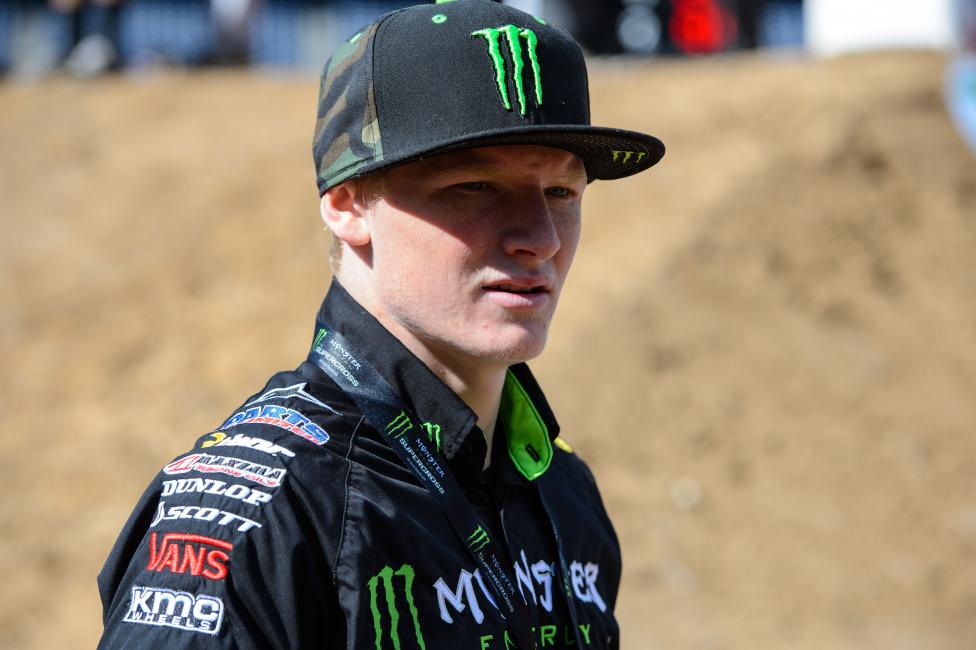 250 WEST REDUX (DC)
Ping and Jason just riffed on the looming Anderson-Seely duel that is ready to start up again. They will likely settle the title, but there's a lot of other guys that are ready to get in there and do some damage and maybe build their own momentum. Monster Energy/Pro Circuit Kawasaki's Justin Hill had just won his first pro race when the West Region went on hiatus, and according to his team's PR, he's been champing at the bit to get back out there.
"I'm the last guy that wanted to take a break, but that's the way it is," Hill said. "I didn't want to cool down at all so I've just continued to put in time on the Kawasaki KX250F and in the gym to make sure I've lost nothing over the last couple months or so. We'll all be coming into Houston a bit fresh, but as the last guy to win I expect to set the bar and I'm excited to get back out there and keep it rolling."
Dean Wilson also got a win earlier in the series, and of course he spent much of the downtime moving up to ride Chad Reed's KX450F for Chad's Discount Tire team. I feel like Wilson—like his teammate Blake Baggett—is much better than his SX results have shown this season (and really last season too). He no doubt wants to remain healthy for this summer, but I think he also wants to prove a point in these last three 250 West races that he's still one of the world's best 250 riders.
And as JT$ mention above, don't count out GEICO Honda's Zach Osborne. In fact, Gary Semics, himself a former 500cc AMA Supercross Champion from 1974, posted on Vital MX: "Zach is coming back to Houston at 100%. At 24 he is totally committed. I know because I've been a big part of his program here at Club MX in SC. I'm just saying, watch for Zach to be upfront."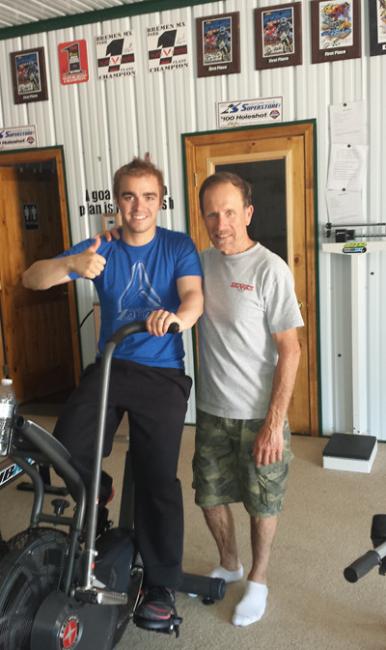 Cooper Webb was a lot of folks' dark-horse pick to contend for this title at the start of the season, but the kid from North Carolina is still learning the ropes in supercross. With the time off he probably got to spend a lot of time studying tape with his coach Gary Bailey and figuring out how to make a run at a win here in the last stages of the series.
TLD Honda's Malcolm Stewart and Shane McElrath will also be hoping to make a bid for a first win (and first podium, in McElrath's case). And Rocket Performance rider Michael Leib will be riding even though he's got a broken bone in his ankle. And Rocket Performance had a couple of heat-race holeshots in Toronto with Kyle Peters and Brad Nauditt, so the bike is definitely working great.
But we won't be seeing a couple of past SX winners who are finally back on the bike after some injuries. Darryn Durham has decided to wait for the outdoors to get back behind a starting gate, as will Red Bull KTM's Marvin Musquin, who missed all of supercross so far with his knee injury. The two-time world champion is riding again and will make his 2014 season debut at Glen Helen on May 24.
One rider we won't be seeing anytime soon is Dean Ferris, the injured Red Bull KTM rider. His dislocated wrist was worse than first thought—he may not be back until after RedBud, by some guesstimates. Will KTM look for another rider to back up Musquin this summer? Stay tuned.
Here are the point standings for the 250 SX West Region from where they left off at the San Diego SX:
1. Jason Anderson

131

KTM

2. Cole Seely

127

Hon

3. Justin Hill

107

Kaw

4. Dean Wilson

98

Kaw

5. Cooper Webb

92

Yam

6. Malcolm Stewart

89

Hon

7. Jessy Nelson

76

Hon

8. Shane McElrath

71

Hon

9. Zach Osborne

69

Hon

10. Dean Ferris

63

KTM
MICHAEL BYRNE (Matthes)
Remember Michael Byrne? The Aussie rider had a ten-year-plus career here in America racing for factory Kawasaki and Suzuki, among others. We haven't seen the #26 in 2014, and that's due to the fact that he's waiting things out to see if he can indeed get back on the track. Two years ago, Byrne was about twelve minutes away from winning his first 450 Class moto at Unadilla when disaster struck. Without even crashing, just a foot slipping off, Byrne broke his tib/fib and tore up his knee. He calmly rode to the side of the track, dropped his bike, and it's been a nightmare ever since.
The surgery to fix the leg the first time didn't go well—mostly because it was a bad break with bones splintered and rotated inside the leg. But racers being racers, Byrne made it back for the outdoors last year on the BTOSports KTM team … but, barely able to lift the leg at times, his best finish was a sixteenth with a lot of motos outside the top twenty.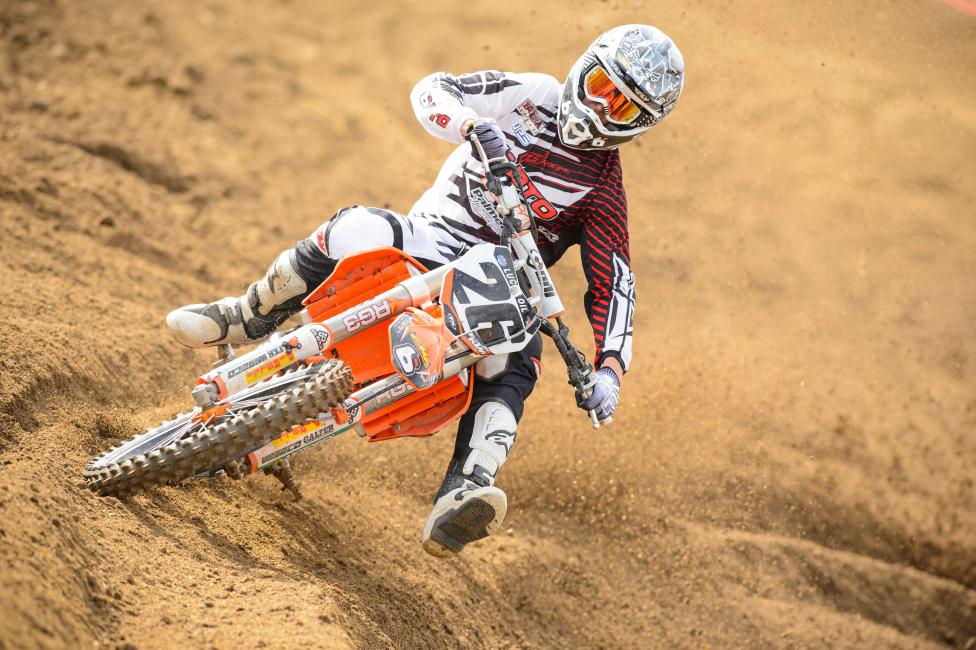 Determined to get it right, Byrne underwent another surgery where they had re-break his leg and get the proper alignment between his upper and lower sections (it hadn't healed correctly the first time). Byrner's just been on the bike the last two months or so riding supercross at his buddy Chad Reed's place and seeing how everything is.
He's been working with the BTOSports KTM guys on the weekend, and during the week he's helping out Mike Alessi (Mike's indoor skills have seemed to be better this year). What about racing? Well, for now Byrner's just trying to see if he can get back to his old very competitive level and then see if anyone wants to hire him. There are no guarantees he makes it all back, and in talking to him, he's fine with that. He understands that twelve minutes away from what might have been his greatest glory in American motocross has turned into a two-year ordeal. There isn't any bitterness from Byrne; he understands this game all too well (no doubt reinforced with the passing away of close friend Andrew McFarlane a few years back) and if it is all over for him, he seems content.
Here's hoping we see one more kick at the can for the #26.
If you want to hear the full talk with Byrne about Houston SX and his comeback, listen to the Fly Racing Moto:60 Show presented by N-Fab here.
RIDER DOWN (Jen Kenyon)
We all know that motorsports racing can be inherently dangerous. As a competitor, family member, spouse, or supporter of someone who races, we all understand the risks involved with what we do. However, no one is ever truly prepared for the moment when something does go badly, and it's pretty sobering to think that things can and do happen out there.
GNCC XC2 Pro Lites rider Rory Mead, who came over from New Zealand three years ago to pursue a career in off-road racing, was involved in an accident over the weekend at the Steele Creek GNCC in North Carolina, where he sustained a serious spinal-cord injury. Rory is currently at the Johnson City Medical Center in Tennessee, where he is beginning the recovery process before moving to a spinal rehab facility closer to his current home base in Ohio.
Even in the darkest of days, it seems like the folks within the racing community are able to find some light. It's touching to see the outpouring of support from friends, family, competitors, and even strangers out there, because at the end of the day, the racing community is truly a family and it's comforting to know that no matter what, this family is here for you.
For Rory, the outpouring of support from everyone around him seems to have lit the fire inside. Most importantly, it's Rory's positive attitude and determination to overcome this battle that really sheds some light on the situation, and frankly it gives me chills. Here's a quote from Rory that came from a press release sent out by his Maxxis/KLIM/DirtWise Race team owner, Shane Watts:
"No one ever likes to get hurt, but it is a fact that we need to face every now and then. As they say, it is what it is, but you can be assured that I am ready to fight with all my might and do whatever is necessary to give myself the possibility of a full and quick recovery. I am so thankful for the outpouring of support that my family, friends, and the off-road motorcycle community had provided to me since the accident - it has been overwhelming! I want to thank my team mate Jason Thomas, and fellow competitor Jesse Robinson, who sacrificed their own race results to stop and stay with me for the duration, plus to all of the other riders who stopped during the race to offer assistance."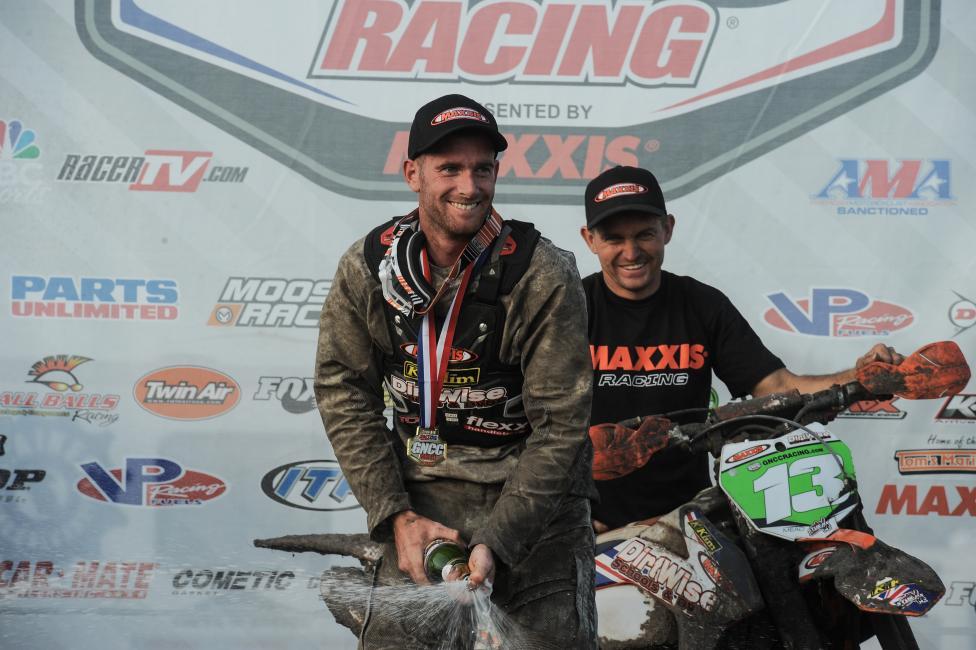 To help offset the extensive medical expenses incurred with a serious spinal-cord injury, fundraising efforts are in place. First off, there is a direct donation option set up by Rory's Ohio-based riding partner and MX/SX rider Levi Kilbarger, through the GoFundMe organization. There has been an overwhelming level of support shown so far as the total donation amount to date nears $25,000. The link to the Rory Mead donation account is HERE.
On Monday, April 7, the DirtWise team, with help from their team sponsors and XC1 Pro rider Steward Baylor, will announce a Fundraising Raffle where a huge amount of awesome items will be on offer for the lucky winners. This raffle will run online throughout the week and will then culminate that weekend with a ticket sales booth at Rider Registration at the GNCC in South Carolina on April 12-13. The winners will be drawn immediately following the Bike Pro race on Sunday afternoon. Stay tuned for all of the raffle details and list of prizes when they become available on Monday, April 7.
And get well soon, Rory—we are all pulling for you!
MAN VS. MOTO 2014 (Chase Stallo)
Derek Anderson's popularity didn't come through results. His rise to prominence was through a different avenue—in front of a camera. Anderson built a huge following with the web series Man Vs. Moto, which revolved around Anderson and the common struggle of the privateer trying to make his way in professional motocross. The popular series will feature a change in 2014, as Anderson, after a long bout with back injuries, may be forced to hang up the boots.
"I've been to four or five different doctors and all of them said stop racing and live with the tolerable pain I have, or keep racing and make it worse and live with worse pain for the rest of my life because there is no surgery, procedure, or pill I can take, no acupuncture or physical therapy I can do to heal it," Anderson told us earlier this week. "It's a sensitive subject, but I think I'm going to have to hang up the boots. I think I will do Lakewood this year as kind of a last hurrah, but doing it competitively and trying to get that factory ride is looking pretty slim at the moment. My mind is not done yet, but my body is. At the moment, I'm done. But I don't want to say never. If they come up with an artificial disk they can put in my back or something, my mind is still young, so I'm still in it."
Anderson will now transition to more of a managerial role, running the series with his team. We spoke with him earlier this week to find out more.
How will the series change, as last season the series was based on you yourself going to the races?
Anderson: It's changing about 50 percent. I'm still going to do Man Vs. Moto. I'm actually going to have another rider riding for me, and I will have a professional videographer filming for me. We're still going to go for it and fly in and out of the races and put a bike on Team Gus. I'm still going to be on right side of the camera doing interviews and being a goofball as well as being serious and showing emotion. Basically I'm going to be a team manager, a trainer, a mechanic … it's still kind of my deal so I still need to be in the picture, just not as a rider.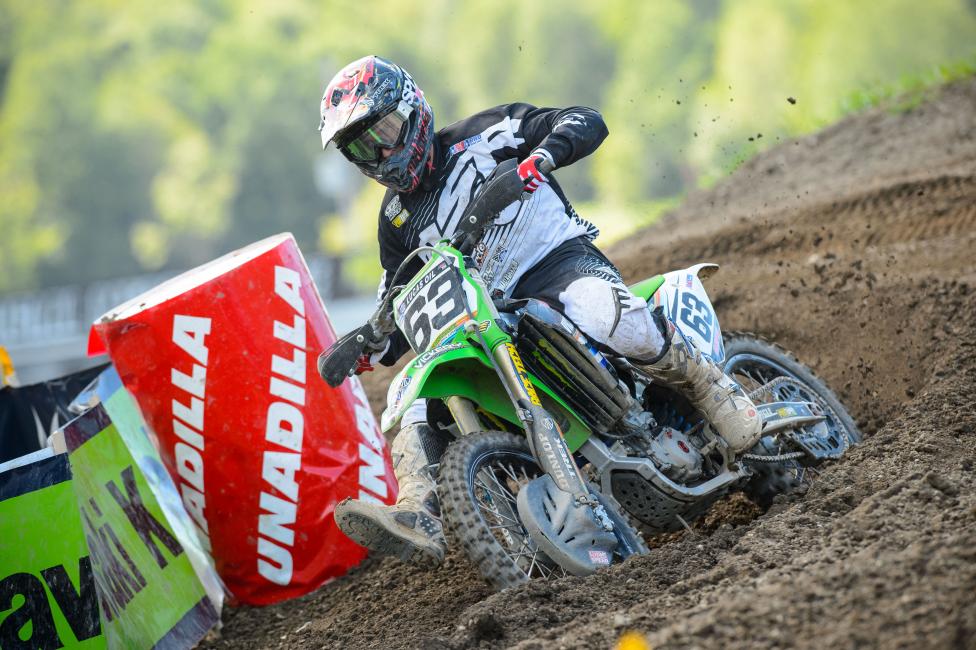 When a lot of riders retire, they find it difficult to get into other avenues. You seem to have something already set up, though.
It's really, really tough to think about not doing this professionally anymore, and like I said, it's never the end until it's the end.... I have to stay in the sport. I've already built something, and I feel like it's not fulfilled yet. I still want to continue what I'm doing and bring privateer motocross to the forefront and making it bigger and bigger.
You are pretty self-made as far as directing the show and putting the series together. What have you learned?
The most I've learned is staying very humble. It's got me to where I'm at now. I've never been the fastest guy in the world, although I've always tried to be. I don't even have a local state championship to my name except when I was on minis. I don't have any big amateur titles to my name. It's all been about PR and being good to your sponsors. That is what has been the biggest help to me during my career.
In the past, MSR and Motosport were big parts of the program. Who is helping make the series come to fruition this year?
Honestly, I'm still keeping in contact with the sponsors I had last year and letting them know we're going a different way with the show. We are kind of still up in the air for answers right now, just because everyone wants to sponsor myself and I'm sure they have some stuff to think about, because they are sponsoring my team now and not myself. But hopefully they can see it's still me and I'm still being the same goofball, it's just not on the bike at the moment. As far as right now everything is still up in the air, but I have been keeping in touch with my older sponsors.
Do you have a rider in mind?
Yeah, his name is Brandon Scharer. I meet him last year while I was racing supercross. He's a Southern California kid.... It's been really tough to find a rider because the series I've done are based a lot on personality. Even if the results don't come it's all about personality. So it's been tough finding a really fast kid with a good head on his shoulders. Brandon really stood out to me. When I was practicing with him, he was lighting fast and when he would come off the track he was really calm, caring and humble. He was really approachable. I do believe that Brandon can put us in a really good position.
If you have interest in learning more about sponsoring the program, you can contact Derek via email at da241@rocketmail.com.
STEWART'S 50th AND MORE (Andras Hegyi)
Our man in Hungary, Andras Hegyi, has been helping out all season long with Bench Racing Ammo for Racerhead, crunching the numbers to give us some historic perspective, which we all appreciate! So what did Andras want to add about Stewart's epic weekend in St. Louis? Let's find out:
Well, Stewie caught up with Kevin Windham on the all-time podium list at St. Louis. Like K-Dub, Stewart now has 75 career podiums. Which means he has twice as many wins as he does second- and third-place finishes. On this list in front of Stewart there are just Mike LaRocco (81 podiums), Ricky Carmichael (87), Jeremy McGrath (111) and all-time leader Chad Reed (125).
There are only four riders who were able to get three wins in a row in at least four different seasons: McGrath, Carmichael, Ricky Johnson and now James Stewart. McGrath did hat tricks it in seven different seasons, RC did it five times, and Johnson and now Stewart have earned hat tricks in four different seasons.
And so far Suzuki has had 13 winners in the SX category. But there are only three Suzuki winners who were able to with three in a row in a season. Last Saturday Stewart joined Mark Barnett and Ricky Carmichael on that short list. Barnett did it in 1981, RC did it twice on Suzuki ('05, '06). Both of them won the SX championship in those seasons, so unless there's a big shakeup, Stewart could became the first Suzuki "hat tricker" to not go on to win the championship!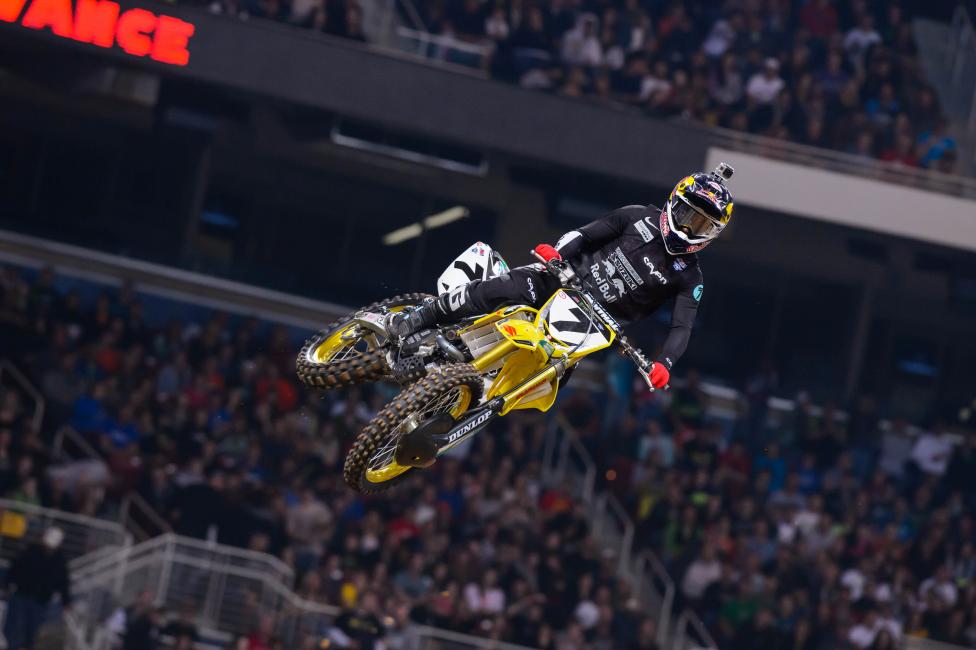 OLD SCHOOL MOTO POSTERS (DC)
We've been working with legendary photographer/journalist Jim "The Greek" Gianatsis on a few story ideas from back in the day. Gianatsis was a fixture on the AMA circuit back in the seventies, covering races for the Cycle News, Motocross Action, and more. A pioneer in the field of moto journalism, he was a one-man production company, attending almost every race and then covering events for multiple publications with both photos and words. It was the same do-it-all model that helped people like Paul Buckley, the late Steve "TFS" Bruhn, Mark Kariya, Shan Moore, Frank Hoppen, myself, and many, many more, because being a freelance moto journalist doesn't pay very well.
Now, because he shot so many important races and riders during that era, Gianatsis holds a remarkable archive of photos from one of motocross' golden eras, the seventies, which saw the rise of American motocross in general, those late, great Trans-AMA races, and legends like Bob "Hurricane" Hannah, Marty Smith, and of course "The Man" himself, Roger DeCoster. Some of the Greek's most iconic photos are now available as custom prints and posters, including his Trans-AMA start from '77 featuring the three men mentioned above coming off the starting gate together. If you're in the market for some cool old-school for your home or office, check out this link.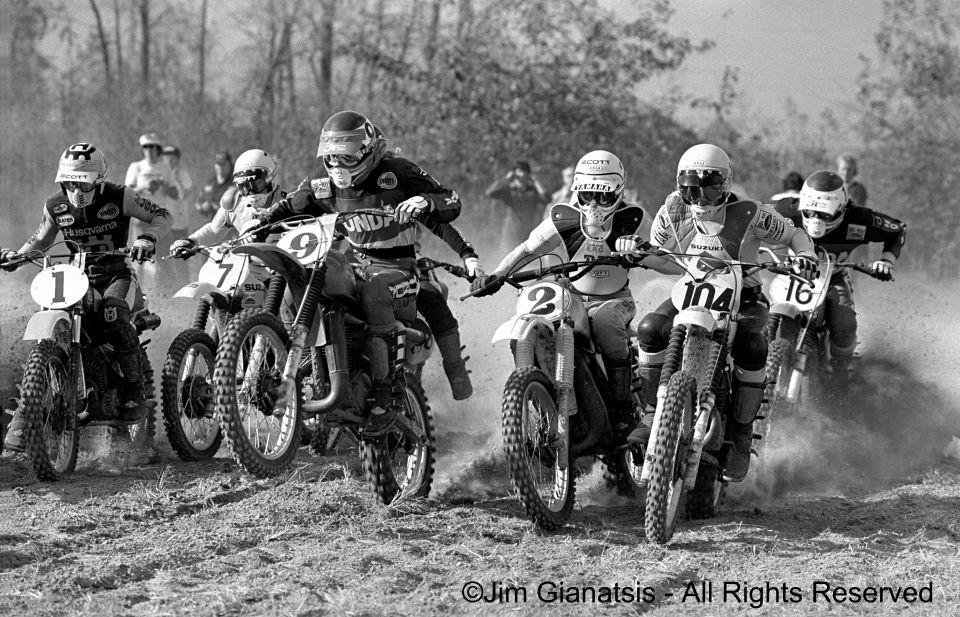 HEADLINES OF THE WEEK
"Prosecutor: Woman stabbed beau 25 times with heel" (AP Wire story)
"Tomac, Osborne plan to ruin the fun for Supercross front-runners" (GEICO Honda PR)
HEY, WATCH IT!
Matty Fran went out to Glen Helen, where outdoor testing was getting underway for a lot of fast guys, including Blake Baggett, Brett Metcalfe, Jeremy Martin, Darryn Durham, Joey Savatgy, East Region 250 SX title rivals Martin Davalos and Justin Bogle, and many more.
Check out this throwback video by Matt Wozney of MXPTV, shot at the 2008 Steel City Regional for the Loretta Lynn's AMA Amateur Nationals Championships. It features a very fast barely-14-year-old Ken Roczen, over from Germany and showing a lot of potential!
GoPro: Introducing #STOKED - The GoPro Energy Drink (Video released on April 1)
RANDOM NOTES
The Red Bull Glen Helen National, which opens the 2014 Lucas Oil Pro Motocross Championship, has announced a special offer on admission tickets. If you you order your tickets between now and April 15, they will cost just $30! That's $10 less than they will be on April 16, and $20 less than the at-the-gate admission on race day (May 24). For more information visit: www.glenhelen.com or follow this link to purchase your tickets right now.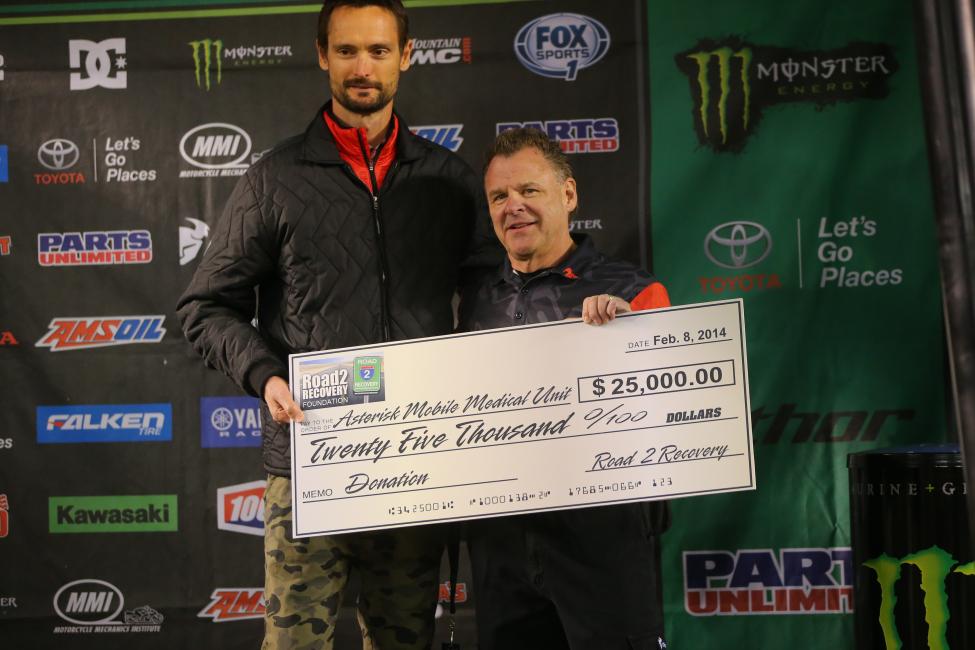 Here's a note from the Asterisk medics:
"The Asterisk Mobile Medical Center staff would like to thank Jimmy Button and the Road 2 Recovery Foundation for their generous contribution of $25,000 to our program. The donation was presented during intermission at the Monster Energy AMA Supercross FIM World Championship race held at San Diego, California on February 8, 2014. Jimmy Button, Vice President and Co-Founder presented the check to Dr. John Bodnar, the AMMC's Medical Director, on the podium before a sold out crowd at Qualcomm Stadium. Said Dr. Bodnar, 'This donation will go a long way in helping us to keep our riders safe and continue to offer the highest quality of care available to our motocross family. It is particularly personal and poignant to me, given the fact that Jimmy Button was one of my first patients in the early days of the Asterisk Mobile Medical Program. Jimmy understands the importance of having a team of skilled professionals at every racing event, and with their donation, we will be able to continue to strive to meet that goal. Many thanks to Jimmy and Road 2 Recovery.'"
Headed to Houston this weekend? Make sure to come by the Racer X booth to subscribe or renew—and get your Racer X wall-cling!
Only $15 gets you 13 issues of Racer X plus a giant, wall-friendly Racer X decal featuring Villopoto, Dungey, and Stewart—and as an added bonus, you can give a digital subscription to a friend!
(Are you in the U.S. military? Bring your military ID and we'll give you $5 off the subscription price as a small thank-you for your service.)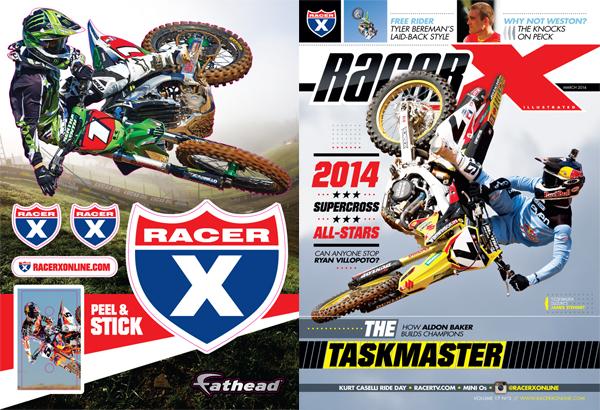 Jason Thomas has been thinking about Martin Davalos a lot and wrote this piece for Pulpmx.
Look for privateer rapper/hero Adam Enticknap to be interviewed this week on Fox Sports 1. And here's his weekly column to ponder.
David Vuillemin thinks that RV won't battle JS7 the rest of the way in this column.
For the latest from Canada, check out DMX Frid'Eh.
Do you know who Emily Ratajkowski is? If you happened to see Robin Thicke's "Blurred Lines" music video last summer, you might recall her dancing around, or maybe you saw her in the Sports Illustrated swimsuit issue. Now she's modeling for Fox swimwear and sharing the set with a sweet Honda Elsinore.
Chixmx.com, in conjunction with Mike and Jeff Alessi, will host a free one-day Women's Motocross Clinic on Saturday, April, 19 at Alessiland near Jacksonville, Florida. The one-day clinic will specialize in assisting women riders with riding technique, start technique, and fitness. To register or acquire further information, please see www.chixmx.com, or call 706-764-7963.
Finally, this weekend's AMA Mid-East Area Qualifier at Action Sports Moto Park in Athens, Ohio, has been rescheduled due to the abnormally wet winter and heavy rains in the region. The roadway and parking lot into the facility is impassable. The Mid-East Area Qualifier will be rescheduled for April 19 and 20 at the same location.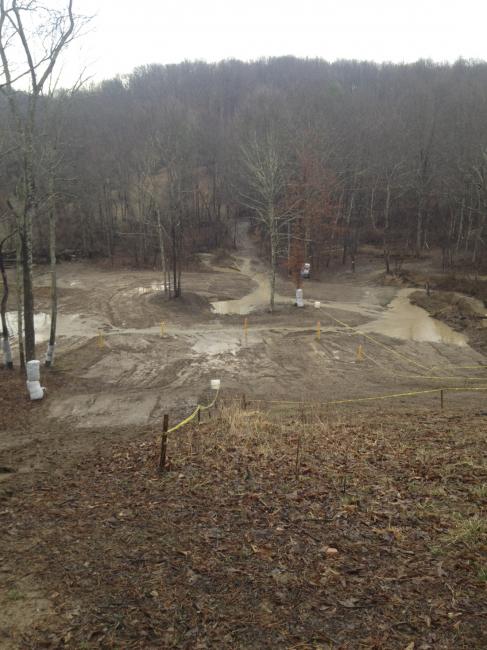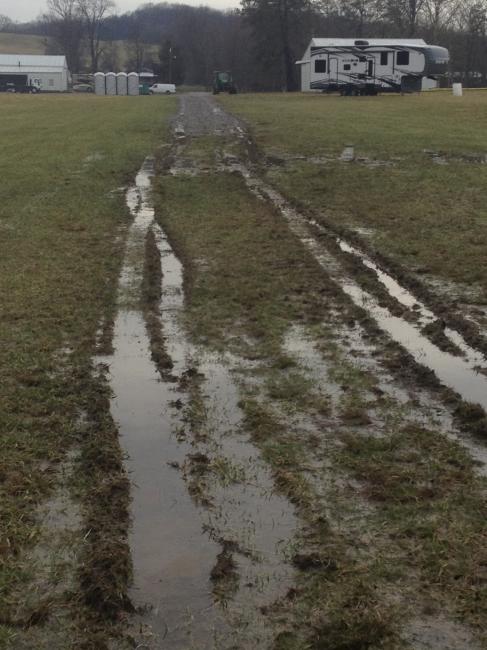 All Area Qualifier information and previously posted schedules will remain the same for the rescheduled event, including an optional practice on Friday, April 18. Sorry for any inconvenience this may cause.
That's it for this week. Thanks for reading Racerhead, and see you at the races!