Ping
First off, I'd like to begin with kudos to you for the weekly entertainment you provide for all of us that read your column. It really is something to look forward to every week. That said, even though I am a long time fan of yours and your rants, I have never taken the time to write you, for many reasons. But this week I just feel I can't let this go without asking for your insight for multiple reasons. Your experience in the Professional racing scene is vast and being a first responder I think you definitely can provide some insight to this subject, so here goes.... Why on EARTH was Wil Hahn scooped up in a fireman's carry by 2 guys, and carried to a Mule, then driven off sitting upright?? He was clearly unconscious for quite some time before he was removed from the track. Those of us at home had the luxury of seeing this horrible crash over and over, but I am quite sure everyone in the stadium knew it was a big hit. Shouldn't he have been placed on a backboard, put in a neck collar, and removed the right way?? Now I haven't been living under a rock my entire adult life, and I used to be a mechanic for a local pro rider back in the 90's, so I don't think for a second Wil is the first rider to be seriously injured and not placed on a backboard. However, in this day and age with protocol of first responders being what it is, shouldn't the protocol for the Asterisk Medical crew be updated a little too?? And don't get me wrong, I wholeheartedly applaud what those people do every weekend for these guys. I have the utmost respect for the Asterisk crew. As I said earlier, I have been at the Pro races a time or two back in the 90's so I know how far things have come from then. I also know how riders can be, since I raced locally for 14 years before hanging up the boots. You couldn't keep me away from my bike if I could walk. I get all that. But knowing what we know now (Wil's injuries included a fractured skull), am I wrong in thinking that he, and anyone else who hits that hard should be placed on a backboard and in a neck collar for precautionary reasons? We all know how these athletes are finely tuned machines capable of seemingly superhuman feats, but shouldn't they be afforded the same safety precautions afforded me if I get in a car wreck. After all, the impacts they sustain in crashes are often times equal to or greater than those in car wrecks. I hope you can provide some insight on this subject. More importantly, I would like to wish Wil a speedy recovery from his injuries. We will miss him at the first SX in the NY area since 1991, but I can't wait for the boys to show up and rip it up. Thanks for the time and looking forward to your response...
Ike (somewhere in upstate NY)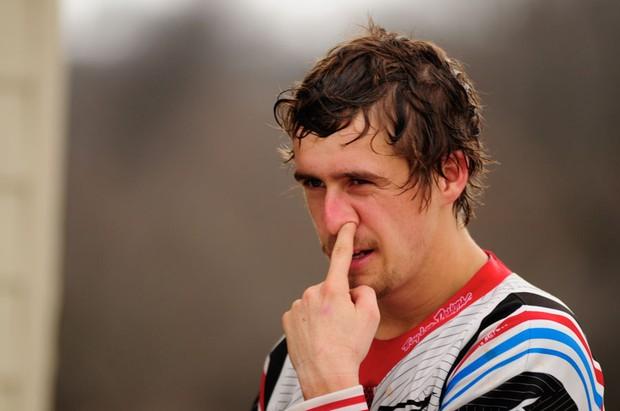 Ike,
Great question. Most first responders work under the medial direction of a doctor in a specific county. Because the Asterisk team crosses state lines every weekend they operate under Dr. Bodnar's license and, essentially, he creates the protocols. Working on a supercross track isn't as straight-forward as someone who fell off a ladder in their yard or hit something with their car. There are still bikes flying by and the rider and medical staff are often in a precarious position until they are off the track. Even in a traffic collision if there is immediate danger to the patient first responders won't take the time to thoroughly package them … they get removed from the dangerous situation and then treated. Also, in Dr Bodnar's experience, riders can be combative when they come-to from a concussion and trying to restrain them can actually do more damage if there is an injury. Recent studies have shown that spine-board immobilization does very little to reduce injury. Many protocols are changing in trauma settings to just a cervical collar and transport to the hospital unless there are symptoms of spinal cord injury. So, that said, I trust the crew working the tracks and I think the riders do too. After assessing his level of consciousness the first thing they likely did was ask Wil if he had any neck or back pain and feel along his spine for obvious deformities. While distracting injuries like his arm and collarbone could cloud that answer slightly he would have known if there was serious injury. The Asterisk team is comprised of trauma doctors, orthopedic surgeons, nurses and paramedics … you can trust that they are doing it right. Here's hoping Wil heals up quickly.
PING
Ping
With Villo's stomach issues in Canada, it is like the 10th case of "food poisoning" in sx/mx in the past couple years. Where the hell are these guys eating? Don't they have fridges in their rigs, or ice in coolers? It seems like the percentage of motocross era with food poisoning is WAY on over the national average? How can this be in a sport who's athletes are so regimented? I am so confused. Our heros should be worried about racing not these silent killers forcing them running to the john? Your thoughts fine sir?
12 Pack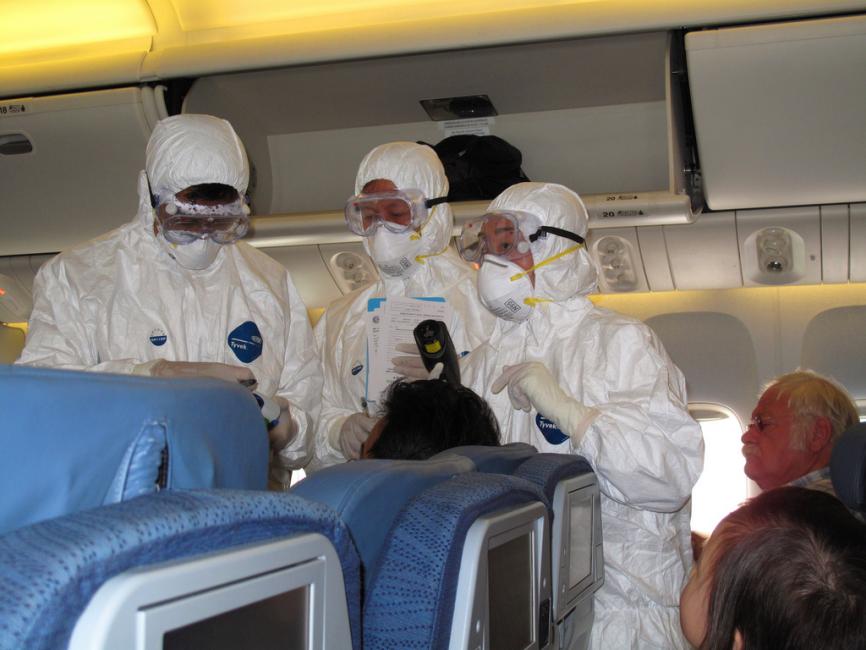 12 Pack,
This really shouldn't be such a surprise but I've had a lot of questions about this. Look, these riders are taxing their bodies physically for eleven months out of the year; that puts their immune system at varying levels of weakness depending on the time of the season. Guys like RV are eating super clean at home and most likely organic. Now stick them on an airplane for hours on end every single weekend. These flying petri dishes are loaded with germs, bacteria, feces, mersa and anything else that could make you sick. Add to that the stress of the race, which is a huge strain on your immune system and the five or six meals that they have to eat while they are traveling and you have a multitude of opportunities to get sick. Do you have any idea how nasty some of your favorite restaurants are? The fecal-to-oral route is the most common way that people contract food poisoning. Hey, there's a reason they post all those signs demanding employees to wash their hands before they return to work … because not all of them do. That's right. That means you've likely had a side of poppy fingers with your baby back ribs at Chili's. Racers get to navigate this gauntlet every single weekend, all year long. It's a miracle they don't get sick more often.
PING
Ping Pong,
I'm sick of everyone using championships as the sole determining factor to rank the greatness of a rider. I understand that the main goal for every factory racer is to win championships, but there are other factors that determine success.
This whole RV vs Stewart debate is getting out of control. There is no arguing that both will go down as two of the greatest riders of all time. And we all know that RV has more championships. But James has helped grow and influence the sport more than RV, and has probably made just as much money, if not more. KDub never won a 450 supercross championship, but we still call him one of the best ever.
I'm sick of the Ricky Bobby theory "If you aint first, you're last"...Can we please stop ranking riders based solely on the number of championships they've won.
Jeffro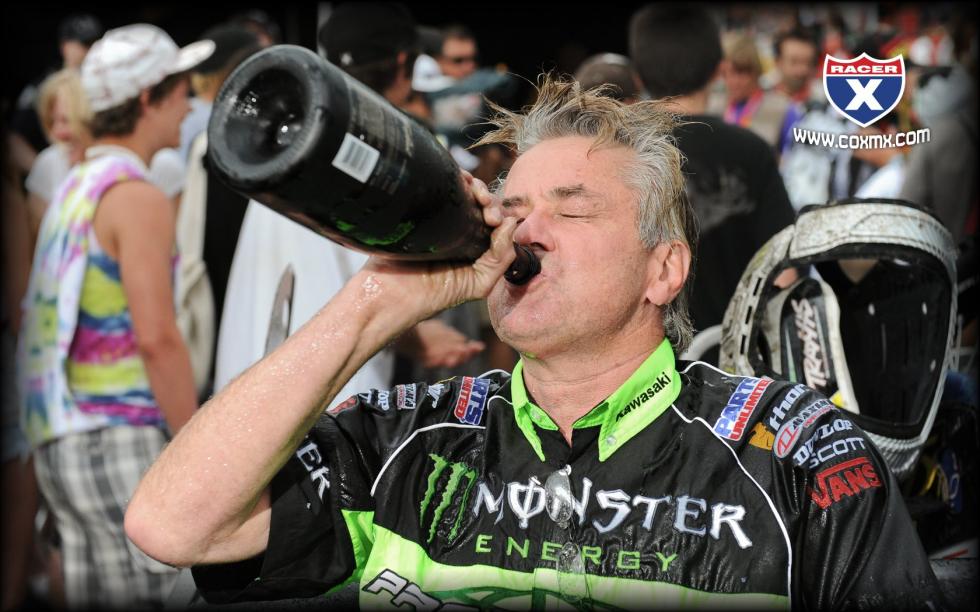 Jeffro,
As a guy with no championships I really want to get onboard with what you're saying here. Unfortunately, I don't think I can. In any sport championships are the pinnacle. There are great players/riders who have long, memorable careers but if they don't have a championship they simply can't be ranked above someone who does. Race wins aren't the ultimate goal in motocross, championships are. That is where the big bonuses are paid and that is what goes into the record books. I'm not arguing for RV or Stewart here, this is a much bigger subject than the two of them. Both of those riders have titles to their names and they will be remembered as greats when they are retired, slightly overweight and completely unknown by the newer generation of racers. Jeffro, don't let the chatter about who is better get you down. If you have a favorite rider you get to cheer for him and statistics don't matter. Who really cares who made more money? Are you getting a cut of it? No, seriously, are you? Because I'm not, and that's not cool if I'm getting left out.
PING
Have a question for Ping? Email him at ping@racerxonline.com.