Reliant Stadium
Houston

,

TX
Houston
Monster Energy AMA Supercross Championship
Hello, everyone, and welcome to the Rev Up. Round 14 of the 2014 Monster Energy Supercross season heads south to NRG Stadium in Houston, Texas, this Saturday night. While the 450 class has been on the grind for 14 consecutive weeks, the 250 West division has been dormant since February 8 and will return to action for a three race sprint to conclude their championship. There is some serious drama and unfinished business to unfold with that group, while Monster Energy Kawasaki's Ryan Villopoto will try to use the next three events to lock down the premier title. The three-time defending champion used the previous round in St. Louis to open up a 35-point lead and if he remains steady he can clinch at the new races in East Rutherford, New Jersey, of all places.
However, we cannot begin fitting any of the three championship crowns just yet. Like I said, we've seen 14 consecutive weeks of racing and the travel logistics alone are enough to seriously beat the guys down. Contenders are sick, broken and simply wearing thousand yard stares at this point. Throughout the next three rounds the boys will roam from Houston to Seattle to East Rutherford, although they will be mercifully rewarded with a one week break before the cross country trek from Washington to New Jersey. I'm not sure it will make a whole hell of a lot of difference because once the checkered flag flies in the Garden State, its another cross country journey to Las Vegas to finish the game. That's gnarly.
The only motorsport in the world with such an arduous itinerary is NASCAR. That said, none of these SX guys travel on personal aircraft, which means they're on the same germ tubes as you and I. They're waiting in the same lines and having to eat on the run. It's a factor that gets lost in the cut sometimes, with so much focus on riding and training. Hey, just getting to these races for 17 rounds in 18 weeks is an absolute beast.
Four to go.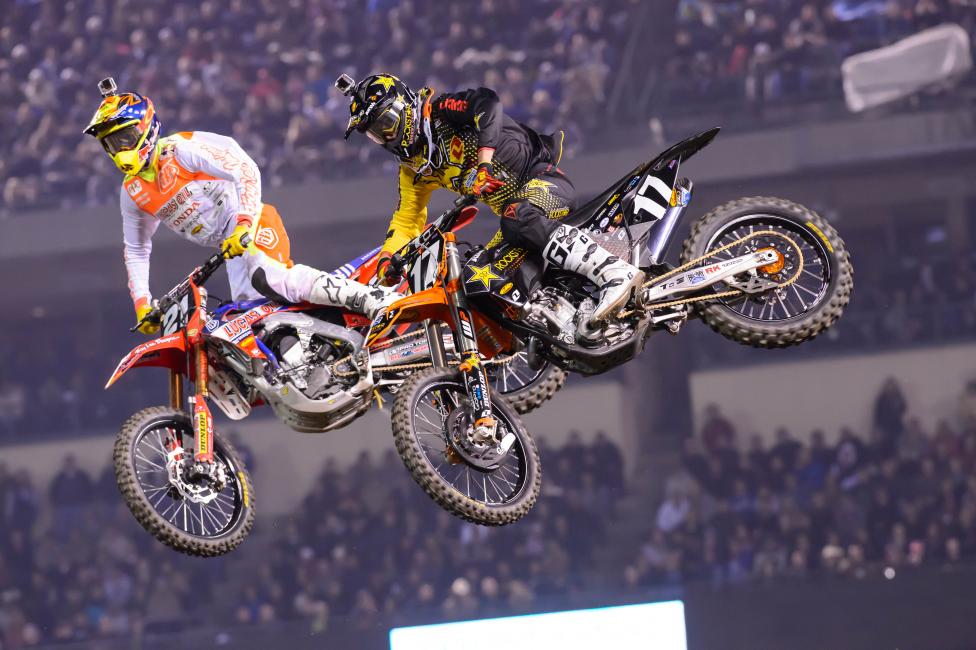 The soil is always a hot topic and we should be seeing a favorable racing surface for the third straight week. While a little more packed than Toronto and St. Louis, Houston typically has some reddish dirt that is a little loose and produces some berms in the corners. It doesn't rut up though, and creates a challenge for the racers as they will be transitioning from semi-loamy dirt to deceivingly slick spots in the flat areas. The design looks pretty good, and I think it will really lend itself to some passing and great racing.
Stewart is streaking, but Villopoto can almost taste the championship. The 250 West is back on the attack and it's a two-man fight there, so let's get jacked up for what should be a banger in Houston!
250
Remember these guys? This group gave us a lot to cheer for as we saw three last lap passes for victories, four different winners and some of the gnarliest takeouts of the season. Rockstar Energy Racing KTM's Jason Anderson is holding on to a four-point lead over Lucas Oil/Troy Lee Designs Cole Seely with three rounds remaining. Anderson has been the guy and if it weren't for the very questionable penalty at Anaheim 2, and getting taken out by Malcolm Stewart at Anaheim 3, he would have a lot more room to breath. Be that as it may, the two point leaders took a vastly different approach to the seven-week break.
Anderson hasn't raced and instead worked on outdoor testing and keeping up his supercross game at the practice tracks. He's been a virtual ghost during this span. Meanwhile, Seely has been getting gate drops in the 450 class and riding BMX trails. This is a slippery slope to me, as he could have gotten injured racing with the big boys, and a damn 20 inch BMX bike will eat your lunch faster than Kobayashi. But, he didn't get injured. Instead, he kept the racing flow going, plus, riding trails on a BMX bike is one of the most underrated training aspects of supercross there is. Nothing requires more timing and promotes a smooth, fluid marriage between your body and the handlebars. Seely's approach was risky, but it may prove to be the juice he needs to nail down these final three rounds.
We can't forget about Monster Energy/Pro Circuit's Justin Hill, who was one of the hottest riders on the track and the most recent winner since the division left the series after San Diego. I think the PC guys have made some gains on their bike since then, and "Little Hill" can be a huge spoiler in the championship. Then, of course, there is Dean Wilson, who was supposed to dominate the 250 West Region. Like Seely he moonlighted in the 450 class on Chad Reed's bike and really turned some heads. He is all but out of the title hunt and with nothing to lose he will be very tough to beat.
GEICO Honda's Zach Osborne had a rough go of it, with poor starts and some nagging injuries thwarting his title effort. He's been training like a mad man and is another guy that will make this championship exciting down the stretch.
It's going to be awesome to see this group back on track.
450
Yoshimura Suzuki's James Stewart is on fire right now. Love him or hate him, he is on a streak and riding absolutely phenomenal. Houston has been a pretty good place for #7 as he won three times in a row from 2005-07 and I see some things on the track map that he may already be eyeing up to use to his advantage. His recent charge has drawn him to within one point of Red Bull KTM's Ryan Dungey for second, and while it's a long, long shot for the title, Villopoto still has yet to have a mulligan. RV's sixth place wasn't really a bad race, per say. Now, if you go back to Anaheim 1 and think about those 20 points Stewart left lying at the end of the whoop section—wow! Anything can happen, and with James on a roll Villopoto has to keep his guard up.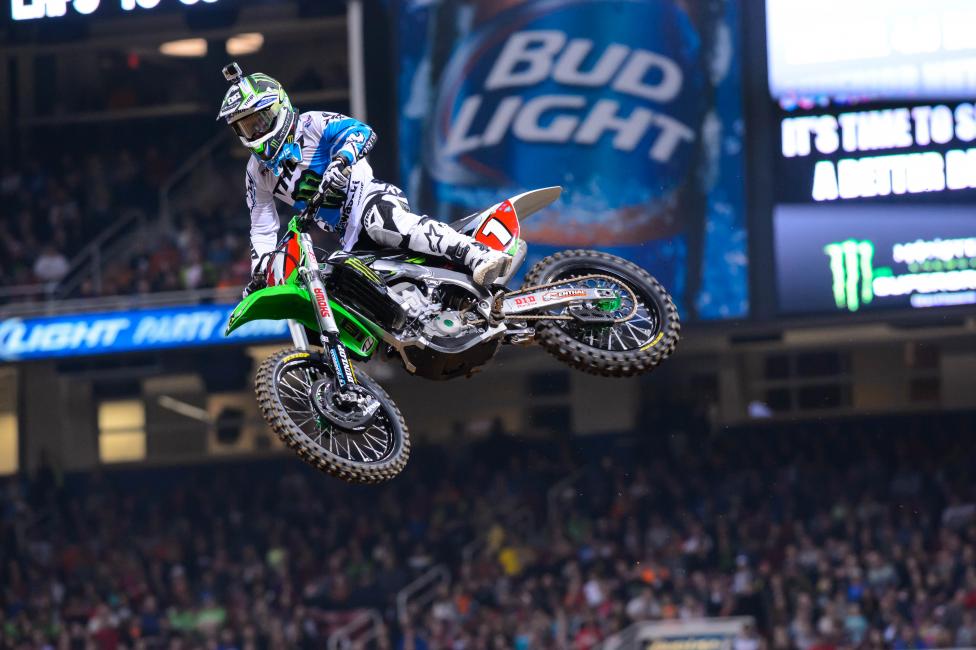 Honda Muscle Milk's Trey Canard is back and looked pretty good last weekend. Trey won Houston in 2011 and as one of his home races I think we'll see a little more from him this time. His teammate, Justin Barcia, has been riding well and can close out what has been a dismal season with four more strong showings. We've almost removed him from the potential winner column, but I kind of have my eye on him again.
This is an exciting weekend folks! There is a huge juxtaposition of demeanor between the two classes that will be racing, as the 250 West guys are fresh and hungry, while the 450 group is battle-hardened and weary. The next four weekends are going to be crazy because all the championships are on the line. The pressure is up, and every single position is so much more important now. The Texas faithful are some of the most core fans in the sport and they will be ready to watch it unfold. Four races to go, three championships to be decided. It's on.
Thanks for reading, see you next week.