Edward Jones Dome
St. Louis

,

MO
St. Louis
Monster Energy AMA Supercross Championship
Still sweating from the St. Louis main event, Team Mafia Moto Crew's Nick Wey was talking to fans lingering by his pits about his race. It's not an ideal time for fans to be talking to riders—emotions are pretty high at this point—but Wey, a veteran of some 17 seasons (seriously, where is this time going?) not only talked to the fans, but ended up putting the little boy on the seat of his bike and posing for a photo with him. It's this kind of interaction and popularity that makes him who he is.
In St. Louis, Wey put in his best result of the season. Coming from twentieth place after lap one, he ended up eleventh on the night. When I mentioned to him that no one is really going to talk about it because of what was going on up front, he disagreed with me.
"That's what you think. A lot of people are talking about it," said Nick, always one to throw a little swerve and verve into his interviews. "I got a lot of TV time, just blowing up Mafia Moto Crew. I saw a lot of guys here with shirts on and there were chicks jocking them, so I'm proving my point. If you get a Mafia Moto Crew shirt, chicks will be jocking you."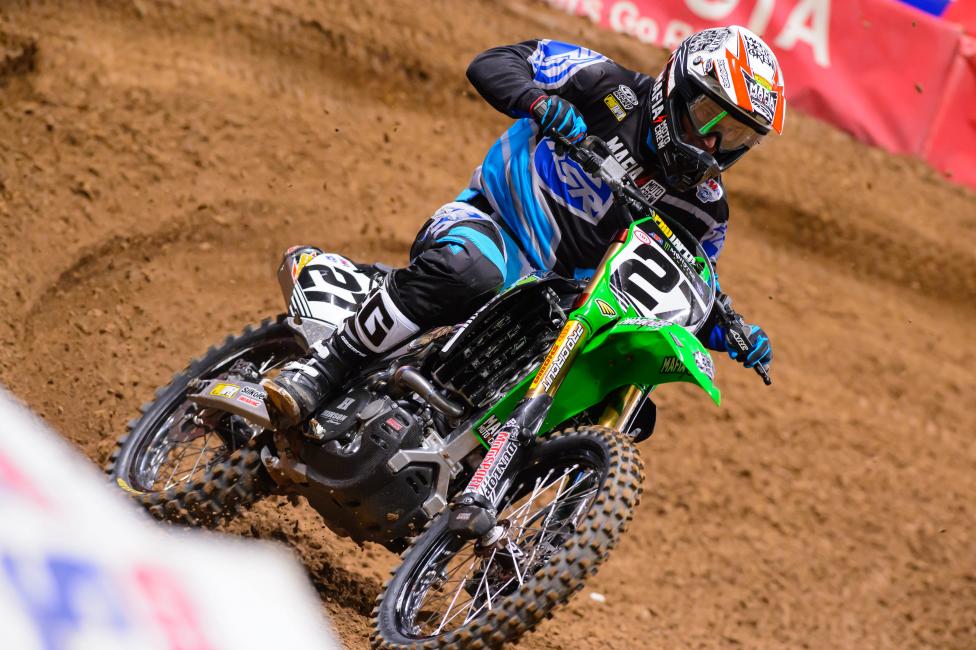 Forever searching for those two clicks that will put him on the board, Wey's won a national, made four 450SX podiums and has had a great career by anyone's standard. Himself, mechanic Daniel Castaloo and crew chief Big Nasty (mandingopickles.com) are a tight knit bunch. Along with them, Wey's put together his own team, at considerable expense, to enjoy his last few years on the circuit.
Wey's skills are still there. He crashed while in a qualifying spot in the semi, but nearly came back to grab a top five in it anyway. Then he won the LCQ (and of that, he explained, "The Kawasaki guys asked me what happened in the semi, and I said "You're welcome, I just sold some Kawasakis in that Last Chance"') and overcame a bad start to finish where he did. Two of the very technical sections, the whoops-to-dragon-back and double off, were a strong point for the #27 rider.
"A lot of guys were having a hard time there. I made some moves there," said Wey. "I never missed that all day. Honestly, I did it on the first lap of practice. Whoops are kind of my deal. If it's a little bit more technical of a track I have a good time."
He's not going to win any mains and he's not going to get that many headlines, but as the oldest guy out there in the main events, he's having a pretty good season. Remember, he skipped supercross last year when he broke his back at Millville in 2012. St Louis was something to build on for the Michigan Mafia member, he's 15th in the points and second privateer (behind Weston Peick) by our count.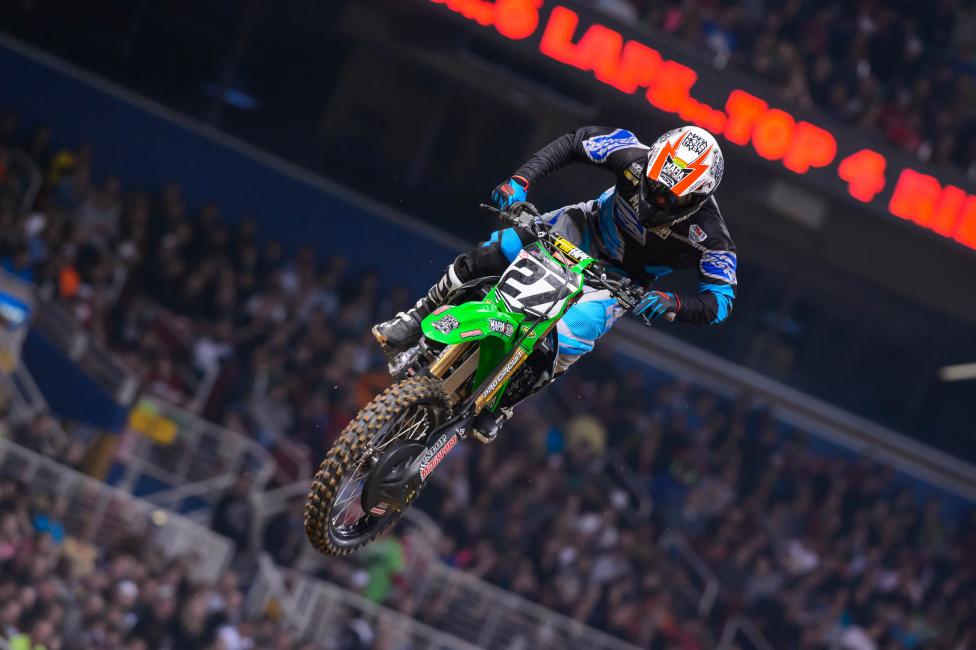 "It was my best finish of the season but I feel like there's a lot more under the hood," Wey told us after the race. And that's Nick Wey in a nutshell right there—always grinding away and looking for a better set-up.
Nick Wey is our Unsung Hero from St Louis and although we don't know how much longer he's got in the sport, we'll appreciate him while we can. We know that little kid who got boosted onto Wey's seat right after the main event will always be cheering for the #27.