On Saturday night James Stewart proved once again that when he's firing on all cylinders, he is simply the best rider in the field. He has more speed than arguably anyone in history and has innovated plenty of riding techniques along the way. The only thing keeping him from having many more titles has been the tendency to make little mistakes that have big consequences. Due to that, he's been labeled as a "COW" type rider—either "checkers or wreckers" or "crash or win." With this double-edged sword, James has won 50 450SX races and tens of millions of dollars, but he has also lost titles due to untimely crashes. When things go to plan, however, as it did Saturday, everyone else is racing for second place.
James's performance in St. Louis reminded me of a similar situation dealing with the best riders of yesteryear. In the 2003 season, Ricky Carmichael took home his third consecutive AMA Supercross Championship and led the points for most of the season. At face value, one would think that RC was clearly faster than everyone, as he often was in his career. For those who remember, that was not really the case. Ricky controlled the series early and racked up wins and points on the competition. He was consistent and built a big points lead as rookie Chad Reed went through the typical learning process. Reed had moments of brilliance, but would follow that with a costly crash, handing Carmichael an insurmountable advantage as the season wore on (Reed wasn't terribly inconsistent, notching nothing worse than a sixth, but Carmichael's consistency made him pay for even that). By mid-season, though, Reed figured it all out and went on a tear. He reeled off six consecutive victories to close the season.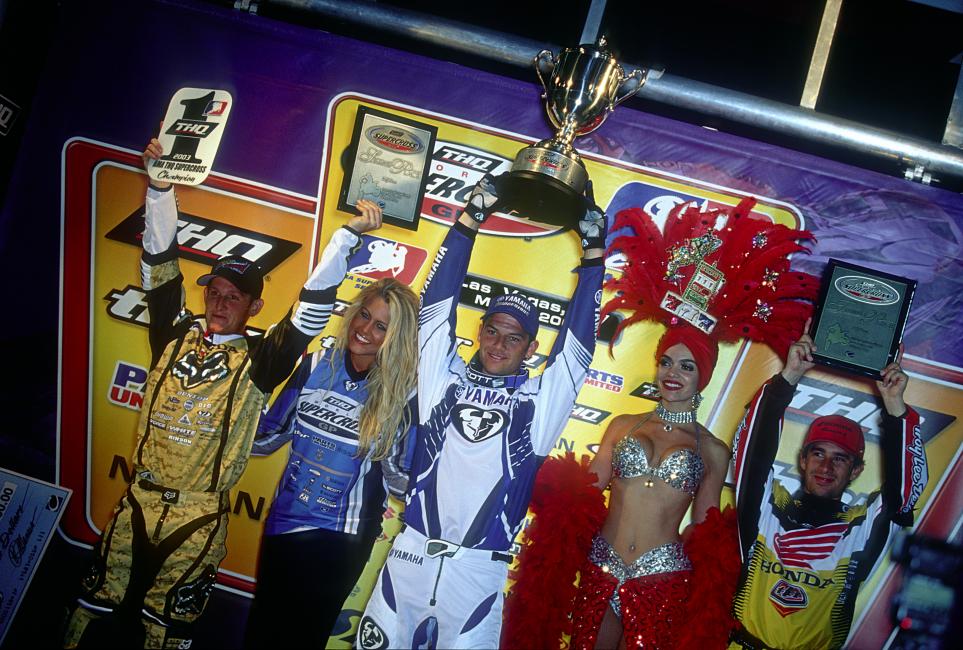 The RC camp was putting out the idea that it was all about the title and Reed had nothing to lose. While there was bits of truth in that, the reality was that losing weekly was driving Carmichael mad. No one close to the paddock had any illusion that Ricky wasn't giving his all to stop the Reed momentum. RC simply isn't wired to do anything else but want to win when the gate drops. Chad was simply faster at that moment in history. I was there and wasn't friends with either of these two riders at the time, but I was certainly paying attention. Reed had made the critical mistakes when it counted and Carmichael capitalized on them all the way to the bank. Was Reed faster? Yes. Was Carmichael the deserving champion after five months of racing? Yes. The supercross championship doesn't always go to the fastest rider. Most of the time it does, sure, but there are years when I honestly feel that the fastest rider doesn't win. That was the case in 2003, and I also think that 2014 will be that same scenario.
James has consistently been the top qualifier this year, he's won most of his heat races and has the most main event wins in 2014. When he has won, he's earned the victory convincingly. In Toronto and St. Louis, especially, he was undoubtedly the fastest rider on the track. In Arlington, he was the first to put together a tough jump combo and used it to get away. He outdueled Villopoto in San Diego and Detroit for two of his other wins—impressive stuff.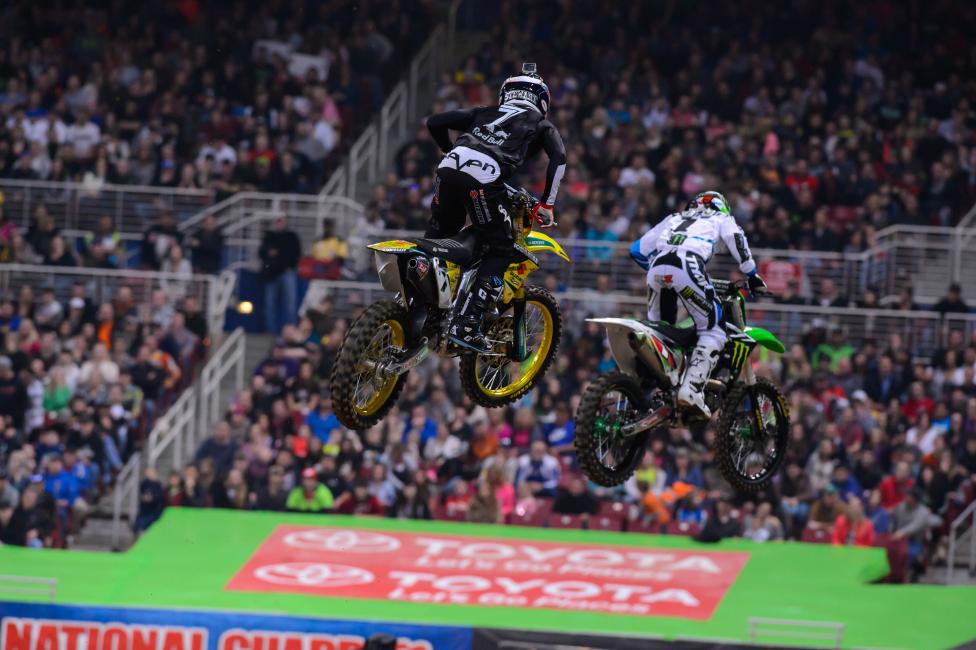 In the end, though, he probably won't wind up holding that championship trophy in Las Vegas. That honor looks to be headed to the rider who has been there week in and week out, never making that critical mistake. Ryan Villopoto surely couldn't have liked losing on Saturday night regardless of what is said about the big picture. He is one of the most competitive people I have ever met and his approach is eerily similar to Carmichael's. These guys DO NOT want to lose. In St. Louis, Villopoto had the lead and got passed. That's not in the game plan and rest assured that even though his points lead grew by 10 (Ryan Dungey was second in points coming in) that was not the driving theme leaving the dome. Just like Ricky in 2003, Ryan wants to prove why he has won all these titles. He doesn't want to hear detractors and give other riders confidence. He wants to rule this series with an iron fist. That's how racers like that are built. It's what drives them to train tirelessly and search for continual improvement, even when they've accomplished more than most ever will.
The interesting point here is this: In 2003, Carmichael won the Daytona Supercross and left with a big points lead. From there on out, though, Reed won every single race for the rest of the season—six straight. Stewart is working on a similar run now, taking the last three races since Daytona. If we were to win out, he'd end the season with seven wins, but Villopoto could still walk away with his fourth title while Stewart could argue he was the fastest rider. Most likely this exact scenario won't happen, because anything can happen in racing. But for anyone who has watched James the past two races, are you willing to bet against it?