By Dave Deringer
Team Babbitt's Monster Energy Amsoil Kawasaki's Tyler Bowers clinched his fourth consecutive Amsoil Arenacross Championship on Saturday night in Salt Lake City. He finished the series with 19 main event wins and is now fourth on the all-time wins list. We caught up with him shortly after he received the number one plate.
Racer X: You are now a four-time Arenacross champion. Congrats.
Tyler Bowers: It's been a hell of a year. From the first round when I got hurt and broke my lower leg and tried to get back into shape and healthy again. Then when the points reset, I went down at that first round and broke some ribs, so I was dealing with that lately.
Wow, didn't know that. You're good at keeping things quiet. So have you been training or practicing much?
Yeah, practicing starts, it's about all I could do. It's been a crazy year and I just practice starts all week. It's the most practice starts I've ever done during the year and the least amount of laps that I've ever done for a season.
But you still pulled it off.
I'm super pumped to be able to get this championship and battling with my teammate, roommate and best friend Zach Ames. He has been incredible, as well as the whole Babbitt's Monster Energy Amsoil Kawasaki team. It was also great to have the new guy Colt Nichols in there because he's been in and out of it and I've been helping him out a bit. I'm excited for the future of the whole team.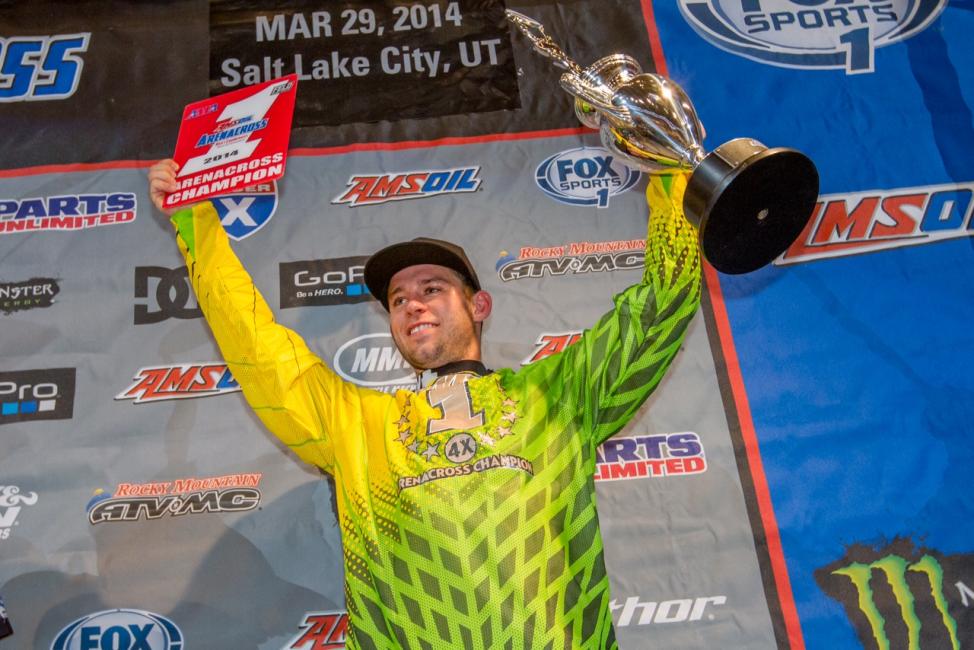 So you have another year on your contract here in Amsoil Arenacross on this team, correct?
Yep. I have a three year contract and this was number two and next year is my last year.
So you tie Josh Demuth with four Arenacross titles, and you're trying to match Buddy Antunez with five next year.
And Dennis Hawthorne back in the day. They both did it five times in a row. I'm going to go for that record but it's going to be hard. They did it when it was two classes for one championship and they did way more races during the year. But to even be near them in the record books makes me happy.
What did you think of the track this weekend?
It was good and just a traditional track. The whoops were big, but at the same time, they were safe. They were rolled and safer. We had a few rounds where there were giant whoops and really deep and that's when it gets sketchy, but they were thick and wide here. All the lanes were wide here and if someone goes down, you can go around them. The rhythm was good—there were two lines. Overall the track builders did a real good job.
So last year after arenacross you came out and won a supercross 250 main event in Las Vegas. The whole moto world wants to know, are you going to do any of the last four races?
That's the million dollar question right there. I get asked that by all the fans at the arenacross track parties every weekend. As of right now, I don't think so. I haven't got any calls and it really hasn't been discussed.
Then what's your plan for the summer?
I go down to Costa Rica and race. I got a nice lady down there that pays me to race for the Monster Energy Kawasaki team down there and I get to hang out at the beach and enjoy the nice weather and race all summer. The competition is fierce down there and the locals know their tracks.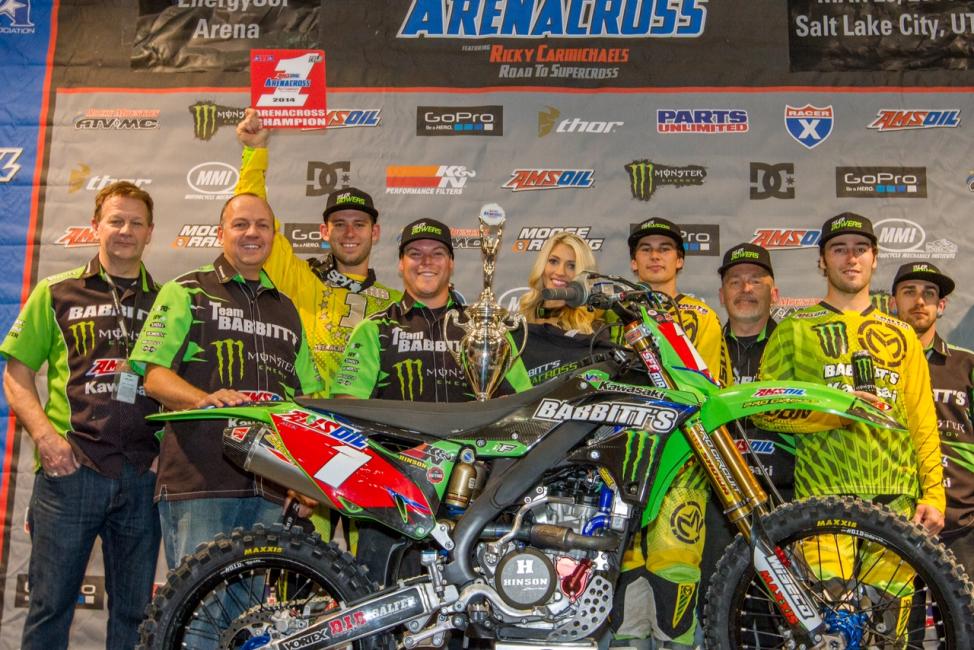 Well, good job on the season and pulling it off with those injuries. You're one of the all time best.
Thanks. I enjoy it here and I'm happy. I have a lot of people telling me to move on, but I have contracts to fulfill and races and championships to win.
After the event I asked Babbitt's team manager Denny Bartz if the team was going to compete in any late-season supercross races as they have in years past.
Denny Bartz: We want to, but we need to work on a few things first. I'm talking to some people right now, but I want to take all three of our guys and take the rig. We'll see, but probably not next weekend. Maybe the last two or three rounds if it all works out.