Edward Jones Dome
St. Louis

,

MO
St. Louis
Monster Energy AMA Supercross Championship
Hello, everyone, and welcome to the Rev Up. And then there were five. Round 13 of the 2014 Monster Energy Supercross Championship stampedes into St. Louis, Missouri, to begin the final stretch of what has been a sensational supercross season. If this particular championship has proven anything it is to expect the unexpected, as the crazy occurrences continue to pop up! While it is extremely rare for a champion to make it through a series without some pit falls, I don't think anyone saw Ryan Villopoto having to race an event without a single lap of practice. We typically see the guys roll out for the opening laps of the day and hit all of the jumps and skim the whoop sections, but lining up for a heat race virtually blind like that was unheard of. The feat produced his worst finish of the season, a sixth place, but like some have said already, it may have been the championship deciding round of the championship. However, that notion may be premature as there are still 100 laps left to race for the 450 division. To quote John J. Rambo, "Nothing is over! Nothing!"
I can't go one word further without acknowledging one of the greatest rides in supercross history that took place last Saturday night. Yoshimura Suzuki's James Stewart traveled into a thought-to-be-forgotten dimension of his arsenal and left us with our jaws on the floor. Bubba is back and has won two in a row for the second time this season. With some familiar dirt on tap for this weekend's offering inside the Edward Jones Dome, he is primed to begin a streak. This particular venue has a penchant for streaks, but we'll get to that later. The point lead is 25 and now we begin the scramble down the stretch to see if Red Bull KTM's Ryan Dungey or Stewart can bring this brawl down to Las Vegas.
An unfortunate bombshell dropped in the 250SX East Region with St. Louis marking the final East Coast round before a two-round break. The misfortune was of course the injury of Adam Cianciarulo. While heartbreaking, the young debutant has nothing to hang his head about. Many, many good days lay ahead for one of the most exciting talents we've seen in years.
It's time for what has historically been one of the wildest events of the season. St. Louis ALWAYS brings the heat, so let's get the shoulders back for both classes this Saturday night!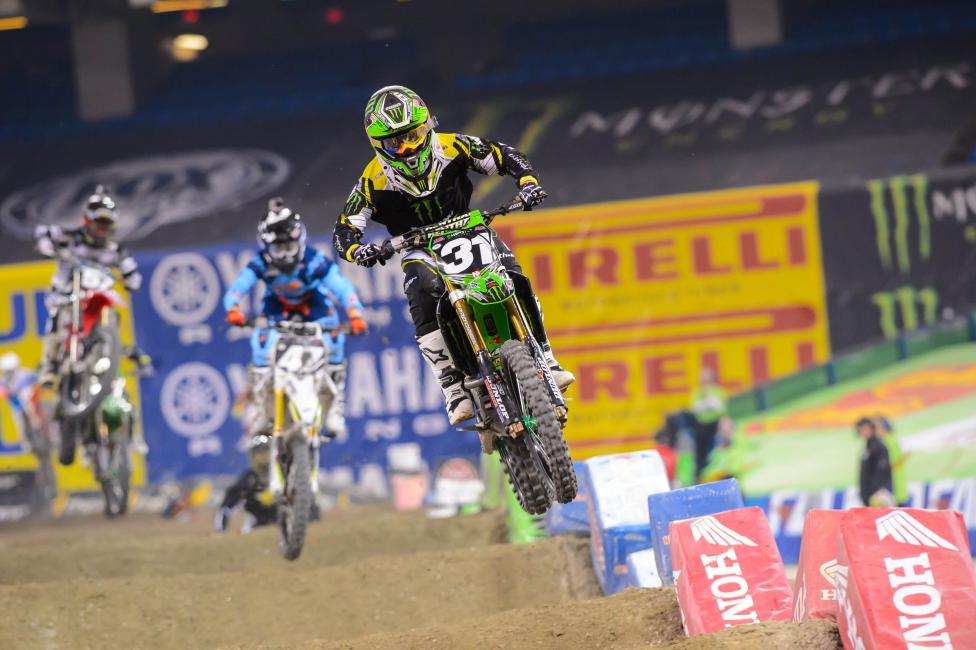 250
You could almost feel it coming. It was eerie though, as there were no warning signs or red flags to indicate that Monster Energy/Pro Circuit's Adam Cianciarulo would not win this title. He was fast from the opening laps of practice in Arlington and finished first or second through five extremely solid main events. Fans fell for the well-spoken Floridian's demeanor and it was almost too good to be true. That was the eerie part, because it was, indeed, too good to be true. At least this season. He'll be fine though. Remember another Florida rider failed to win in his rookie supercross effort and went on to a fairly admirable career: His name was Ricky Carmichael. Stewart didn't capture the 125SX title in his rookie season, either.
Alas, the floodgates have opened. GEICO Honda's Justin Bogle has been on a mission this month and finally crested the top of the mountain in Toronto with a huge win. With the demise in Toronto of Cianciarulo and his Pro Circuit teammate, Blake Baggett, Bogle is now a scant five points behind the third member of the Pro Circuit juggernaut, Martin Davalos. What a series! Four different winners in six races and the title is up for grabs. Bogle has been a monument of consistency, but the crash-happy Davalos still leads by five points and a great battle between two powerhouse organizations will commence.
This is going to be a great main event.
450
As mentioned, Villopoto finished sixth last weekend and lost six points to Dungey. The three-time defending champ had methodically developed a full race advantage, but he is now back in "anything can happen" territory. How will he rebound from such a difficult weekend? With Stewart on fire and Dungey basically a shoe in for the podium, he has to continue to pound the rock and put a band-aid on the small abrasion. A time to panic it is not, but if another six points get shaved off his 25 point lead, the wolves will be on the hunt.
St. Louis has been equally rewarding and crushing to the Monster Energy Kawasaki mounted champion. While he has won the last two events inside the Edward Jones Dome, his 2010 season ended here with a horrifying endo that produced a broken leg. If Villopoto is anything, he is unflappable and he'll be ready to win.
As round 13, the ominous number has some correlation to the event. In 1996, Jeff Emig snapped Jeremy McGrath's 13-race win streak with an unforgettable hometown victory. Team Great Western Bank's "Factory" Phil Lawrence led a good portion of that main event on a white Kawasaki with #13 on the side plates. Kind of odd that the all-time SX win streak still stands at 13 (Carmichael won 13 in a row to close out the 2001 season). In 2007, when Carmichael was racing only part time, he made sure to make St. Louis a stop on his tour. The event marked the last SX win of his career.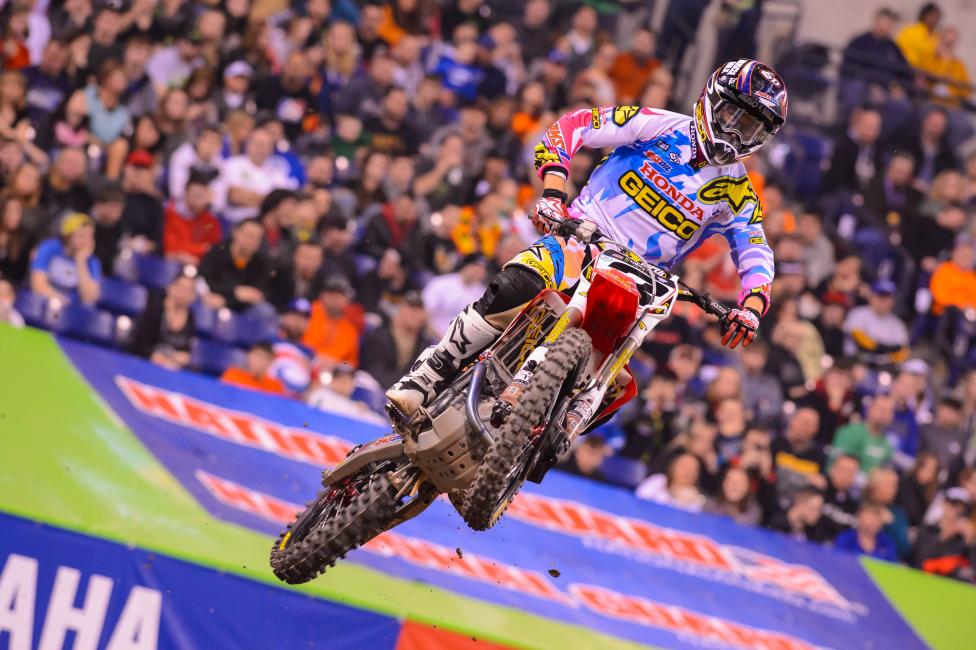 We're down to the short and curlies of the 2014 SX season, and the only question that keeps popping into my head is, "What the hell can happen next?" We've witnessed some of the most amazing feats in supercross history through 12 straight weeks of racing, and I have a feeling there is still a plethora of hold your breath moments to come.
If you aren't already jacked up about what we've seen thus far, go ahead and sprinkle in the fact that Honda Muscle Milk's Trey Canard will make his series debut and GEICO Honda's Eli Tomac will return. The track looks great, and the dirt will be primo! Madness of a great variety occurs in St. Louis as we prepare for the home stretch. What's going to happen in the 250 East? Can Stewart carry the fire for the third week in a row? What will Canard have to say about all of this? These are great days to be a supercross fan. The seats will be filled to capacity and that place is going to absolutely come alive for opening ceremonies.
Five to go. Let's roll.
Thanks for reading, see you next week.