Davey Coombs: What Adam Cianciarulo tried to pull off on Saturday was inspiring on the one hand, and really hard to watch on the other. He gave it everything he had, but it was obvious that he could not carry on. The frustration and disappointment were obvious—it was his championship to lose. Such is the drama of motocross, and sports in general.
But I am more impressed by what he's doing now, which is forgetting about taking this championship, and taking the long approach to his career: get surgery, get healed, get back out there. Like Ricky Carmichael always said, if you get a six-week injury, take six weeks. If you get a four-month injury, take four months. Coming back too soon—or staying out there too long—just compounds the problem, extends the problem, and makes the problem more likely to come back.
The history of motocross is filled with hard stories about young men who had all the potential in the world on a motorcycle, only to see it slip away due to aggravated injuries, impatience, and bad decisions. Think of a phenom like Robbie Reynard, who was every bit as hyped as Adam or anyone else coming out of the amateur ranks, only to begin a long, arduous battle to stay healthy that lasted his entire career. It seemed like every time Reynard got a head of steam up and a few weeks of good races under his belt, he would get his wrist or shoulder jacked up again and there went all of his momentum. To his credit Robbie never gave up—he was a solid professional—but the record books will never be able to explain how good he might have been, or how much he lost due to the bad cards he was often dealt. The same could be said for Ryan Morais, or Ben Townley, or Broc Hepler...
Cianciarulo did enough out there this year to show me that he's going to be a very good rider, and a lot of people are going to be after him in the future. He's wise to let this East Region title go and get ready for the much bigger things to come.
Steve Matthes: Well, this certainly isn't good for Pro Circuit, Adam Cianciarulo or his fans, now is it? I applaud Camp AC for doing the right thing; he's 17 and has lots of winning ahead of him, so fix it now. Soon he'll be back and killing it on the reg. I just typed that out so his fans would think I was cool.
Adam has surprised many with his somewhat dominant supercross season, but right behind Adam in the surprise department is Martin Davalos. Adam's teammate has always been fast, but until this year had never won a race and had never really been that consistent. Well, he is this year and finds himself in the points lead.
Again in the surprise department is GEICO Honda's Justin Bogle, now just five points back of Davalos in this title chase with three races left. Bogle wasn't even supposed to race this thing! In fact GEICO went out and got Blake Wharton as an injury fill-in for Bogle and now the injury fill-in is out with an injury while the rider that was supposed to be out is very much IN.
Both Davalos and Bogle are pretty fortunate to be in this spot and both riders are going for their first professional titles. And both guys are pretty good guys, with lots of fans in their camps—including some Ecuadorian Banditos that I hear are pretty fierce.
Davalos pluses are he's a great starter and he's got incredible speed. On the downside is that he tends to crash. A lot. Bogle's got the momentum, he's talented and he's in shape. The downside is he doesn't have Martin's pure, raw speed.
With only five points separating them—place your bets—who's going to come out on top of this when it's all said and done?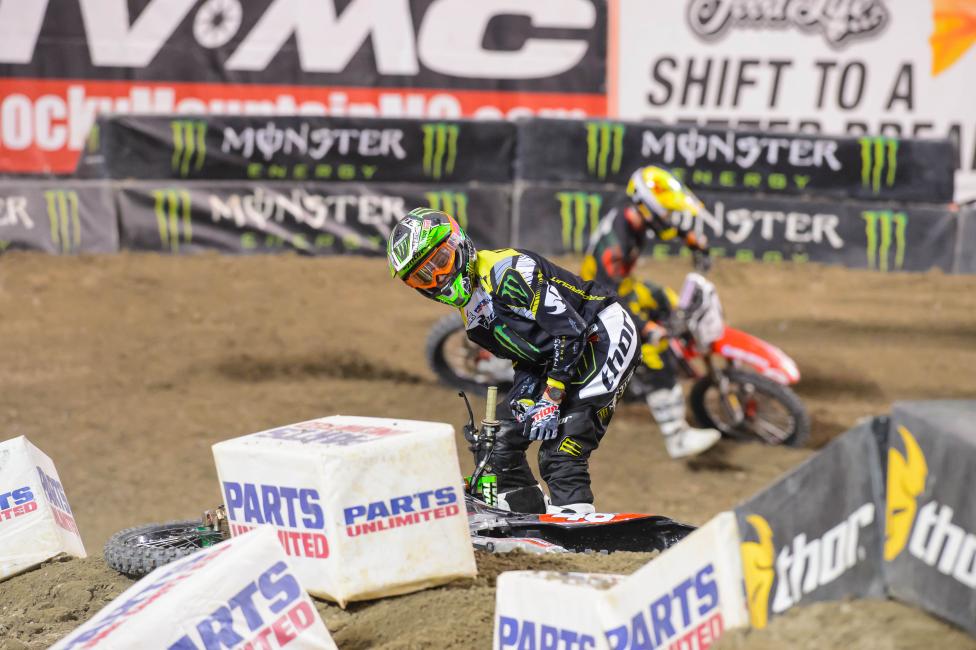 Jason Weigandt: I'm surprised this happened, but I'm all for it. We now know, even more than we already knew before, that AC has all the goods. The only thing that's going to derail him is an injury so I'd recommend taking no chances. Shoulders and wrists, especially, are motocross career killers. Plus, current SX rules say that if Adam did win this year's 250SX East title and then won another title next year (want to beat against him?) he'd be off to the 450 class in 2016. Why rush?
The only thing I'm bummed about is that I picked him to win this title when the season started and now I'm gonna be wrong, but "we" came close.
Jordan Roberts: Adam Cianciarulo, aka Baby Jesus, came in as one of the most-hyped rookies to hit the pro ranks in the past couple decades, and even though he has yet to put a full pro year under his belt, he's experienced more highs and lows than most do by the end of their careers.
The lows? AC began the 2013 Lucas Oil Pro Motocross Championship with salmonella and never met his true potential, finishing his lackluster series 16th in points. Cianciarulo's Monster Energy Supercross title hopes are now obviously dashed, but the three-to-four month recovery time will leave his 250 Pro Motocross title hopes jaded as well.
The good news? Cianciarulo is only seventeen and has already matched some of the sport's best, having taken three wins out of five supercross races he has completed in his rookie season. He finished the other two races in the runner-up position and looked to be well on his way to claiming the 250SX East Championship before the notoriously difficult whoop section in Toronto came up to bite him, just as it did many others. The rookie was managing the series like a seasoned vet, but unlike the career of a seasoned vet, his is just getting started and he has plenty of races ahead. It's better to take care of the shoulder now rather than having a lingering problem with it for the remainder of his career.