Toronto, Canada
Race Center: Toronto
BTO Sports is your number one source for all of your motocross parts, gear, accessories and apparel. BTOSports.com is a motocross company who is truly dedicated to the sport and to the customer. Proud sponsor of your Racer X Podcasts and the BTO Sports race team.
Oh Canada indeed! Round twelve of the Monster Energy Supercross Championship took place in Toronto, Ontario, Canada and I've always been a fan of this race for obvious reasons: I'm Canadian. Also, I love the location—staying right downtown in the hustle and bustle. My wife and I prefer to vacation in New York City over, say, a beach somewhere, so we like being in the center of things and having something to do at all times.
The track in Toronto was pretty good. Dare I say the best one ever up North? That's not saying much when you consider past years resembled A) a melting glob of mud, B) a rock pit and C) soft, chewy cookie. I liked what I saw this weekend. It was the right amount of softness and traction and a stark contrast to many of the tracks we have seen this year. There was a rhythm section that was super long and offered various ways through, a split lane (which was kind of eeeh—not totally exciting), some tough whoops and all in all a pretty cool layout.
People always ask me how I would improve the tracks and while I acknowledge that it's not always easy to build these things, I think there are three basics that can help the tracks and therefore, help the series.
First, buy more dirt and go closer to the edges of the stadium. In a dome like Toronto, the amount of floor space left over is ridiculous. I know buying dirt is very expensive for the promoters but, this just in, they can afford it. The series is making tons of money and I don't care what anyone in power tells me. It is and that's the bottom line. So spend some money and buy some dirt and use all the available space! The Toronto track had low 50-second lap times but it didn't need to be that short. Also, when "we" have the bigger floor and more dirt, "we" can build bigger jumps. Why are the triple jumps the same distance now as they were when we were all on two-strokes? Get some dirt, build the jumps up and use up the floor space!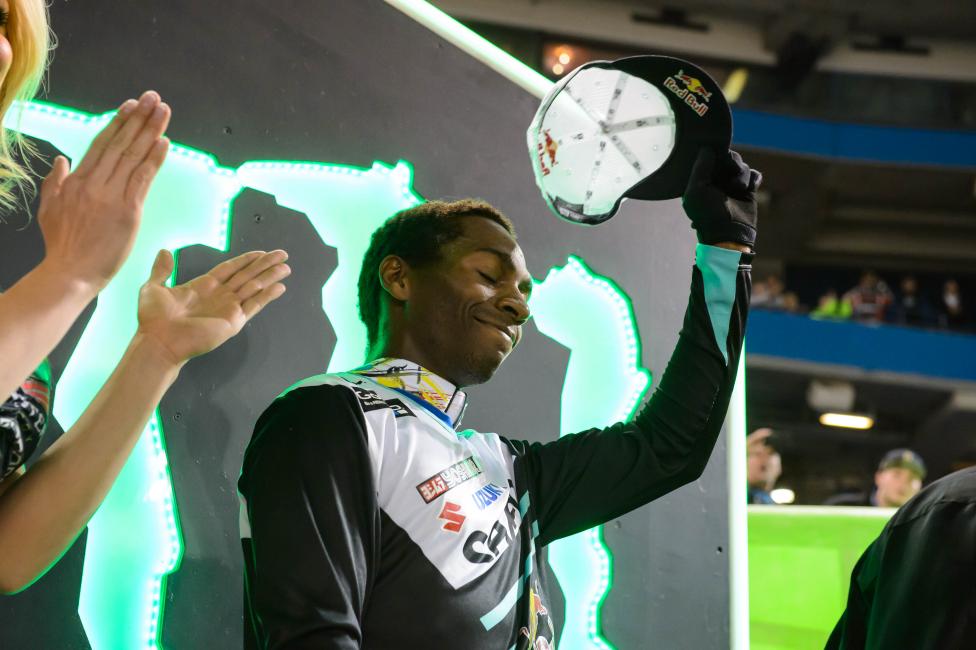 Secondly, use the over/under bridge. It gives you some options. I've beaten this horse to death. I'm not going to beat it anymore or I'll be charged with animal cruelty.
Finally, we've got to come up with a system of nets in the corners of the stadium to build some berms. I completely understand that ever since Matt Goerke flew into the seats in Indianapolis, which probably got lawyers involved, the track builders can't build big berms. But if you bought some nets, a couple of poles and mounted them solidly, you could build big ol' berms that would help with passing and make racing more exciting. As it is now, the turns on the outside edges of the stadium are flat and the riders tiptoe around them like they're on ice. It's incredibly boring to watch and there's nothing for the riders to do! "Hey man, what about the fans sitting there and looking through your stupid nets?" you might ask. Well, the NHL (that's a league in a sport called hockey, people) does it in every arena to prevent flying pucks and I've sat behind this netting more than a few times. You don't even notice the black webbing. Your eyes adjust to this. I really, really, really, really, really think that Feld needs to put nets up, build up the turns and open up the tracks a bit. Skip some of the fireworks in opening ceremonies and put that money toward some nets and poles.
Moving on. What high drama we had in Toronto! JGR Toyota Yamaha's Josh Grant never made it out onto the track due to food poisoning, RCH's Broc Tickle endoed his in the second or third lap of practice and will be out for a while and Ryan Villopoto didn't practice all day due to stomach pains. It was a bizarre start of the day for sure.
Eventually Villopoto came back for the heat race, qualified through the semi, and despite never seeing the track all day long, finished the main in sixth place. Guys like Ryan Dungey and James Stewart were licking their chops over the chance to cut into RV's big points lead, so they had to be a bit bummed when the #1 lined up for his heat race. It was a remarkable achievement by Villopoto and normally would've been THE story of the night had we not seen what we saw in the main event. Stay with me.
Villopoto was in such pain that he couldn't even stand up and was forced to go to the hospital to figure out what was going on. Although it's none of our business what actually happened, isn't it super weird that he just had unbearable stomach pain, yet still raced? I'm sure he was drugged up like a circus elephant but if I'm Villopoto or Kawasaki, I'd be pretty worried that this problem could reappear down the road. Or maybe they figured out what he did (drank some antifreeze is #1 on my list—it smells so sweet!) and they fixed it. Still, scary stuff!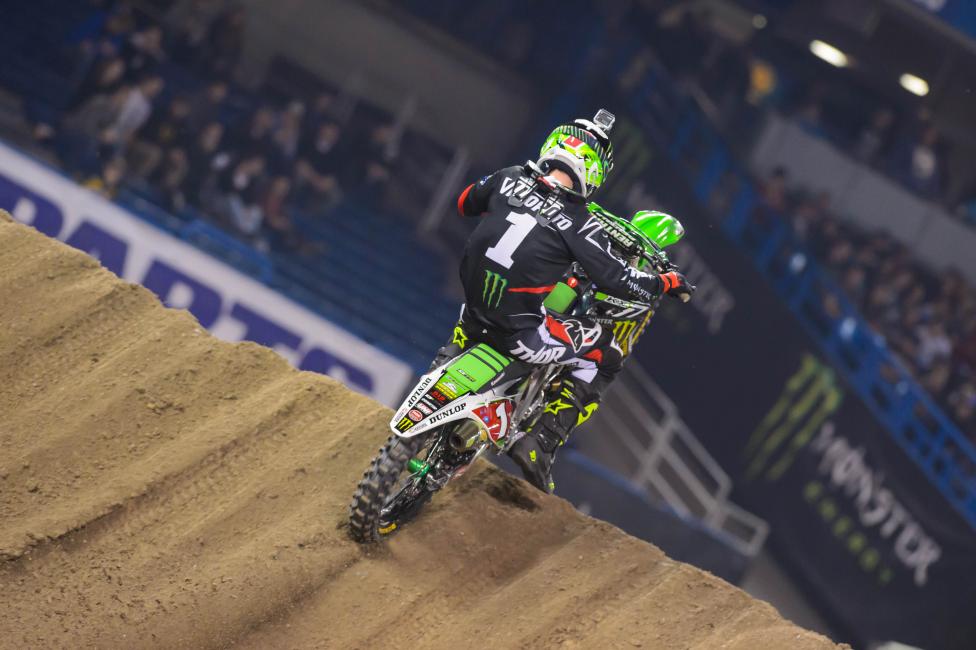 Now onto the other part of the main.
And there it is. Consider the mic dropped. Yoshimura Suzuki's James Stewart overshadowed Villopoto's gutsy ride with his come-from-behind ride to take his fourth win of the year and second in a row. This was vintage Stewie, the kind of magic we only see once in a while. Stewart reached back into his "Crazy Balls" past and went balls out for all of us to see. I know that's using "balls" a lot in a sentence but man, what a ride.
Stewart got a terrible start and honestly I thought he was out of it. Yes, he was the fastest guy all day, but he still needed to get the start, right? In this day and age, not many guys can do the last-to-first thing, but Stewart was close. He rounded the first turn for sure somewhere between fifteenth and twenty-second, depending on how you want to score the dudes on the outside, and then he got busy. Doing the triple/triple before the finish was nuts (Justin Brayton did it as well), as was busting out the quad in the rhythm lane that no one had really done in the night show due to the track breaking down. Then there was the little roller section before that rhythm with the triple in it. Stew was wheel-tapping that and going about 10 mph faster than the riders in front of him.
The lap charts say he came from eleventh to first in fourteen laps but he was further back than that, and, by the finish, it wasn't even that close. He had the lead by lap 15! It was James Stewart, then everyone else. It was nice to see the magic is still there.
I was texting a bit with Stewart this week and I do think it was important for him to get the win and push himself past Ricky Carmichael into second on the all-time SX win list in one less race than it took RC. Of course Stewart trails RC in titles (five to two) but he's got one more race win and counting. Trust me, these racers take pride in these things and every little bit counts.
There's still no doubt in my mind that Stewart is THE most talented person to ever ride a dirt bike. His skills are on another level. Sure, I'll take Ryan Villopoto to win this title and win more races (he doesn't make the mistakes that James does), but I'm glad there's a guy like Stewie in the sport. There isn't one person who left the Rogers Centre this past Saturday night who won't remember this ride years from now. Love him, hate him, whatever, you can't stop watching him.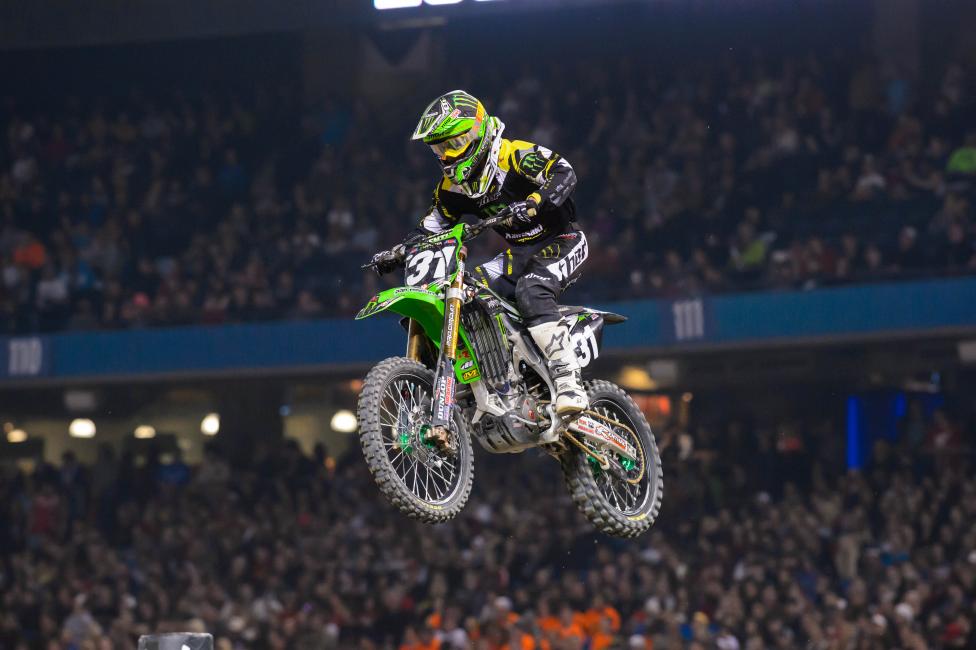 Man, this Eastern Regional 250SX Championship just got wacky, huh? Series points leader Adam Cianciarulo went down in practice and knocked his melon a bit. He recovered from that but the shoulder popped out while he was going through the whoops. This was not a good trip to Canada for Adam and I have no doubt he'll hold this against me at some point. Cianciarulo tried to race (and by the way, Aldon Baker's guys did NOT enjoy their trip to Canada one bit) but the shoulder came out again (he also had shoulder problems as an amateur) and he couldn't finish the race.
I know he's going to try and race this weekend in St. Louis. Although I stayed at a Holiday Inn one time, I'm no doctor. But, this seems to be a really tough task as his shoulder came out both times without him crashing. That means it's basically stretched out to the point where anything past the point of a strong breeze will probably put it out again. I'm not liking his chances to do much this weekend in St. Louis, but I don't blame him and his team for trying.
[UPDATE: Cianciarulo will undergo surgery today to repair his left shoulder. He is expected to miss three-to-four months.]
So just like that, this series is wide open and Martin Davalos is your points leader with only three rounds left. Read that back to yourself, throw some water on your face and realize that it's the truth.
But look who's coming on here. Last weekend in Detroit we saw Justin Bogle get a career-best second place and now this week he went and did one better with a win. Bogle rode a great race from start to finish and now he's only five points back of Davalos for the lead.
The GEICO Honda guys have been waiting for Justin to break out. He was a pretty highly touted amateur rider who showed great potential but injuries have held him back. He was seriously hurt before this supercross season and maybe he saw the writing on the wall; he knew that the next step from GEICO Honda was nowheresville for a guy like him. Everyone matures at a different rate and maybe we're seeing this from a guy like Bogle. He's got a great riding style and lots of talent, and staying healthy and working a bit harder than he has before seems to be the key to Justin's improvement.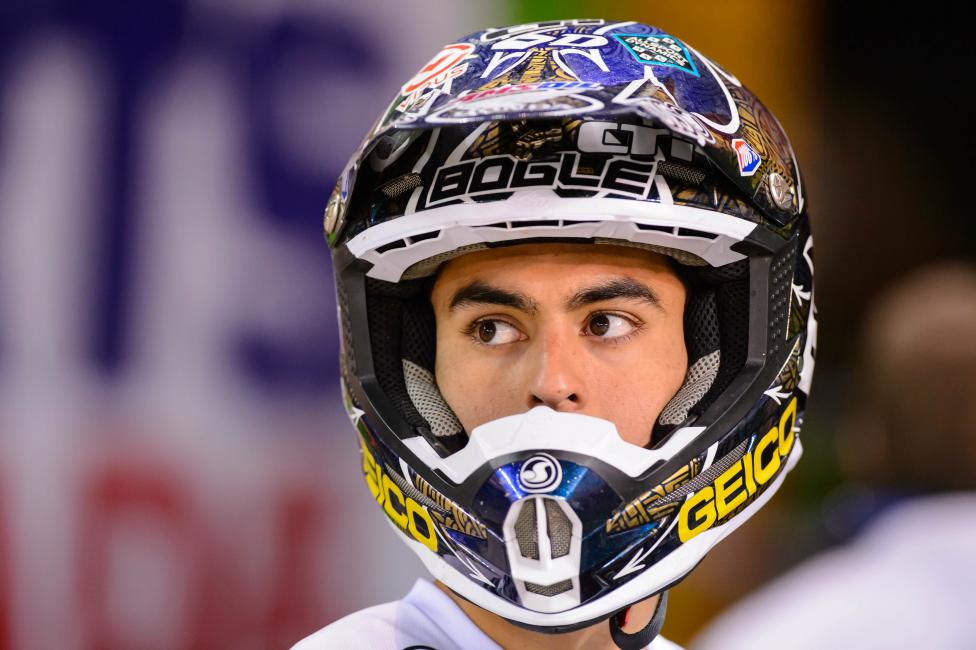 The Pro Circuit guys went from winning seven races in a row and having the top three in points on the East Coast to now one rider out of the title hunt (Baggett), one rider hurt and trying to salvage his season (AC) and Davalos, who's never been known as a guy who handles pressure well, holding onto the lead over a guy who's got a ton of momentum. Oh how things change in this sport, huh?
Gives us a reminder about Villopoto's lead and how anything could change in a minute.
Let's take a look at the results shall we?
250SX Results
1 32 Justin Bogle Cushing, OK Honda CRF 250- I didn't like Bogle's mini-ghost ride after the race. Yes he was happy, but why hurt your poor little bike? As a former mechanic I believe in treating a machine with love and respect.
2 31 Martin Davalos Cairo, GA Kawasaki KX 250F- Meet your new points leader! Davalos was coming on when he lost the front end and from that point on he was lucky to salvage a second. If Martin wins this title he has to go to the 450SX class and that's not, in my opinion, a great move for him. He needs to consult his trainer/life coach Broc Sellards on how to maintain 250SX eligibility to keep that cash coming in.
3 78 Matthew Lemoine Pilot Point, TX Kawasaki KX 250F- I don't know what was up with Lemoine this weekend but he needs to keep doing whatever it was he did. The privateer won his heat and got his first podium. Lemoine's very talented and has never really had a shot with a great team the last few years so maybe this will open some eyes.
4 19 Jeremy Martin Millville, MN Yamaha YZ250F- Far and away Martin's best race of the year start to finish. He was ripping in the heat and charged hard the entire main event. But still, there's something missing from Martin this year. Or maybe we just all thought he was a better supercross rider than he really is this early in his career?
5 52 Cole Thompson BRIGDEN, Canada KTM 350 SX-F- The hometown hero had his best race of the year, which was nice to see. Cole's got a great bike and his results have been a little underwhelming for the team and bike he's on. Maybe this can give him some confidence going forward and also, he needs some whoop lessons from his teammate Jason Anderson at some point.
6 42 Vince Friese Cape Girardeau, MO Honda CRF 250- Friese is having a solid year after a solid finish in Toronto. He's fifth in the points, not too shabby at all.
7 55 Alex Martin Millville, MN Yamaha YZ250F- Troll gets a season best at the same race that his brother does. Mighty suspicious, no?
8 30 Kyle Cunningham Aledo, TX Honda CRF 250- Cunningham couldn't back up his good ride in Detroit but then again, he can't seem to get a start other than Detroit.
9 57 A J Catanzaro Portland, CT Honda CRF 250- The Cat's best finish of the year for The Factory Metal Works/Club MX team. He told me he was changing things up right before last week and it looks like it worked for this week.
10 56 James Decotis Peabody, MA Honda CRF 250- Jimmy D fell on the opening lap and was pretty much last, so this tenth doesn't look as impressive on paper as it actually was.
11 60 Jackson Richardson Wildomar, CA Honda CRF 250- In practice, Richardson survived Martin Davalos launching his bike off a berm and into another part of the track where Richardson was just riding around. Ka-Boom went Jackson and he was lucky to be all right. Scary moment for the Aussie.
12 96 Matthew Bisceglia Weatherford, TX Honda CRF 250- "Mike" has ridden the LCQ in half of the 250SX races out East so far and in between his fourth at Indy and seventh at Daytona it's been a bunch of soil samples for the rook. He's got skills and potential, but he's got to stay off the ground. On that note, he's thirteenth in the points and there's nothing better for the fans of guys like Matt Lemoine and Jimmy Decotis to point out how they're beating the "Big name/big team guy" in the points, and that they should have that bike. It doesn't work like that, but right now, "Mike" is that guy.
13 854 Landen Powell South Jordan, UT KTM 250 SX-F
14 69 Levi Kilbarger Logan, OH Honda CRF 250
15 88 Jesse Wentland Elk River, MN Honda CRF 250- It was announced last week that Wentland is heading to the Canadian Nationals for the summer to ride for the MX 101 guys. His team manager? The Hot Dog Vendor of course!
16 620 Brad Nauditt Colbert, WA Honda CRF 250-Nauditt races in Canada during the summer so how appropriate that he gets his season's best finish on the soil of the country that he races in so much?
17 395 Taylor Potter Warranwood, Australia Honda CRF 250- I got nothing. But it's nice to see another Aussie out there.
18 533 Gannon Audette Tallahassee, FL Kawasaki KX 250F
19 79 Ryan Zimmer Fuquay Varina, NC Honda CRF 250- I didn't know much about Zimmer other than his ballsy decision to not run graphics on his bike until I read an interview right here on Racer X with Chase Stallo about how he has a real job during the week and can't ride at all. And he still puts it in the main event. Zimmer, like Kenny Powers, is a true American hero.
20 4 Blake Baggett Grand Terrace, CA Kawasaki KX 250F- I thought that at one point Baggett was set up to win this race. He was ripping through the pack after a, wait for it, bad start. But then he endoed, jacked up his bike and was forced to DNF. That was it, and in my opinion he went from the favorite to win this title (he probably would've gotten second) to now being out of it. One simple mistake is all it takes.
21 47 Kyle Peters Greensboro, NC Honda CRF 250- Peters looked to be pissing off Baggett out there in practice for whatever reason but his main event ended early when he cartwheeled.
22 46 Adam Cianciarulo Port Orange, FL Kawasaki KX 250F- AC's favorite band is Blink 182 and they have a sad song called "Adam's Song" which I imagine he and his fans have had on repeat the last few days.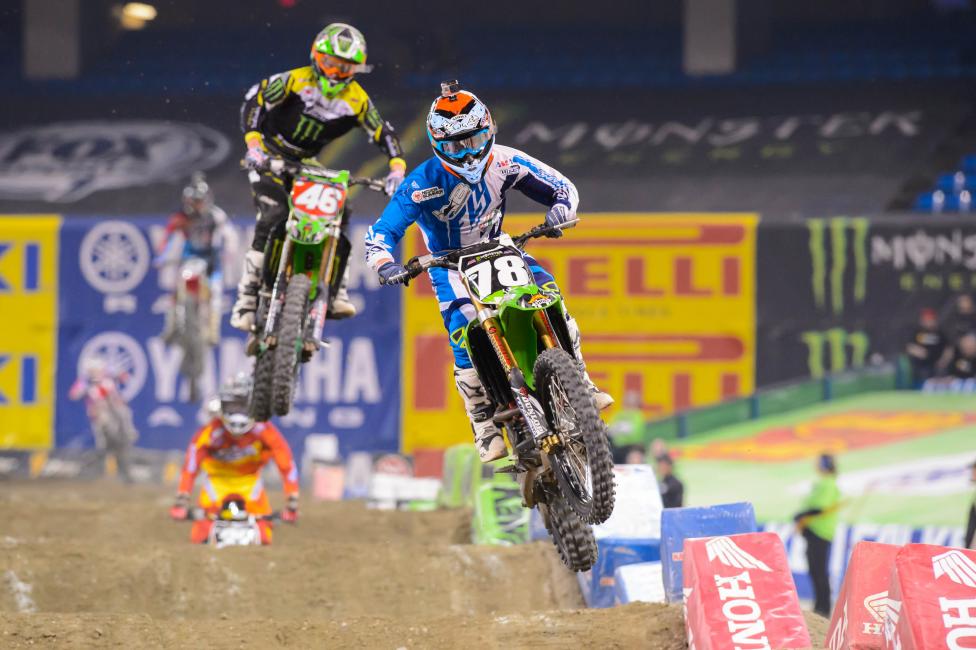 450SX Results
1 7 James Stewart Haines City, FL Suzuki RM-Z450- Stew needs to bust out the yellow and blue Seven stuff from earlier this year.
2 51 Justin Barcia Pinetta, FL Honda CRF 450- Barcia's been wearing glasses lately and when we asked him what was up with that he replied that "he can't see." He seemed very serious about this and mentioned that he had no idea he couldn't see until he got a checkup. Then he mentioned that's why he runs into people, he simply can't see! He also seemed serious about this as well.
3 5 Ryan Dungey Belle Plaine, MN KTM 450 SX-F- Another solid night for Dungey. Nothing too spectacular, but a good ride to get on the box and make up some points on Villopoto. Switching his line in the whoops in the middle of the heat race was a smart idea also; things got ugly in there for him a few times.
4 10 Justin Brayton Cornelius, NC Yamaha YZ450F- Although many won't talk about it, Brayton busted out the triple-triple jump in front of James before he did it and was also the only guy other than JS7 to quad that rhythm lane in the main event. In short, Brayton had a very nice night and was close to making the podium. Is JB10 back to his early season form? We'll have to wait and see…
5 94 Ken Roczen Murrieta, CA KTM 450 SX-F Factory- Out of the Three Musketeers that train under Aldon Baker, Roczen had the best night out of all of them, but it wasn't very good. Roczen went from first to fifth without crashing. He mentioned that he thought he did a bit too much work this week off the bike and his legs got tired in the main event. Very unlike The German to drop this far back. Canada just wasn't good to Team Baker.
6 1 Ryan Villopoto Seattle, WA Kawasaki KX 450F- Amazing ride from RV all things considered.
7 40 Weston Peick Wildomar, CA Suzuki RM-Z450- I just love the way Peick rides. He's so effing aggressive out there and he just pins it. He's SO not scared to catch and pass big-time names and run it in there on them. It's refreshing to see. Honestly, I still don't see him getting with a factory team for next year; I don't hear any buzz about this happening. Maybe Mike Webb at Suzuki can free some money up for Weston to ride alongside James Stewart, that's about the only thing I see happening, to be honest. Hey, don't shoot the messenger, bro.
8 15 Dean Wilson Wesley Chapel, FL Kawasaki KX 450F- After a couple of races of epic arm pump which led to epic fades to the back, Wilson seemed to back it down a bit and ride within himself this week. It didn't result in the epic speed that we had been seeing but it did allow him to only drop from sixth to eighth this week.
9 75 Joshua Hill Yoncalla, OR Suzuki RM-Z450- With Broc Tickle out for a while after a practice crash at Toronto, Hill's going to be the guy for the RCH team. It should be great—the team will focus just on him and he's riding for a spot back on the team in 2015. The pressure is on!
10 44 Matthew Goerke Temecula, CA KTM 450 SX-F- If you read this column earlier this year I bemoaned the fact that Matt's entire 2014 supercross season went down the tubes at the first round when he broke his finger. He then had to get it pinned and wasn't really able to use the clutch much. Predictably, his results weren't that great. Well, look who's getting better now? "Beef's" last three races have been better than his previous nine and he's finally getting back to where he was last year.
11 29 Andrew Short Smithville, TX KTM 450 SX-F- Cue the Taps music … Shorty's season of getting a top-ten in every race is over. He dropped from ninth to eleventh with seven laps to go when Goerke and Hill got by him. Just RV and Brayton remain in the "Top Ten" club in 2014.
12 27 Nicholas Wey Murrieta, CA Kawasaki KX 450F- Wey had a season best result with some steady riding. He wasn't happy after the semi that Nick Schmidt caught and passed him, and in the main event he didn't go that fast compared to guys around him, but he went that one speed for twenty laps, which guys around him couldn't do.
13 77 Jimmy Albertson Shawnee, OK Honda CRF 450- Top Jimmy rolls in right behind Wey with another season best finish. Without Josh Grant or Broc Tickle in the mix, it offered some opportunity for guys like Jimmy and Wey to make up some serious points, and they did just that. Remember kiddies, Feld has no season-ending bonus for twenty-first in the points, but they have a nice one for twentieth and up. Albertson's twenty-first right now.
14 23 William Hahn Menifee, CA Honda CRF 450- Hahn got effed. Early on in the race he was doing his customary bad-start-to-good-finish thing when a Tuff Block got kicked out in front of him in the split lane section and he hit it. This didn't go well for #23 and he was down and out for a while.
15 374 Cody Gilmore Blair, NE Kawasaki KX 450F- Gilmore is riding pretty well. He and his giant numbers have been on it lately and I interviewed him after the race but my mic cable went bad and all I got was static. Yup, I'm awesome.
16 415 Nicholas Schmidt Riverside, CA Honda CRF 450
17 606 Ronnie Stewart Easton, PA Suzuki RM-Z450- As I said last week, soon we're going to have to start telling people that "Stewart on the Suzuki" needs to be clarified because Ronne is on a roll.
18 722 Adam Enticknap Lompoc, CA Honda CRF 450- The #Seven Deuce Deuce (by the way, did you know there are two accepted ways to spell "Deuce"? There are, I swear!) writes a weekly column on Pulpmx and comes on the show every now and then. That's gained him some new fans in the social media world. He's also an aspiring rapper (Google 722 Subway if you want to laugh) and if you haven't talked to him or heard of him, you should. He's a pretty unique individual. Anyway, he made his first main of the year with a nice ride in the LCQ (he almost had it in the semi) and good for him. He made a bunch of his fans happy as well.
19 800 Mike Alessi Hilliard, FL Suzuki RM-Z450- Alessi had brake problems with his machine which explained the crashes that I saw. Tough night for the 800.
20 565 Preston Mull Livingston, CA Yamaha YZ450F- Mull was in "Just Short" on Pulpmx.com last week and no doubt he did all he could do to not be profiled again by the weirdo guy who writes it. This effort resulted in his first main event of the year.
21 228 Daniel Meynet Santa Ynez, CA Kawasaki KX 450F- I have be honest, I have no real clue who Meynet was until I saw his name pop up this year. And wouldn't you know it, Weege and Chase did an video interview with the guy in the afternoon and he goes out and crushes it in the LCQ and makes his first main event. Great job.
22 9 Ivan Tedesco Murrieta, CA KTM 450 SX-F- I'm wondering what Ivan could have done to the motocross gods here lately. He's been involved in some horrid crashes and has had some tough times, and Toronto was another rough one for Hot Sauce. He got good starts all night, made his first main in weeks and then went down hard in the whoops.
Some other news and notes:
- Yes, I have a whole sub-section on Pulpmx.com devoted to my childhood hero Ross "Rollerball" Pederson (want to get creeped out? Go HERE). So, knowing that I'm a tad biased, it was awesome to see the Legends and Heroes tour along with Canadian MX photographer Bill Petro get together and honor Pederson on his career that produced 28 National titles. I don't really know Ross but I've reached out to him here and there to do some podcasts and interviews with the man that thrilled me when I was a kid. Ross has had a few tough times since hanging up the boots but he's doing great now and it was great to meet the man who I've written so much about and talked to so much. I hadn't seen him since the early '90s when I was on the gate with him (he was much, much faster) and he had a real great day at the Rogers Centre. He got to be interviewed on the big screen during the night show (nice round of applause also), he got to go on Supercross Live with his old racing buddy Jim Holley, he got to meet Chad Reed and James Stewart and it was pretty damn cool for him (and for me as well). Thanks to Feld Motor Sports, Bill Petro and Alex from Legends and Heroes for giving a guy who many had forgotten, and, at times had given up on himself, a brief little moment in the sun to remind him that he still matters.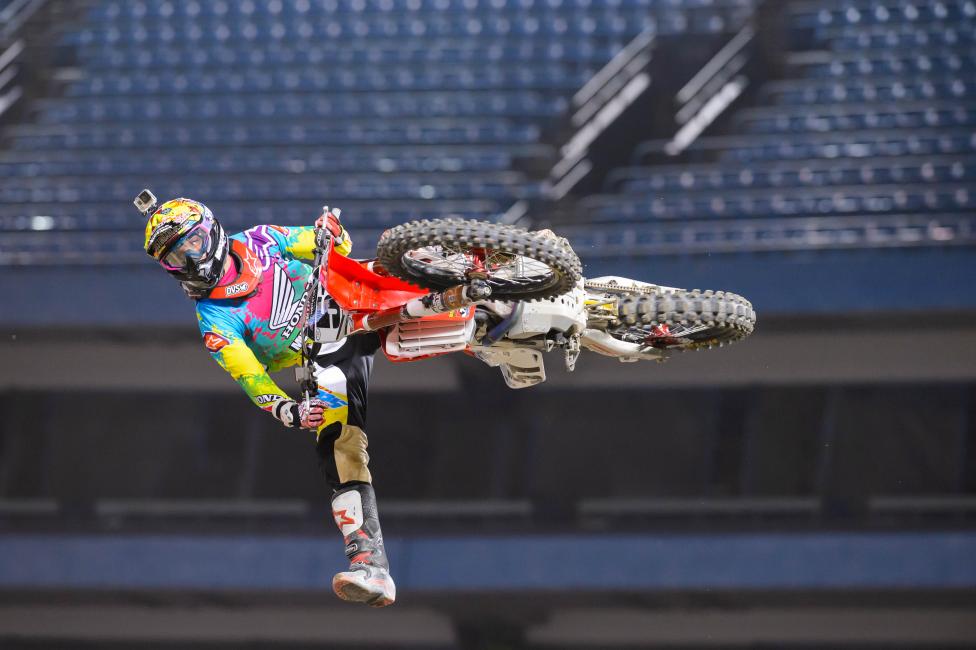 - I asked Feld if Toronto was coming back next year and was met with a "Not sure" reply, but the more I talk to people in the know the more I hear that Toronto is out. The word was that the Pan-American games being hosted in Toronto was the reason the race was gone but working the Google shows me the games are in July so chalk that rumor up as bunk. Then I heard that Montreal is going to host a race but that doesn't make sense—the reason Toronto would go away (in my opinion) is that the teams just don't like the hassles and costs involved in going to another country. So why Montreal then when you have good attendance at Toronto?
I do think it's gone next year and the gentleman at Feld just didn't want me to break down in tears so he was letting me down softly. One thing I think you can stamp next year is two Atlanta Supercrosses. But to be sanctioned by the FIM and be called a "World Championship" shouldn't you have to go to another country, even if it's only three hours from the USA? I would think so, but maybe Feld found a way around that. Stay tuned…
Thanks for reading, email me at matthes@racerxonline.com if you want to chat.