When it comes to great Canadian riders the list starts and ends with Ross "Rollerball" Pederson. It's that simple. Twenty-eight national titles over a 13-year span and three AMA Motocross podiums speak to his greatness. This past Saturday at Monster Energy Supercross in Toronto, the Legends and Heroes program, along with Canadian MX photographer Bill Petro, brought Pederson back to supercross for the first time in over a decade. Rightfully so, he was honored by the fans.
In the press box I caught up to Pederson to get his take on the day and find out what he's been up to.
Racer X: It's really cool that the Legends and Heroes and Bill Petro have gotten you here to Toronto. It's your first supercross I guess in person for a while, maybe since the late '90s…
Ross Pederson: It's really cool. Very professional here right now with what's going on. The track with all the banners and Monster Energy displays, the Asterisk medic mobile, it's like professional sports. Back when I was around it looked good, but it's definitely [has] come leaps and bounds to now.
You got down on the track and got to see the jumps these guys are doing.
Wow, they sure look a lot bigger than when I was around. They're unreal.
In your racing days, you banged bars with Jim Holley a thousand times. You just went on the Supercross Live show and reconnected with him. How was it? I understand from Jim that he hadn't seen you for probably 15 years.
Yeah, it's been great to see Jim. Jim and I raced and banged bars as you say. He came to my wedding, he was in my wedding party. He's a super guy. It was good to visit him. It's great to see a lot of the guys that I'm seeing here at the race, a lot of friends. It's just awesome. My old mechanics, Dave Gowland [now team manager for Rockstar Energy Racing] and Marshall Plumb [of Dunlop] were here also. Blair Sharpless, another old mechanic of mine, we stopped at the fire hall last night and saw him. He's a captain now. I haven't seen them for 15-20 years. It's been great.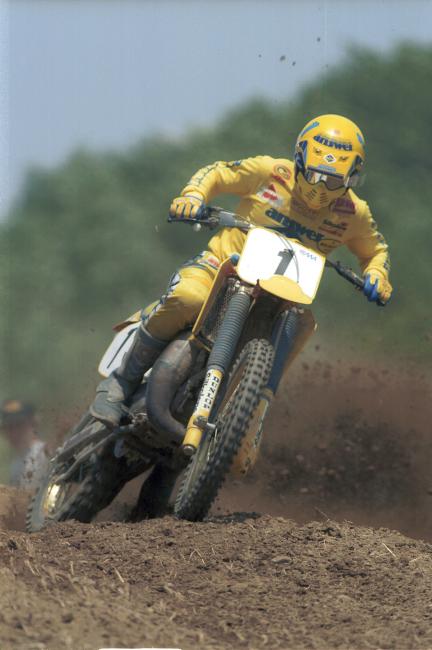 Gowland and Marshall, both guys really started making a name for themselves while working for you as a mechanic. Now they're powerful people in the industry.
They've done really well for themselves. They worked at it, as you have. You came from the grass roots and worked hard at it and it's your livelihood now. I'm proud of Dave and Marshall for what they've done. Marshall's won a few national championships down here.
So who was the better mechanic, Ross?
[Laughs] Now you're putting me on the spot. You know what, between Dave, Marshall and Blair, they were all great mechanics. You know what was the best about them is they would put in 15, 16 hour days to make sure the bike was right. If I rode them, there was never a problem. We would spend hours and hours out at the track testing back then to make things better, and they were right there working as hard as I was.
Holley told me you met James Stewart, you met Chad Reed, and one of the things you said was, "These guys are small."
It's hard for me to believe that because back when we were around Ricky Johnson and Jeff Ward, Broc Glover, Mark Barnett … Wardy was stout, he was stocky. Jimmy was stout and stalky. All the guys were big, solid guys. I see the guys now … I met James today. I've seen him lots on TV but never live in person, and wow. He looks like a little jockey. He makes that motorcycle go fast, though!
It's been a long time since you retired, but Legends and Heroes bringing you back to a Canadian supercross and you getting a nice ovation, it's got to make you feel pretty good?
It does. It feels real good. I've got to thank a lot of people for making that happen like Bill Petro and Carl Bastedo for putting all the effort in to making this happen, and Alex down in the US for making that happen down there. You always need people. I would have never got to where I did if it wasn't for all my mechanics and all their hard work. Everybody talks about how much I trained and how much I rode, but I had to have the guys behind me to do that, to keep the bikes running and finishing and working well. Those guys, my mechanics, they earned those championships as much as I did for sure.
This Rogers Centre was open less than three weeks when you raced a supercross here in 1989. What do you remember from that?
If I remember correctly it was a double-header. We came from the CNE grounds, which was the outdoor stadium, and then they had a huge turnout there. That was '88, and then '89 they entered the Sky Dome [now called Rogers Centre] and they did a double-header. I was riding for Suzuki, and Yamaha really wanted to win the event so they brought up a couple ringers named Damon Bradshaw and Mike LaRocco! I think I finished second both nights. Bradshaw won the first night, I finished second, LaRocco third. And then the second night LaRocco won, I finished second, and Bradshaw third.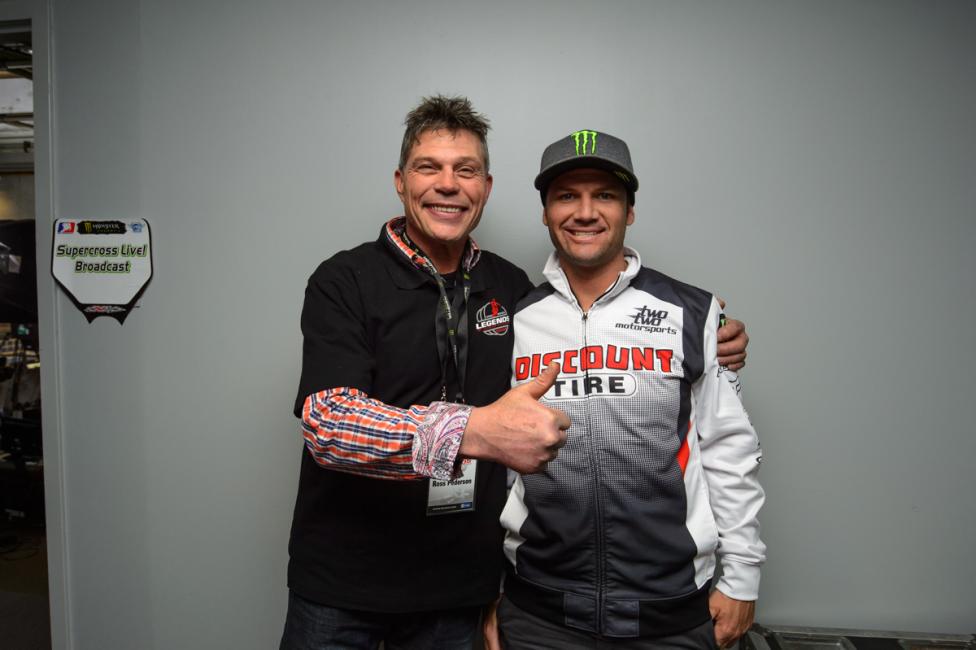 At that point you were 27, 28 years old….
Twenty-eight. Damon was pretty young and he'd just started winning. He was a force to be reckoned with. Had no fear. And Mike was a young guy too that had a little more experience than Damon, I believe.
What's going on with Ross Pederson these days?
Now I'm the oil patch. I'm working with a well service company named Calfrac and we do well stimulations. We take existing or new wells and we frac the zones, which stimulates the well so they produce more oil or gas. That's what I'm doing now and I'm all over Saskatchewan and Alberta doing that.
I heard you got on a bike a while ago. When's the last time you rode?
I ride a handful of times each year, just to go out and ride around with some buds for a few laps and get out. I enjoy that. When you're working and in the full swing of being away from home so much—when I do get home I'm only home for a few days—so I get out once in a while, but not as much as I'd like to.