Rogers Centre
Toronto

,

Canada
Toronto
Monster Energy AMA Supercross Championship
Ryan Villopoto had himself a day on Saturday. As rumors started to spread around the pits that RV was battling food poisoning or some sort of major illness, it bred a bunch of what if's—not only the night's racing, but also the complete Monster Energy Supercross Championship.
Early reports were that he was feeling ill and would skip the first practice or two and then go out to sort the track later. As practices wore on we still didn't see the #1 Monster Kawi. Then the word got out that during the third and final practice that the three-time defending SX champ was still at the hospital and was maybe not even racing that night. That sent the paddock into a whirlwind of questions.
Would he show up and race at all? Could he race without practicing? And even if he could, how well would he do? Since he surely received an IV at the hospital, would he be disqualified due to AMA rules? Did FIM rules apply since we were in Canada? Would the CMA make a stand in their all white attire and overrule anyone? (I'm joking.) But seriously, this was big news and a complete shake-up after many had almost handed RV the trophy already.
Just before opening ceremonies, RV arrived back at the Rogers Centre. He wasn't feeling great and who knows what medicines were coursing through his veins, but he was here to do battle and keep his points lead. As far as the IV situation, the SX rulebook (which is produced jointly through AMA and FIM rules) says riders can get an IV as long as a doctor has approved it for actual emergency medical reasons. Surely the hospital would rule in that direction. It also says a rider ranked top ten in 450SX points is automatically given the 21st gate pick in a heat race if he doesn't practice and qualify during the day. In other words: he was allowed to race if he wanted to.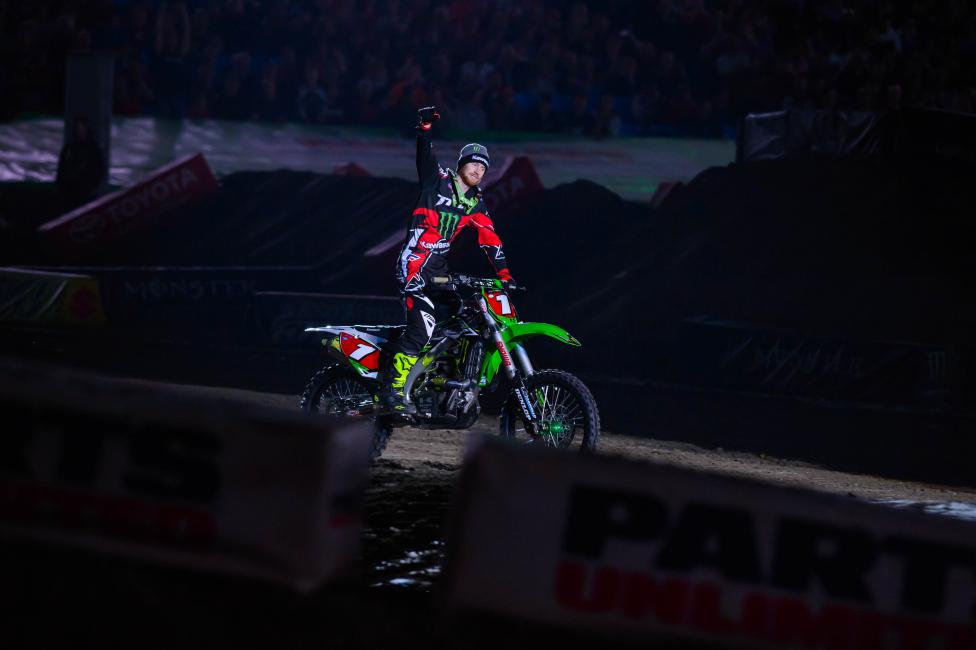 I don't think anyone, including Ryan, knew what the night was going to entail. After all, he hadn't done one single lap on the track yet and had to be incredibly weak by that point. As Orsov once said "A good blade is rarely forged in a velvet box" and so it would be for RV. If he wanted to keep his title stranglehold, he would need to dig deep and find the strength to fight through. He rode a slow lap around the entire track during opening ceremonies (he was the only rider in opening ceremonies to complete a lap around the track), which I thought was smart and also probably planned by the team and Feld. Going into that first heat race, though, he hadn't jumped anything and only had video of practice to learn from.
Before we get too far into RV's night, however, I want to share my one experience with this scenario.
The year was 2004 and I was gallivanting across Europe on my supercross travels. I was in Germany for one of the German championship rounds, but on one weekend I had a unique opportunity. I was slated to race in Chemnitz, Germany, on Friday and Saturday night. On Sunday, 1000 kilometers south, there was an annual supercross held in Barcelona, Spain. I'd raced the Barcelona event before and the promoters asked if I would do it again. Of course I was very willing to go collect a nice check from the Spanish supercross. But I was in Germany and racing both nights leading up to it, so I had a serious dilemma. I was winning in Germany on a consistent basis and certainly couldn't skip out on Chemnitz, but I didn't want to leave the Barcelona offer on the table either. My solution was this: negotiate with the Barcelona promoter in hopes that I could race in Chemnitz, drive 300km south to Munich through the moonlit German countryside and catch a sunrise flight to Barcelona. I would arrive at the Barcelona Palau Saint Jordi arena around noon, missing practice, but safely in time for the night's racing. This was not an easy sell to the promoter since I would miss Saturday's practice round, Sunday's practice round and surely they feared I would be useless after playing planes, trains and automobiles across Europe. I had to take a pay cut, but I finally sold them on the plan.
Off to Chemnitz I went and fortunately I won the overall and then began my all night trek to Spain. One of my friends in Germany is a test driver for BMW and with the help of his M5, we aimed for a land speed record on the Autobahn south. I made it to both the airport and then the arena in Barcelona on time but felt a bit like death warmed over. I walked the track during the intermission and supervised the mechanic's assembly of my bike once my parts arrived. I had a short nap and it was race time!
Just like RV faced Saturday, I hadn't done a single lap before the gate dropped on the heat race. I rode around in mid-pack and slowly tried to learn the track, picking up sections and speed each lap. By the end of the heat race, I certainly wasn't at race pace but the track was starting to make sense. In the semi, I kept increasing the pace and by the end of the semi, I felt pretty good and ready to race. In the final, I grabbed the holeshot and led for a few laps but didn't have much to offer in a 20 lap main event. I followed guys like Damon Huffman, Nick Wey and Mike Brown for as long as I could but at the checkers I fell back to fifth place. After a seriously long 24 hours, I felt that was pretty respectable. I still beat the GP riders that made a rare supercross showing and was in the battle, which was the important part for the promoters.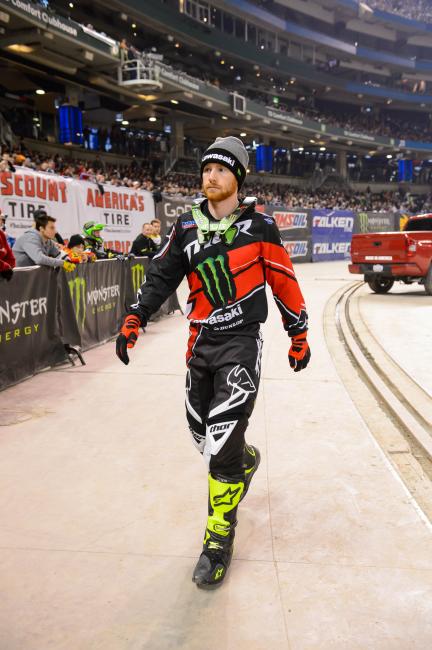 Jumping back to RV's saga, I felt I could relate to how he was approaching the night in some aspects. Obviously he was very sick and had a title to worry about, but most riders have never raced a track without getting any practice laps. That's a unique situation and I'm sure Ryan had never done it before either. To add more change, he had a much worse gate pick that usual, and found himself mired in the pack learning where to go while riding around people that he certainly wasn't accustomed to. I saw a few close calls as the riders in front of him did one thing while Ryan expected something entirely different. That is the danger with being mid-pack when you're used to running up front. RV was surrounded by less experienced, less talented riders who make more mistakes and don't make the same decisions that he would. Luckily, he was able to navigate this in the heat race, battle through the semi to second place behind super privateer Weston Peick and get into the main with a decent gate pick.
Sitting on the line for the main event, Ryan had to be dreading it. This is a rider who has won three titles in a row and has more than a full race points lead on the world's best supercross riders. Knowing he wouldn't be anywhere in the realm of 100 percent, and likely lose several points, couldn't be reassuring. On top of that, who knew how his body would react to 18 minutes of high intensity effort? One mistake because of mental or bodily fatigue could have dire consequences. There was an endless list of variables and a mountain of pressure riding on those 20 laps. He hadn't looked anything like his usual self during the night, and I wasn't sure the main event would be any different.
During the opening laps, RV was once again mid-pack and trying to stay out of trouble. He lost a few spots, regained a few and was hovering towards the backside of the top ten. He actually didn't look too bad on the track, but you could definitely see his lack of strength in the nasty Toronto whoops. He was very cautious there and was giving up serious time to everyone around him. He stayed the course, though, and fought off Peick to finish a remarkable sixth place. Sure, he lost ten points to James Stewart and five points to Ryan Dungey, but considering the possibility of not competing at all, this was a victory.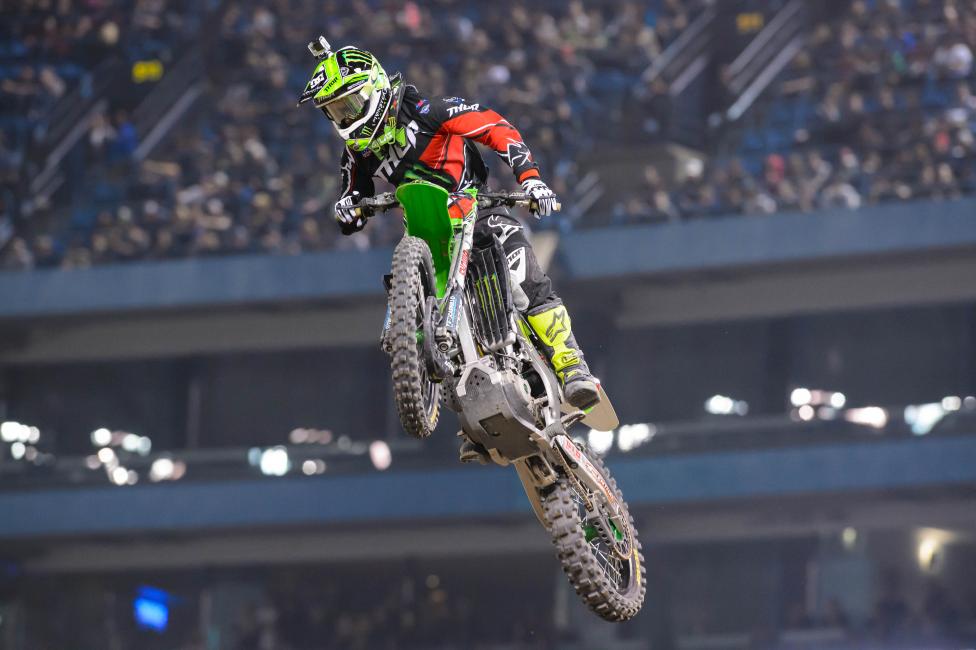 When we all look back on past championships won and lost, there are key moments that point to the outcome. Chad Reed's heroic 12th place after a practice crash (and hospital stop) in Detroit in 2008, Ricky Carmichael fighting off stomach issues in 2001, and Wil Hahn's 2013 Las Vegas race with a broken hand come to mind as times that a rider had to overcome huge health problems to bring home a championship. It's not a situation that any rider ever wants to face, but when it does happen the grit and determination that is shown by these men is truly honorable. If RV goes on to win this 2014 edition of Monster Energy Supercross, a night like Toronto will certainly be on short list of reasons why. He could have skipped the event and stayed in that hospital bed—many people would have. He would have still left Toronto with a minimum five-point lead in any scenario, but instead, he soldiered through a horrible day and left with a 25-point lead.
Those 20 points are absolutely monumental. Sixth place might not sound great, but this result will loom larger than any win. With five rounds left, there isn't much time for anyone to make a run at Villopoto. Molière once said "The greater the obstacle, the more glory in overcoming it" and if he wins a fourth title this year, he can look back on Saturday as one great obstacle overcome.