Rogers Centre
Toronto

,

Canada
Toronto
Monster Energy AMA Supercross Championship
By Steve Matthes, Chase Stallo and Jason Weigandt
Ryan Dungey, Red Bull KTM, 3rd in 450SX
It was a tough one all day. We weren't even near the lap times of the top of the charts. We made some bike changes, but it [the struggles] wasn't chasing the bike. Overall I felt like the bike felt good, I just couldn't put the track together for some reason. With this third place we tied it up nice in the main event, found some good lines. Kept creeping up on the leaders. I was starting to gain on [Justin] Barcia but things started to get really deep out there. We ended up switching lines and I just wasn't able to close it up. Would have been nice. Overall we'll keep after it. We got a step forward today so that's nice but we'll have a good week and try to bring it to St. Louis even more.
You and Ken got pretty close over in that rhythm section I think one time.
Nothing crazy close. He heard me on the inside and he went outside and I kind of rushed the inside. It was such a quick … you had to make the corner, look, and drive it up the face. We both kind of missed our mark and we both doubled it so I was able to make this pass, which that was good. For a while I wasn't sure we were going to catch him but I kept inching more and more. Stewy did have a hell of a ride tonight. He really did a good job making passes. He did what I should have been doing. We'll try to work on things and see if we can't improve on that.
You and James gained some points a little bit tonight.
We kind of got a little gift tonight. I think we both know that. At the same time we're just taking it one race at a time.
When you have times like that where a guy—anything can happen, so it almost happened to him—how important is it to almost not get too high, too low each week so you can stay in it for the long haul? That seems to be what you're really good at.
I think it's important to race for yourself out there and race as if the guys are obstacles on the track. Villopoto's a good competitor but when you come into a race you know he's going to be there, you know he's a great guy, but you also have to believe that you're going to win. Him not being here, it doesn't mess with you so much because you already have a game plan that doesn't have that in there. I think showing up, doing the same thing, one race at a time, focusing on yourself, putting a solid performance in and your best finish every race, whether who's on the track or not on the track. – Jason Weigandt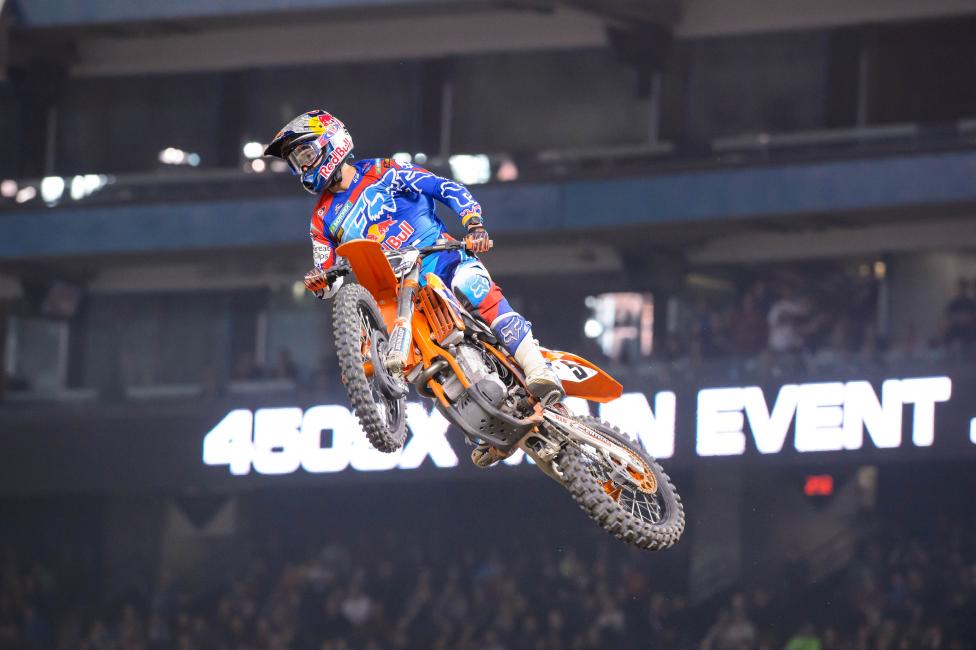 Justin Brayton, JGR Toyota Yamaha, 4th in 450SX
That was solid. Right in the mix.
Yeah, I'm back. Bummer that I went away for a little bit but I had some unfortunate stuff happen and that's part of it. To be there 17 weekends in a row is tough. As you saw today with RV getting sick and me a couple weeks ago, it's difficult but that's part of it. It felt good to be back tonight. Top five in all the practices. Fairly good heat race, and then good start in the main. Ran up front. Like I said at the beginning [of the year] I'm racing with the guys that I should be racing with and we were tonight. I was fairly happy with it. I think a podium would have obviously been awesome. I feel like we had the speed at times to be there but I'm excited also for St. Louis, kind of a home race. Good momentum into that.
Some of the jump combos that Stew was doing, I think you had some of them also. You seem to have some different rhythms out there.
Yeah, I actually did that triple-triple before the finish first, like on the second lap. I'd been thinking about it all day—I think everyone had. But it was just super rutty. The takeoff was really nasty. But they must have fixed it right before our main. On the parade lap I'm like, man, that face looks good. So I kind of tested the transition in-between the three-three and I went for it second lap and it was no problem. Then they said Stew picked up on it when he was behind me. Not sure exactly how much faster it was but for sure you stayed out of the ruts and it was just more consistent lap after the lap. The other rhythm was getting me, though. That thing was so tough. I think everyone had some issues with that. One lap I'd hit it good, the next lap I wouldn't. It was difficult.
Was it the ruts or getting cupped out transitions?
Yeah, it was definitely more the ruts and once the ruts got deep it was like there was like a hole at the bottom of the jump and then you had to go three or four over the table top, the second jump. You had to really land in that pocket just perfect. So that was hard for me to do lap after lap.
I'm assuming there wasn't massive wholesale changes to what you did during the week or the bike? You might have changed a few things. But it's not massive stuff?
It's not massive at all. Mainly confidence and just the feel with the track and your bike. You've got to want it. For sure, a lot of it's mindset. We changed my bike a little bit, not much. I didn't get to ride much this week. It was raining most of the week. I got to ride a little bit on Thursday. So it wasn't like I went home and we changed a bunch of stuff and now all of a sudden I'm back. Unfortunately with food poisoning and last week in Detroit I just had bad starts. I crashed in practice. No excuses at all but it just wasn't jiving for me. I struggled and that's what it is. Not going to go celebrate a fourth but also glad to be back where I belong. – Jason Weigandt
Roger DeCoster, Red Bull KTM team manager (Dungey 3rd and Roczen 5th)
Talk about your team's night. Kenny Roczen, mentioned on the podium he might have over did it this week. Ryan had another solid night.
Kenny had the lead for about half of the race and he was happy with his bike but his legs got tired so he could not ride the way he wanted to ride anymore. But I have to give it to James [Stewart] though. This was an impressive ride and one of his best.
Dungey and Roczen are both having good seasons. Kenny's behind Ryan now in points but Kenny's got more wins. Talk about their season so far. Are you happy? Which guy are you happier with?
They trade back and forth. It's nice to see that they are in the hunt. I was still hoping for a little bit better. You always look for that first place. It's cool to see Ryan in second place. That's good but I feel we still need to improve.
Roczen's contract negations are a hot topic. Can you talk about it? What you know, if you hope to keep him…
Of course I hope to keep him but there's so many rumors I'm not sure what is true and what is not true anymore. Of course I will like to keep Ken and everybody on the team would like to keep him. We do everything we can to give him the best support possible. At the end it's his decision and we live with what he chooses to do. – Steve Matthes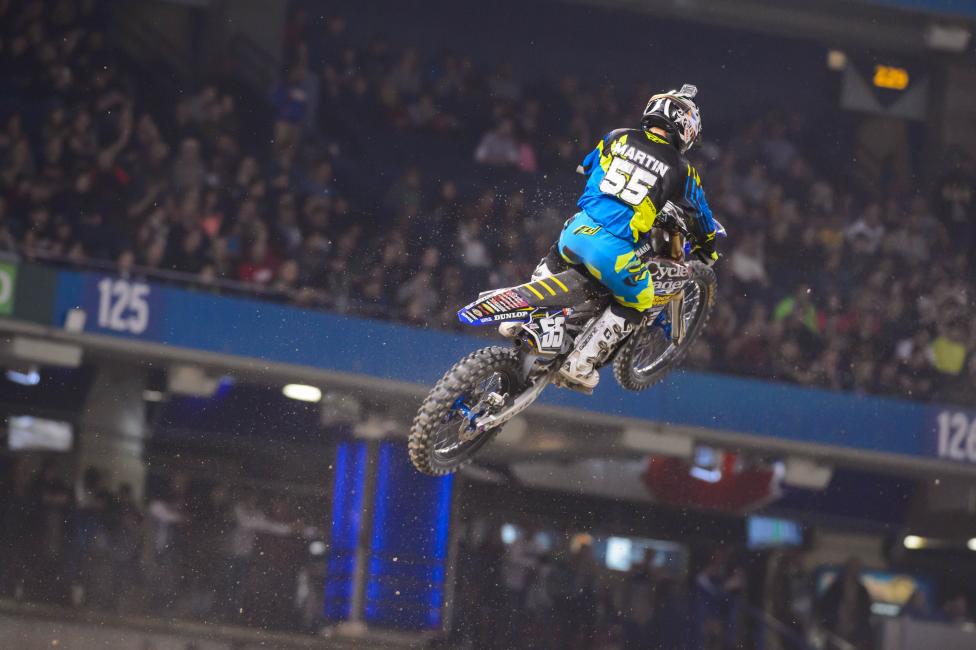 Alex Martin, CycleTrader.com Rock River Yamaha, 7th in 250SX
First, take me through the heat. What happened there? It looked crazy.
It was rough. Honestly I just rolled off the gate. I don't know what I was doing. It was terrible. Just caught up in all the madness. People were going all over. Some guy came through the whoops real fast on the inside and just went up high and I couldn't touch with my short legs and tipped over. [Laughs] Then I couldn't get the bike started so I was just way, way back. I was like 15th I think at the finish. In the LCQ finally put it together, good start, and just rode behind [Matt] Bisceglia. Really wasn't even too interested in passing him. I was in second, I'm fine with that. I didn't want to pull a Jeremy Martin and crash on the last lap while leading. [Laughs] Just made it safe to the main.
In the main, another solid ride, top 10. I think a lot of people forget you missed all of supercross a year ago. Are you getting that supercross feeling back again, that comfort level?
Yeah, for sure. This is the sixth weekend straight that we've been racing and it's just been getting better every weekend for me. I'm comfortable on the bike and the confidence is coming back for sure. It definitely affected me the first couple rounds, not racing last year, because it's not quite as fresh in your mind and your body, but I think we're starting to come back around now. The whole program with Rock River Cycle Trader is really consistent so it's allowed me to really build each week.
And you're a rider that likes consistency, to have things in order, and this year it seems like you have that in this team. How much is that helping you?
It's been huge. I just love the people. The team is awesome. They have a good team morale as well in the pits and that really helps out. You enjoy being at the races. You enjoy being here and I think that's a big key. – Chase Stallo
Kyle Cunningham, SmarTop/MotoConcepts, 8th in 250SX
Take me through the night.
It went all right. We had pretty good times in practice. Decent heat race. I went into the main and got a rough start, made my way up and just made some mistakes at the end. Just didn't ride that great the last four or five laps which is a little bit of a bummer. We had a fourth last weekend, eighth this weekend. Go home, do some training, do some riding and see what we can get figured out for next weekend.
The back rhythm section looked a bit tricky. What was your strategy there?
The rhythm was gnarly. The dirt here was pretty crazy. It was real rutted and would form some kickers in places. That's kind of where I messed up. I was going on-off three every lap and there at the end just started messing it up. That just led to one thing after another.
With tracks like these that are difficult, it intensifies how important the start is.
For sure. It wasn't too easy coming through the pack the first few laps. That's what changed my race last weekend, [I] got out front quick and stayed loose and rode well. But this weekend just back to another bad start and weaving through people. End of the race I've got to be stronger. So go back to Texas, work with my pops and see what we can get figured out. – Chase Stallo
Wil Hahn, GEICO Honda, 14th in 450SX

Did you hit that tuff block? Is that why you went down?
Yeah.
I think Peick did it.
I don't know who did it. I just know I was in the air and I'm like, well, lift the front and hope for the best, and it didn't treat me very well.
And then you got up and pulled in the mechanics area?
I pulled in. My steering was really, really bad crooked. Just one of things, out of your control. Nothing you can do about it. Just ride it out, hope for the best. Bummed out, but I didn't give up, so you got to be proud of that.
Track tonight, tough. Maybe the best one of the year. Maybe just because I'm in Canada, but I really liked it.
For sure the best Toronto I've ridden, by far. Best dirt we've had here. No rocks. They got rid of all the rocks. Everything about this tonight was a good racetrack. Very technical, rutty, and just tricky all around. I would agree, it was one of the best of the year for sure. – Steve Matthes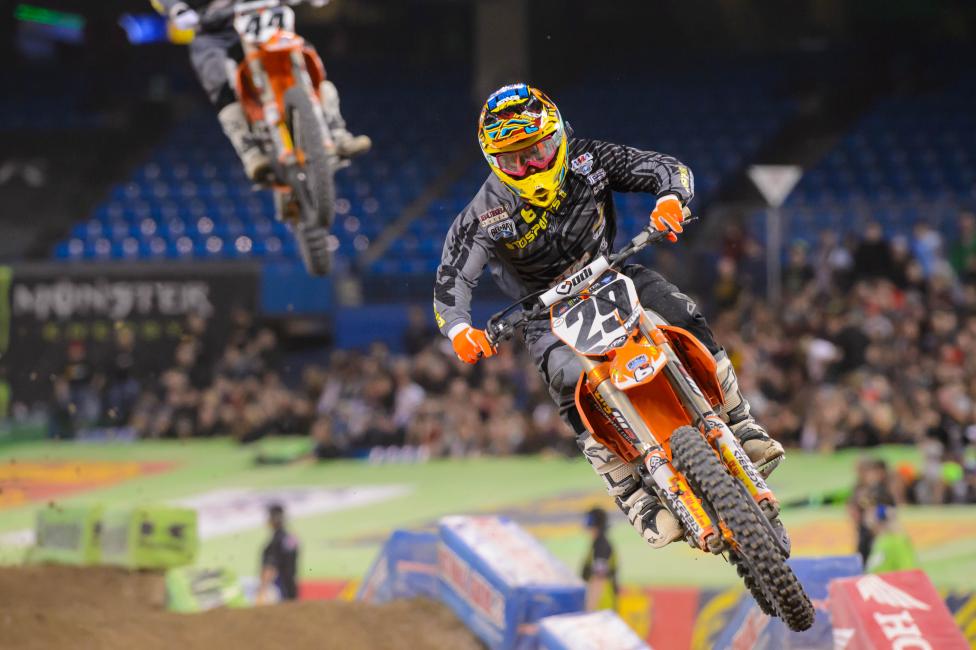 Andrew Short, BTOSports.com KTM, 11th in 450SX
[Top ten finish] Streak is over. Heat race too. Not your night I guess. I wonder why?
Not [good] all day. I just made some poor choices this week, overdid it. I was really excited about last week. I felt like I had a good ride. Maybe overdid it a lot. I wasn't good all day. I was just flat, didn't have any energy and was stupid this week. You think I'd learn my lesson after all these years. You get a taste of some success and you want to do more. Need to rest up, be a little smarter, be a little more mature and come back next week. If this is the worst I'm going to finish then that's not that bad but I was barely riding out there. I was about to tip over.
Track was tough?
Track was tough but it was good because there was a lot of variation. You had to be solid. It just wasn't my night. Got to be smarter. – Steve Matthes
Nick Wey, Moto Mafia, 12th in 450SX
Rebound from Detroit. Not a great ride for you in Detroit but much better here in Toronto.
We had a little bit of issues with the bike last weekend. That wasn't super helpful. Daniel [mechanic] and my dad, I appreciate their help. They worked hard all weekend and got us here. This weekend's a little bit unique of a race so it takes a lot of preparation to get here, you have to list out in the truck [to prepare at customs] and such. Just was able to get back to California and put in a good week of riding. Actually felt like I was riding pretty well all day, I just didn't ride super awesome in the semi, which I felt like I should have won that, but that's beside the point. In the main I didn't get the best start and kind of rode some consistent laps. I could see where Goerke, Hill and Short were and I was chipping away at them but I was just too far back. I think I got 12th and obviously those guys were 11th, 10th, 9th, so that's where I need to be. – Steve Matthes