Rogers Centre
Toronto

,

Canada
Toronto
Monster Energy AMA Supercross Championship
"It's been a rough couple years for me. A lot of ups and downs and a lot more downs than ups, so it feels really good. It's awesome both my parents are here and it's my birthday tomorrow so it's a pretty killing it weekend for me. I'm pumped." – Justin Bogle
GEICO Honda's Justin Bogle was the hottest prospect coming into the professional ranks in 2012 after capturing the coveted AMA Horizon Award. But injuries have limited the talented Oklahoman. Even this year was in doubt after Bogle suffered a big off-season crash. While green has been the backdrop of most podiums in 2014, Bogle had dotted it red three times entering Toronto. On Saturday night inside the Roger Centre, Bogle led wire-to-wire to secure his first career 250SX win. Through the good times and bad, Bogle has remained positive, and on Saturday night inside the GEICO Honda rig, his vibrant smile showed both happiness and relief.
Racer X: Take us through the race. What was going through your head out there?
Justin Bogle: Dude, I finally, finally got a start. I got a holeshot, which was like the best feeling ever, and then just tried to put in 15 solid laps. Honestly my last few laps were pretty shaky. They were pretty terrible, honestly. But I was just trying to hit my lines and just stay smooth. I think there was a lot of carnage going on behind me. So it worked out. I had a pretty big lead there for a while. I was just thinking just drill the process, keep doing my thing, one lap at a time. Then I looked over, white flag, and doubled through the whoops. It was cool. I've definitely been waiting on this for a while, so it felt good.
Moves you up in the points, too.
Yeah, for sure. I'm in the hunt for the title. That whole deal, I'm not even really worried about that. I'm just going to go try to get race wins and try to just put myself in a good spot off the starts and let that championship thing play out how it plays out and hopefully at the end of Vegas we're having a good conversation. But the main key to that is just going out and taking it race by race. It sounds super cliché but that's what it is.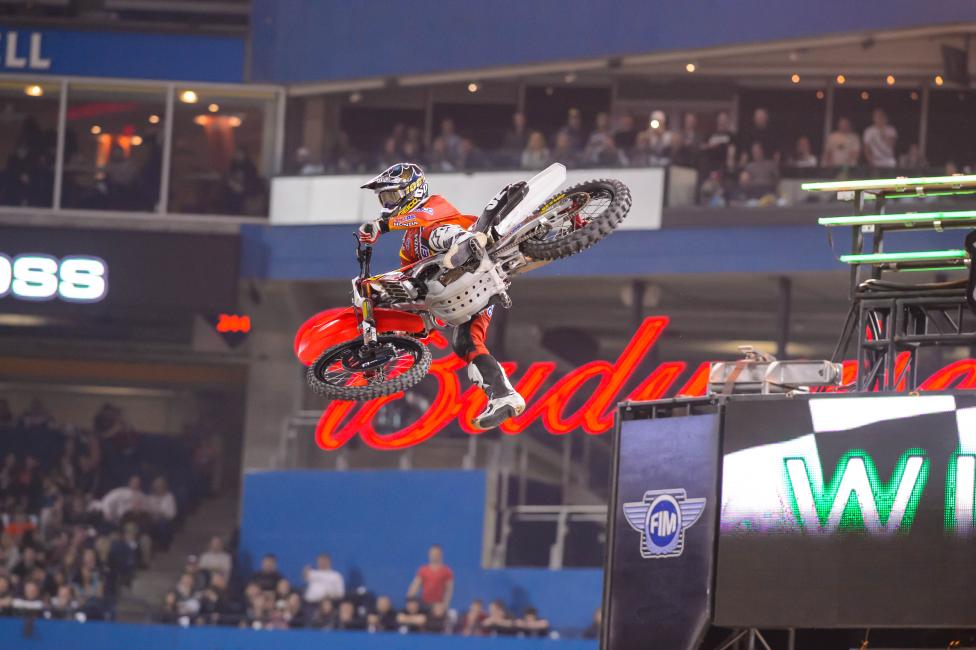 Four months ago, due to injury you almost missed another season [of Monster Energy Supercross]. You have come a long way, how does it feel?
It's awesome. The injuries were rough. The whole month of December on the couch, just thinking I'm not going to get any supercross in again. It was definitely the roughest injury I've had so to come back from that, I owe all of that to my trainer Ryan Fedorow. That man's been with me through everything these last few years, not just my career, but with my life as well. That dude deserves every bit of the credit that I can give him for this. It feels good to bounce back from that. And last time I raced here I got hurt; I tore some stuff in my knee, so that's good redemption on this place.
How about after the finish line? I heard you say on the podium you had no idea what you were going to do.
I always thought about it. What am I going to do when I get my first win? I threw my one-legger over the finish. I'm like, I don't know! That just happened; I'm pumped! And then I just went up that little jump and just ghosted my bike. I was so excited. Then I went and did a burnout. I was all over the place but I was enjoying it, soaking it all in. It was good.
Does it feel like you got the monkey off your back now?
For sure. It's taken a while to figure it out. It's three years, I think, two seasons of supercross but I was injured one of the years. It's been a while and it's been tough not having that. I finally broke my little streak. All I'd had was thirds up until last weekend [when] I got a second and this weekend to get the win was an incredible feeling.
Before this race the championship may have been on your mind but it was kind of out of reach, and now you're in it. How much does that change your thought process?
It doesn't. These last few weekends it's been like, all right, who cares, whatever. I'm just going to go out and try to get starts and get up there and try to win and get on the box. Whatever happens, happens. I'm not worried about the championship thing. Like I said, we'll talk about that after the main in Vegas. I'm sure that's going to be a topic. But for me personally I'm not stressing that. This race win tonight felt pretty awesome so I'm just going to keep trying to get those and hopefully at the end of this, if I just drill the process, get good starts, and put myself up there then I'll be in the hunt for the thing.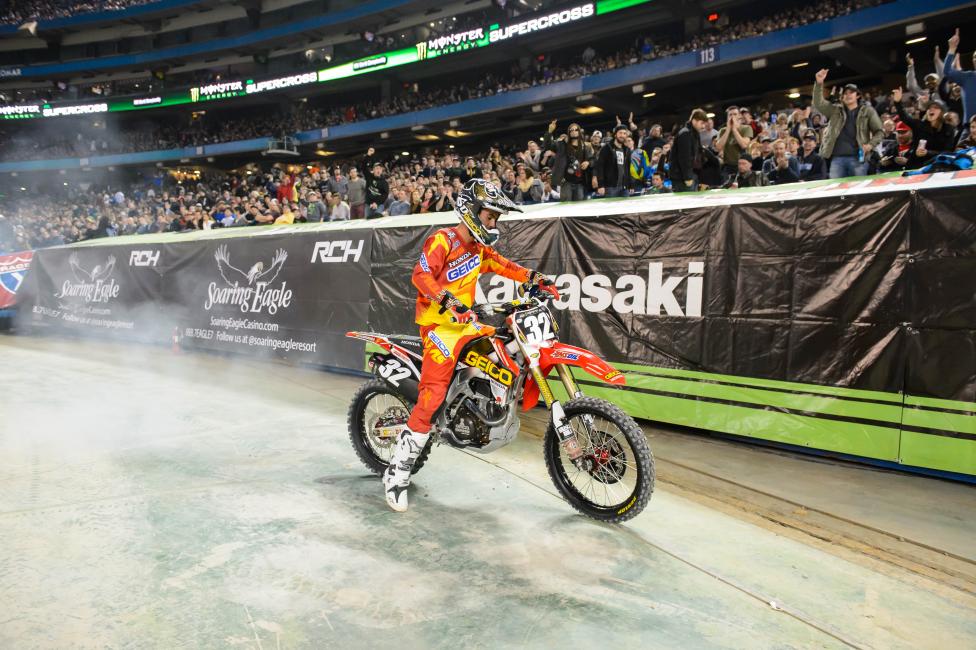 As we saw last year with your teammate, Wil Hahn, once you get that first one they seem to kind of come in bunches. Do you feel that now you got the first one out of the way you know what it's like to win?
For sure getting that first one, that monkey off the back, it's a pretty big deal. But there's a lot of guys going really fast this year so I can't ever say that anything is going to be easy because it's not. Tonight wasn't easy. Last weekend getting in second, that wasn't easy. It's tough. These dudes are going fast. Like I said, just keep drilling the process, getting good starts, and putting myself in the position. I think I'm definitely capable of getting wins now for sure. I know what it feels like and it's an awesome feeling, so I definitely want to have some more of that.
Did you know Adam had pulled off?
I knew someone was behind me at the beginning and then I had a big lead and I wasn't sure what happened. Then when I came around to lap him I was like, something must have happened, then it must have been him that was behind me. I saw it; I didn't even think about it. I was focused. I had a race to try to win and make some stuff happen, like ghost rides for my bike and stuff! Wasn't thinking about it too much but tonight definitely played into my favor a lot.